By Kaye Lopez
3 on-the-bike tips for a flat-free ride
After learning and applying the quick and easy pre-ride tire checks I shared with you in my previous post, we move on to practical tips on how to avoid getting a puncture while riding. Unfortunately, the deplorable road conditions in our country put all cyclists at risk of getting a flat tire but if you stay focused and know what to look out for, it's still possible to stay flat-free and make the most out of your ride.
WATCH OUT FOR SHINY OBJECTS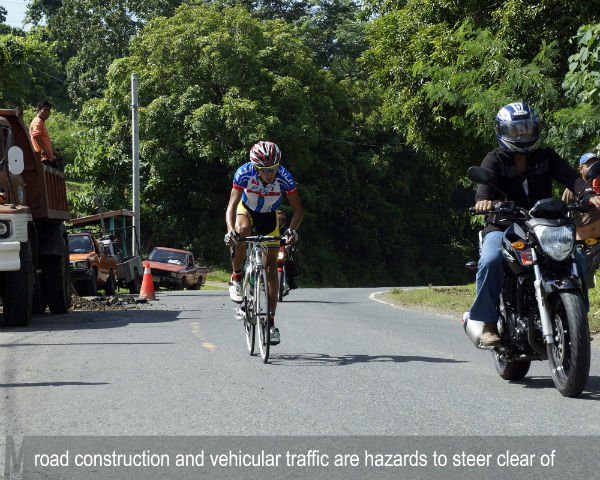 When I am riding, no matter how familiar I am with the road or how many times I have passed that route, I try to consciously look ahead for signs of debris that could cause punctures for me. In the early morning light, it is easy to spot the problem areas because the glass shimmers under the street lamps while the metal bits glimmer when the headlights of the cars behind me illuminate them. I look behind to see if it is safe to take an evasive maneuver then I give the danger area a wide berth, because pieces of glass are prone to scatter in a wider and wider radius whenever they are broken repeatedly. In the daylight, it is even easier to spot any debris, so always look ahead and train your eyes to recognize potential danger spots.
STAY SAFE FROM SNAKEBITES
Puncture culprits are not only limited to debris, so be on the lookout for potholes or cracks on the road that can lead to snakebites or rim cuts. Snakebites get their name from the parallel double-puncture caused when the impact from hitting a pothole, for example, causes the tube to be sliced by both sides of the rim. Snakebites or rim cuts often mean an immediate loss of tire pressure, so I am more careful about that when I ride on unfamiliar roads or on long trips through provincial roads.
BE ALERT AT ALL TIMES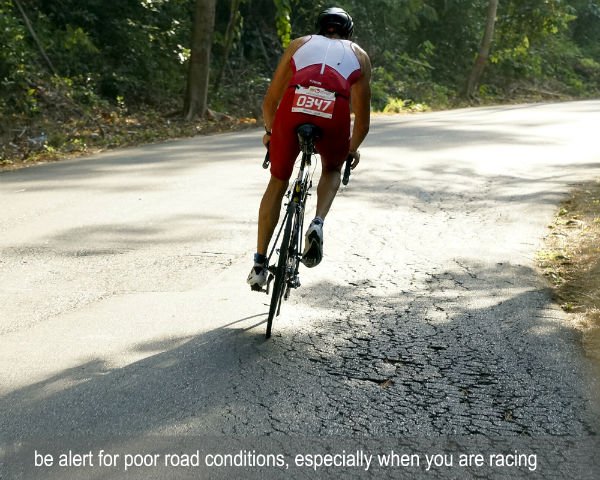 It is tougher to be as vigilant during a race, when you are in oxygen debt or looking through eyewear that is stained with streaks of sweat. But I race with the confidence that the organizers did their part in choosing a safe route or deploying marshals to warn racers of hazards before they take our registration money. Whatever the case or whatever the situation, it pays to always be alert.
Keep these tips in mind whenever you head out for a ride so you can avoid the hassle of stopping by the side of the road to fix a flat. But then again, flats are an inevitable part of every avid cyclist's life so you still need to know what to do if ever you suffer an unfortunate puncture. I'll discuss this more in part three of our series, so watch out for it.
---
Coach Kaye Lopez is a Makati-based multisport coach, who collectively refers to her group of athletes as FIT+ Academy. She is an ITU Level 1 certified coach and former member of triathlon, cycling, and duathlon national teams, and has more than 15 years of knowledge and experience in multisport.She is also the editor-at-large of Multisport magazine and online editor of MultiSport.ph. When she's not coaching, she's out doing her own swim, bike, and run training, or practicing yoga. Check out her website at www.fitplusacademy.com.
---