Breakthroughs and record breakers aside, Ford Forza is going into this year's Ironman 70.3 Asia Pacific Championships with a bang
By Eric Nicole Salta and Romeo Moran | Photos by Tristan Tamayo
Different storylines, one narrative that's built tough.
That certainly seems to be the case with quite possibly the most talked about team at this year's Ironman 70.3 Asia Pacific Championships. Led by team captain Gianluca Guidicelli with his statesman-like influence on every single member, Ford Forza Tri races through the wind and runs into the scorching pavement, every step hurling them further from their physical and mental limits and inching closer to their common goal: breaking their own records—whatever it means to each and every one of them.
"The whole goal for the team is to really break our personal records," says Matteo Guidicelli. "For some of us, it's not just to break records but to prove to ourselves that we can finish strong, take charge of ourselves, and go further with our finishes."
In front of a mostly home crowd, several Ford Forza plots guarantee an exemplary depiction of what Matteo is talking about. Ivan Carapiet, one of the finest athletes Ford Forza has produced, will aim to break not only five hours but also to emerge as one of the true top competitors of both the team and Philippine triathlon, thanks to an amped-up routine to push himself and his chances further.
"Double the amount for sure," Carapiet says about what he did differently this year. "A sample training day would be, in the morning I'd bike 90 kilometers with 15 minute intervals and in the afternoon I'd swim three kilometers. My coach is Ani de Leon-Brown and she helps me out a lot."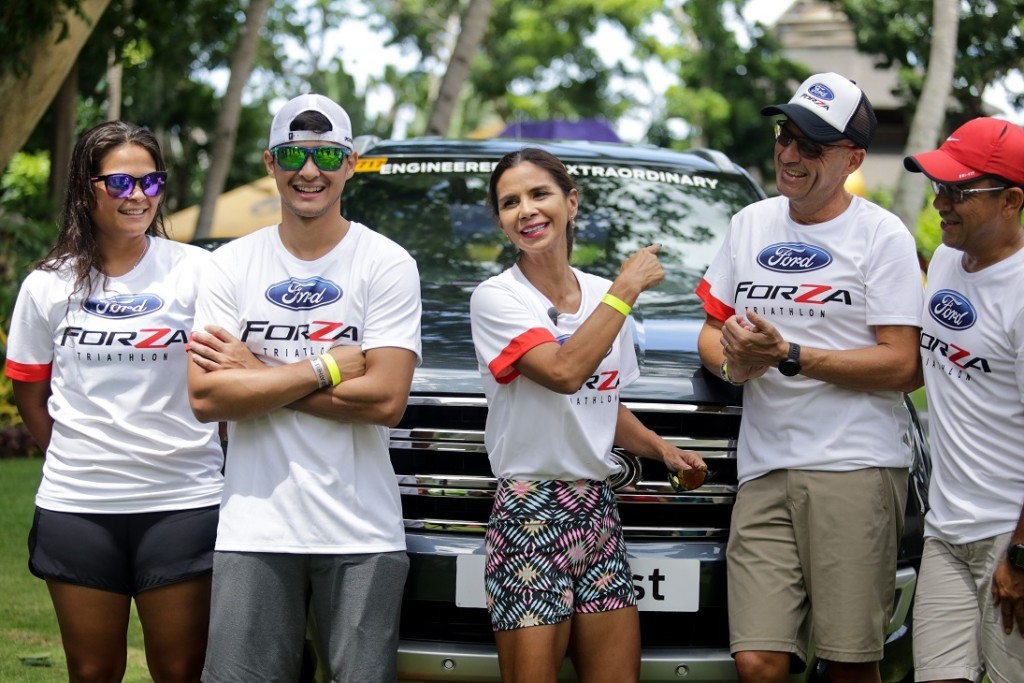 Part of the key to Ford Forza's success as a team is their preference to keep things light, so they can turn it up on race day
But the competition will be fierce with a few hundred age-group athletes to contend with who have trained just as hard and are capable of going toe-to-toe with them. But given the experience the team has with top-level competition, Ford Forza Tri uses all their practical knowledge to produce super performances. Case in point, Giorgia Guidicelli's understanding of last year's swim course. "Definitely how to swim with the current," she says on what she had learned from 2015's race. "I think all of us who raced last year is prepared for the tides tomorrow. And if they didn't swim last year, they have been informed. We all know what to expect."
Anyone who has ever met the team can appreciate the fact that despite their superhuman achievements, Herculean stamina, ripped bodies, and laser-like focus, these men and women are still human—and that makes them all the more fascinating and relatable, a quality that makes you want to cheer for them and be part of their gang. Maria Hodges, whose taut little frame hides how hard she has trained for the Asia Pacific Championships, exudes a warmth that can cover up to 100 kilometers on the road. Jomer Lim, despite only starting training for the race a month ago, will surely go all out. As does Dyan Castillejo who has never done a 70.3: "I want to finish!"
It requires a lot of mental strength and self-discipline so what is it that continuously motivate them to go out there and push themselves to their absolute limits?
"I train with my teammates," says Glenn Gonzales. "Actually, having done this for a long time, I would have quit but it's just awesome being with these guys and training with them is something to look forward to every day."
We want to move. We feel more alive and we actually feel better in whatever we're doing if we do our workout. That's how we are, that's how we live. Even if we don't have a race, we're always doing something
"The reason why we're in triathlon is that we obviously love to exercise, to live the active lifestyle, and to feel strong every day and push ourselves," continues Castillejo. "We want to move. We feel more alive and we actually feel better in whatever we're doing if we do our workout. That's how we are, that's how we live. Even if we don't have a race, we're always doing something. It's really a part of our lives and we all just got together and jived with the motto of Ford."
"This year, I came back and got inspired to train with the team," says fellow member Noel Salvador, who's also Matteo's triathlon coach and the coach of the De La Salle Zobel triathlon team. Coach Salvador spent some time on the sidelines thanks to a bad bout with acid reflux, and it was working out with the team that mainly got him through for this year's race. "Medyo mahirap mag-start again. Pero at least, from time to time, may everyday routine na in training, so madaling makuha 'yung pace at 'yung rhythm."
Minnie Valencia-Bustamante, Ford's vice president for marketing and sales
And for Ford, there is a sense of similarity between the brand and the team's philosophy. "Ford is known for our pick-up trucks and our Built Ford Tough and that's the way the Ford Forza team is," says Minnie Valencia-Bustamante, vice president, marketing and sales at Ford Philippines. "Going into a triathlon race is not for the faint of heart. Ford Forza is built that way, and our vehicles like the Everest when we launched it is really engineered for the extraordinary and that's how they are as a team. It's a perfect match."
With less than 24 hours left before gun start, it's hard to predict the record-breaking results and who lands on the podium but one thing is certain: Ford Forza Tri has already gone further simply by standing on the starting line on race day.
Subscribe to our newsletter to receive the latest sports news and active lifestyle and fitness features you need