Fresh and healthy meals right at your doorstep
By Ea Francisco | Photos by Niccollo Santos and courtesy of Healthy Foodie Manila
Eating healthy is easier said than done. If you can't cook it yourself, it's hard to find affordable healthy options in Manila. Fortunately, there's a growing number of diet delivery services that make healthy eating easier.
Gourmet  Kusina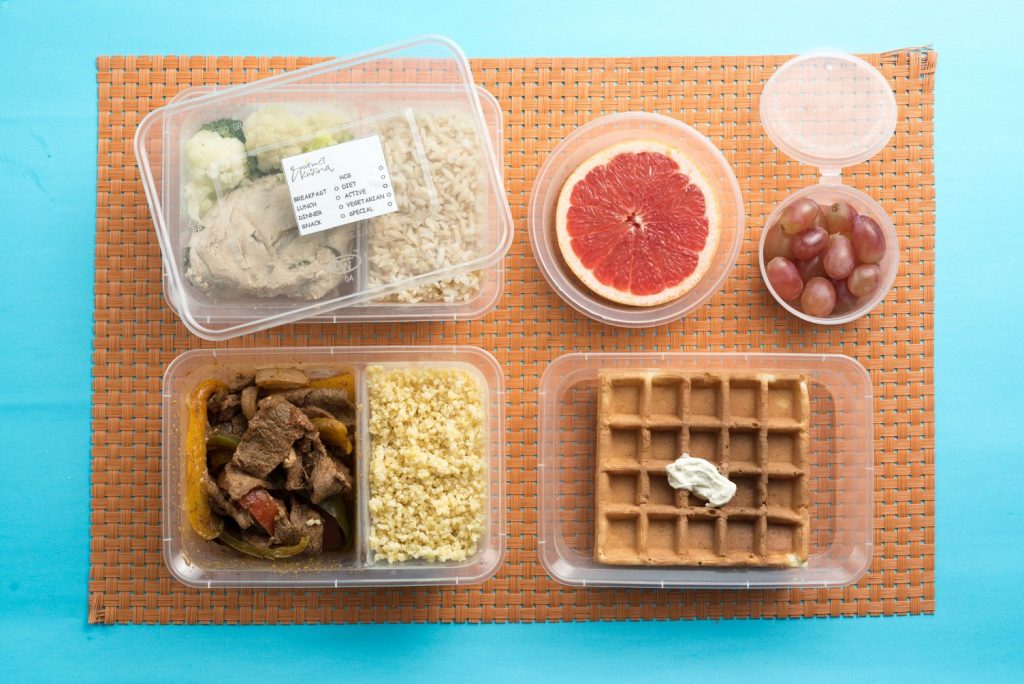 Garlic tarragon chicken, mixed pepper beef, cauliflower waffles, and grapefruit and grapes
Gourmet Kusina's main objective is to provide fresh, affordable, and healthy meals that boost metabolism, correct hormonal imbalances, and uplift overall health. They started out when one of the owners, a retired investment banker and food technologist, had a breast cancer scare and another owner's mother was diagnosed with colon cancer. They realized the lack of affordable healthy options so they decided to develop their own program.
They currently have three: GK Diet with 1,200 calories primarily for weight loss, GK Active with 1,500 to 2,000 calories, and HCG diet with 500 calories. For as low as P1,140, you can get three days of their full program, which consists of three meals and two snacks. If you're on a tight budget, they also offer lunch box meals where you can choose one meal and one snack, which costs P800 for five days. They even offer a budget pack starting at P840, which consists of two meals and a snack.
You can view their weekly menu from Monday to Saturday on their Facebook page. For carb options, you can choose between brown rice, couscous, and veggie rice. There's even an option to adjust meals such as having an all-fish menu or completely diabetic-friendly choices. Generally though, they don't serve pork on their menu.
With Gourmet Kusina, you can choose to pay in full upon delivery on the first day of your program. You even have the option of choosing the days and preferred delivery times.
Delivery Areas: Makati, BGC, Taguig, Ortigas, Pasig, San Juan, Mandaluyong, Marikina, Quezon City, Taft Area, Pasay, Parañaque, Alabang, Ermita, Sampaloc
0906-5884966 | 0947-5260914 | [email protected] | Facebook 
Lunchbox Diet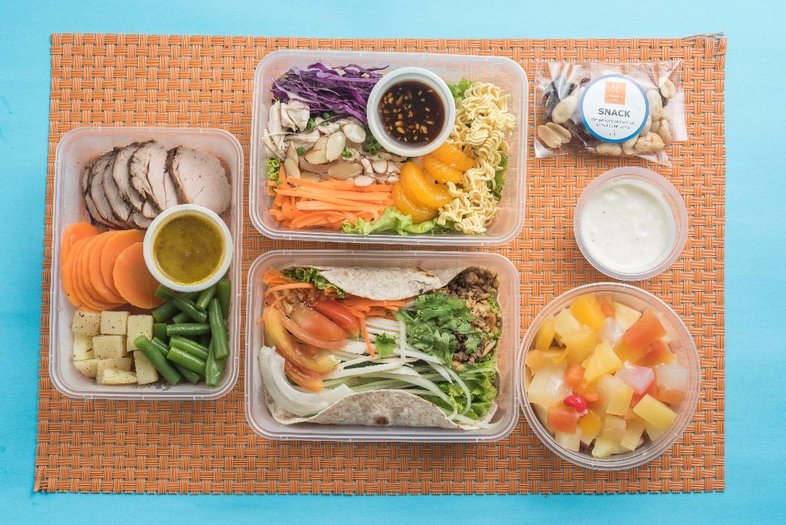 Autumn porkloin, Chinese chicken mandarin salad, beef shawarma, fruit cup and trail mix
Established in April 2013, the Lunchbox Diet is a food delivery service that offers weekly portion-controlled, calorie-controlled, and low-carb meal plans for weight loss and health.
Their weekly menu can be viewed on their Facebook page. They make meals using fresh and seasonal ingredients and they substitute salt, sugar, and fat with herbs and spices for to up the health factor. Conventional carbs like pasta is even substituted with more nutrient-rich alternatives like vegetable and protein pasta.
You can have your meals delivered for a minimum of P2,300 for a 1,200 kcal low-carb set (meals go up to 2,000 calories). This is inclusive of three meals a day and two snacks for five days, from Mondays to Fridays only. You can even opt out of snacks and one main meal, and they'll deduct the fees accordingly. They offer meals with up to 2000 calories.
They offer two delivery options, Day Before or Same Day. For residential addresses, they recommend the Day Before option, which has your meal set delivered the day before anytime between 5pm to 10pm, so that you just reheat it the next day. For office addresses, they suggest Same Day delivery, which arrives on the day of consumption between 5am to 10am.
Delivery Areas: Metro Manila, Additional P250 per week for Alabang, Sucat, Bicutan, Parañaque, Las Piñas, Caloocan, Fairview
0917-8093196 | Website
 Fit Kitchen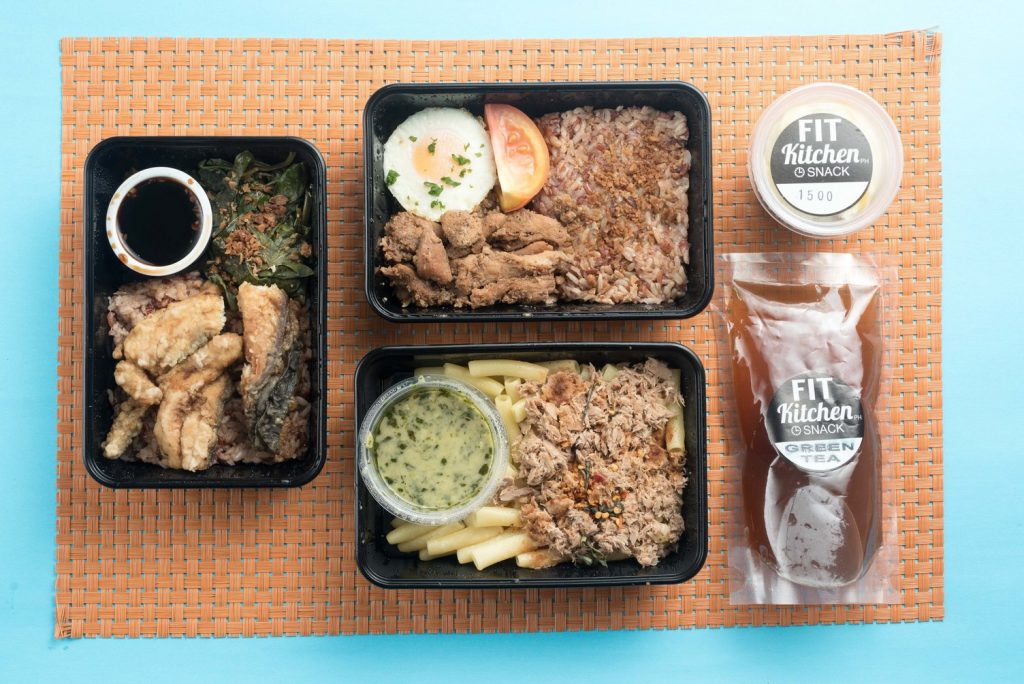 Fried bangus with dipping sauce, veggies, and brown rice, chicken tocino with egg and garlic rice, Pinoy moringa and tuna pasta, cheese puto and house tea
Established in 2014, Fit Kitchen PH delivers daily sets of healthy, restaurant-quality meals straight to your doorstep. Their team of kitchen and nutritional experts dedicate themselves to helping busy people achieve their weight loss, wellness, and workout goals through proper, well-balanced meals. They go away from fad diets that take away essential food groups and promise calorie-counted, better tasting meals with sustainable results.
You can choose between two programs, Slim Down or Shape Up. They're both low-carb and high-protein meals, but Slim Down is typically for general weight loss and health maintenance while Shape Up are for those who are more active and work out regularly. For Slim Down, you can choose between 1,200 calories for P2,000 and 1,500 calories for P2,200. For Shape Up, they have 1,800 calories for P2,400 and 2,100 calories for P2,600.
Their package offers a five-day meal plan that includes three meals, a snack, and a ready-to-drink house blend tea. Fit Kitchen posts their weekly menu the Friday before, and they have different daily themes, which range from regional, such as Asian and Mediterranean, to country-specific like Korean, Filipino, and Spanish.
They deliver food a day before consumption between 4pm to 10pm. Their packages are labeled and come with recommendations on when and how to consume your daily meals.
Delivery Areas: Metro Manila, Rizal (select areas), Laguna(select areas), Cavite (select areas)
0917-8809026 (for repeat clients) | Website
 Healthy Foodie Manila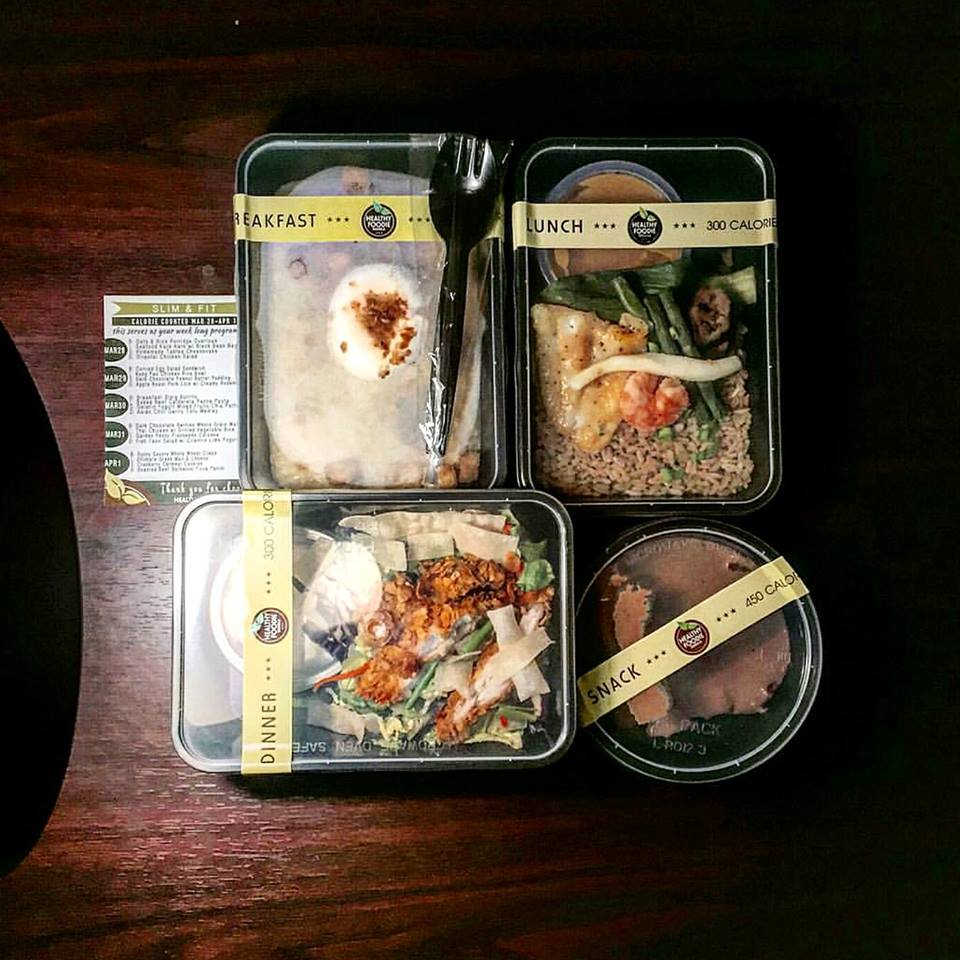 Healthy Foodie Manila is a diet food delivery that practices moderation, variety, and balance. This delivery was made to target young professionals and individuals who don't have time to prepare food themselves. Through their team of professional chefs, cooks, and kitchen staff, they prepare calorie-counted and portion-controlled meals. With the help of their nutritionist, you can even get a nutritional assessment that's appropriate to your body needs and health goals.
Their program of four meals a day for five days a week goes for P1,850 for 1,200 calories, P2,150 for 1,500 calories, P2,450 for 1,800 calories, and P2,750 for 2,000 calories. They even offer special programs where you can customize your diet, which includes low-carb and high-protein, no rice, and low sodium and no sugar. The only additional costs are P50 to P80 delivery fees.
Delivery Areas: Quezon City, Caloocan, Malabon, Mandaluyong, Ortigas, Pasig, Taguig, BGC, San Juan, Makati, Pasay, Manila, Pateros, Katipunan, Eastwood, Cainta, Rizal (depending on area), Marikina, Valenzuela, Cavite (Dasmarinas/ Imus/ Bacoor only), Paranaque
0917-9908800 | 0919-229 3988 | [email protected] | Facebook