Anthony Balaguer's bespoke bikes offer a unique fit for each rider and a personal satisfaction for the man who built them entirely out of his own two hands
By Eric Nicole Salta | 

Photos by Francesca Balaguer Mercado
What made you decide to take up bicycle frame building? When and where did you learn?

The bike leg of a triathlon is my favorite. I love bikes—the design, technology, and how they work. I also love the satisfaction I get from being on a great bike. My fascination led me to further study the design of bicycles and understand what a good bicycle is, how it should feel and perform for the rider. As I learned the history of bicycles, it led me to the glory days of when bikes were made by hand. It fueled in me a desire to learn the age-old craft of bicycle frame building.
I took up frame building under Koichi Yamaguchi in 2012. Koichi gained mastery of his craft as a master frame builder for the 3Rensho company in Japan mainly for Kerin riders. He moved to the United States where he became the team mechanic for the US Cycling Federation and official frame builder for the Olympic National Team in 1992. He made bikes for the likes of Lance Armstrong and George Hincapie.
For you, what is the attraction of building bikes?
The best thing about building bikes is seeing what you imagine in your head come to life. Making something by hand from start to finish is what makes what I do special to me. Translating my love and understanding of what a bike is supposed to do and how it is supposed to feel into something tangible is an amazing thing. I take design cues from bike builders I admire such as Tiziano Zullo and Ernesto Colnago to name a few and incorporate these details in the bikes I build.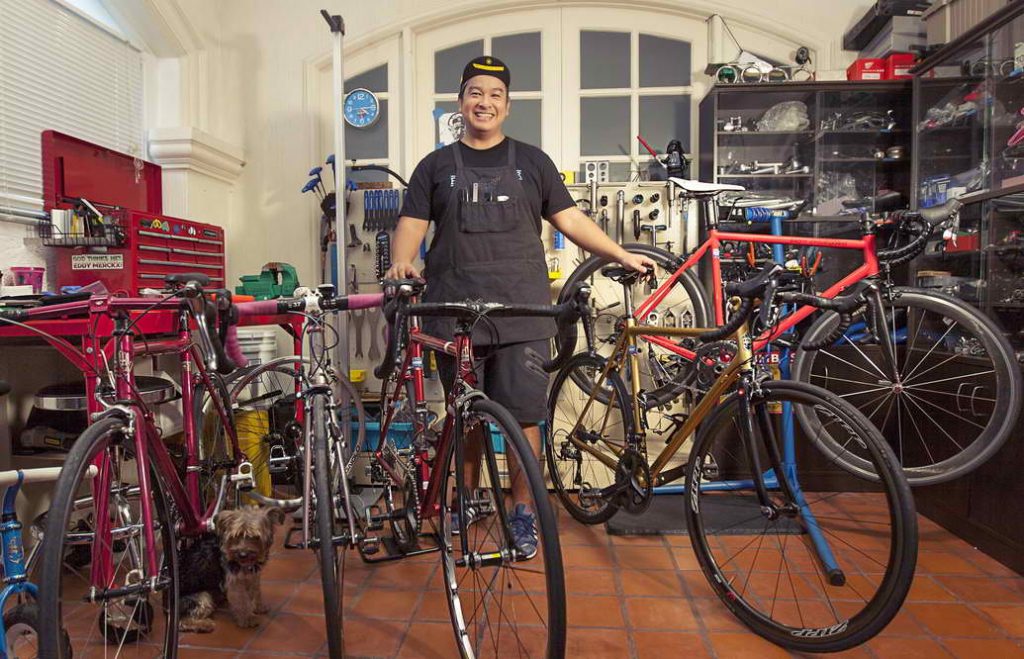 What does it mean to make a custom bicycle?
In my workshop I build all my bikes by hand, one frame at a time. I design, miter, prep, braze, and finish each bike myself. No detail is left unchecked. And while I use traditional methods, I also put in a few modern touches to build beautiful bikes. For me, the process of bike building starts off and almost always ends up in an even better and closer relationship with the person I am building a bike for. The process of building is very much a part of the product. Each bike I build has a part of me in it.

Can you say that what you do follows an artisan approach?
More and more people want to personalize their lives—through their clothing, accessories, playlists, and even coffee. There is just something special about having something unique, made to measure, just for you. The reasons for ordering a custom-made bike are just the same—you get the comfort and satisfaction that come from a perfect fit and personal style. Your bike is fit for your body and not the other way around.

Name places in the Philippines and around the world that are best seen on two wheels.
The Philippines has so many scenic places to discover on two wheels. We have both the mountains and the ocean to enjoy. We enjoy biking in Baguio and any place that is cool with safe roads.
Anthony Balaguer is a former triathlete, 2007 Ironman Malaysia finisher, and avid mountain biker. For more information on his bespoke bikes, follow him on Facebook and Instagram.