Throughout the whole season, Ateneo was unstoppable, outdoing their opponents with their methodical system and commitment to teamwork
By Nicole Ganglani | Photos courtesy of UAAP
In the past three years, the Ateneo de Manila University Blue Eagles have defeated the DLSU Green Archers, UP Fighting Maroons, and now the UST Growling Tigers—arguably three of the toughest teams (at least in the last three seasons) in the UAAP. Since head coach Tab Baldwin took over the team, it's not a coincidence the Eagles have made it to the finals four years in a row. 
Baldwin's methodical system is one of, if not the most, brilliant strategies the collegiate league has ever seen. Throughout season 82, not a single team—including Aldin Ayo's hostile mayhem system—could figure out the Blue Eagles. This system has worked wonders for the blue and white, earning them three of their 11 championships and making them the only men's basketball to complete a sweep in the final four era.
"I can probably talk all day about this team, but I won't. The 16-0 season is really something that we dreamed about. We didn't talk a lot about it because we never wanted to set that as a goal. But I know that the players particularly dream about it and it is a dream season to go through unblemished, to be able to say to each one of those 16 days, no team was better than us," says Baldwin.
Defense wins championships
The defensive system of Ateneo is the main reason why the Eagles soared higher than everyone else this season. In most of their games, there was never a time where they couldn't get a defensive stop; their opponents couldn't stop them from offense either. As seen in game two of the finals, the Growling Tigers went on a scoring run during the second and third quarter, but there was never a time when the Eagles lost their composure on defense. Because of this, their offense managed to flow smoothly during the second half—which helped them close out the Growling Tigers.
"I know that the players particularly dream about it and it is a dream season to go through unblemished, to be able to say to each one of those 16 days, no team was better than us," says Baldwin
That's really been the story of Ateneo throughout season 82. The ability to figure out every single team and expose their weakness in each game was what made this roster arguably the best Ateneo has ever seen. Again, this all boils down to Baldwin's superior basketball IQ, and, not to mention the coaching staff's ability to scout their opponents. 
Everyone is a role player
Ateneo's offensive system meanwhile is all about making the right play for your teammate. This way, the system doesn't revolve around a single player but gave everyone in the team a chance to get hold of the ball. If you look at the list of individual awards this season, there's not a single Atenean in the mythical five—which just goes to show that there's not a single dominant superstar in the roster, but a superstar in every single member.
That Ateneo ball movement 😳 #UAAPSeason82 pic.twitter.com/9fVVK9WBFF

— ABS-CBN Sports (@abscbnsports) November 20, 2019
In game two of the finals, it was SJ Belangel that sparked the offense of the team with five of his cold-blooded three-point markers. In game one, it was Thirdy Ravena's 32-point explosion that led the Eagles. Angelo Kouawme anchored the team's interior defense and scoring, while role players like Gian Mamuyak, Will Navarro, and Pat Maagdenberg showed everyone that a superstar-filled roster isn't always the key to win a championship. Lastly, there were graduating players like Ravena, Mike Nieto, Matt Nieto, Isaac Go, and Adrian Wong who, with their well of experience, willed the team throughout the season.
"Masarap. Masarap hindi dahil nanalo kami, masarap kasi we won it in a way na we were playing for one another. It's an incredible feeling, di ko ma-describe eh. It's an incredible feeling. Di ko ma-describe eh. I just want to thank the entire team. Tinatanong nila kung pano namin nagawa yung 16-0, yung sagot ko is that strength doesn't lie with one person, with one player, or one coach, but it lies on all of us. It lies because we want to play for another and we preach servanthood," says Ravena.
The age of Ateneo
This historic victory of the Blue Eagles is a great manifestation of the school's remarkable basketball program. The ability to recruit arguably one of the best coaches college basketball has ever seen, as well as some of the best players out of high school is the reason why Ateneo has been ruling UAAP basketball for three years in a row now.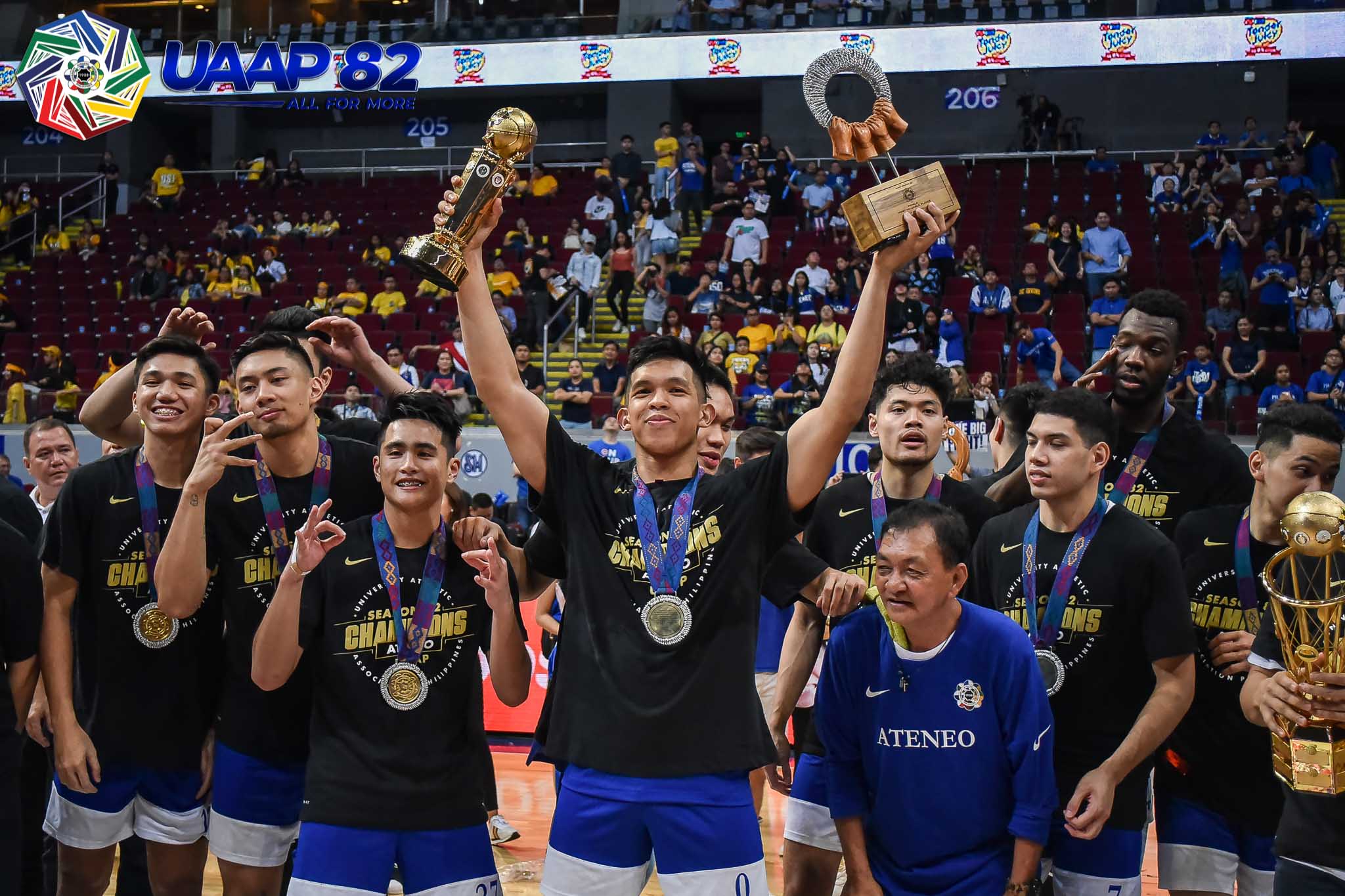 Subscribe to our newsletter to receive the latest sports news and active lifestyle and fitness features you need