These classes will help get your body moving while keeping your social distances
By Nicole Ganglani | Lead photo from I Go Beyond Yoga/Facebook
In light of the Metro Manila lockdown, several fitness establishments around the metro are now live streaming their classes online for free. From yoga to Pilates, these classes will help you get some much-needed exercise while you're currently locked down at home. 
YogaPlus
If you've been wanting to try yoga, YogaPlus will be going live on their Facebook page for a week. There will be two classes daily, namely meditation at 9am and Yin Yoga at 2pm. This is the perfect opportunity to sit back, reflect and calm down especially during this difficult time. 
https://www.facebook.com/yogaplusph/videos/1495125713980742/
https://www.facebook.com/yogaplusph/photos/rpp.187270374630183/3301278396562683/?type=3&theater
Beyond Yoga
Beyond Yoga will also be streaming a bunch of high-intensity vinyasa flow sessions for 60 minutes daily. The studio will also attempt to practice hot Pilates, jivamukti and ashtanga classes if they get enough people to join classes online.
Electric Studio
No bikes? No problem. Electric Studio will be conducting indoor workouts, specifically calorie-burning cardio and strength and core training exercises for 20 to 30 minutes. Stay tuned on their social media pages to know when they're going live.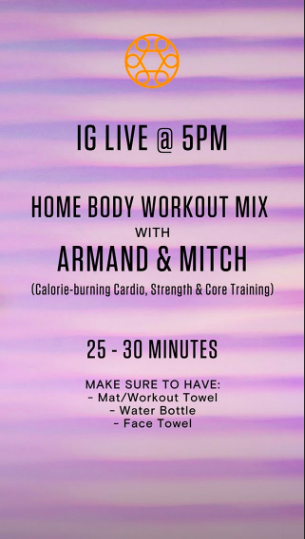 Barre 3
Barre 3 is offering non-members a free 15 day-trial for their online classes, which include unlimited indoor workouts and exercises for your body type.
https://www.instagram.com/p/B90kgqJnrxt/
Plana Forma
No lockdown can stop you from building the body you want. Plana Forma will be releasing new workout videos from their roster of instructors daily at 11am. 
https://www.instagram.com/p/B90R_FgJlhA/
Subscribe to our newsletter to receive the latest sports news and active lifestyle and fitness features you need