Female triathletes Kaye Lopez, Glenda Evangelista, and Joanne Raquel have mastered the winning formula to winning relays
Photos courtesy of subjects
In the two years that I've been doing triathlon, joining a relay race is still on my bucket list.
I have heard many interesting and fun stories about preparing for and finishing relays. Some say it's totally fun while others share that it's stressful because of the added pressure of passing the baton. There are varying opinions about relays, but one thing is for sure: It adds a whole new dimension to the triathlon experience.
When I learned that Kaye Lopez, my triathlon coach, along with Glenda Evangelista and Joanne Raquel, finished third at the recently concluded Ironman 70.3 Thailand, I knew they needed to share their story.
I have seen their passion and discipline as well as their bond and commitment to finish successfully together. As you read their A-ha moment and insights on the power of togetherness, I hope their stories would compel us to consider relays in the near future.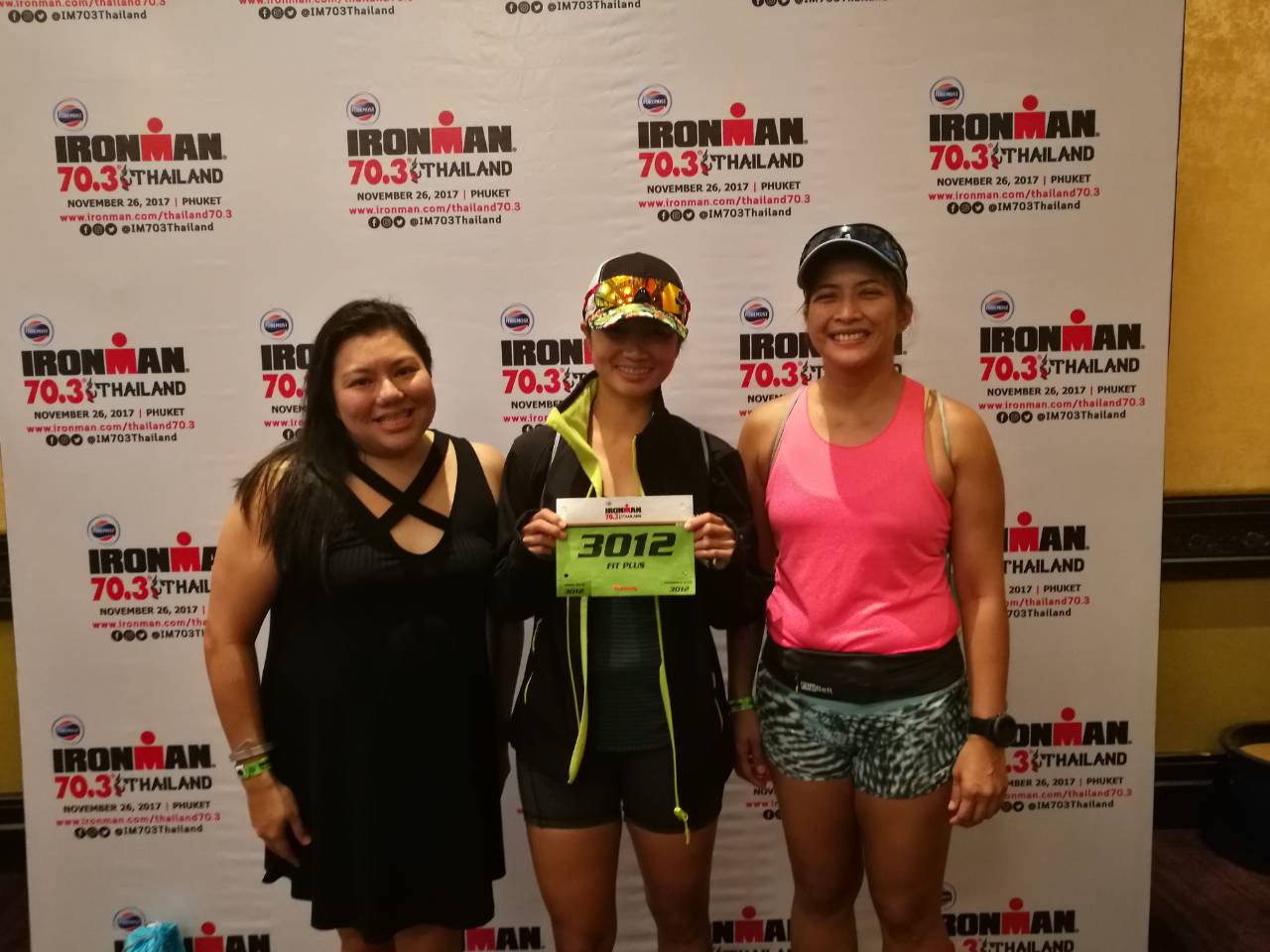 Congratulations on your podium finish! Let's backtrack a bit and tell us what inspired you to start your triathlon journey.
Glenda Evangelista (GE): I started my journey when I saw my husband finishing an Olympic distance triathlon. Since I already know how to bike and run, I decided to learn how to swim despite having zero skills in this sport.
Joanne Raquel (JR): I am not a triathlete unlike Kaye and Glenda. I started with running back in 2011 but due to my spine injury in 2013, I moved to swimming in 2015. I just joined aquathlons and I didn't know how to bike.
Kaye Lopez (KL): Like Joanne, I didn't begin my triathlon journey as an athlete. I've always been active but I was more a jack of all trades and master of none. Before triathlon, I dabbled in different activities with my athletic cousins such as tennis, scuba diving, and taekwondo. While working for Runrio, I was given the opportunity to assist during running clinics until I eventually found my way into coaching individuals. It started with running then evolved into triathlon when one of my first students, Cecile Hufana, asked if I could help her and her daughter prepare for their first triathlon. And the rest is history.
What makes a relay race exciting and fulfilling?
KL: What I love about racing as part of a team is that there's an added sense of accountability to your teammates. Unless something goes terribly wrong, it makes quitting much less of an option than if you were racing as an individual. You still do your assigned leg on your own but just knowing that someone is back at the relay tent waiting gives each of the members that push to want to give it their all. Landing a spot on the podium is a bonus and makes the experience more special and rewarding.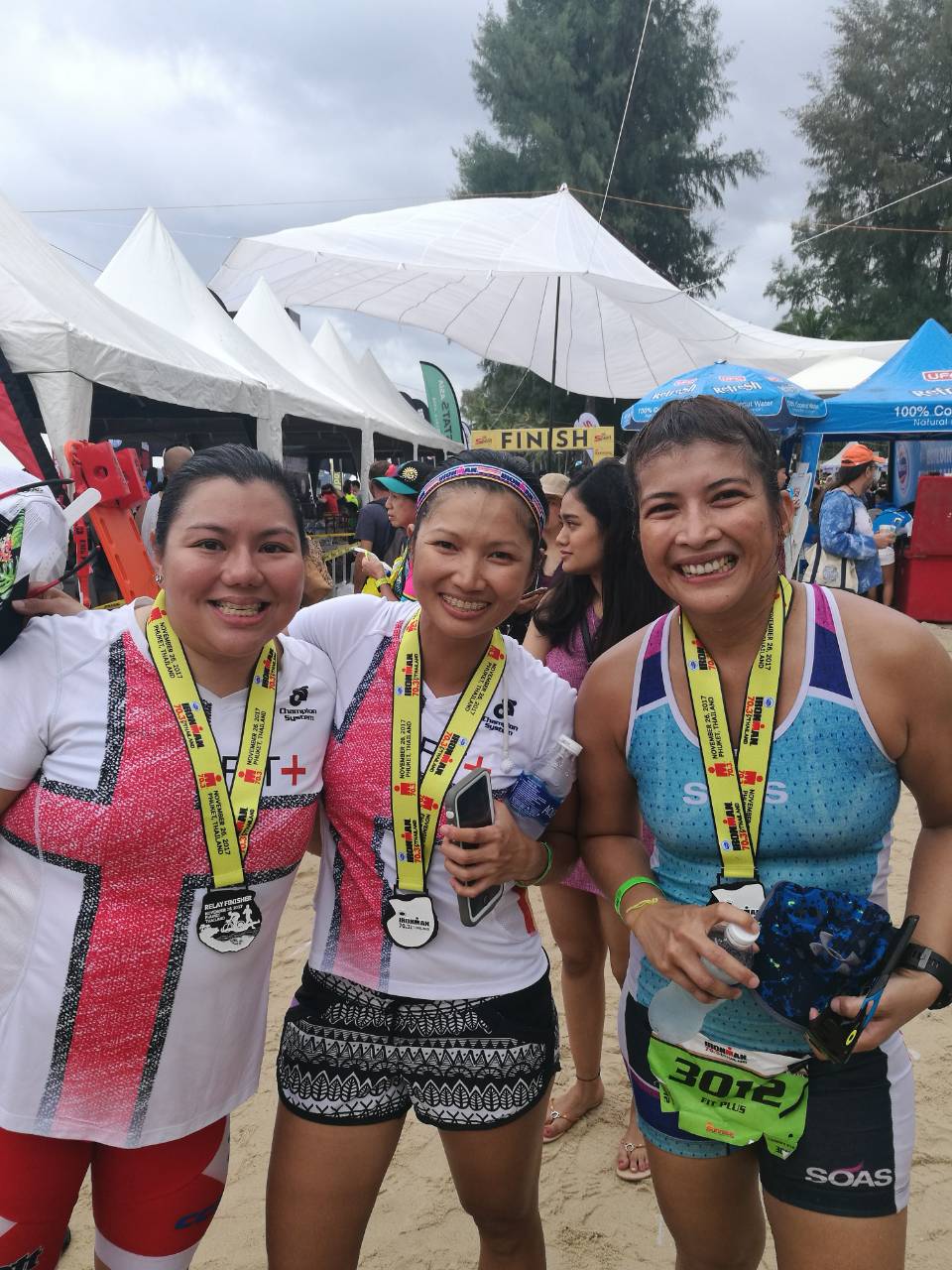 JR: Being part of a team and knowing that someone is depending on you to finish makes joining a relay team exciting. This is something I am not used to. Getting out of the water and seeing my teammates finish their leg uninjured make it so fulfilling.
Joanne, let's talk about the swim leg. What were the highlights? What ran through your mind as you braved both the swimmers and the waves?
JR: The swim route wasn't difficult because the water was calm and tasted less salty than our beaches here in the Philippines. I'm used to open-water races where we just look and aim for the buoy. In triathlon races, they contain you in between the marshalls and the anti-wave lines, therefore, swimmers tend to kick and pull each other. This was what I was afraid of: that they might swim over me and hit my back injury so I usually tread when I know they'll hit me.  
In my mind, I was actually talking to God, hoping that the sun would come out because that is where Glenda gets her superpowers to run. I was also thinking about Kaye and hoped she doesn't get disappointed with my time. Also, I could hear my friend Alvin Te Tan and my swim coach Marinella (Arabejo)'s voice in my head—reminding me about proper strokes, breathing, gliding, and technique.
Kaye, I heard how tough the Nai Thon Hills are for the bike leg. What made it challenging and yet memorable?
KL: The hills were challenging due to their steepness as well as the narrowness of the two-lane road where the steepest ones were. They weren't very long, only the first and last hills were more than 500 meters and the rest just ranged from 100 to 200 meters but you definitely need at least some intermediate-level climbing skills for the ascents and competent bike handling skills for the technical descents.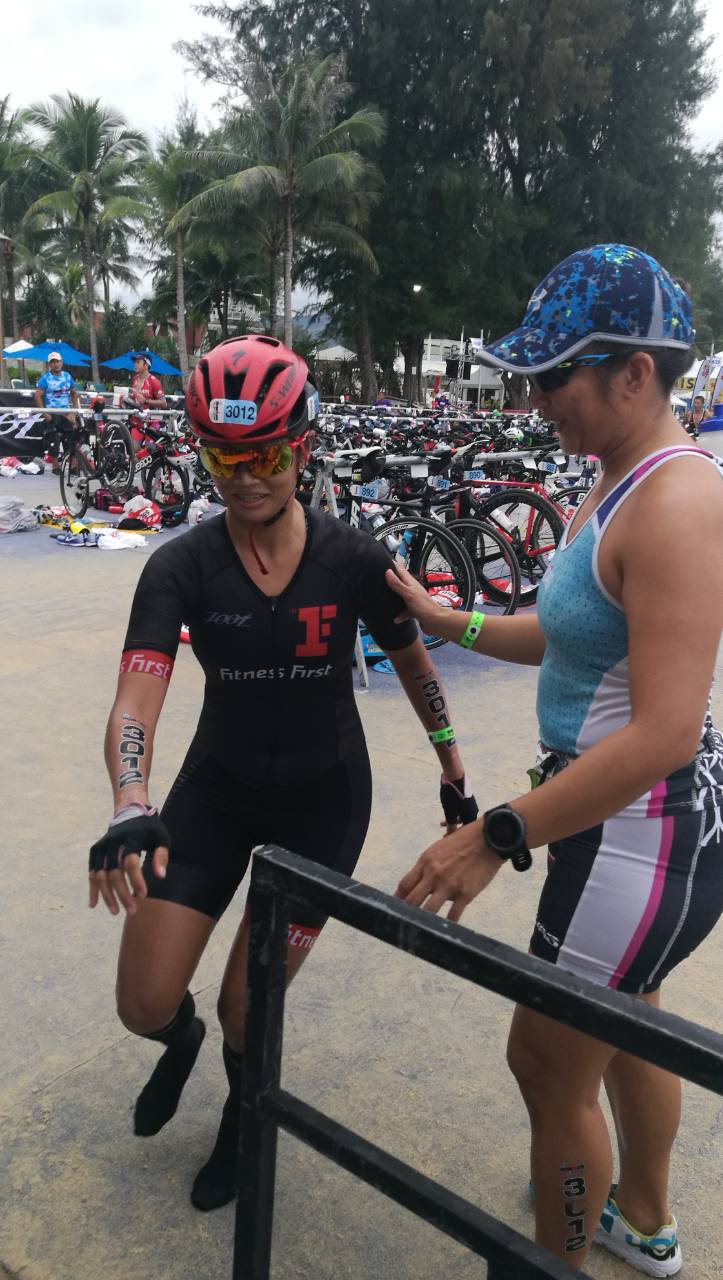 It didn't help that the roads were wet and other participants were either wobbling or falling off their bikes in front of you so you also had to know how to maneuver yourself or else they might take you down with them. The hills were literally memorable because I counted eight peaks in total just to help keep me going until I reached the last and longest one. It's usually the more stressful events in your life that stay with you and riding up and down the Nai Thon Hills during the race is one of them.
Glenda, what were your thoughts as you were waiting for your teammates to finish? What were your challenges and how did you overcome them?
GE: My thought was that I know we will have a decent time overall, but I wasn't aware that we will bag third place. During my first 8K, an angel on my back was reminding me to stick with my pace and not to run faster beyond my pace—for me to jog instead of walk, hydrate, etc. When I hit the ninth kilometer, I could feel a blister on my right foot; I started to walk because of the pain. What I did was to change my tempo run to 450-meter interval fast run with 50-meter walk so I can put water on my right foot and at the same time lower my heart rate. With these strategies, it helped me finish the last 13K and got a decent time.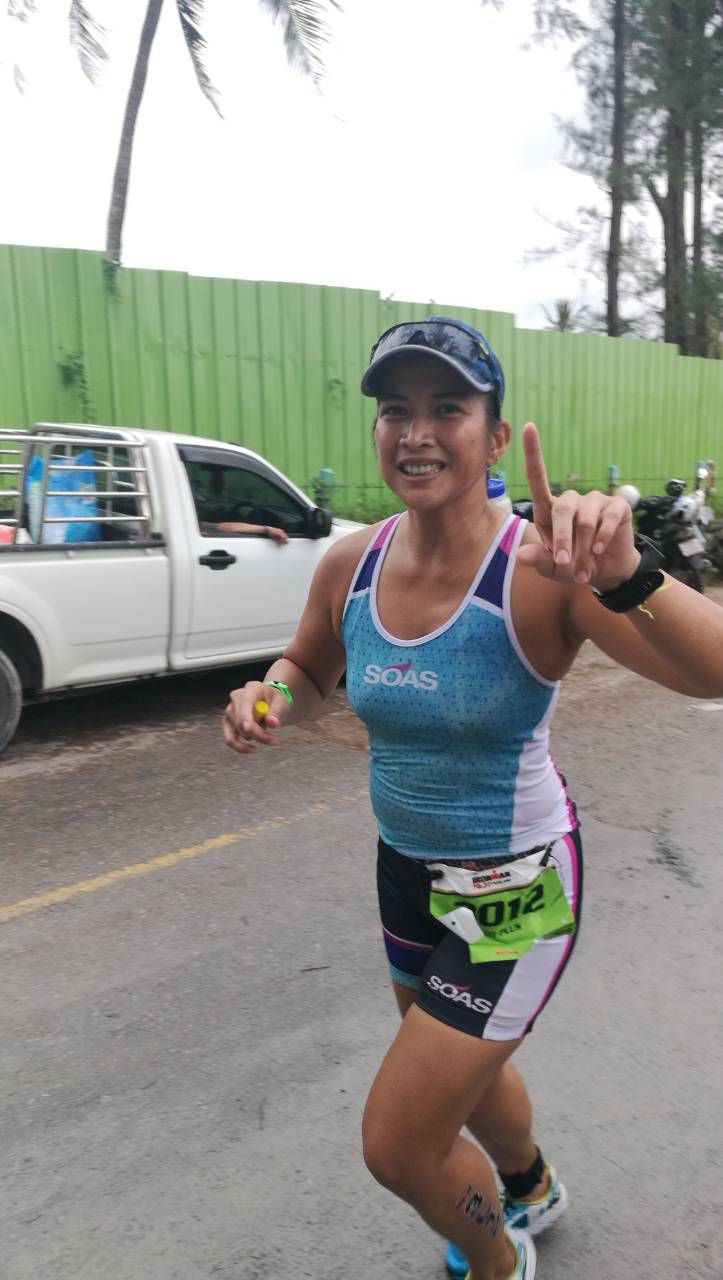 Why is it worth anyone's time and energy to join a triathlon relay race? What made this race particularly memorable for all of you?
JR: What made it worth it was that I raced with crazy, disciplined women who inspire me. I'm aware I was the weakest link so I was just truly honored. The race was memorable because this is the non-running event I raced with Alvin, my constant running buddy since 2011. If he didn't join this race, I wouldn't be part of this relay team. And of course, getting on that podium in an international Ironman event, this is one race I would never forget.
GE: What makes a relay race different from an individual event is that it makes you not only trust your individual skills but also trust your teammate's ability to perform. You read each other's skills and abilities and combine them to achieve your goal.
KL: Joining a triathlon relay is a fun way for newbies to get into the triathlon spirit. Maybe it will inspire them to sign up for their first triathlon, maybe it won't. But at the end of the day, whatever reasons they may have for signing up, just being able to share the experience with friends and loved ones makes it all worthwhile, not to mention the health and fitness, strength of character, and Facebook friends you'll gain in the process.
At the end of each racing season, we usually plan some sort of culminating activity where most, if not all, of us join a race as a big group. This year is extra special because this is our first time to race together overseas and Glenda actually signed us up well in advance, almost a year ago actually, while I was still on my extended stay in the US. 
It goes to show how far FIT+ Academy has gone, literally and figuratively, and that makes me feel proud to have had the opportunity to be part of everyone's triathlon journey, no matter how big or small that role may be.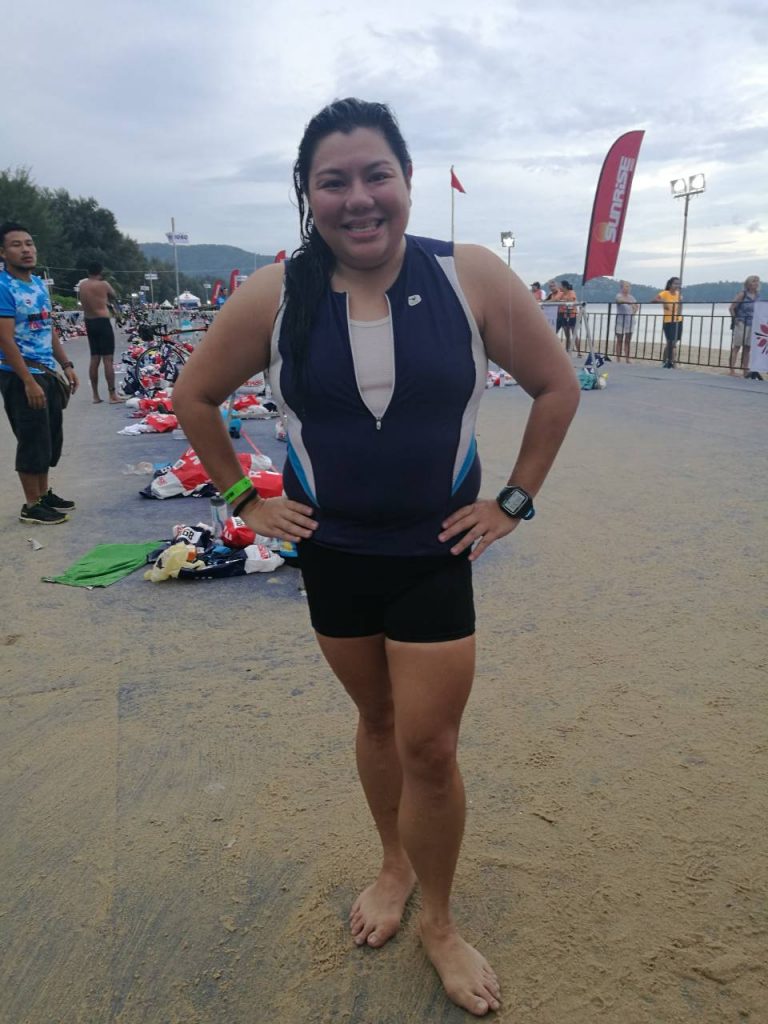 For those considering 70.3 relay races in the future, what tips can you give?
JR: My tips for the other swim racers:
1. Learn to swim freestyle and refrain from using the breaststroke. I got hit twice on my face because swimmers would just stop and change their strokes.  
2. Build your endurance so you would not be compelled to cheat and use the anti-wave to propel you.
3. Pass that baton. Keep in mind that your bike relay teammate is waiting for you. I skipped the shower and water break when I got out of the water because passing the baton was my motivator.
KL: My tips are focused on research, equipment, and training.
1. When you sign up for a race, check the bike course terrain and decide whether or not it is something you can be mentally and physically prepared for come race day.
2. Once you've identified the course profile, you can make your life so much easier if you train on the right type of bike and install the appropriate gearing for your chosen race.
3. After you've built up your base during the off season, focus on specific workouts and course simulations that will help build not just race-specific skills but also your self-confidence coming into race day.