Think you can only bike these bamboo babies in Intramuros? Think again
By Kara Santos | Lead photo by Kara Santos
Bambike is one of the most popular locally-made bicycle brands in the Philippines. Handmade and crafted by builders from Gawad Kalinga, a Philippine-based community development organization for the poor, Bambike aims to be one of the greenest bikes on the planet.
Aside from selling these sustainably-made bicycles, Bambike is known for offering eco tours that give tourists a great opportunity to discover some of the country's tourist spots on two wheels. For those who've ever wanted to experience riding a bamboo bicycle, here are just a few of the places around the Philippines where you can take a tour or rent one to explore on your own.
Poblacion, Makati
https://www.instagram.com/p/BYhqKaWHK1Z/?taken-by=bambike
The hip neighborhood of Poblacion in Makati is another top spot in the metro known for its vibrant nightlife, unique dining establishments, and craft breweries. But with the traffic situation and one-way streets, getting around by car or cab and finding a place to park can be a real pain. Backpackers staying in the area might want to just hop on a bamboo bicycle to familiarize themselves with the area. The tour starts and finishes at Z Hostel and is capped by a round of drinks at their roof deck.
Bonifacio Global City, Taguig
https://www.instagram.com/p/BJXpJcwDFgx/?taken-by=bambike
Bikers who want to enjoy art and culture while getting a workout might want to go on an Art Tour in BGC by bicycle. The Bambike Art Tour takes guests around to visit the street art and murals around Bonifacio Global City. The murals, which add a bit of character to otherwise boring malls and public spaces, have become popular backdrops for lifestyle photo shoots and Instagrammers. While visiting all of them by foot can be quite tiring, going around by bike makes it faster and easier to get around the area.
Corregidor Island
https://www.instagram.com/p/Baai1lqHZXe/?taken-by=corregidorph
Corregidor is one of the most important historic and tourist sites in the Philippines. This island located at the entrance of Manila Bay in the southwestern part of Luzon played an important role during the invasion and liberation of the Philippines from Japanese forces during World War II. Exploring Corregidor by bicycle offers a unique way to appreciate this historic island. For those don't have their own bikes, you can now rent bamboo bikes in Corregidor Island for P300/hour to explore nearby areas around the hotel and beachfront area.
Iloilo City, Iloilo
https://www.instagram.com/p/BXrz-ZHHEMd/?taken-by=bambike
Iloilo City is known as one of the Philippines' most pedestrian-friendly and bike-friendly places. Aside from hosting an annual biking festival, the city encourages people to live an active lifestyle with their five-kilometer bike lane running on Diversion Road and another four-kilometer bike lane running through the city's university area. Those visiting the City of Love will be happy to note that there's a fleet of Bambikes available for rent at the Megaworld Iloilo Business Park. You can find these bikes in front of Two Global Center for a daily dose of healthy activity and township strolling.
Panglao Island, Bohol
https://www.instagram.com/p/BgNkW7NloMt/?taken-by=bambike
For those who prefer to soak in the small island vibe, Panglao Island in Bohol is a great place to start. A fleet of Bambikes are available for guests at the South Palms Resort in Panglao. While it's recommended for use just within the property, the entire island of Panglao is small enough to circle by bicycle under half a day. There's no traffic on the streets except in towns like Alona, Dauis and nearby Tagbilaran. The main road is all paved, but you can bike through side roads and beachfront areas.
Baler, Aurora
https://www.instagram.com/p/BhVq9d-H7Es/?hl=en&taken-by=charlie.does
Baler, the capital town of Aurora, is known for surfing, but it's also a great place to explore on two wheels. The laid-back coastal town in the North has a rich history, being the backdrop of the infamous Siege of Baler, a battle of the Philippine Revolution and concurrently the Spanish–American War and the Philippine–American War. If you're heading there anytime soon, you can rent Bambikes at Charlie Does, a hip surf shop, boutique, and cafe that also runs a hostel behind Costa Pacifica. They rent out Bambikes for P200 per hour or P600 for the whole day.
Intramuros, Manila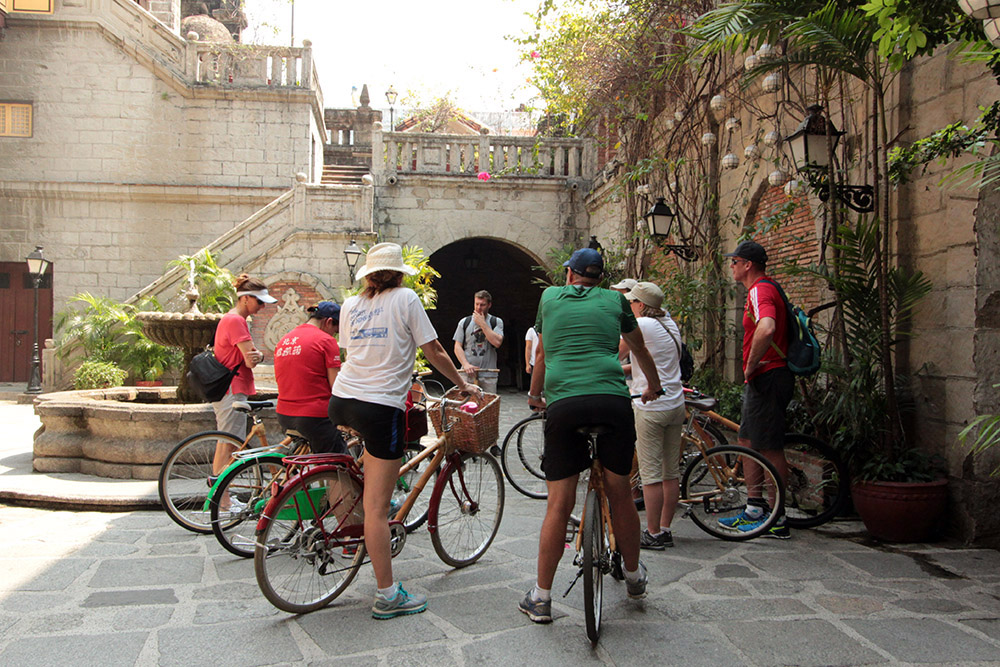 For those based in the metro who want a quick introduction to Manila, there's no better place to cycle than around the historic walled city. The Intramuros Bambike Ecotour is a 2.5 hour guided bike tour that goes through eight to 10 major historical and cultural sites inside Intramuros.
Tourists cover more ground than going on a walking tour and biking provides a more active way to get around compared with traveling around by motorized transport. Guests can choose from a wide variety of Bambike designs, which include their signature Ligtasin Cove beach cruiser and Victoria city bikes. You can also rent one for as little as P200 per Bambike per hour to explore on your own.
Subscribe to our newsletter to receive the latest sports news and active lifestyle and fitness features you need