Meet Jey Yayong, a teacher and now a marathoner
By Joy Wong | Photos courtesy of Jey Yayong, Maris Rodriguez and Joy Wong
Joining a marathon is no easy feat. It can get intimidating, especially for first-timers. Luckily there are avenues for people who are just stepping into marathon running. And Jey Yayong's story is one that will inspire anyone. What makes him stand out among the many runners I've met is his stubborn yet humble disposition towards running. I say stubborn because Jey has this unbreakable and unquestionable desire to successfully finish his first Herculean race, The Bull Runner Dream Marathon 2020, which happened last Feb. 16 in Clark, Pampanga. Despite setbacks along the way, Jey's determination was admirable. Amid his persistence and steady progress, his sense of humility allowed him to optimize his learning experiences, gain friends and along the way, find his version 2.0. Through his story of being a teacher and a marathoner, allow his story to positively infect you as you also find yourself through your running journey.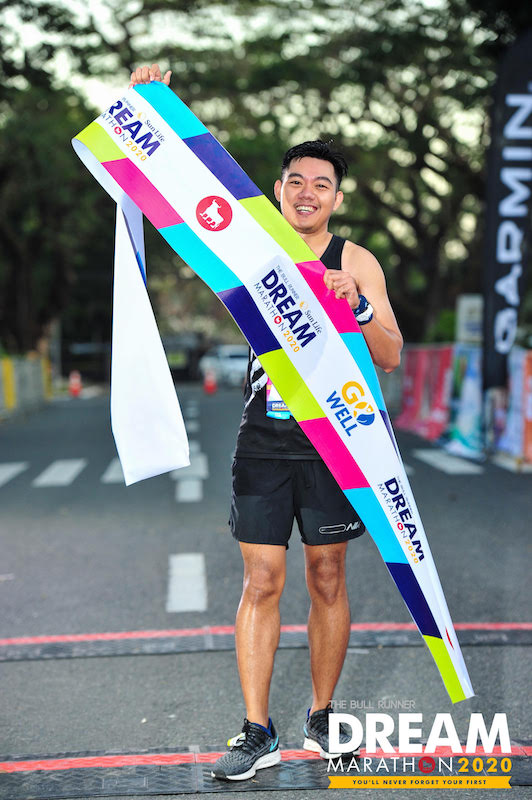 Jey Yayong recently completed The Bull Runner Dream Marathon
What made me decide to teach is my innate passion to learn and share what I am learning with others. I became a faculty member for one year in the Rizal College of Laguna High School Department with the intent to give back to my alma mater. The biggest lesson that I got from teaching in this school is to be flexible, humble and open to life's surprises. An example of these lessons of virtue was when the administration would ask me to teach something outside of my mastery and comfort zone, and I had to adapt quickly so I can teach it to students. Even if I may not know anything yet about a task given to me, I learned to be agile and find a way how I can successfully do it. Also, I met many students who also taught me life lessons, as I would teach them academic lessons. I enjoyed teaching, however, it was the same hunger for learning that made me leave the academe. I wanted to improve myself in connecting with others through my stories, yet I knew I have yet to gain experiences outside the academic world. This self-exploration brought me to join People Ignite Organizational Development and Training, Inc., the company I am with for three years now.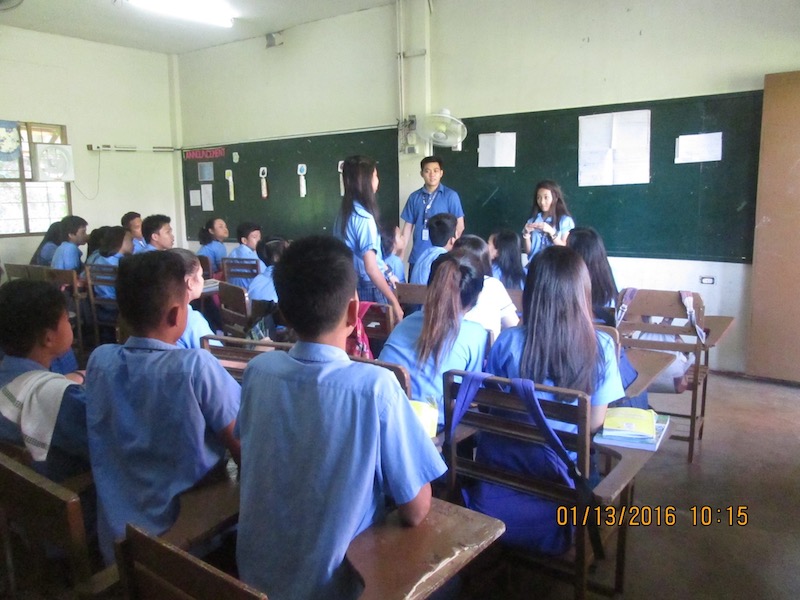 Jey as a teacher
Tell us about your journey with People Ignite. Were you able to find what you were looking for (in this company)?
Joining People Ignite in October 2017 is one of the best decisions I've ever made. I was at a crossroads of [whether I should continue to teach or move forward in the corporate world]. That same year, I passed the LET (Licensure Exams for Teachers). On one hand that was a great opportunity for me to level up in teaching. On the other hand, I didn't want to have any what ifs about becoming a better person, plus it crossed my mind that exploring this new path may help our family somehow, having nine siblings. At this crossroad, I chose to say goodbye to being a teacher and joined People Ignite.
I started as a training operations officer, doing everything backend for training, team building and planning sessions. My transition from academe to corporate was not that hard because of the People Igniters who are accommodating and facilitative of my personal and professional growth. However, backend work meant humbling tasks like sharpening pencils, counting papers, printing and binding session workbooks for participants everyday. There was a time I thought about just going back to being a teacher, but I'm happy I stayed even though my work was routinary and humbling.  What's good about People Ignite is that the leaders allow us to explore different roles where we can grow. After three years, I am now the Head of Training Operations Group, able to do both strategic and tactical roles as well as handle people. Through my work, I am learning new things by exploring my full potential. The People Igniters also helped me discover the path of running and with their support, my story of being a marathoner began. 
Why is running so important for you?
It taught me great lessons in life. First, it taught me to be grateful and to celebrate all my achievements whether those are small or big ones, like running a 5k or several 21ks. Second, running taught me to keep going despite facing difficulties in life because in running, once you give up on yourself, you would never be able to meet your goal. Third, this sport taught me a sense of balance by enjoying life.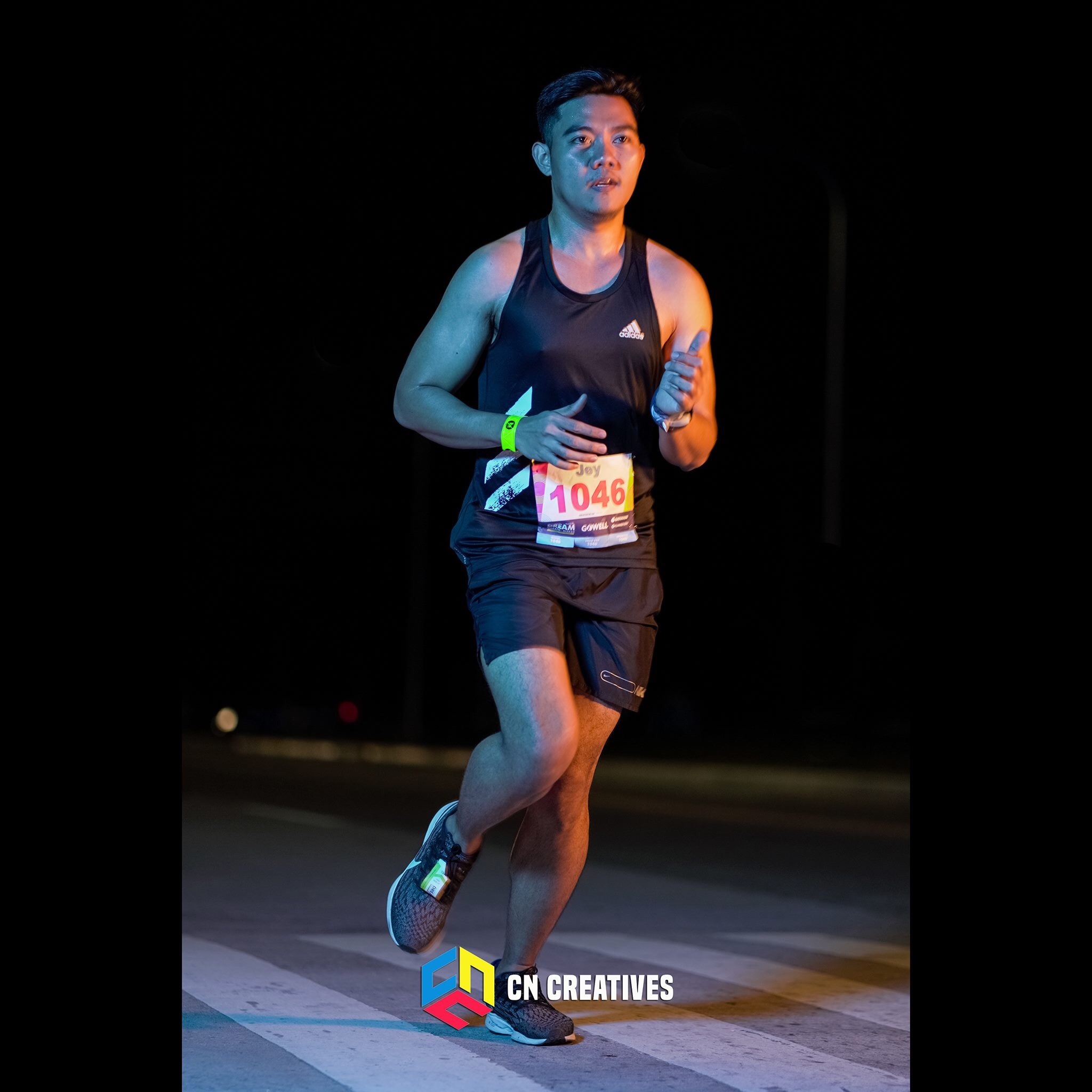 What do you love most about running?
The fact that running is inclusive. Anyone can run as long as you are able to. It doesn't matter if you are old or young, male or female or somewhere in between, or if you are already in good shape or just starting to get fit. As long as you have the passion and capability to run, you should run!
Also, running for me is a simple and easy activity. You don't need to be an expert to start running; all you have to do is to go outside the house, find a good route and run. Take it from someone like me who doesn't know any sport! It's really a good sport to start with.
How did running help you personally?
I found Jey v2.0 through running. I can't imagine what kind of person I would have become if not for this sport. Maybe I'd still be a couch potato and doing unproductive things. By running and being disciplined at it, I'm able to have a healthy lifestyle, gain new friends and more importantly, gain self-confidence. I realized in this journey that I can do greater things! I can actually help people believe in themselves, too. Ultimately, the best gift of running to me is [helping me better understand] my identity. If not for running, I don't know what kind of Jey I would be.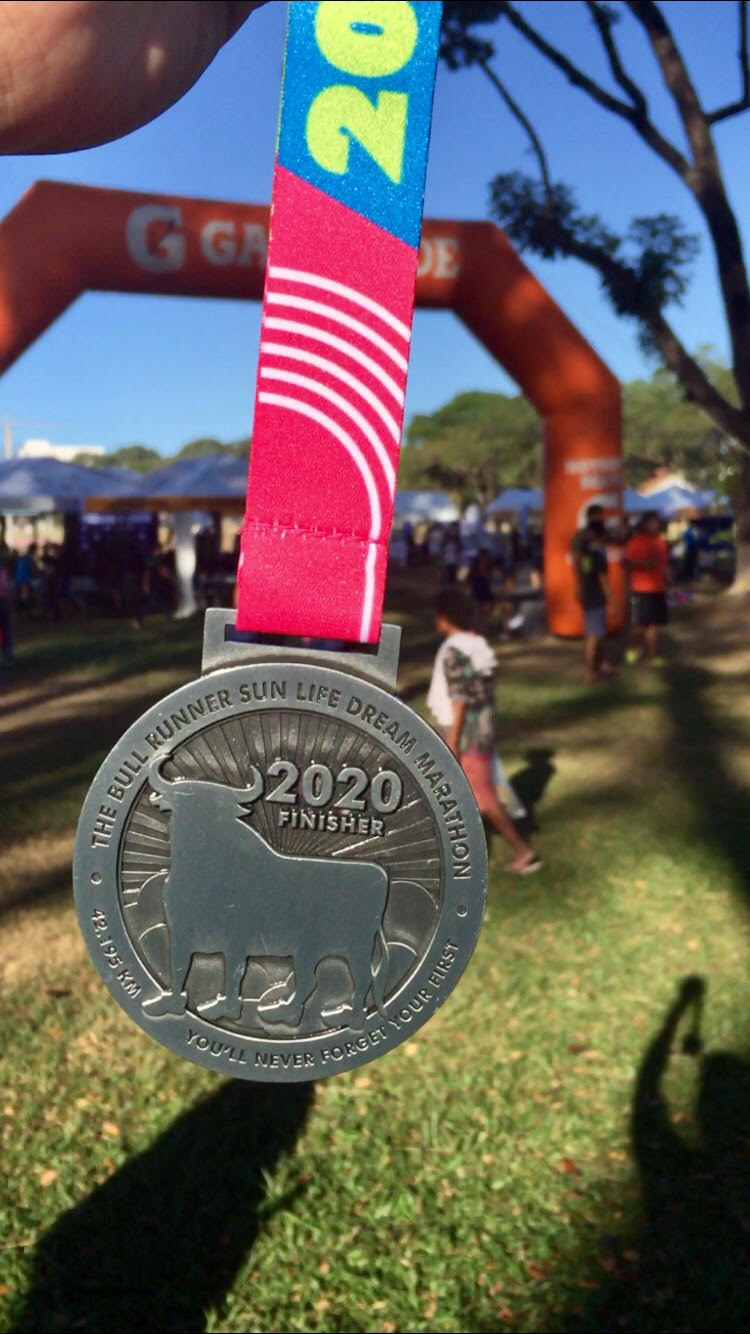 Jey Yayong finished The Bull Runner Dream Marathon in 4:28
What kind of preparation and nutrition did you have as you prepared for TBR?
I had to prepare physically and mentally for the race. Physical preparation is a given. I cannot run a full marathon without ample time to train. In my case, I followed the The Bull Runner (TBR) training program. I tried to religiously follow the weekdays and weekend Long Slow Distance (LSD) from the start but because of other commitments and time constraints, I ended up doing the most important part of the program, which, for me, are the LSDs. Aside from the running program, I also invested time to do CrossFit and Circuit trainings (#batangpound); these helped me strengthen my core and endurance. I anticipated that on race day itself, I will be exhausted and for sure, negative thoughts of giving up will try to distract me. During the race, I focused rather on happy thoughts because marathons, after all, are a mental game of endurance.
I learned from other alumni that there would be a lot of hydration, food and recovery gels along the way, so I decided not to bring too much nutrition; I only packed three gels, two packs of gummies and backup hydration. It's always better to bring just enough nutrition since adding unnecessary weight will only slow you down.
I am happy that even after the race, I was able to join Jaymie Pizarro's invitation for a post-race 10k run. I met a few more runners, we shared our personal stories, and the best thing was that I ran alongside her and gained a few more tips.
What were the challenges you experienced as you prepared for The Bull Runner Dream Marathon 2020? How did you deal with them?
First, I had a knee injury two months before the Marathon. It was very frustrating for me because I had to rest for two weeks to recover. I followed all the advice of my orthopedic doctor, which is to do more leg exercises for strengthening and to stop running for a while while my knee is in pain. That gave me time to pause and reflect on my personal why. Second, having hypertension makes running a little bit more complicated. Every time I would do my LSDs, I make sure [to] check my blood pressure (BP) and heart rate. Safety first always. Third, the change of venue from Filinvest, Alabang to Clark, Pampanga was a tough challenge for many. Due to the Taal ashfall, the organizers chose to move the venue to Clark for our safety. This change tested my determination and my personal why. I had everything cut out in the original venue. I already familiarized myself with the Filinvest route and made a solid game plan for it. With this change, I had to forget about my original game plan and be agile and courageous enough to adjust during the day itself. I'm so glad that despite these setbacks, I pushed through with my goal to finish my first marathon. My personal why is too strong for any setback I experienced. I run because I want to be an inspiration to others and show them that what seems to be impossible can be possible with the right amount of focus and dedication.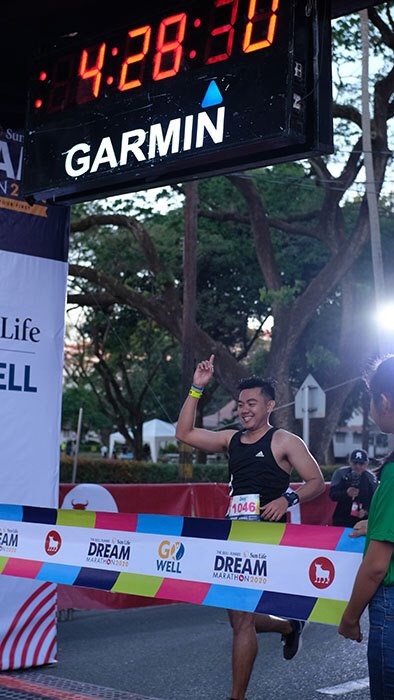 You had a great finish time of 4.28 and a 13th runner ranking. What is your most memorable moment during the race?
There is one moment that [stays] with me during and even after the race, which was the time that the announcer in the finish line shouted my name and said: "JEY, CONGRATULATIONS! YOU ARE A MARATHONER!" That essentially wrapped up my entire journey as I prepared for this marathon, with all my highs and lows. I could not explain how grateful and happy I was! Funnily, I forgot to think of a good finish line pose due to adrenaline rush! Finishing a marathon for the first time with 4.28 time and a 13th ranking among 559 finishers are just consolations and an added bonus for me because as what TBR would remind us, "We are all winners." It doesn't matter if you are the first or the last person to cross the finish line; what matters most is that you finished the race and that you reached your goal of being a marathoner. The best gift that this experience brought me is the friends I gained along the way. I will no longer be a stranger every time I'd join races.
What's your message to people who hope to someday be marathoners?
Focus on your clear goal and discover your whys. This will help you back to your goal every time you get lost in the journey.
Take measurable risks because you'll never know what you are capable of doing if you won't try. Don't be afraid to take the small steps because every runner begins from somewhere small and easy. Don't let yourself wonder and wander on your what ifs; take that leap of faith and fly.
Always trust the process and the training you put into your preparation. You will face a lot of challenges that would make you question a lot of things but don't let those control you. Remember: No one is born a marathoner. Everyone who is capable of running has an equal opportunity to cross finish lines. When you run your race—and same thing with life—give it your 101 percent effort without any reservations. Cross that finish line with all your heart, ignite your passion in running and run your best race ever.
Editor's note: This interview has been edited for clarity.
Subscribe to our newsletter to receive the latest sports news and active lifestyle and fitness features you need