Standard Insurance's Joey Delos Reyes' bankable experience in biking allowed him to conquer duathlons—and quite possibly triathlon, too
By Eric Nicole Salta | Photos by Dix Perez
The future of Philippine triathlon is here. And he hasn't even taken up the sport yet.
"Maraming nagsasabi sa akin na kung ikukumpara ko 'yung run and bike times ko sa mga triathletes, mas mabilis pa," says a soft-spoken Joey Delos Reyes. All muscle and heart, this Basilan native with an Air Force background possesses a raw talent so undeniable that even a local triathlon coach actually offered to train him overseas. His response? "I backed out."
Not because he doesn't have the credentials or doesn't believe in his potential; the moment just isn't right for him yet. A duathlete for the Standard Insurance Team, Delos Reyes is content to conquer national duathlons, fierce rivals, and, not surprisingly, himself before he can even consider taking up triathlon. That's how it's always been for the mild-mannered Delos Reyes whose biking prowess was honed in the rocky, rugged terrain of Mindanao.
"Nag-start ako mag-bike second year high school [using a borrowed bike] pero wala sa isip ko maging duathlete. Kinuha akong scholar sa Western Mindanao State University then nakilala ako doon," says Delos Reyes, who eventually managed to finish a diploma in sports coaching and a degree in physical education.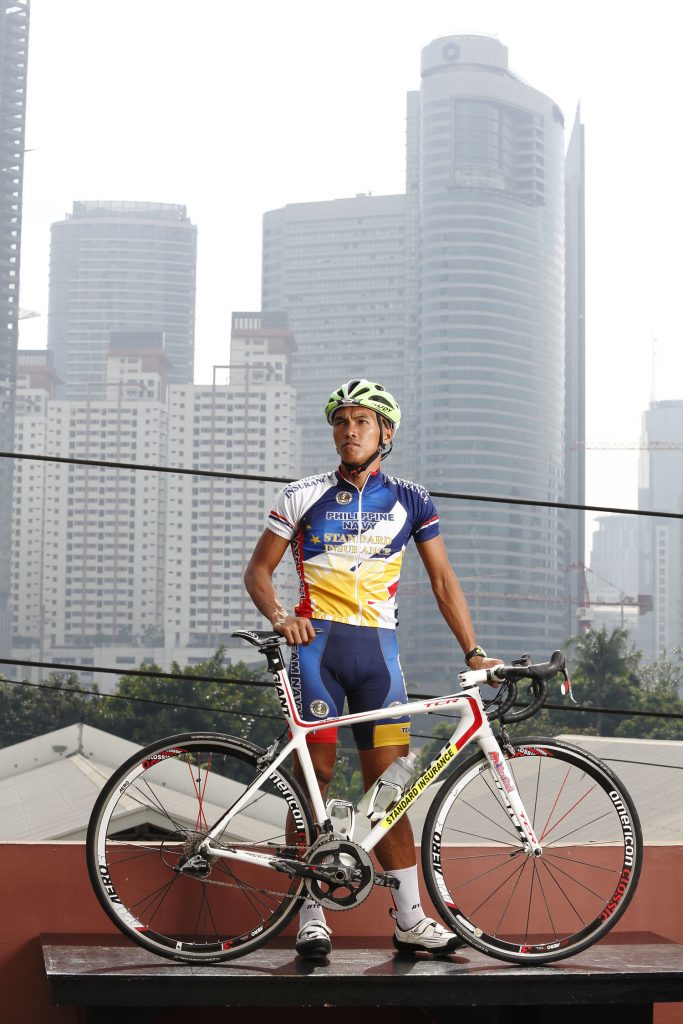 "Nag-compete din ako sa Tour de Fabian sa Zamboanga from 2007 to 2012, five years straight akong champion sa mountain biking." His immense physical abilities coupled with his 12-year cycling experience prompted his coaches to cajole him into trying out duathlon. And good thing he did as Delos Reyes has been notching podium finish after podium finish, which amusingly led to him being banned from his age group. He has since been competing as an elite last year.
Despite his numerous wins, Delos Reyes acknowledges a loss to now-teammate Robeno Javier as his proudest achievement to date. "Muntik ko na siyang matalo sa SCTEX Duathlon last year," he says about the unbeatable Javier. "Una na sana ako kaso nag-cramps ako sa last kilometer." Looking at his reaction, though, it appears that he's pretty satisfied with the outcome.
Subscribe to our newsletter to receive the latest sports news and active lifestyle and fitness features you need