This unique expedition takes devotees and cyclists on a journey of faith and fitness
Organized by Lima Park Hotel, Bisikleta Iglesia kicks off on Apr. 13, Saturday at 5am. The pilgrimage tour on bike will take cyclists on a 42-kilometer journey of seven Batangas lakeshore churches: Sto.Niño Parish Church, Marawoy, Lipa City; St. Therese of Child Jesus, Lipa City; Minim Nuns of St. Francis of Paola, Lipa City; National Shrine of Saint Padre Pio, Sto. Tomas; St. John the Evangelist Parish Church, Tanauan City; Nuestra Señora de la Soledad Parish Church, Tanauan City; and Immaculate Conception Parish Church, Malvar.
One of the main faith tourism attractions in Batangas that recently drew thousands of devotees is the National Shrine of St. Padre Pio. It was among the churches that housed the "incorrupt heart" relic of Saint Padre Pio of Pietrelcina, Italy when it arrived in the country in October 2018 as part of an organized worldwide tour. Considered the "Saint of the Millennium," St. Padre Pio is best known for his charity and gift of stigmata. 
"Our Bisikleta Iglesia is an excellent vehicle to promote the province, its attractions, rich culture, and noble heritage," says Lima Park Hotel director for marketing and corporate communications Rose Landicho.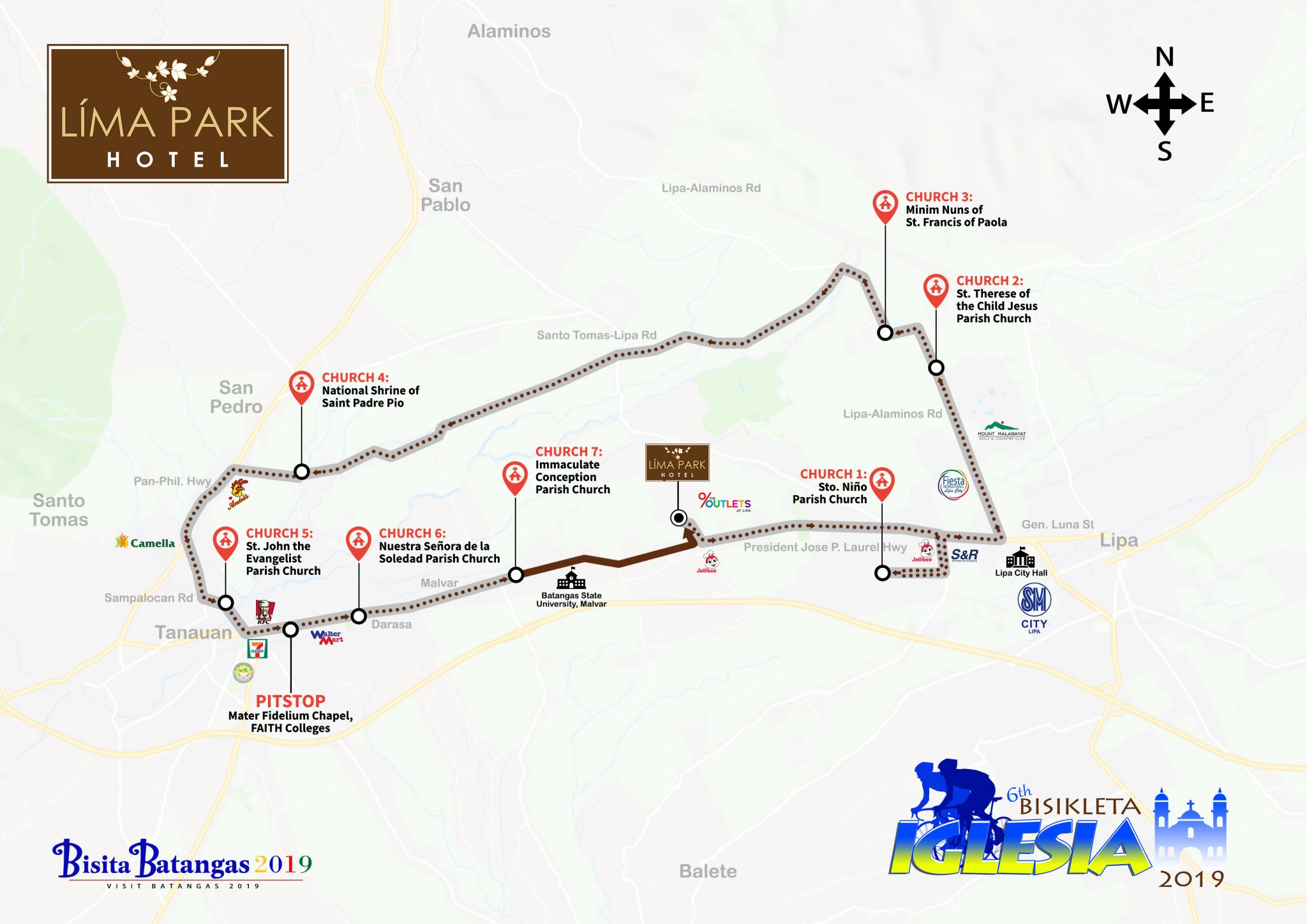 Expecting to attract more than 400 pilgrim bikers, Landicho shares that Lima Park Hotel has been working with the Department of Tourism to develop Batangas as one of the more accessible destinations for religious tourism in the country. "Lipa, in particular, is a virtual showcase of beautiful churches, both old and new. In fact, Lipa is dubbed as the Little Rome of the Philippines, thanks to its numerous churches, chapels, convents, and seminaries."
Fifth Installment
Last year, Bisikleta Iglesia attracted over 300 bikers whose ages ranged from as young as eight to seniors aged 70. They took the 52-kilometer road adventure that started in Malvar all the way to Balete and down to Lipa. Landicho points out that this event has the elements of a spiritual retreat on the road. Like last year's staging, Bisikleta Iglesia 2019 will feature prayers, reflections, and sharing in every stop with 14 riders carrying their own stations of the cross and assuming the responsibility of being station leaders. Leading the bikers' pack is Fr. Robert Reyes.
The event registration fee is P450 (net) inclusive of breakfast, lunch, and pitstop snacks. The first 100 registrants will receive a commemorative Bisikleta Iglesia shirt, plus a chance to win raffle prizes. 
 Subscribe to our newsletter to receive the latest sports news and active lifestyle and fitness features you need