The HUAWEI WATCH 3 is a smart, personal, and ambitious tool that can encourage anyone to take better care of their body
Now more than ever, it is important for people to keep on moving. Staying at home has decreased people's time on their feet. Access to gyms are nonexistent and people are forced to utilize whatever equipment they may have at home. Routines may become monotonous, and it may be more difficult to get yourself out of a workout slump.
But with the continued development of fitness technology, health buffs and aspiring fitness enthusiasts alike are able to keep their minds over their mattresses, and find the fun in maintaining and achieving their fitness goals.
Take the case of the HUAWEI WATCH 3, which after using it for some time, has emerged to be the perfect companion for anyone who wants to live a healthier lifestyle, whether you're a veteran or a beginner.
Thanks to advanced technology such as the HUAWEI WATCH 3's eSim and HarmonyOS software, users are now able to monitor so much more than just the steps they take in a day as the eye-catching watch elevates both health monitoring and time keeping with its innovative tech features.
Firstly, the artistic and animated watch face options offer users a unique look and the ability to personalize the device using their own photos and videos or from the hundreds of dynamic templates available.
Some watch faces even provide interactive and informative experiences such as displaying the moon phases in real-time—allowing you to rotate and see a 360° view of its surface—or learning more about constellations in the night sky. The new pinball watch face meanwhile allows users to have extra fun in their spare time, all thanks to the gesture control feature that makes for a rich, user-friendly navigation experience.
The HUAWEI WATCH 3's updated real-time technology also expands to practical features such as the body and ambient temperature monitoring, the improved heart rate accuracy, and the SpO2 monitoring features that help users see what their body truly needs—whether it's a fun and energizing exercise, a break to encourage rest and recovery or simple deep breaths to release stress and tension in the body.
Unboxing the HUAWEI WATCH 3: First impressions
After unboxing the HUAWEI WATCH 3, the first thing I noticed was the ultra-curved 3D glass—the 1.46 inch AMOLED watch face, made of 316L stainless steel, is large enough to easily view content but not too big that it feels bulky on the wrist.
The all-black design is sleek, which makes it perfect for any and all occasions (and outfits, mind you). Even the watch's default galaxy-inspired motif was captivating.
Setting up the watch was a breeze. Inside the box was a QR code that led to a download link for the HUAWEI Health App for the phone. All instructions were clear and registration was quick. After setting up, information between the watch and the app immediately synced up.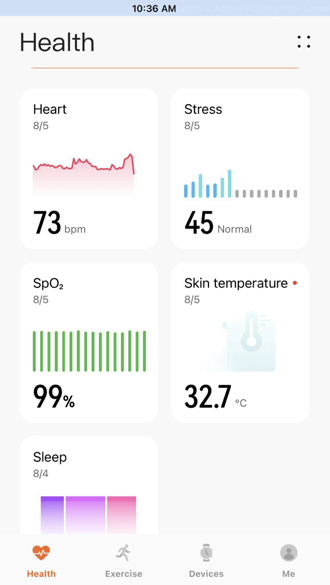 The mobile app presents users with detailed statistics about the health tracking displays the watch provides as well as gives suggestions on what this information may mean and what they can do next. There was a smooth sense of connectivity between my phone and the watch, providing instant convenient interconnection.
I also noticed that I left no fingerprints on the screen, keeping the watch face crisp and clear. The process was also made easier with the 3D Rotating Crown at the side of the watch face. Just like traditional watches, the Crown allowed me to navigate the watch, though it did much more as it allowed me to access the grid launcher app menu, zoom in and out, and slide across menu options accurately.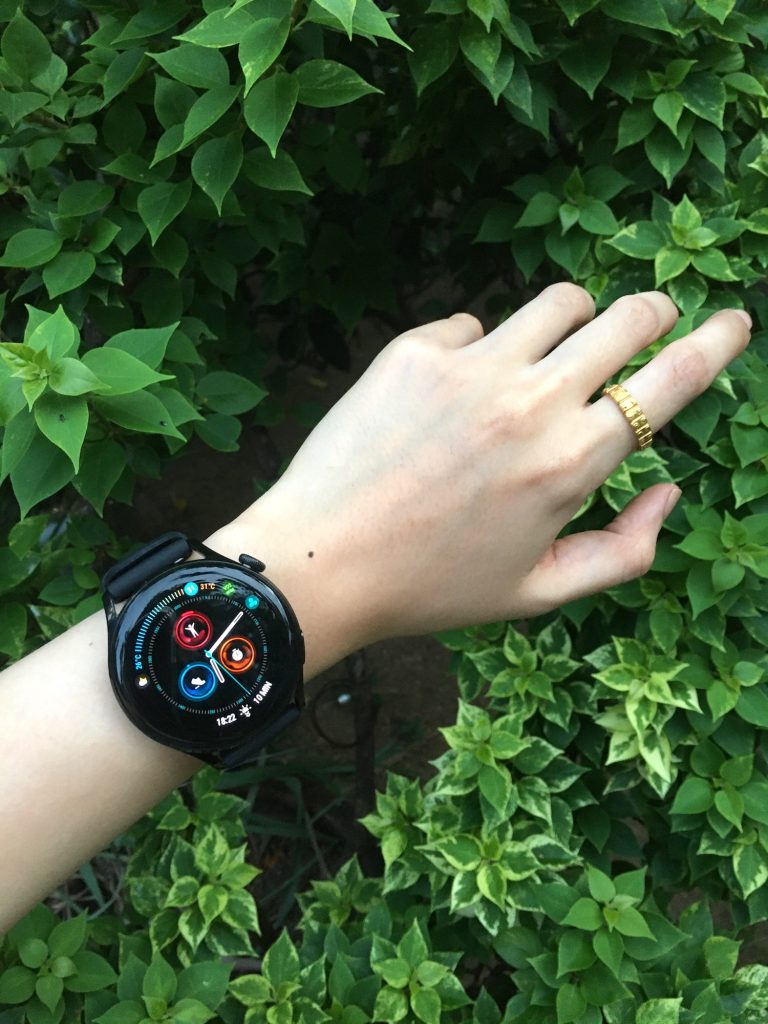 I've always been a very health-conscious person ever since I was an active little kid who was always playing games like patintero outside my house. As my patinterodays came and went, I have always strived to find ways to continue on my health journey, playing sports in school and even subscribing to various YouTube workout videos.
I was always curious about fitness watches, although I never really saw them as a fitness essential to fitness—until now.
This was my first time using a smartwatch, and I was excited for the HUAWEI WATCH 3 to be my first. The applications and service updates of HUAWEI's new and improved HarmonyOS software made me eager to see all the different ways that I can track my body's behavior in a day.
An illustrious set of features
First, it's reassuring to view the blood oxygen saturation levels and skin temperature tracking features throughout the day, both of which have become essential biometrics to track in the time of COVID-19. Frankly, it gave me a sense of ease when seeing the normal results.
While working, I made sure to check up on the "TruRelax" app to monitor my stress levels. This feature is possible, thanks to the hyper accurate heart rate monitor with a hi-tech ceramic back glass that utilizes nano zirconia powder, and fused with a sapphire glass lens.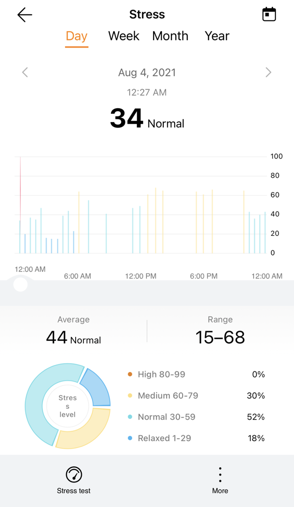 Seeing my stress levels fluctuate, I made sure to take advantage of the breathing exercises provided to (quite literally) take a breather and reset. It was also funny seeing my heart rate increase before I walked into an important meeting.
And talking about heart rates, there was also a different satisfaction in seeing my step progress throughout the day. It motivated me to get up more and take standing/walking breaks to give myself a break and return to work refreshed. See how this smartwatch can already influence you to lead a healthier lifestyle subconsciously?
Of course one of the more thrilling high points of the watch are the 100+ workout modes. I decided to get out of the house and take a quick run.
It was able to measure my pace, cadence, and calories burned. The watch's program helped me maintain a proper pace as well provided time to warm up and cool down. The watch sat comfortably on my wrist even when I began breaking a sweat.
But one feature I was most excited to try out was "TruSleep." Getting a good night's rest is an essential part of maintaining health after all.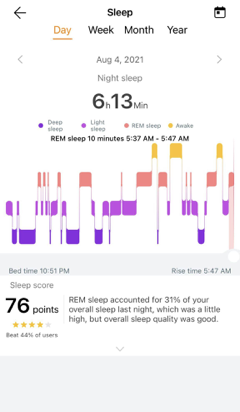 The graph shows a colorful and clear flow of your sleep cycles, specifying what type of sleep you experienced the most, be it deep, light, or REM. Surprise, surprise, based on the detailed graph, I scored 100 or 5 stars. And it's absolutely satisfying to see that the watch itself delivers tips to continuously improve sleep such as not drinking too much water before sleep or controlling the temperature in the bedroom.
TruSleep is also able to record naps (which can last from 0 to 45 minutes), give advice on when it is best to take one, and tell you how long you should nap without fear of not being able to sleep at night.
Lasting impressions
For a first-time smartwatch user, I was a bit hesitant about wearing it for an entire day, especially while I slept since I move a lot. I was scared that I would be hyper aware of the watch and constantly be cautious of how I moved my hand. Thankfully, the watch is both light and durable—neither did it get in the way of working (and working out) nor did it hamper me from going through the regular motions of daily life.
Throughout the time I used the HUAWEI WATCH 3, its long-lasting battery life certainly lived up to expectations. I wore my watch 24/7 and only needed to charge it once in a day (after draining the battery juice with all the features I tried) and when I chose to, the battery still had more than enough power to continue going till the next day.
What the HUAWEI WATCH 3 does surprisingly well is that it expands the user experience, allowing for a point of convenience and accessible intersection especially among devices within the HUAWEI ecosystem.
You can use the same contact number for your phone and smartwatch by activating the e-Sim feature in select network branches in the Philippines. You can also choose where to pick up calls as notifications appear simultaneously on your phone and smartwatch.
Another fine example of HUAWEI's tech chemistry with its e-Sim feature is the ability to transfer MeeTime calls from the watch to other HUAWEI devices, including your TV—and let's be honest, it's this ease of use that makes these tech innovations such a joy to use.
The watch, thanks to the HarmonyOS and e-Sim technology, is a smart, personal, and ambitious tool that can encourage anyone to take better care of their body.
Not only is all the information (health or otherwise) recorded based on your use, but there are also numerous beautiful watch faces to choose from, and many other ways to customize your experience to suit your goals.
And did we mention that the black strap active variant is only available in the Philippines?
So what are you waiting for? Purchase the #HUAWEIWATCH3PH today on the HUAWEI Store and on authorized platforms like Lazada and Shopee, and improve your health with a watch that's #MoreThanAWatch.