Despite suffering from leg cramps in the middle of the race, Australia's Tim Reed tops what he considers the toughest race of his life while Nikko Huelgas rebuilds confidence with historic win
By Nicole Ganglani | Photos by Samantha Ong
Exactly two months ago, 2019 Century Tuna Ironman 70.3 champion Tim Reed told me that competing in the Philippines is something that he always looks forward to. After he won his fifth Ironman 70.3 title at that time in Subic, the Australian said that it's the success he's had in the Philippines that keeps him motivated to chase more championships.
He proved it once again as Reed outlasted the Regent Aguila Ironman 70.3 field in 4:01:22. Mexico's Mauricio Mendez, who needed 2:06:31 to finish both the swim and bike courses, was unable to complete the race due to an injury he suffered.
"For the past two years now, Mau [Mendez] has really gotten into my head because he's such a brilliant runner in the heat. I was really thinking about how I would beat this guy and I did that by absolutely destroying myself in the bike just to get the lead," Reed says
It was a dramatic finish for Reed as he literally crawled his way to his sixth championship in the Philippines. Despite suffering leg cramps after completing the bike leg, the Aussie managed to successfully stay ahead of the pack throughout the tournament.
"It's just one of those days when I felt a little too ambitious on the bike. When I got to run, I paid the price for riding as hard as I could, especially in this heat. It was the toughest run I've ever done. If it was another race, I'm not sure if I would have pushed through with this cramps. I received so much support out there and I really just managed to hold on," Reed adds.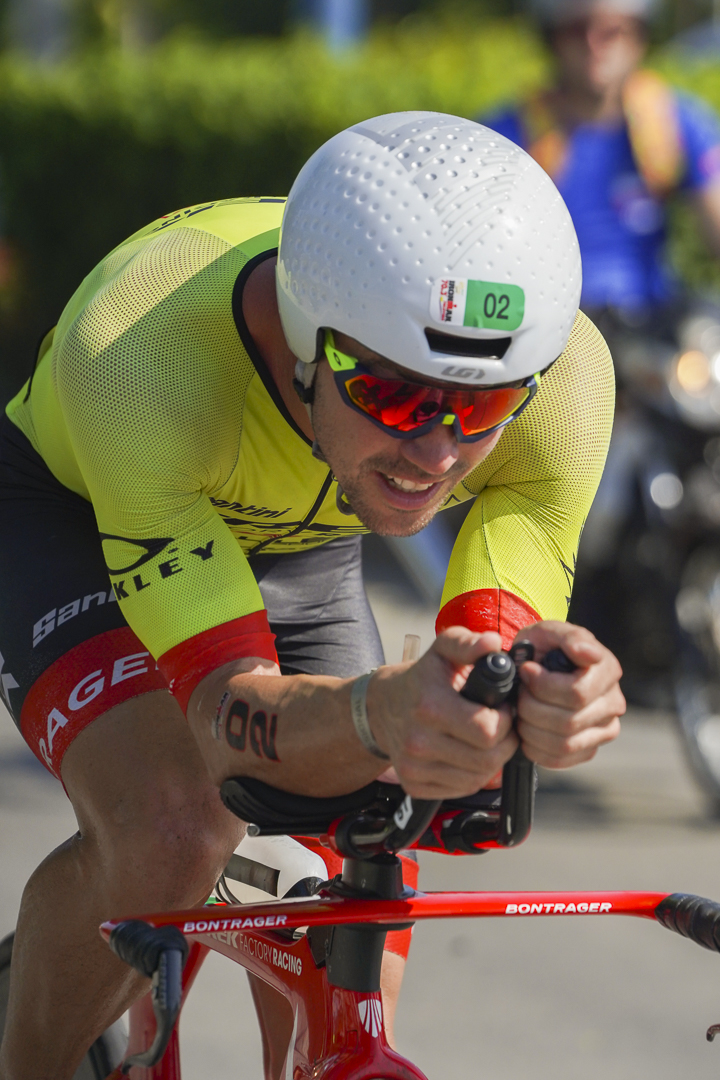 Reed put everything on the line in this race and that was evident when fell to his knees as soon as he crossed the finish line. This was by far the most challenging race for Reed because of the scorching weather and the fact that he battled through an unfortunate injury. But he also believes that he got through it thanks to the support of the Filipinos and the hard work he put into leading up to today.
"It's no secret that I love racing here. You can see it out there, I really put everything into it. I've been training very hard the past six to eight weeks and I'm really happy with my result," he says.
Right after Reed was New Zealand's Mike Philips who clocked in at 4:02:09 followed by fellow Aussie Tim Van Berkel, 4:03:12.
Steffen Bags Fifth  Ironman 70.3 Crown in the Philippines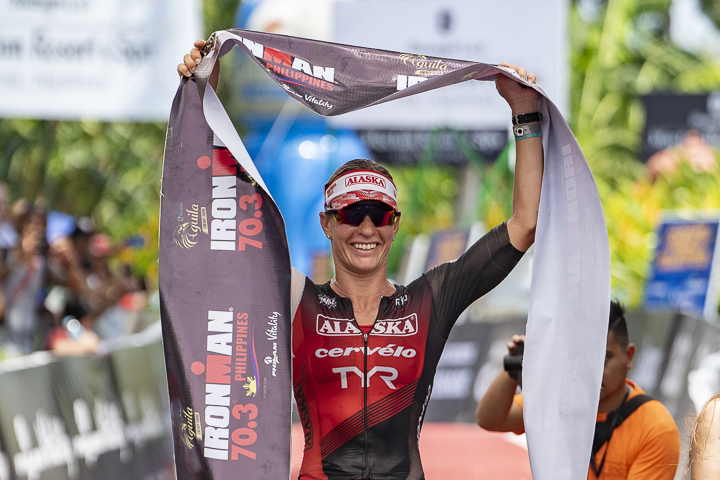 As for the women, Switzerland's Caroline Steffen dominated this year's race after stepping on the finish line in 4:24:10. Steffen, who also placed first at this year's  Century Tuna Ironman 70.3, led throughout the entire race and outlasted Dimity Lee-Duke, 4:36:48, and Courtney Gilfillan, 4:39:18.
"I love the people and the course here, and I'm just so relaxed and happy when I'm in Cebu. I love the mangoes that I have every morning and it's just really the whole environment here that makes it such a happy race," says Steffen.
The 40-year-old mom bagged her fifth Ironman 70.3 title in the Philippines and was also greeted by her one-year-old son as soon as she crossed the finish line. Her joyful moment with her precious toddler was an adorable sight for many in the audience.
"I booked a nanny until 11am so I was inspired to run the course as fast as I could. When I'm racing especially today, I go as hard and quickly as I can just so I can see him a bit earlier. And it feels great to just see him in the finish line—there's nothing better than that," she says.
Huelgas Secures First 70.3 Victory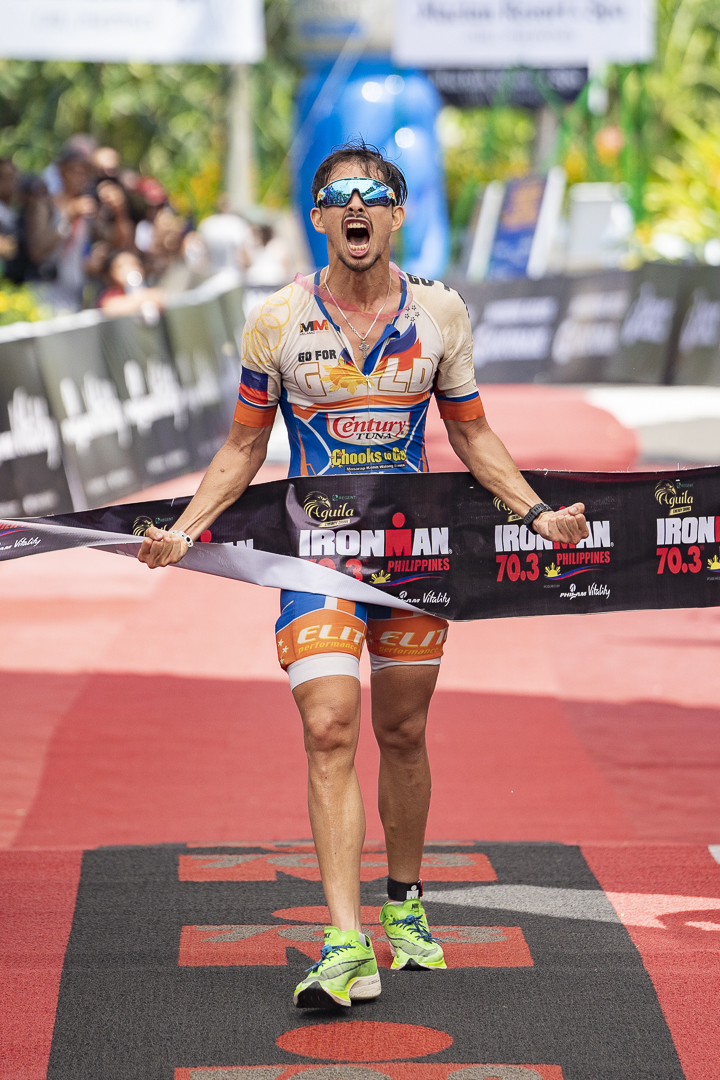 Another highlight in today's thrilling race was Nikko Huelgas' first-place finish in the Asian Elite category. Huelgas, who was sidelined with injury last January, clocked in 4:24:56 and notched his first Ironman 70.3 victory in the Philippines.
"[This victory] was a sign that I'm still here and have a career. After an injury and a series of loses before this, it was very emotional for me to win this event that solidified saying that I still have a triathlon career," says Huelgas.
Right behind Huelgas was Filipino veteran and last year's Asian Elite champion August Benedicto, 4:32:44, and Alexandra Ganzon, 5:43:31.
The thrilling events that took place this weekend was a prime example of how far triathlon has come in the Philippines. It's also an indication as to why Regent Aguila Ironman 70.3 is one of the most anticipated events of the year. 
Check out the gallery here.
Subscribe to our newsletter to receive the latest sports news and active lifestyle and fitness features you need