With enough data mining capabilities to put many computers to shame, the Garmin Forerunner 245 Music provides runners with an incredible amount of motivation and statistical input to improve run times and avoid injury
Photos by Jonas Timbreza
Without too much thought, Garmin seems intimately tied up with serious human efforts of both endurance and exploration.
The company was founded in 1989 by electrical engineers Gary Burrell and Min H. Kao (hence "Gar-min"), who hoped to "popularize GPS and change the world" by integrating positioning technology into products used in aviation, marine, automotive, outdoor, and fitness. The pair sought to bring this vision to life within the comforts of their then-employer but following a severe research and development budget cut, realized that founding Garmin would be their only chance to bring their dream to life.
Thirty years later, Garmin maintains its philosophy of "tackling the hardest jobs first" while remaining completely vertically-integrated, outsourcing absolutely nothing, and maintaining complete control over its products. This means that each millimeter of the 42.3-mm by 42.3-mm Garmin Forerunner 245 Music with its hardy fiber-reinforced polymer and 240-pixel by 240-pixel resolution is completely designed and put together by the company.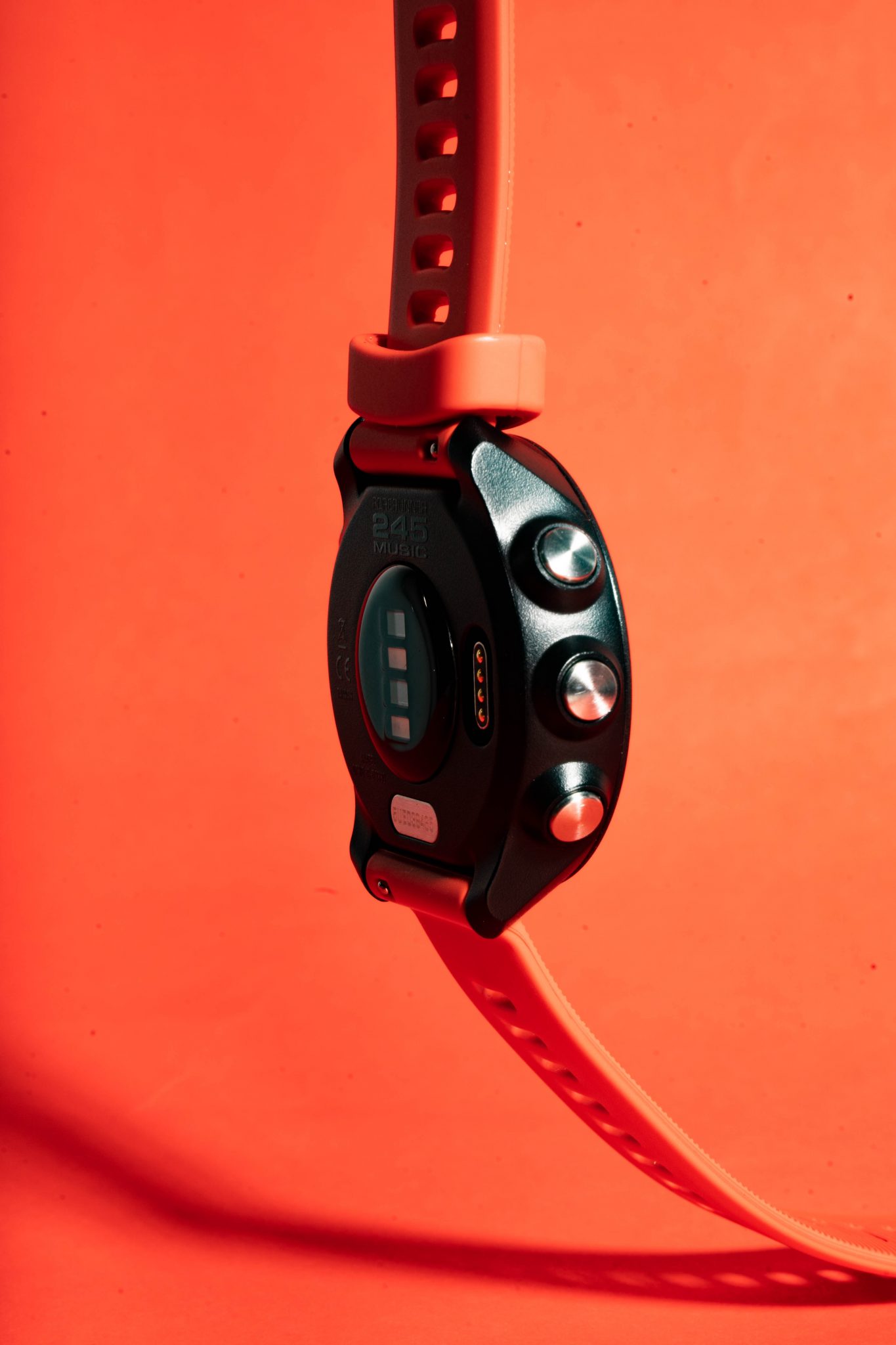 A serious first meeting
Removing the watch from its box is a serious activity. The packaging is hardly vibrant. From the bland gray and white box to the precise use of cardboard to encase the watch with as little superfluous material as possible, you get the message that the equipment is not to be used just for fun. Rather, it is a serious piece of equipment that is capable of tracking your every twitch and move.
I'm not however saying that the watch is ugly. Far from it. The Forerunner 245 Music looks like the bastion for fitness-cool wrist-wear. With black, aqua, and lava red strap variants of the watch available, and possible thousands of watch faces up for downloading on the Garmin Connect IQ store, you have a massively modifiable piece of equipment sitting snuggly around your wrists.
Initially, with the large watch face, I found myself jabbing my finger at the Corning Gorilla Glass 3 screen in hopes of navigating the device. Sooner rather than later, I came to realize that the Forerunner interface is navigated solely by the five buttons situated around the bezel of the watch. This, as far as I was concerned, put the watch on the other side of the room, far away from the Fitbits and Apple Watches that came glistening with high-definition displays and sensitive touchscreens.
The Garmin Forerunner 245 Music strikes less of a fashion piece and more of a hunk of equipment forged in fires and made for extreme situations. The silicone strap has an almost menacing number of holes in it with a fine fingerprint-like ribbing, giving it a rugged feel. It's not "stretchy" silicone but rigid.
The cool stuff: Great fit, a runner's dream, and the thing tells you what to do!
With the number of holes lining the strap, it comes as no shock that the watch provides an incredibly comfortable fit. The device is designed to be strapped to your wrist at all times, collecting data and feeding it into its algorithms to provide you with incredible amounts of actionable insight.
Exactly what insight?
More than just providing the usual heart rate data by way of Garmin's Elevate optical heart rate technology (inclusive of graphs displaying data over the course of four hours), the watch provides you with a stress level reading as well as a body energy monitor.
The stress level widget displays your current stress level with a corresponding interpretation ("medium stress," for example) as well as a graph of your stress level for the last four hours.
I must admit the chuckle that blurted out of me upon seeing my stress levels heightened from 9 a.m. to 5 p.m. on the first Monday of the watch's use. More than just telling you how stressed you are, the watch has a guided breathing activity, which guides you through the visual display and gentle haptic feedback.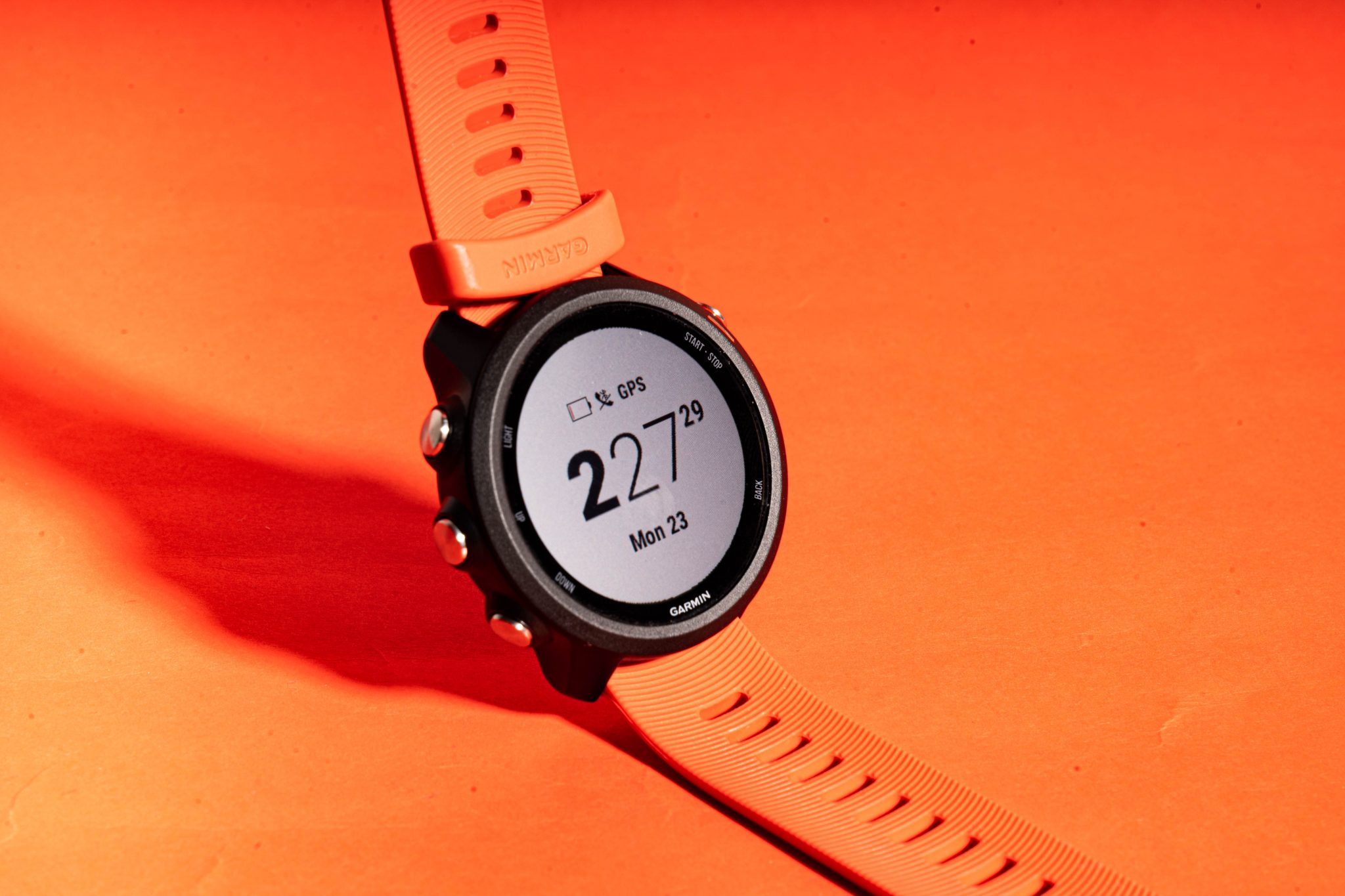 The Body Battery widget is the Forerunner 245 Music's body energy monitor. The device analyzes your heart rate variability, stress level, sleep quality, and activity data to determine your overall Body Battery level. The device spits out a reading ranging from 0 to 100, indicating your "charge" at any given point in time.
The feature makes it simpler to decide how hard you're going to work out on any given day—of course, the greater your level of fatigue, the more prone you are to injury. This can be used in conjunction with the Recovery widget, which provides you with the optimal number of hours to relax before training once again.
Exercising with the watch
Aside from plain old running, the watch can actively track strength training, elliptical training, stair stepping, indoor rowing, and yoga. You can even add a customized workout to be subjected to tracking. But truth be told, the watch is a runner's dream.
Usable both outside and on a treadmill, where after calibrating the distance the Forerunner still manages to calculate your pace, the device provides you with your distance, time, pace, vertical oscillation and ratio (the degree of bounce in your running form), ground contact time, stride length, and cadence. This is on top of your heart rate, VO2 max, and aerobic and anaerobic activity from beginning to end.
Between training sessions, the watch also provides you with the day's training load. But here's the good part: The watch maintains a working memory of your previous statistics and compares the day's data against historical values, giving you an idea of whether you're improving or not.
When it tells you what to do: Garmin Coach and Race Predictor
Using the watch alone will provide you with an idea of whether you're improving or not but using the Garmin Connect application will allow you to plot a course to follow. This is achieved by utilizing the Garmin Coach feature. Essentially, you select a distance and time goal. From there, the application—with the aid of running coaches Jeff Galloway, Glen McMillan, and Amy Parkerson-Mitchell—creates a program for you to follow.
This program links seamlessly to the watch, which then displays a workout to be completed for the day. In short, you will follow the indicated workout daily until you hit the initially selected time goal. This takes the guesswork out of training.
Before utilizing the Garmin Coach feature, I'd jot down my workout for the day: "6km slog" without fail. This left me prone to multiple running maladies: burnout, boredom, and injury of varying severity. But when using the application, I felt as though each run was part of an organized system aimed at churning out a better runner.
This feature caters to the individual runner quite effectively. The first workout in fact is a diagnostic test of sorts (the "Benchmark Run"), after which the program modifies accordingly. Utilized in tandem with the Race Predictor widget—which displays your expected run times for 5K, 10K, 21K, and 42K runs—motivation is easy to find.
The alright stuff: The GPS takes a while
The qualms I have exist only because I'm the type of runner who wants to slap a pair of shoes on and get out the door. Unlike most Fitbits, the Garmin Forerunner 245 Music will not start tracking a run until you actually hit the top right button, select "run," and hit go.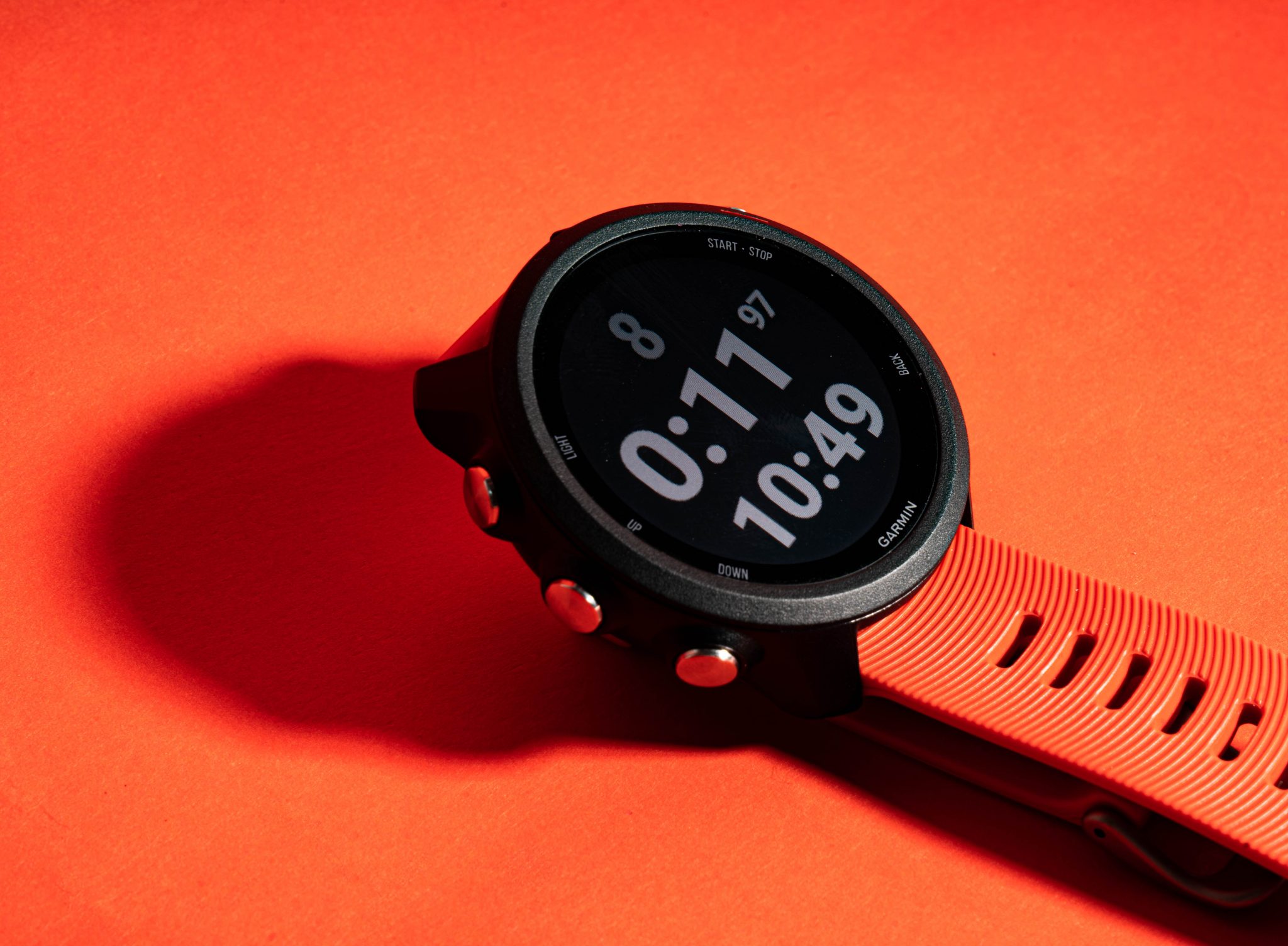 That's hardly a problem. Waiting for the GPS system to connect to the satellites however is a bit frustrating. Over a number of trials, I found it took about 10 minutes to connect on average. Note that this will change depending on how many buildings you have around you and where you expect to be running.
The GPS feature nicely rounds out the watch though as you get a very accurate run distance and pace. The map is arguably not all that helpful, especially if you run the same route, but nonetheless waiting for the GPS to set up is ideal for generating interesting statistics. The verdict? It's a little annoying, but best to wait.
The stuff that's not for everyone: Music and Pulse Ox Pulse Oximetry functionality
Is the premium for the music storage worth it?
This specific variant of the Forerunner 245 allows you to store over 500 songs on the watch. This is done via Spotify or direct file transfer. As a bit of an analog guy, the frustration comes from the fact that the watch only connects with Bluetooth earphones.
My blood oxygen saturation is always the same
SPo2 or blood oxygen saturation gives you an idea of how much oxygen is floating around the hemoglobin in your blood. When you navigate to this widget and hit the top right button, you will notice the green lights under the watch (indicating heart rate measurement) give way to a deep red pulsing.
Though this looks absolutely fantastic, I couldn't help but be irked by the fact that the reading expressed as a percentage hardly changed from 95 percent (I later learned that any reading below that is considered low). As far as I can tell, this might be more useful for people actually engaged in climbing mountains. But perhaps not city-slicker runner types.
Final thoughts
Vertical integration and a rich 30-year history of consistent product innovation does not come cheap. Runners must seriously evaluate just how willing they are to pay the premium for this piece of equipment. Alternatively they could just flip their credit cards out and take a deep breath.
But in truth, this watch is built for folks out on runs most of the days in a given week—those trying to trim down their run times and boost their places on their next few races.
The Garmin Forerunner 245 Music will not fail to provide you with helpful statistics and direction via the application integration. But this does come with the diligence due from anyone hoping to improve their athletic performance. From navigating the interface that stands out as far more complicated than those on Fitbits and Apple Watches to standing around patiently while the device connects to satellites, serious runners must pay their small dues to get the full benefit of the watch.
But as in any relationship, small sacrifices must be made.