The next time you step onto the starting line, think of how 2021 Ironman 70.3 World Championship finisher Vanj Endaya took the endurance bull by its horns
Photos by FinisherPix and Tri Stars and a Sun
Vanj Endaya, a consistent podium finisher, well-known brand ambassador, and popular influencer, recently qualified for and successfully raced the Ironman 70.3 World Championship in St. George, Utah.
But to say that this is a small feat for a triathlete, marathoner, and four-time Ironman finisher is an understatement.
Sure, this is a prestigious event reserved only for the most dedicated, toughest, and fastest athletes in their respective age groups. And sure, Endaya knows how to race and finish endurance events. But the triathlete mom still had her work cut out for herself amid the lack of local races due to the pandemic.
As in tennis, football, or any sport for that matter, match fitness can't be replicated in training alone.
"The difference is huge," West Ham footballer Ryan Frederick says. "You can spend as long as you want—years, even—running up and down the pitch or running around cones, but 10 minutes in a Premier League match is 100 times harder than any of that."
This was also true for Endaya herself—and the rest of the Philippine contingent—who saw through the inimitable challenge and experience of competitive racing again. A week before the World Championship, she tapped all her reserves at a "practice race" to regain her feel for competition again, almost two years since her last one.
"Just to remember the process again," she says. And remember she did when she dusted off all the rust, dust, and whatever hissing doubts there may have been until they all faded away to finish second in the tune-up race and gutted out a 6:56:11 finish in St. George's beautiful but brutal course.
Speaking to us about the race, let's relive her experience and find some vicarious joy from her own race recap.
How different are the new normal races?
There were a few adjustments in this new normal race. One is the process of checking in. Athletes were required to reserve the following check-in times:
• Athlete check-in
• Bike and bike gear check-in
• Run gear check-in
Time blocks were scheduled every half hour each day. Another is that athletes were required to wear face masks indoors. Zoning during the race was also implemented where age groupers can go to their transition at the time indicated per age group. Not all were required to be at the transition when it opened.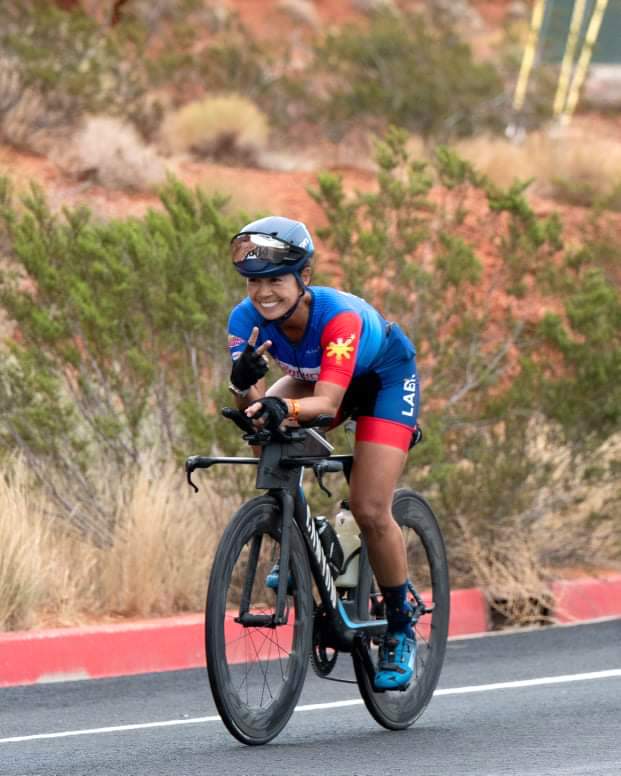 What was the most difficult part of racing again?
The most difficult part of racing again is to remember the process. It has been 20 months since I last raced in the Philippines and to think of racing again, at the World Championship at that, wrecks my nerves. So what I did was to try it out in one of the local races of St George. I did a sprint event just to be familiarized with the feeling and to go through the procedures of racing again—from the preparation of race gear up to crossing the finish line.
What was the most memorable part of this race?
The most memorable part of this race is when you win new friends and, at the same time, realize that you are well supported by your old friends. That gave me the discipline and perseverance to train hard for this.
Did you have to make any mid-race adjustments to your plan?
Yes. The storm wasn't expected. Mid-race I was praying very hard and held on to my bike and couldn't go fast on the downhill. I felt that anytime the wind would wipe me out of the road.
Race report from Vanj Endaya: A breathtaking testament to the joys of racing with the best
Let me start off by saying that I feel truly privileged to have qualified for the Ironman 70.3 World Championship. St George, Utah is both a triathlete's dream given the indescribably beautiful scenery of the race course and a nightmare given its many steep and windy climbs, especially in the bike course. Racing here truly leaves you breathless—figuratively and literally!
The saying "calm before the storm" proved apt on Sept. 18. The early morning hours were a bit overcast and did not hint at the extreme weather coming our way.
And as if it weren't enough that the course had built a brutally difficult reputation, in true World Championship fashion, St. George threw us a surprise weather disturbance for so much of the race to test our limits as triathletes. Admittedly, I entertained thoughts of quitting but I continued to fight until the very end. 
The race started at 7 a.m. but my wave didn't go up until 9:51 a.m. My age group was the very last to start and a thunderstorm was forecasted to hit the course at 10:00 a.m.
Expecting 100-degree Fahrenheit weather, no one wanted to run 21 kilometers in that heat or climb 1,300 feet in extremely hot weather. I convinced myself days before the race to expect the worst and that I'll do my best; I won't fret over things I cannot control.
Swim
I was a bit disappointed that it was declared a "non-wetsuit swim." I was banking on the extra buoyancy to help me swim in the lake. 
I got in the chute with my fellow 45-49 age groupers at 9:51 a.m. and attacked each buoy in the swim. I literally counted buoy after buoy. I just needed to pass eight yellow buoys outward, turn around two red buoys, and pass eight orange buoys going back.
Somewhere past the fifth orange buoy (300 meters to the finish), I felt the waves getting stronger. I couldn't even see where I was headed. That's when I realized that the storm was upon us. I feared I wouldn't make it to shore. I prayed so hard but kept executing my swim stroke. I have never swam that hard and fast in any of my races but needed to do this to navigate through the storm.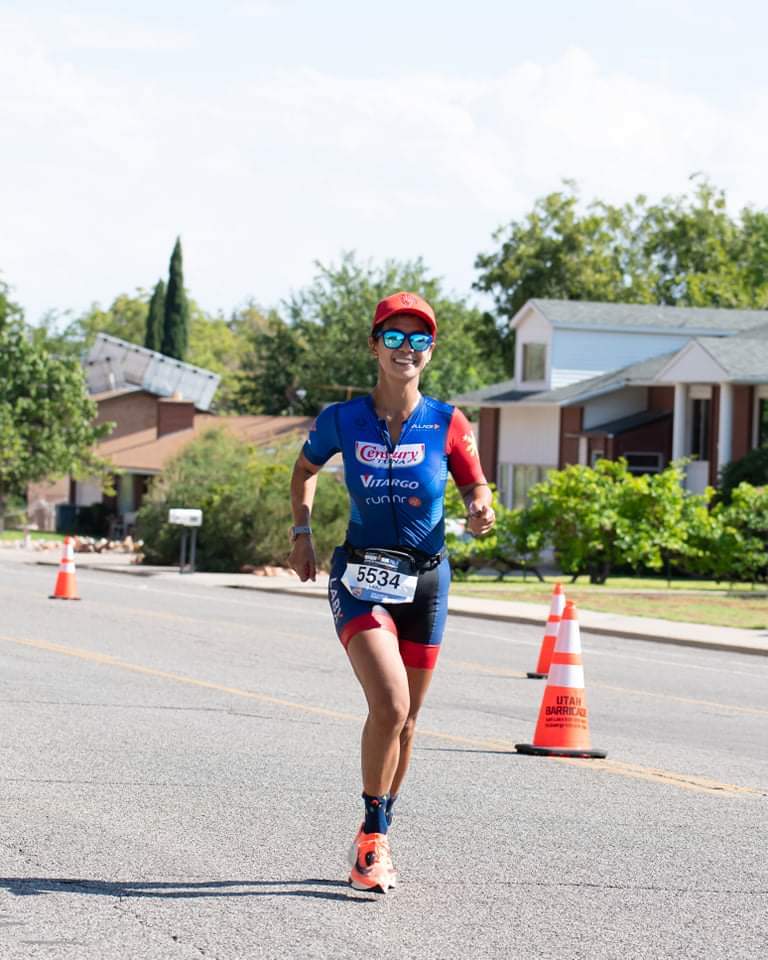 T1
I finished the swim. I was feeling so cold exiting T1 in the rain and wind. I stayed in the tent for about five minutes trying to warm myself. One of the volunteers was giving away foils. I took one and put it under my trisuit.
Bike
At this time, I felt safer. I'm in my element. I took it easy. I knew my game plan and I knew I could execute it well. The bike course is rolling with some five to nine percent inclines that last for about five kilometers long. I was doing great, low HR, good fuel (Vitargo) intake until that infamous Snow Canyon climb, a six-kilometer climb with gradual incline of up to 10 percent. I've ridden these hills about thrice in training rides but found this time the most difficult. I thought I would not even reach the top!
Passing that top of the hill made me realize I celebrated too early; after that there was a 10-kilometer downhill. All that time, the wind was insane and I could not get used to the feeling of it blowing me sideways. I was holding on to my bike so hard for 15 minutes, praying that the wind would not blow me to the side of the road. It was survival mode for me but I was determined not to quit. I just kept moving forward and told myself I can do this.
T2
What a relief! In my head, I just needed to do this last leg and I'm done. I told myself "Bring it on hills, even if I walk you, I know I'll finish the race."
Run
There were two laps and 1,300 feet worth of elevation. This was the ultimate test of my game plan and I was happy I executed it well. I was pleasantly surprised I had the legs to run despite the odds I encountered during the swim and bike legs.
Again, I monitored my HR on the first lap while being afraid that it would blow up. I wanted to have a strong finish and thus conserved my efforts on the first lap. I averaged 6:20 on the first false flat of three kilometers and 7:00 on the next two kilometers of hills. The succeeding four kilometers were rolling, culminating with the steepest hill of 13 percent. I then ran the second lap from the 11th to 21st kilometer.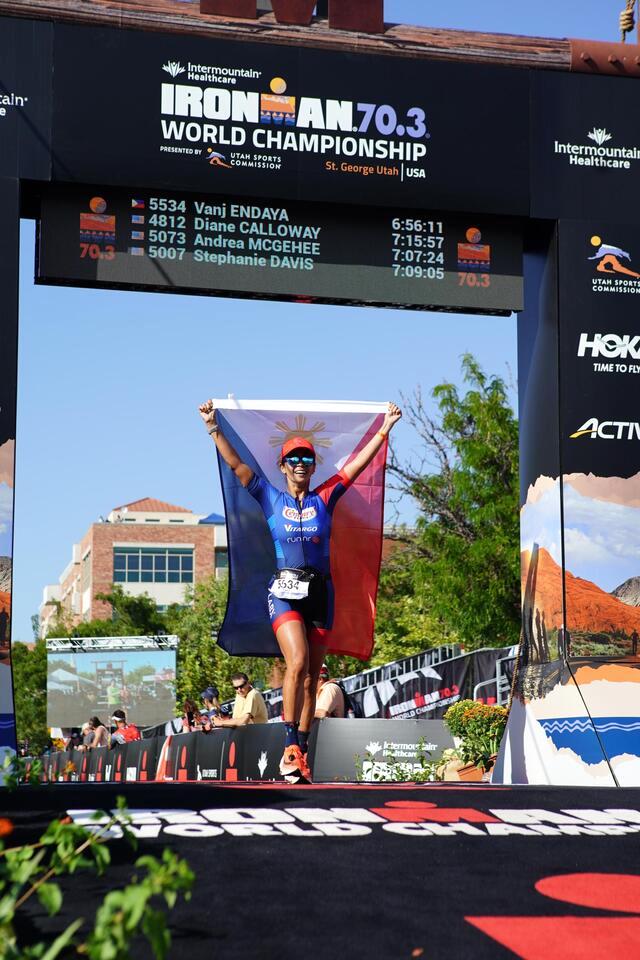 The sun finally came out and it got rather hot. I didn't care as I was happy I was running already. I enjoyed this run so much that I never walked. It was a steady run. Lap 1—1:08, Lap 2—1:07.
I came down the final descent and I knew my daughter Cai and her boyfriend Luis would be somewhere in the finish line waiting for me. I was overwhelmed with joy when I finally saw Cai and then she handed me the Philippine flag.
The thought of not seeing her again (because I felt I nearly drowned and also thought I'd crash on the bike) made me cry at the finish. No words can describe what I felt when I heard her voice again saying, "Go mommy! Love you mommy! Sprint that finish, mommy!"
I finished and I'll take whatever finish time or place I was in the race. It was such a blessing and just to be here at the World Championship is something that I will forever cherish and be grateful for.
The race report has been edited for brevity and clarity.