Six runners, representing Team 7-Eleven Philippines, took podium spots at this year's Da Nang International Marathon
Lany Cardona of Pangasinan cruised through the 42K race to land as the champion of the women's division, finishing the course in 03:27:26 while Rafael Pescos of Cebu finished second in the men's division with a time of 02:40:06. Richard Salano, a member of the Philippine Army, secured the third spot in the 21K race with a time of 1:20:36 while the trio of Jho-An Banayag-Villarma (01:31:53), Nhe-Ann Barcena (01:37:08), and Ruffa Sorongon (01:37:38) swept the first, second, and third spots of the 21K women's category.
Meanwhile, Lizane Abella (4:20:19) and Azlan Pagay (3:02:06) took the top honors in their respective age groups for the 42K race and Kennechie Lorbes (1:49:10) took finished in the top five of his age group in the 21K race.
"Masaya kami kasi ang 7-Eleven ay walang sawa na pinadadala kami sa ganitong international race," says Lany Cardona who together with Rafael Pescos were given a slot to race in the Shonan International Marathon happening in December in Kanagawa, Japan as part of their prize.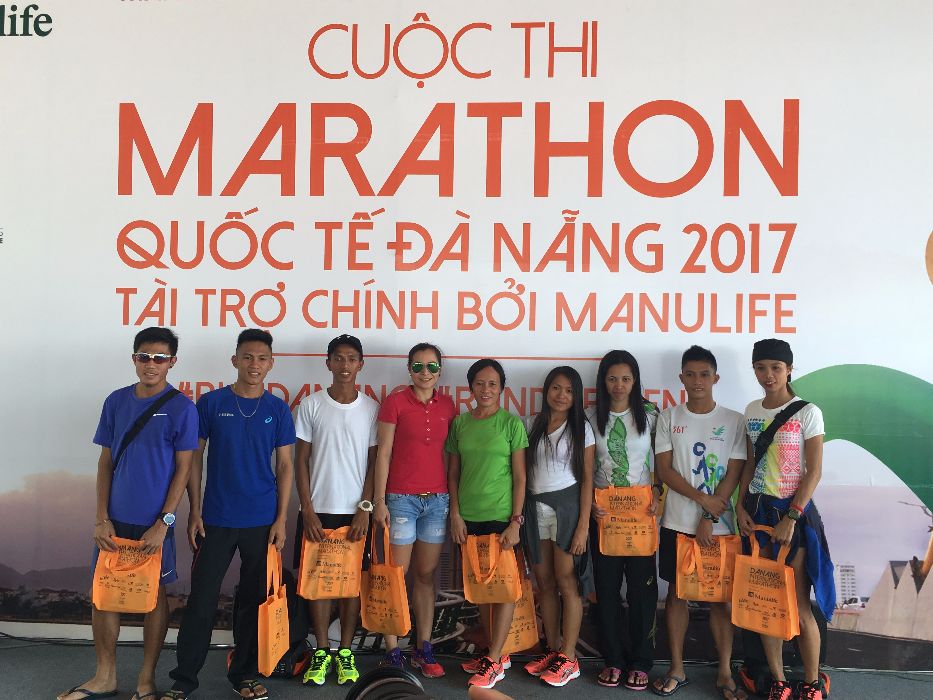 Rafael Pescos, Azlan Pagay, Richard Salano, Nhea-Ann Barcena, Jho-Ann Banayag-Villarma, Lany Cardona, Rufaa Sorongon, Kennechie Lorbes, and Lizane Abella
Nine Filipino runners participated in the race, four of them in the full marathon while five in the half-marathon. According to project head Michelle Saludes, "We want to give Filipino runners not part of the Philippine Team the opportunity to showcase their abilities and be recognized in an international competition."
Local and foreign participants from 50 countries competed in a route that brought them through Da Nang's beautiful coastline, passing bridges across the poetic Han river.
"We will continue to encourage runners who aspire to represent the country in an international competition through the 7-Eleven Run Series, which we are planning to expand by having another race in Cebu before the year ends and which will serve as a qualifying race to the 7-Eleven Run happening in Manila next year," says Jose Ang Jr., general merchandise division head.