Prioritizing safety and efficiency is the highest yet most basic cycling skill to master
Photos by Coen van de Broek and Brandon Wong/Unsplash
"It's as easy as learning to ride a bike!" says most anybody, without any disclaimer that there are so many aspects to learn. There's equipment, positioning, road etiquette and a host of other things that will mystify the beginner, but they'll learn as they go along. However, there are some basics that will make sure you ride better and come back alive to learn more. Here, in my opinion, are the most important skills to master.
Mounting and dismounting
When you start getting serious, it's time to commit to proper cycling shoes and a pair of clipless pedals. These take getting used to, especially the twisting outward motion to disengage pedal retention. Also, there is the timing of when to lift your leg as you start, and when to unclip and get off the saddle before you dismount. I consider this the most important skill that most beginners take for granted. Unfortunately, it is also the one that may cause the most unavoidable accidents and injuries.
Get some practice: Spend some time getting used to your clipless pedal system and shoes by practicing mounts and dismounts. Don't just head out there without having enough time and confidence. Learn in a safe environment before you hit the streets.
Situational awareness
The second skill is something you build up with experience and it automatically increases simply with vigilance. Cycling isn't the safest sport because we share our activity area with other cyclists, motorists and the occasional errant pedestrian. You are traveling faster than you can run on a machine that weighs 20 percent or less your body weight and in an environment where other vehicles are heavier and faster than you. Keep an eye out for potential dangers and be ready to react. If you need more tips, I've written a mini survival guide on how to survive on our streets.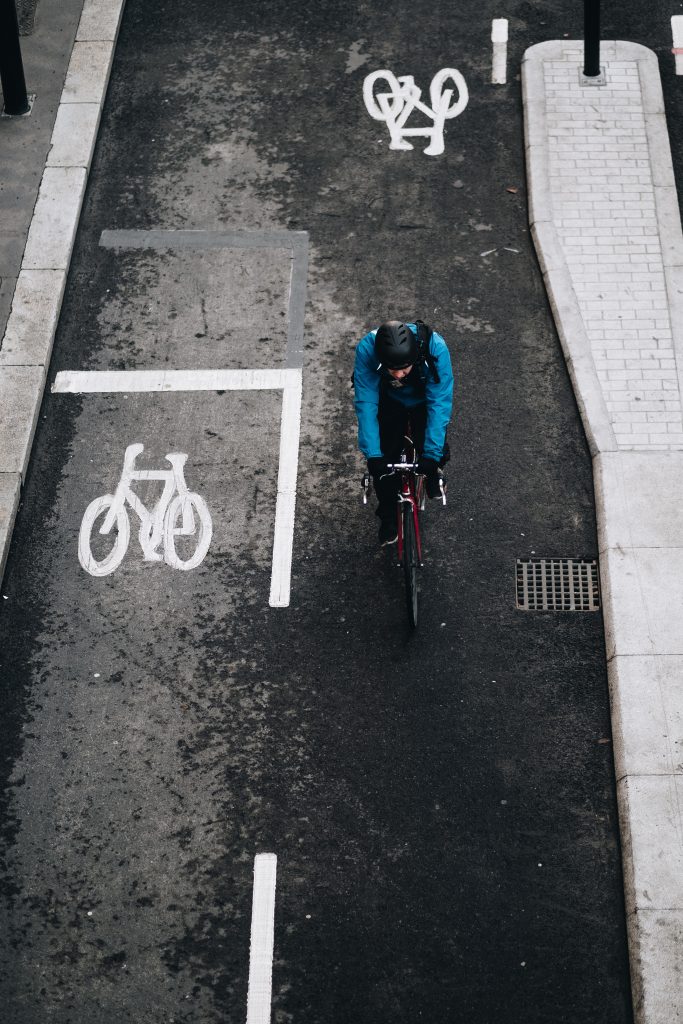 Pedaling and balance
Pedaling seems easy, especially when you look at people on exercise bikes, but not when the supports or training wheels come off. I still see some experienced cyclists and veterans who slightly weave and zigzag on the road, unable to pedal in a straight line. If you want to be efficient and maximize your effort, learn to pedal smoothly and straight. Learn more about this from my old article on how to pedal like a pro. 
Braking
Most people think it's just about pulling those levers. A lot more don't know that most braking happens using the front wheel and it's the front brake they fear the most. Braking is as much about decreasing the speed of your wheels as it is about traction. Always brake with both levers (front and rear) or front only, never rear only—that's an invitation to skid.
Learn in safety: Practice braking and knowing how far it will take for you to get to a complete stop in a safe environment. Learn how much you can use the front brake and how much you need to put your weight back to decrease your braking distance.
Turning and descending
I grouped this together because they are about the same thing: controlling your bike through proper body positioning. Aside from ensuring you are properly fit on your bike and using the proper hand and riding positions, it is important to learn how to shift your body on the bike and not stay stationary on the saddle. Why? Since the rider is a much bigger percentage of the total bike-rider moving weight, your weight and center of gravity dictate traction.
In practice: Best done on a grassy field for safety. Practice getting off your saddle and moving your center of gravity (your butt) around to get comfortable shifting your weight around. Do this from the different hand positions you'll be using out on the road (hoods, drops, tops, even aerobars when applicable). Notice how the bike reacts. Try braking while doing this to see how and where the bike wants to fall when you slow down or hit the brakes.
Out on the road: There are different descending styles, but the most common one is to weigh your outside pedal as you do a turn. For descending, I recommend getting as low as you can to lower your center of gravity and try to shift your weight just a little bit to the rear although not too much as you'll lose traction and control over your front wheel.