You'll want to get your hands and heads on the Flux 2.0
As more Filipinos are getting into outdoor sports, the need for outdoor gear and equipment has become more important than ever. Especially with gear to protect the head.
Eboy Roselada, a veteran rider for almost 30 years and a cross country and epic ride biker and race organizer, says that gear and equipment should not impair a biker's performance. "The outdoors can be unpredictable, so we need gear that will help no matter what the condition is," he says, adding that Fox, his personal choice, "delivers what they promise, which is innovation, purpose, and style."
Fox Racing Philippines recently launched its new line of the iconic Flux helmet, which was originally released over a decade ago and was widely recognized as the original mountain bike trail helmet. Flux quickly became a staple on trails all over the world and gave it a legendary status among riders. It was Fox's number one selling mountain bike product, which helped position the brand as a leader in the competitive trail riding category. This new line of Flux helmet keeps the spirit of its predecessor while some of its key features were upgraded to maximize its performance and provide more game for the riders.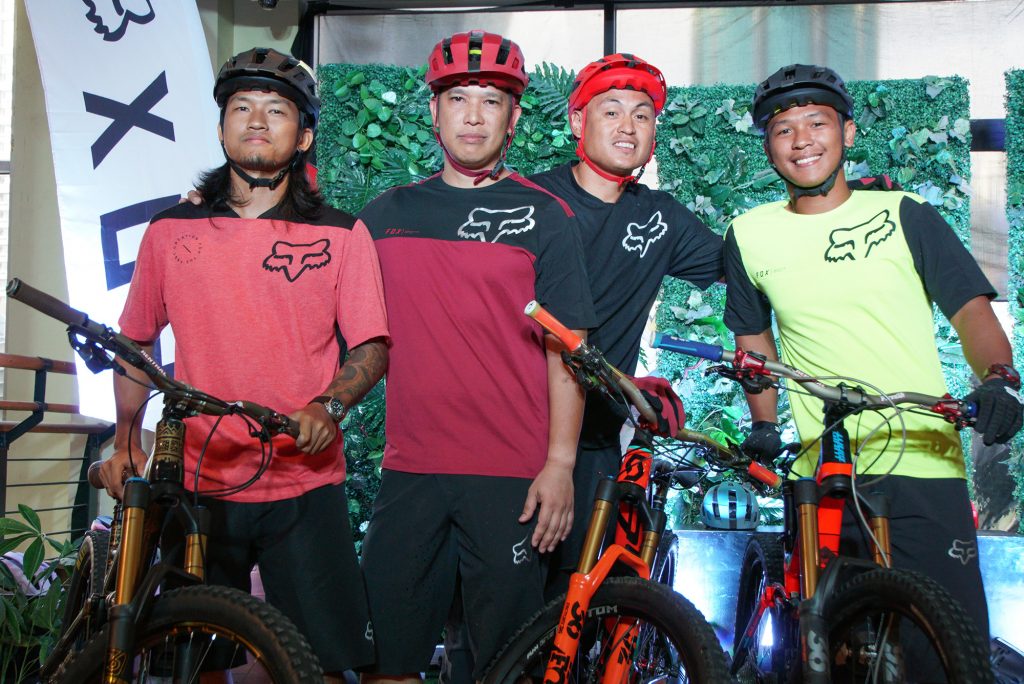 Fox brand ambassadors Edrie Ocampo, Eboy Roselada, Bans Mendoza, and Ralph Ramento
"Flux is an all-around helmet in the market today and it is important for me when I travel," Eboy says. "I'm not sure about the kind of trails or tracks I'm going to encounter, especially during foreign trips. That is why, I need a helmet that has the flexibility to handle different types of ride discipline and terrain."
Flux's updated features include: 300-degree retention system that nearly provides a full wrap around the head for a premium level of fit and comfort, VARIZORB™ multi density EPS liner that helps with linear impacts by spreading the force of the blow across a wider surface area, an internal cage built in to the EPS liner that provides additional strength to the overall structure of the helmet, and an adjustable visor for easy on-bike adjustment for an individualized setting. A multi-directional impact protection system version is also available for additional performance and comfort features.
This new line of Flux helmets were designed and developed over a two-year period. "You don't compromise safety with an unknown brand," Eboy concludes. 
Subscribe to our newsletter to receive the latest sports news and active lifestyle and fitness features you need