And it only takes following these four basic rules on swimming pools
Photos courtesy of Vermosa Sports Hub and Jim De Ramos/Pexels
As in any sport, a general unawareness about pool etiquette is one of the defining marks of a novice swimmer. And this isn't necessarily a bad thing—it's too common a fault as to elicit any reaction stronger than slight annoyance. But with that initial lenience comes the expectation that the beginner take the initiative to learn the rules. The importance of this cannot be overstated, especially when we're talking about public swimming pools, which often tend to be busy. So how do you navigate your way through a crowd of experienced swimmers?
Picture yourself in Vermosa Sports Hub's Olympic-size lap pool, for instance: The 10 lanes are swarming with professionals effortlessly swimming and operating on a set of tacitly negotiated behavior, and there you are standing at the edge of the pool, not quite sure which lane is up for the taking. To help with this, we present to you the four general rules for sharing lanes in public swimming pools.
Choose a lane based on speed, not ego
The easiest (and rarest) scenario is an empty lane, in which case the protocol is to simply take the lane. If you find that most tracks are already busy, the first thing to consider when choosing which lane to swim in is speed. The logic behind this rule is simple enough: You don't want to run the risk of bumping into and obstructing other swimmers that are either slower or significantly faster than you.
So take a minute to observe each of the lanes to get a sense of which path is filled with people swimming at a speed that you think you can easily match. Fortunately, some pools designate lanes for fast swimmers and lanes for slow swimmers—otherwise, the best gauge is your personal judgment. As long as you're honest about your limits, you'll be able to pick the right lane.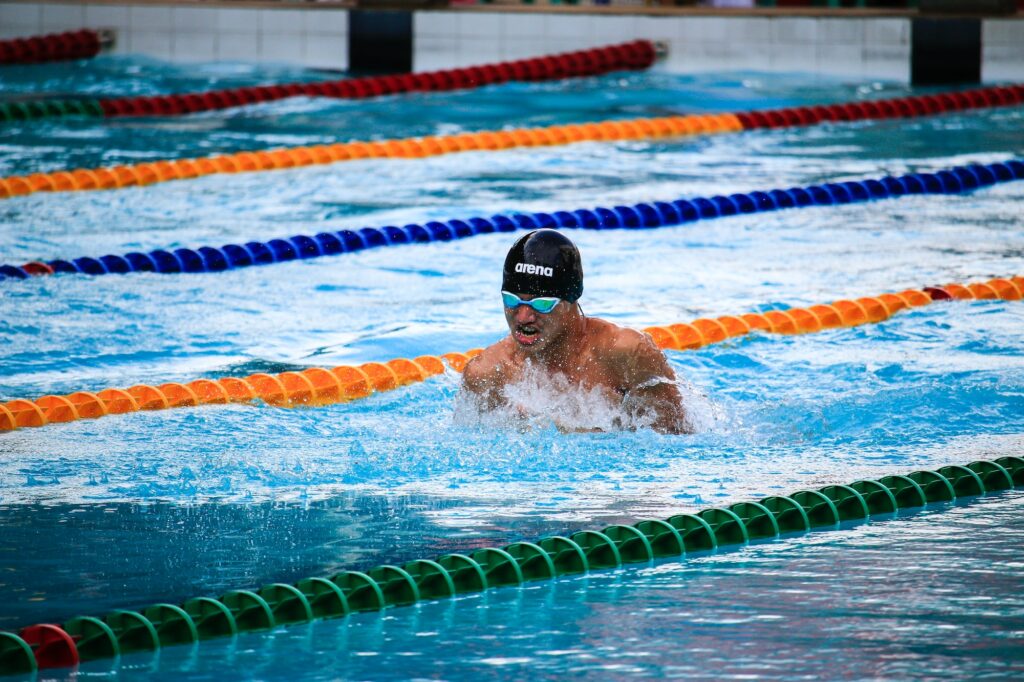 Let other swimmers know that you're joining them
Now that you've picked which lane to join, the next thing to worry about is how to properly enter the water. Firstly, remember not to dive into the lane from the pool's starting blocks as this will distract or even frighten other swimmers. The other key step at this point is proper signaling—that is, successfully letting the other swimmers know that you'll be joining their lane. There are different ways to do this, but the most common approach involves slowly entering the water and waiting on the side during one lap until all swimmers have noticed that you have joined their lane.
When sharing a lane, follow the "circle" rule
Once your co-swimmers (people you're sharing a lane with) become aware that you've joined them, the next thing to consider is how exactly you'll be sharing the lane. To understand this part, let's take two scenarios:
Scenario 1: Sharing a lane with one other swimmer. Since there are only two of you in the same track, the lane can actually be split into halves, with each half designated to each swimmer.
Scenario 2: Sharing a lane with two or more swimmers. When there are more than two swimmers sharing a lane, it is agreed upon that all swimmers must follow the "circle" rule. The name pretty much sums up how such a rule works: Swimmers should circle the lane. This is most often done counterclockwise, and perhaps one of the most crucial things to remember here is to first check and understand the direction of the circle before joining it.
In case of varying speeds, make the proper signal
Although we've just established that choosing the best lane means choosing the most apt speed, realistically, there's no assurance that you'll be free from co-swimmers who will overtake you. The thing to do here is to abandon any impulse to swim faster and simply let them get past you by slowly moving to the side. But if it happens that you find yourself capable of overtaking another swimmer, make sure to first let them know about your intention by tapping them on the foot. That's when you can start speeding up past them.
It's wise to remember that sharing lanes isn't the best instance to let your competitiveness reign. Which is to say, you and your co-swimmers would be better off if you didn't try to race each other so as to avoid head-on collisions.