Make your wetsuit investment count—and last years—by following these practical tips
Photos by Susan Flynn/Unsplash
I used to hate racing in a triathlon wetsuit for several reasons. They're so skintight that it tends to disrupt your stroke. They're a hassle to wear and take off. And they're literally a pain in the neck due to chafing.
To make matters worse, they're so unflattering that buying one is like paying thousands of pesos to look like a seal. But mind you, it's been close to two decades since I purchased my first wetsuit and I must say, times have changed and triathlon wetsuits have definitely come a long way. These days, you can gain so much advantage in a triathlon-specific wetsuit that race organizers have set some rules to determine whether a race is wetsuit-legal or not.
If you're planning to join a race in a cooler climate, it's best to familiarize yourself with the wetsuit rules for your race and keep in mind that in some locations, you won't know whether or not you're allowed to wear a wetsuit until a few hours before gun start. 
Ironman wetsuit rules state that "For age-group athletes, wetsuits may be worn in water temperatures up to and including 24.5 degrees Celsius or 76.1 degrees Fahrenheit…  For professional athletes, wetsuits may be worn in water temperatures up to and including 21.9 degrees Celsius or 71.5 degrees Fahrenheit. Wetsuits are mandatory for professional athletes and age-group athletes for water temperatures below 16 degrees Celsius or 60.8 degrees Fahrenheit."        
Love it or hate it, a triathlon wetsuit is one of those things that you end up needing to invest in once you widen your racing horizons and start signing up for wetsuit-legal races in colder climates.
In case you didn't know, swimming in frigid waters is not only not fun but IT can also be dangerous, especially for triathletes who are used to swimming in tropical waters. That said, insulation or warmth is probably the top reason triathletes buy a wetsuit. The neoprene used in wetsuits naturally provides warmth when swimming in cold waters but triathlon wetsuits can offer more than that, depending on how much you are willing to spend.
Most wetsuit manufacturers generally design for performance—in other words, flexibility, speed, and buoyancy. Thanks to all the research and development that goes into designing a wetsuit, you are actually paying for the performance gains and time savings when swimming in a more expensive wetsuit versus no wetsuit or a cheaper one. So before you even surf online stores or try one on, I strongly suggest that you set a realistic price point then narrow down your options from there.
Once you've set your budget, here are things to consider when choosing a wetsuit:
Proper fit
How do you know it fits properly? Notice the shoulder and crotch areas. Arm and leg lengths are usually a matter of preference but a shorter leg length tends to slip off much faster than a longer one. But more importantly, make sure it has a good neck and wrist seal. Some water inside the wetsuit is needed to keep you warm but too much will just add weight and, therefore, slow you down. Lastly, check the arm and shoulder reach and make sure it doesn't restrict your stroke.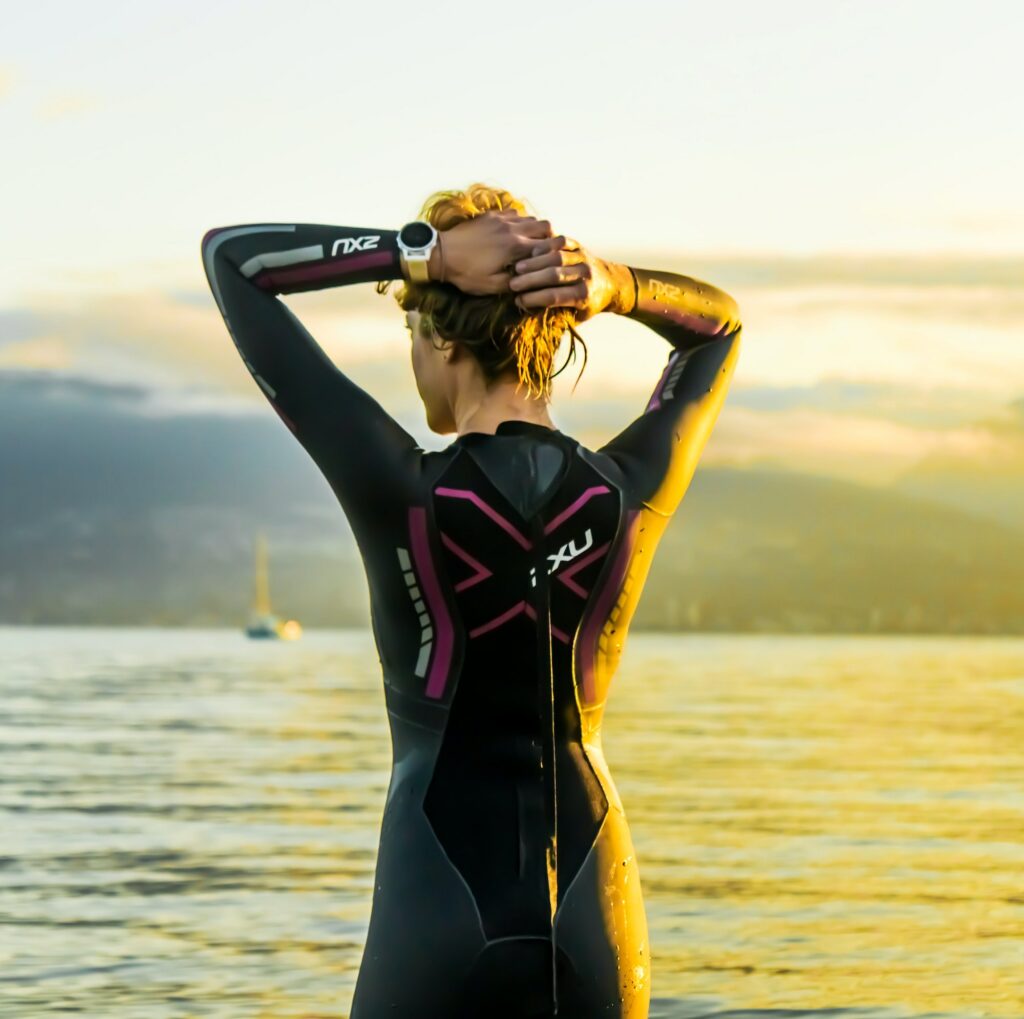 Material and thickness
A typical wetsuit will vary in thickness (between 1.5 to 5 millimeters) and stretchability throughout. A thinner, more flexible material around the shoulder area and arms will allow you to swing more freely and feel less restrictive. Thicker materials are generally used on the chest and leg area to enhance buoyancy, which is where a lot of the wetsuit advantage comes from, especially for those with less than perfect swim form.
Swimming in a wetsuit allows you to float on top of the water so you can swim where there's less drag. To regulate this advantage, Ironman wetsuit rules state that "the thickness of the wetsuit may not exceed five millimeters."
Comfort
Keep in mind that because wetsuit brands design for performance, they tend to recommend a tighter and oftentimes uncomfortable fit in their sizing charts. Since this "performance" fit may not work for everyone, it's worth noting that for shorter races, you might be better off with a more relaxed fit or even a size up if you're in between sizes. 
Just be aware that looser fits tend to leave gaps that may then lead to chafing in the loose-fitting areas. Also, neoprene loosens with wear and relaxes in water. So if you start with a loose wetsuit, it will just get looser the more you train and race with it. This is also why it's important to train in your wetsuit and give yourself several sessions to break it in before race day.
And, as mentioned earlier, the more water that gets into your wetsuit, the more weight you have to carry, which increases drag and slows you down. But all things considered, if comfort and confidence are more important than performance, go for a more relaxed fit, especially for shorter races. But for longer races, the advantage of going for a tighter fit definitely becomes more significant.
With sleeves or no sleeves
This is a matter of personal preference and, sometimes, water temperature. Even with the improvements in flexibility of the material around the shoulders and arms, some athletes still prefer the freer arm movement of a sleeveless wetsuit. It could be a good option for borderline wetsuit-legal water temperatures but majority still go for the more popular sleeved versions.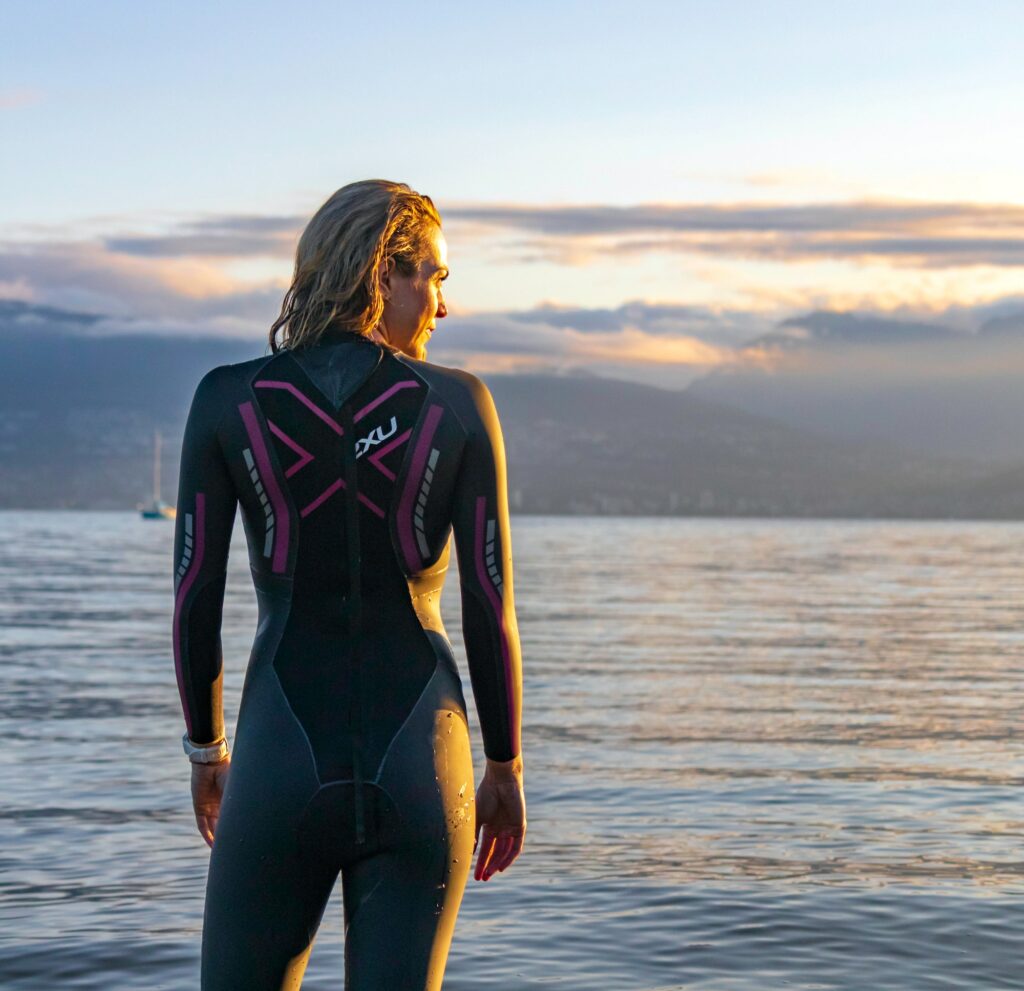 Special features
Once you've found the right fit, you might want to consider certain features like coated rubber that lessens friction and makes you more hydrodynamic. Break away and reverse zippers are great for getting in and out of your wetsuit, which can save seconds through transition. These are all minor details and are far less crucial than finding one that fits your body like a glove but they do offer significant advantages worth considering.
Looks
You're probably not going to enjoy any performance gains or time savings with a beautiful wetsuit but if you can find one that's affordable, fits like second skin, and makes you look and feel great and fast, then why not?
If the time has come for you to brave the cold waters in your next triathlon, and you're on the hunt for the perfect wetsuit, I hope these tips help you find the one that's right for you. If you're still on the fence about investing in one, consider borrowing from some triathlete friends who are about your size.
It's a great way to get your feet (along with the rest of your body) wet first before diving right in. The more sizes, brands, and models you actually get to try in the water, the closer you'll get to your perfect match. 
Have some training questions, feedback, or suggestions for future articles? Please feel free to drop me a note on the comments section below or on any of our social media platforms. You can also email me directly at [email protected].