There's also a possibility that the world's biggest cycling event will take place behind closed doors
By Nicole Ganglani | Photo from Tour de France/Twitter
The Union Cycliste Internationale (UCI) and Amaury Sport Organisation (ASO) announced on Apr.15 that the Tour de France 2020 will officially take place from Aug. 29 to Sept 19.  The world's biggest cycling event was originally scheduled to take place from Jun. 17 to Jul. 19. According to ASO, the route of the race remains the same—starting at the Grand Depart and eventually culminating at the La Planche des Belles Filles as the finish line.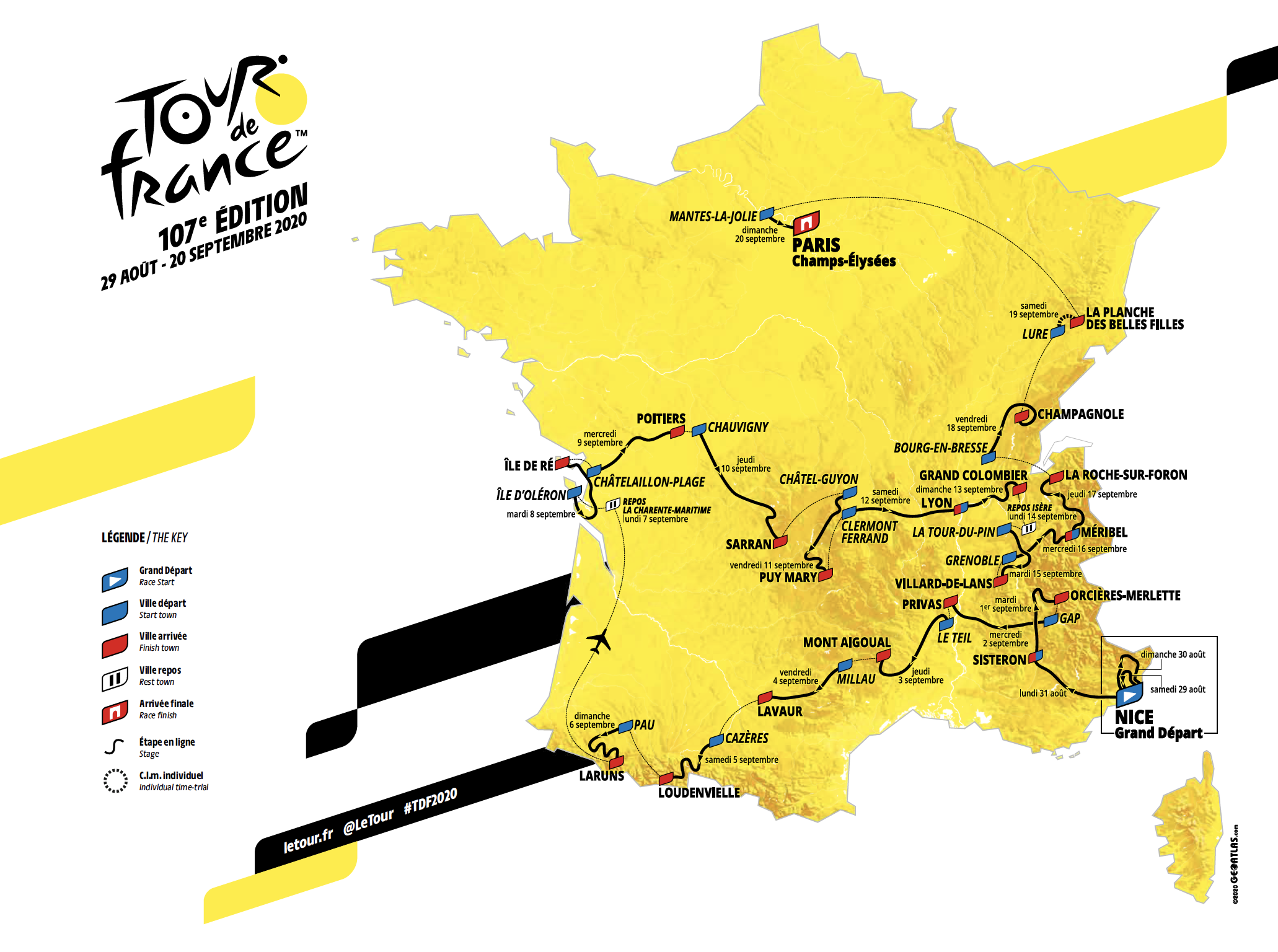 Tour de France director Christian Prudhomme told French news channel Le Journal de 13 heures that this is the latest the race has ever been staged; they were considered right after the French government extended the ban on mass gatherings until July. 
"The Tour will take place two months later than planned. It's never taken place so late before in its history, but it will take place from Aug. 29 to Sept. 20 and on the same parcours," says Prudhomme "I had 49 elected officials from the host towns on the phone yesterday and they all gave their support."
The coronavirus has infected more than 15,000 people in France and with the country currently still on lockdown. Prudhomme says that the organizers are well aware that the race can still be postponed if the situation doesn't improve. However, Prudhomme says that setting a new date for the event is a symbolism of recovery—that the world can fight and defeat this global pandemic. 
"It's the first big event planned, the beacon that allows us to look to the future and say, 'yes, we'll get through this,' even if right now, everybody must fight," Prudhomme adds. 
The Tour de France will respect social distancing measures
Prudhomme says that organizers of the annual event will observe safety measures such as the possibility of conducting the event behind closed doors. According to four-time Tour champion Chris Froome, this race was expected to be the most difficult one in recent memory because of the new route and intense climbs in the Alpe d'Huez or Mont Ventoux.
Most teams are hoping that the race continues in August despite the limited training time. Tour de France 2018 champion Geraint Thomas told BBC Radio 5 Live that resuming the Tour de France is vital not only for participants but also for sponsorships and the financial implications behind the cycling governing body. 
"The Tour is the pinnacle of the sport. If you ask anyone in the UK for three words to do with cycling, they would be: Tour de France. It would be great for the riders and the teams if it can go ahead. This is why teams exist and that's why sponsorship comes into the sport," says Thomas. 
Subscribe to our newsletter to receive the latest sports news and active lifestyle and fitness features you need