Victor Basa impressed us with his steadfast grit to reach his goals, but can the determined contender shape-shift into triathlon's breakout star?
By Eric Nicole Salta | Photos courtesy of Victor Basa
On paper, Victor Basa already has a lot going for him: he's an actor, host, and model with a personal blog that probably chalks up thousands of daily page views. But every assumption you've ever had about this fetching fellow might go out the window when you learn what it took for him to seriously dedicate himself to triathlon.
"When my friend passed away, it was a wakeup call to start questioning who we surround ourselves with," he says. "I dedicated my first race to him and from then on have been racing each triathlon for reasons bigger than my own ambition." It's no surprise to find that the man behind such an eventful, well-rounded life is thoughtful and rather Zen to triathlon.
How did you get into triathlon?
I started getting into triathlon when my friend and teammate Ivan Carapiet invited me to come train since he knew that I was an avid cyclist and also enjoyed running. After training a few weeks, I started to love the routine and structure that it gives. Signed up for my first triathlon last year (Safeguard 5i50 Bohol) and the rest is history.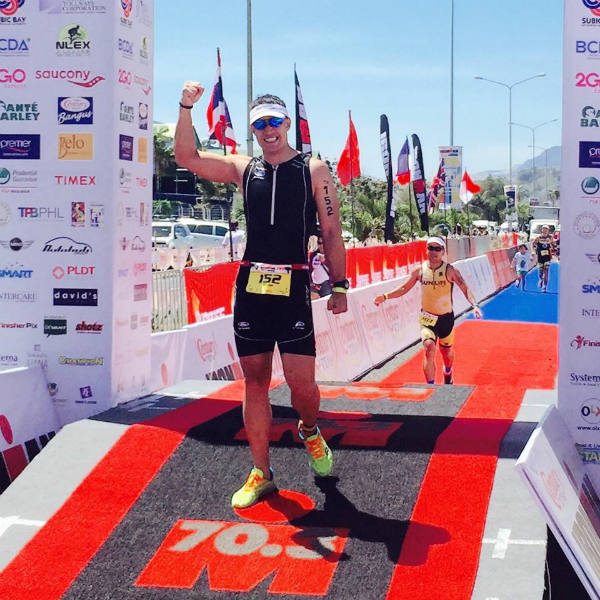 First times are always nerve wrecking. How did that pan out for you?
I got my triathlon bike a month prior to the event, so it was cramming. I'm just happy that the Specialized Shiv is a very comfortable and fast bike. The logistics in the sport is a hurdle I tell you, with disassembling the bike, making sure you have all your equipment and nutrition in tow as well as reserving hotels. Once I got to the starting line, I had the mindset 'I just want to race and finish strong.' Swim went well, save for getting a cut on some corals. The bike was supposedly flat, but I did not feel like it was. The run was very heavy for me but paced with a Cebu triathlete and somehow broke into a sprint finish! Very happy, but I did not get sub-3 hours as I was targeting. Next race!
You're racing Ironman 70.3 Cebu. Are you doing anything differently this time?
It is more or less the same training program that I did for Subic 70.3 in March, a lot of brick sessions and long bike rides. I live farther from the whole team so I am usually on a solo tip which is harder, but on weekends we train together. I feel like the track work really helps as well as it is more forgiving on the knees.
Do you have a special diet when preparing for a race like Ironman 70.3 Cebu?
Definitely eat more. I am a firm believer in eating within an hour of your training. I think it is something I took from my past bodybuilding/beach body goals [laughs]. Not too much unnecessary sugars and watch the salt because we already train with gels and electrolyte drinks, which already have a lot of sodium. And pasta!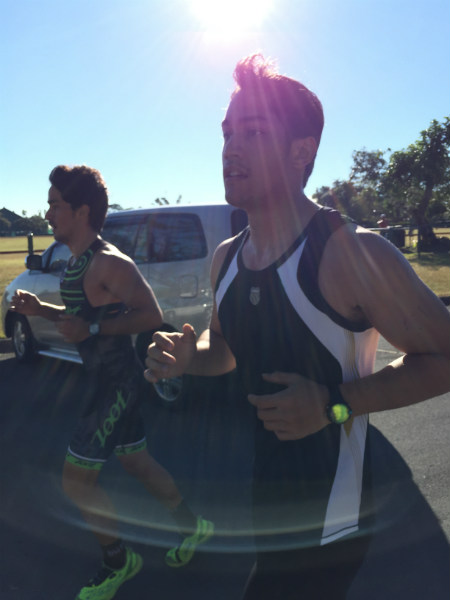 Is there pressure being part of Ford Forza since most of them have had racing experience?
It is great that I get to train and learn from athletes of such caliber. There is pressure but a friendly sort of competition and support. Rule of thumb is to train with someone faster than you but still more or less your own pace, and there is always someone in the team who is just that. I have yet to train at the pace of Ivan and Matteo [Guidicelli] though.
Do you feel the need to prove yourself since people know you as a celebrity?
Funny thing about the sport is that nobody treats you like a celebrity, and usually if you show up race day and compete individually, others know that you've already put the time, effort, and sacrifice in. There is nothing to prove to anyone else but yourself, your race is both your test and reward for your long hours of training and negotiating with your girlfriend or wife.