What can you learn from a late-blooming triathlete as brilliant and natural as Chang Hitalia? More than you might believe
Photos by Danica Condez
It's funny how Celma "Chang" Hitalia always seems to defy odds.
For one, she's a late bloomer to the sport, having only picked up triathlon in 2011 at age 46 after crossing over from a significant running reputation. Now 52, Hitalia is only beginning to peak. It's mind-blowing to say the least but not unheard of.
Look no further than Madonna Buder, also known as the Iron Nun, who, at 86, has changed the way athletes like Hitalia are viewed. In other words, it should come as no surprise that female triathletes like Hitalia are matching the advent of the Iron Nun. And that's all while balancing an almost 28-year career as logistics manager for Japanese manufacturing company Toyo Ink Philippines.
While she is perfectly qualified for early retirement, there are no signs of slowing down for Chang the Triathlete. Timing is everything for Hitalia, too. From the moment her friends forced her to sign up for her first run—a 10K—to her surprising but convincing victories in 70.3 and full distance races, Hitalia commanded attention.
None more so than her run towards a qualifying spot for Kona 2017. But in typical fashion, she giggles her way throughout the interview and downplays her chances until the moment she steps onto the starting line. You can't blame her for not focusing too much on Kona just yet, but for now Hitalia is recapturing the force of her youth for tomorrow's Century Tuna Ironman 70.3
You started running in 2009 and then triathlon piqued your interest a year after. Was there a moment that pushed you to try triathlon?
I started fun runs at first and then my targets changed drastically that, in a year, I was able to complete three marathons and an ultramarathon. While some of my friends continued their ultramarathon journeys, some, including me, switched to triathlon. The excitement of doing three sports in one event fascinated me so that's why I made the switch.
But you already knew how to swim and bike then?
No, I started to swim only in August 2010. Biking, yes of course, from when I was young but leisure biking is different from competitive biking. I joined a mini sprint in October 2010 just to familiarize myself with triathlon. But my first standard distance was in April or May 2011 in Subit, and I placed second in my age group (45-49), next only to Senator Pia Cayetano. After a few months, in August, I joined Cobra Ironman 70.3 and again I finished runner-up in my age group. In 2012, I did the full distance.
At what point did you realize that you could actually be good at triathlon?
When I joined my first Olympic distance race, I finished on the podium and in the same year, I joined my first 70.3, again finishing on the podium. That was the sign.
You qualified for Kona this year, which is a huge feat. Do you feel any pressure already even early on in the year?
Of course. As soon as I qualified, the pressure is already there. The community knows how I performed so they have high expectations. When I raced Ironman Langkawi, I also placed second so definitely the pressure is on after I qualified for Kona because people know my performance.
What's more stressful: Trying to qualify for Kona or the fact that you are actually going to be representing the Philippines?
There wasn't any stress in qualifying because I registered for the the Hefei and Xiamen races secretly so I wouldn't put any pressure on myself. Sabi nga nila ninja moves! That's also why a lot of people were surprised when they found out I qualified for Kona. These were inaugural races so 10 slots where handed out and I managed to claim a spot.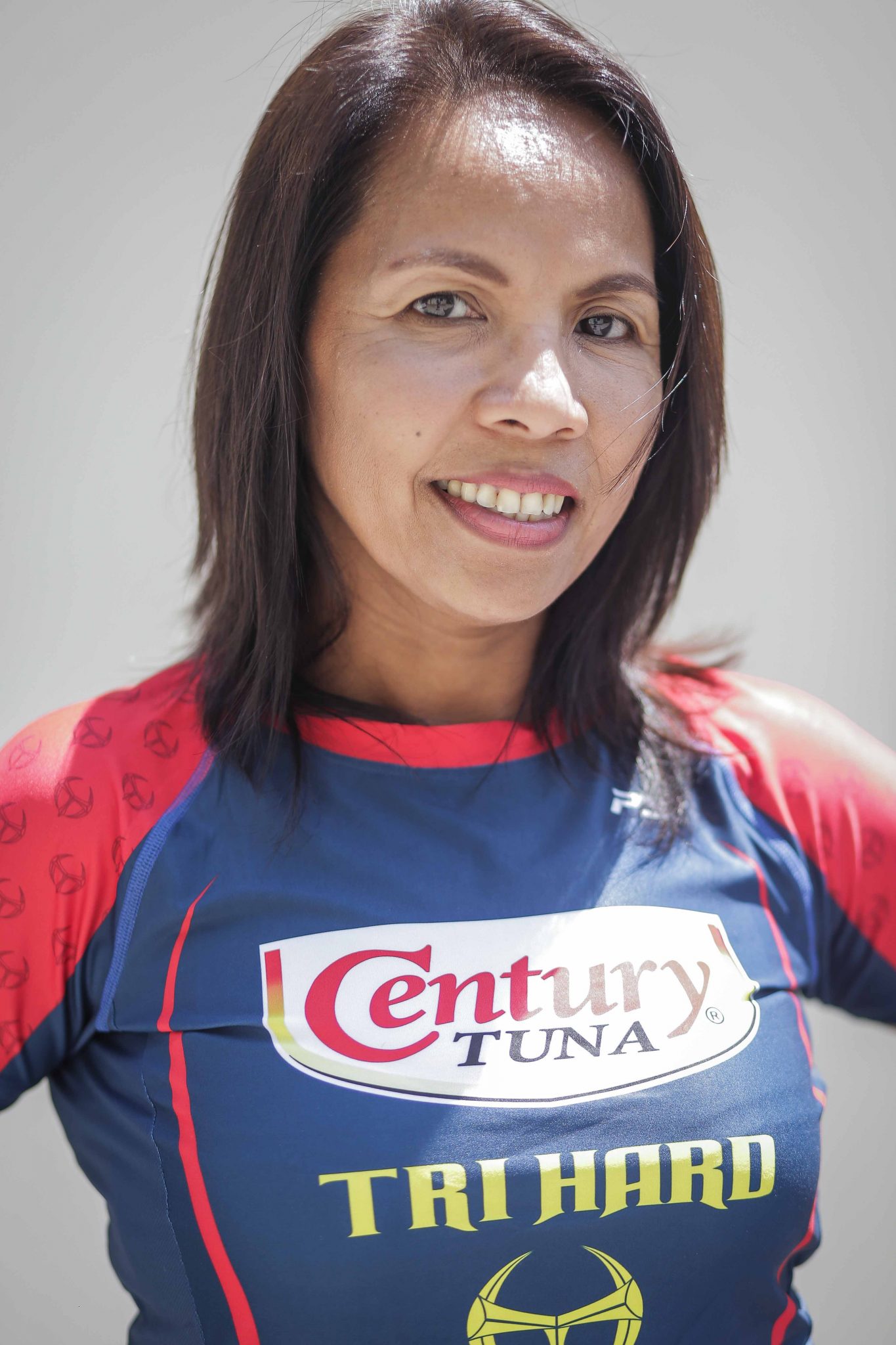 Do you have specific goals in Kona? Or do you want to just enjoy the experience?
As much as possible I want to have a strong finish, a decent time, and enjoy the experience, too. Baka hindi na maulit! (smiles). I have no specific target time but it really will depend once I'm there. The heat isn't a problem, but the wind could be a threat.
Let's talk about Century Tuna Ironman 70.3. Tell me about the training you did for this race.
I have my coach—Ani de Leon-Brown—who helps me with my training. I did race-specific workouts like long bricks as well as sessions to work on my limiters, including tempo swimming since the swim is my weakest discipline. Nothing too different but maybe just upping the intensity and mileage.
What goes on inside your head when you're out there racing with fellow triathletes?
My main focus is just to keep on going. Stick to the game plan so I can finish faster than my previous time. The pacing, the nutrition. Move forward and go faster so I can finish fast. And enjoy. That's always been my strategy. If I don't enjoy a race, the pressure will get to me too much.
Is there a specific part of the CT 70.3 course that you love?
The run course. That's where you see a lot of crowd cheering, fellow triathletes pacing each other, trying to be cheerful with one another. You won't feel alone. In the bike leg there's no drafting so you can't ride side by side. In the swim, to each their own. There's camaraderie in the run and everyone's cheering each other so that's why I love running the course here.
How do you see your life and career in the coming years?
Still doing triathlon until I'm 60 and from there ask me again! (laughs). Iron Nun is my idol. It's never too late to engage in physical activities and sports. I feel like I'm an example of that. (smiles)
We all trained for this. The final execution of our long hours of hard work. Proper pacing, hydrate well, keep up the calories and electrolytes. Never underestimate the heat. Magbuhos ka kung kailangan mong magbuhos! Listen to your body, keep safe, and most of all, enjoy the experience!