Want to bike outside the capital? Great cycling routes can be found close to Manila—if you know where to look
Photos by Kara Santos and courtesy of Art Fuentes of Outside Slacker
Metro Manila is not exactly a pleasant place to bike. You often have to navigate through traffic-choked streets, breathe the fumes of smoke-belching jeepneys, and take in views often limited to concrete and crowds.
For mountain bikers, the ideal destination is somewhere close to nature with great trails and even greater scenery. Surprisingly, there are a few spots just a couple of hours from the metro where you can still breathe in fresh air and commune with nature. While purpose-built biking trails like La Mesa Nature Reserve, Timberland Heights, Heroes Trail, and the Filinvest Trail are already popular with cyclists, there are other destinations worth seeking out.
Wind Farm in Pililla, Rizal
For cyclists and riders based in Metro Manila, the Wind Farm in Pililla, Rizal has become a popular weekend destination. You've got to admit, there's something really cool about riding in the hills under massive wind turbines. A lot of bikers dream of biking all the way to Bangui in Ilocos Norte just to see windmills up close. These windmills near Manila offer a more accessible option for PATW (padyak all the way) bikers who still need to make it home before sunset.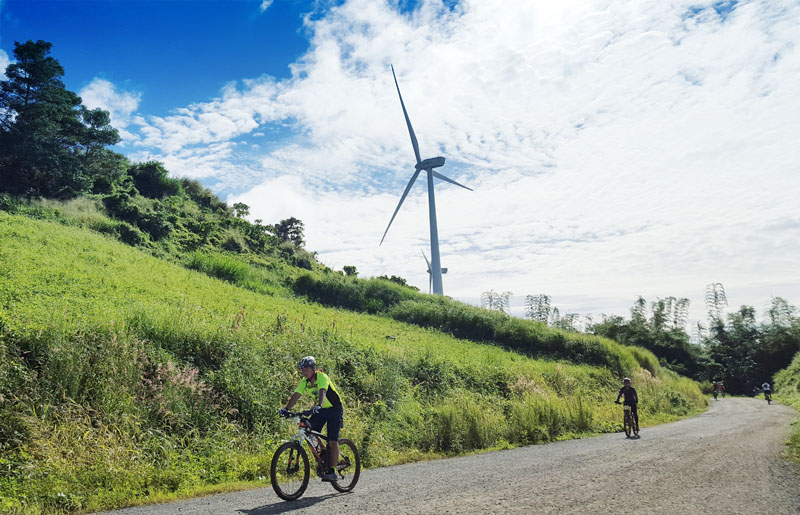 If you're passing the Manila East Road, you can stop by Haciendo Pisong Kape for cheap coffee and Bulawan Restaurant or Kawayan Farm for a full meal to take a break from the challenging uphill climb to Bugarin. The dirt and gravel backroads from the Wind Farm leading to Sierra Madre are also a great option for bikers who want to get some off-road action.
Angat Rainforest Eco Park, Bulacan
Located on the highest slope of the mountains in eastern Bulacan, this concrete water reservoir embankment supplies about 90 percent of Metro Manila's water requirements.
The whole complex of the Angat Rainforest and Ecological Park (AREP) is a thrilling stretch for cyclists. To get here, you first have to conquer Norzagaray's challenging and twisty hilltop route, but you get a view of Ipo Dam, a concrete dam located downstream of Angat Dam, from the hillside huts on the way there.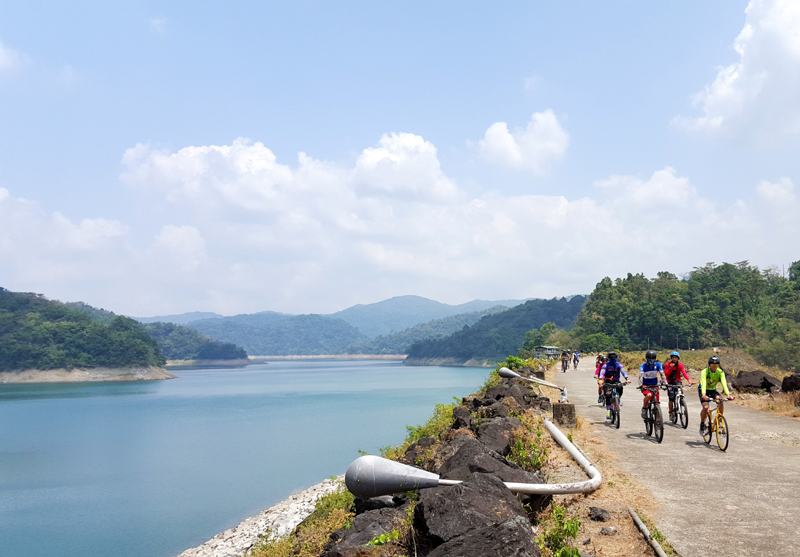 Inside the AREP complex, the paved mountain roads shaded by trees offer challenging uphills, steep descents, and surprisingly stunning scenery. You also get a great view of the lake and river, mountains, and a power plant from an overlooking view deck. Be sure to head down to the road right beside the reservoir, which offers an amazing view of the Angat Lake on one side and Norzagaray River flanked by towering mountain ranges.
The mountains of Tanay, Rizal
The mountains of Tanay, Rizal hide many secret trails for bikers. Tanay is becoming more popular with outdoor enthusiasts because of its proximity to Manila and numerous mountains for hiking.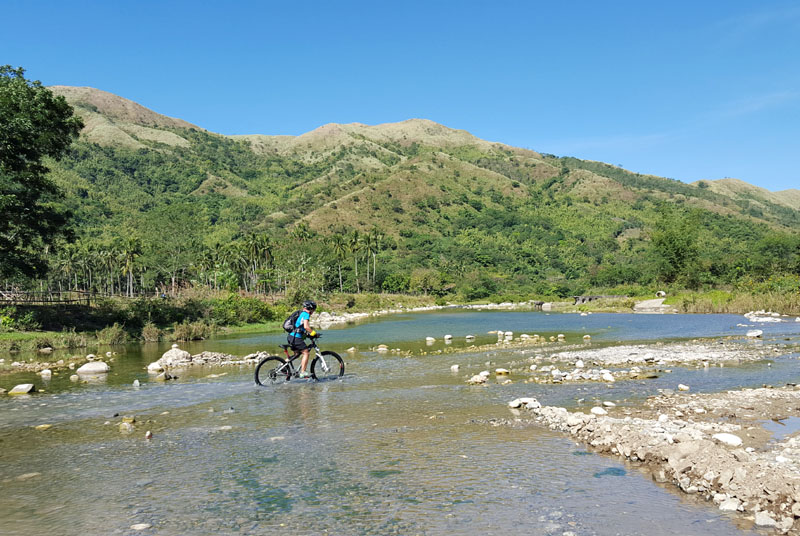 The trails offer multiple river crossings on the way to various points of interest. You also get to bike through downhill slopes, dirt trails, rice fields, rock gardens, and even hanging bridges.
One amazing destination here is Kinabuan Falls, a remote waterfall located within a Dumagat Village in Sta. Ines. On the way there, you have to cross through several communities as well as ankle-deep to knee-deep streams. For those not used to biking on mossy rocks, there's no shame in getting off and pushing your bike. In fact, you'll want to just take a dip after the hours of pedaling. Allot a whole day for this ride.
Laiban-Daraitan Trail, Tanay
Another surprising destination in Tanay that you can bike to on a weekend is Laiban Dam, a dam built during the Marcos era that was meant to supply Metro Manila with water. But because of environmental concerns and displacement of the indigenous Dumagats, the project didn't push through.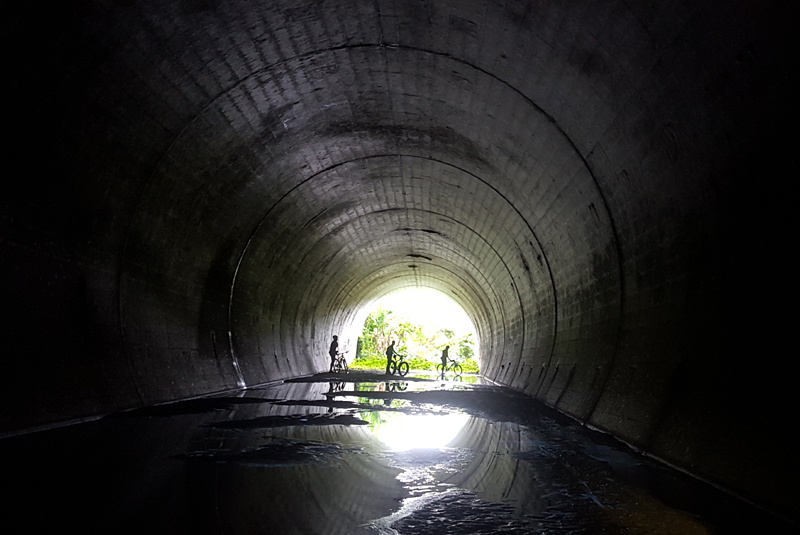 Today, the structure of Laiban Dam, including massive tunnels remain abandoned. Adventurous mountain bikers cycle all the way down to Barangay Laiban, crossing rivers just to visit the massive structure.
If you cross the tunnel by bike, continue your ride to Daraitan where you can visit Tinipak River. Craving more adventure, leave your bikes at the barangay hall then visit Tinipak Cave. 
Mt. Balagbag in Rodriguez, Rizal
If you need a quick mountain biking fix on a weekend, you can't go wrong with Mt. Balagbag. It's located in Rodriguez (formerly Montalban), Rizal and just a couple of hours from the metro.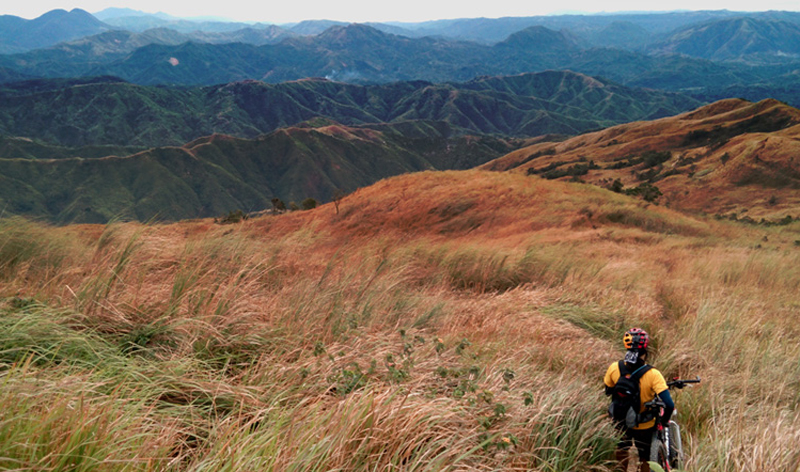 Mt. Balagbag is part of the Sierra Madre range as it transitions into the plains of Central and Southern Luzon. Thanks to its relatively accessible dirt road, the trail has become popular with mountain bikers, trail runners, hikers, off-road motorcyclists. and 4X4 enthusiasts during the weekends.
The dirt road and double track to the peak offer a test of endurance and leg power while the rock garden will challenge your climbing and descending skills. But the reward is a postcard-worthy view from the summit overlooking Metro Manila and the Sierra Madre mountains. The view from Balagbag's infamous peak called the helipad is a sight to behold.