For most fans, seeing players get traded opens up a lot of conversations about how it impacts the teams involved. But how does a trade affect the players who are contractually obligated to report to a new employer?
By Stan Sy | Photos by Tristan Tamayo
Imagine your first day at a new job.
You're dressed sharply. You're extra polite. You choose your words carefully as you introduce yourself. After all, you only get one chance to make a good first impression.
If you're lucky, HR—or someone in the office—will show you around the place. How do things work here? Where does this requirement go? How much time do we get for a break around here? How strict is the boss? You navigate through your first day, trying to multitask as best as you can. Take note of this, take note of that. Be careful not to step on anyone's toes. All of that is hard enough as it is.
But what if you got sent to a new workplace and you didn't really have a choice?
That's pretty much what professional basketball players go through when they get traded. One minute, they're hanging out with teammates at practice. The next minute, they're called into the general manager (GM)'s office to be informed that they've just been traded.
How do you tell your teammates—who you'd just been messing around with minutes earlier—that you're no longer on the same squad? How do you even go around saying goodbye to members of the organization, who you may have already come to treat like family? How do you go home and tell your kids that you'll be wearing a different uniform now?
It's a feeling that these players know all too well, whether in the PBA or the NBA. If there's anything that the NBA has taught us over the last year, it's that there truly is no loyalty in sports. Oddly enough, it's still quite the shocking concept to digest for some. But the reality is that there has never been loyalty in sports because teams are businesses at the end of the day. The owner mandates that the team finds a way to win, so it's the GM's job to construct a winning roster. If the GM and the coach can't win with the current lineup, then changes have to be made. Nothing personal. It's just business.
The problem is, generations of fans had been blinded by rose-colored glasses over the years. After all, they may have grown up watching the likes of Bill Russell, Larry Bird, Magic Johnson, Isiah Thomas, and Tim Duncan—all of whom played for just one team in their entire career, winning multiple NBA Championships for their organizations in the process.
And you could probably put Michael Jordan on that list, too, since he didn't really force his way out of Chicago. When he retired for a second time in 1998, it was because he had nowhere else to go after the Bulls decided not to bring Phil Jackson back as coach. Jordan saw no other palatable opportunity, and with the impending 1998-99 lockout, his only other option was to retire.
But players like that are more of the exception, than the norm—even locally.
In the past, when rivalries like Crispa/Toyota dominated Philippine basketball, you wouldn't see a Redmanizer suddenly play for Toyota the following season. That just didn't happen. However, a quick look at the list of the 40 Greatest Players in PBA history—a list that was put together to commemorate the founding of the PBA in 2000—shows that majority of our own local legends didn't spend their entire career with just one team.
In fact, only three of those all-timers played for one team throughout their entire career: Hector Calma (San Miguel), Samboy Lim (San Miguel), and Alvin Patrimonio (Purefoods).
Even if you count the 15 additional players that the PBA added to the list in 2015 to celebrate the league's 40th anniversary, only three other names have ever played for just one team. There's Jayjay Helterbrand, who retired at the end of the 2016-17 season, and Mark Caguioa and Jayson Castro—the latter two being still active players as of this writing.
When all's said and done, players are generally reduced to assets. Who's got better value? Who's on a bargain of a contract? Who's clogging up the salary cap? It's ideally harder to reconcile this notion in the NBA, where teams are marketed to represent and identify with the cities in which they're located. For most teams, they've become synonymous with the city, and if they're relocated, a city actually feels like they'd been through a bad breakup. Just ask Seattle.
Unlike the NBA, the PBA outrightly identifies as a commercial league. Deputy commissioner Rickie Santos even goes one step further and called PBA teams an "advertising vehicle" in a BusinessWorld article in 2015. Even though organizations could try to make everyone come together internally as a family—as most businesses and companies are wont to do in this country—PBA teams exist to promote whatever product its owners want to push at any given moment. That explains the constant rebranding of PBA teams, which can be just as tricky to keep track of as actual player movement.
The PBA has no illusions of grandeur about the league or its teams being anything more than corporate entities. So it really should come as no surprise that team executives are constantly on the lookout for a better deal. After all, if your team wins, then that means better exposure for your brand and for your product. As a player, that means you're just a cog in the whole machine. It's quite easy to say, but when human emotions are involved, things can get messy.
Handle with care
"Nalungkot. Nagulat."
Those were the emotions that ran through Ranidel de Ocampo when he learned that he'd been part of a three-team trade that sent him to the Meralco Bolts from TNT Katropa, the organization he'd played for the previous eight seasons. Even though both teams share a principal owner in Manny V. Pangilinan and are subsidiaries of the MVP group, it doesn't take away from the fact that the trade caught de Ocampo by surprise. Yes, he'd still be playing for the same owner, but he'd be going to a different situation, playing with a different group of guys, and wearing a different jersey.
He says that nobody told him about the trade before it happened, and that he only found out about it on Twitter, when the news had broken out.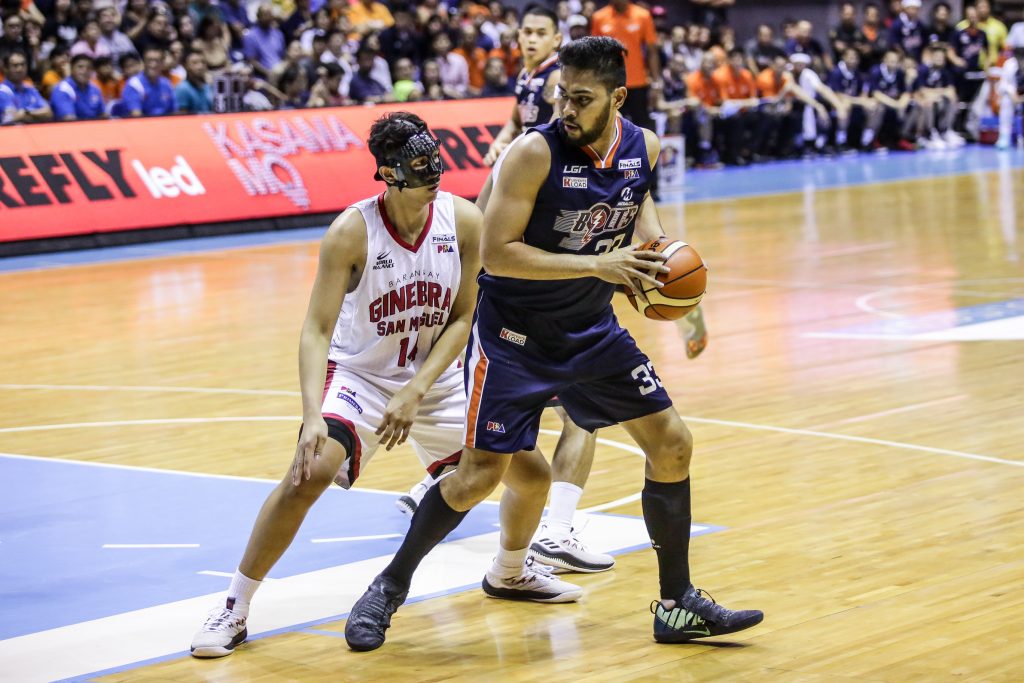 "Sa tingin ko, medyo nag-isip lang sila kung sasabihin ba nila sa akin o hindi bago mangyari ang trade kasi baka nahihiya lang sila," he says. "O meron silang ibang reason." If de Ocampo, 36, felt blindsided, would you really blame him? He grew into being one of the best stretch fours in local basketball through his time with TNT. A five-time national team player, he'd won six championships and became a two-time Finals MVP with TNT. In 2014, he was even named the Best Player of the Conference during that year's Governor's Cup. You don't just make all those memories and then throw them to the wayside and move on.
It's not like RDO—as local commentators affectionately refer to him—had never been traded before. In 2008, he was sent to Talk N Text by Air21 Express (which disbanded in 2016 as the Barako Bull Energy), the team that drafted him, for a package that included Don Allado and a 2012 first-round pick that would turn out to be Jason Deutchman. At the time, de Ocampo was a young player in his fifth season, excited about the opportunity to play for a winner like TNT. "Akala ko kasi sa TNT na ako mag-re-retire," he says. "Doon ko na tatapusin 'yung career ko. 'Yun pala, hindi."
There were questions that went through his head in the aftermath of the trade. "Kung nagawa man nila akong i-trade, siguro meron silang plano para sa ikabubuti ng team," de Ocampo reflects. "Sana lang nagtiwala sila sa akin para nasabi nila sa akin bago mangyari ang deal ng trade." He didn't get to speak with the TNT coaches or management until after the trade had been consummated. He shares that they eventually got to explain why they traded him after eight productive seasons. "Nasa sa akin na iyon kung katanggap-tanggap ba 'yung paliwanag o hindi," he asserts with a tinge of silent resentment in his voice.
RDO hasn't played much for Meralco since the trade because he's been sidelined with a calf injury. But in the five months that have passed, he admits that the bitterness has lessened on his end. It also helped that there were familiar faces on his new team from his TNT days like head coach Norman Black, whom he played under from 2012 to 2014 and former teammate Jimmy Alapag, who was with Meralco as an assistant coach and team consultant when he joined the Bolts last September. "May nadala siyang culture sa team," de Ocampo says about Alapag, revealing that there's a bit of the TNT spirit in Meralco. "Nagawa niyang magdagdag ng kung paano maging repleksyon sa iba na maging maganda 'yung team."
Sporting success
Not everyone takes getting traded as hard as de Ocampo did. Sometimes, it really just is part and parcel of playing in the PBA. It's one of those things that you just have to deal with as a pro. That's something swingman Dylan Ababou of the Kia Picanto learned firsthand after a stellar collegiate career with the University of Santo Tomas Growling Tigers.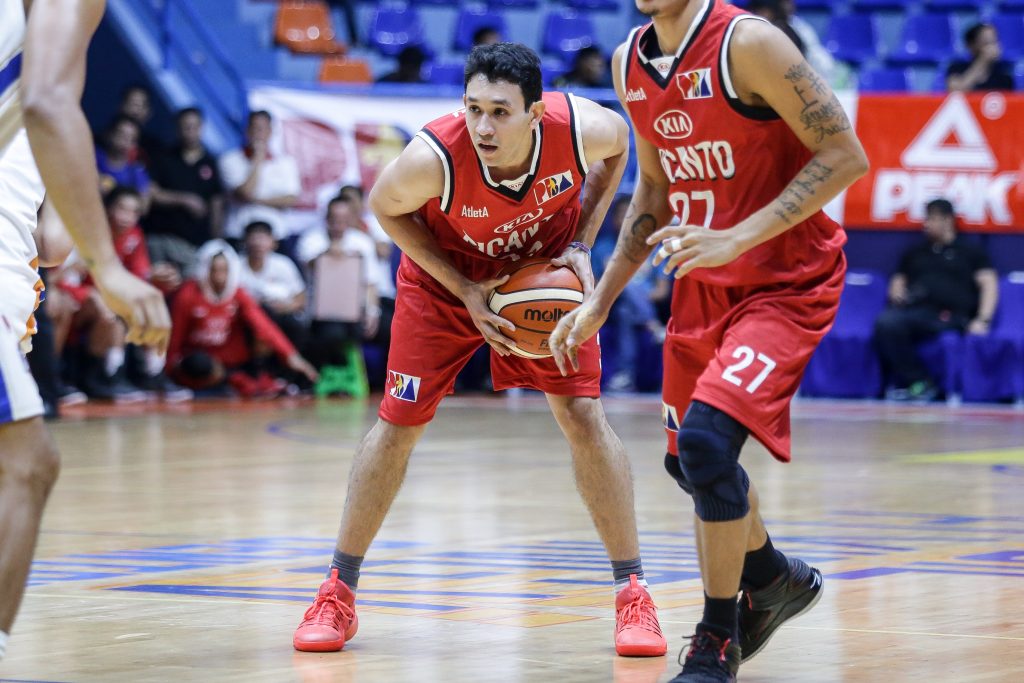 Since getting drafted 10th overall in 2011, Ababou has been traded six times and has already played for eight different teams in the PBA. Before signing with Kia last year, he was drafted by the Barako Bull Energy, then traded to Ginebra after his rookie year. He spent three years with Barangay Ginebra then got traded back to Barako Bull in 2015. Within the same season, he got sent to TNT, where he became a teammate of de Ocampo's. The very next season, he was traded to the Blackwater Elite. A few months later, he got traded again; this time to the GlobalPort Batang Pier. Within the same calendar year, another trade brought him and his contract to the Phoenix Fuel Masters. When that deal ended, Kia picked him up as a free agent.
He's used to how it goes by now. "Bago ka kausapin ng manager, kadalasan, may trade rumors kang makikita eh. Kadalasan, may nag-po-post na writers na ma-te-trade ka nga. So magkakaroon ka na ng idea."
Like RDO, Ababou has also had to wrestle with feelings of inadequacy. "Siyempre, ma-fe-feel mo rin na marami akong kakulangan sa team kaya ako na-trade," he says. "Maiisip mo rin iyon." But he constantly reminds himself of what's important, despite his status as a journeyman. "Sobrang blessed pa rin ako na natupad 'yung pangarap ko na makapaglaro sa PBA," says Ababou.
Through all the trades, Ababou has chosen to focus on the things within his control. "Working hard, having the proper mindset, doing everything to contribute to the team, to promote a good atmosphere, and to help the team win," he enumerates.
As someone who's been through six trades in seven years, the one thing that's really helped Ababou find peace in how his career has unfolded so far is his faith. His faith has also helped him establish a bond with all the different players he's shared a locker room with. Whenever he joins a new team, one of the things he does is set up a Bible study group. He likens his journeyman status to being a sort of missionary work. "Once a week, mayroon kaming Bible study with the team," he reveals.
Ababou finds joy in how enthusiastic his teammates have been towards the Bible study groups he brings together in his teams. He also talks about how teammates approach him whenever they have questions or problems and need someone to confide in. What amuses him the most is when he sees the effect he's had on his teammates when they post Bible verses on social media ("Nakakatuwa sobra").
After having been part of so many transactions in his career, Ababou has learned not to blame anyone. In believing that everything happens for a reason, he goes back to looking for God's purpose in everything. "Always look for God's reason in every situation, good or bad," he shares like a true veteran. After all, what truly matters to him and to his family is that he still has a role in the PBA, especially knowing that there are only a finite number of roster spots, given all of the current and aspiring pros that our country as to offer.
Safe option
Gerry Esplana was the Rookie of the Year following the 1990 PBA season, back when he was playing point guard for the Presto Tivolis. Through the '90s, he was the lead guard for the Tivolis, and later the Sta. Lucia Realtors, which bought the Presto franchise in 1993. In 1998, he was part of one of the most surprising trades of the decade, when he got sent to the Formula Shell Zoom Masters for Ronnie Magsanoc, who is generally considered as one of the best Philippine point guards from the '90s. Prior to the trade, Esplana's Sta. Lucia Realtors only made it as far as the semis of every playoff tournament they played in. He didn't know it at the time, but getting traded eventually allowed him to win a PBA Championship, when they won the Governor's Cup that season.
"[The trade] came by surprise," explains Esplana, who is now the sports development office head for the City of Valenzuela. "We were playing abroad. It was an offseason tournament [in Dubai], then all of a sudden, 'pag balik namin the following morning, 'yung picture ko nasa newspaper na with Ronnie Magsanoc; and I got traded. One of the liaisons of Sta. Lucia went to our place, pinatawag daw ako ni team manager, so I went there and the team manager explained to me bakit nagkaganoon."
Esplana speaks with the perspective of someone who sees both the personal and business aspects of a trade, especially now that he's retired from the game. "Siguro they decided na mag-iba ng composition ng team and it happens naman talaga sa team kapag hindi nakakakuha ng mataas na mileage sa players mo."
Esplana sees no problem with being treated like a commodity, as he was during his playing days. He acknowledges that the feeling of loyalty may be rooted in most basketball players feeling attached to the schools they played for growing up. But in the pros, he says, teams won't look at how loyal you are. "Nawawalan na ng loyalty [the new batch of players] because it's all for money," he states bluntly. "You just have to accept the reality. Tampo nang kaunti pero you have to move on kasi masisira laro mo eh. [The PBA] is a commercial league. Kaya ka nga sumasali. Nag-i-invest ka."
There are two types of trades, according to Esplana. "'Yung isang trade is 'yung performance mo. If they're not happy with your performance, tapos may isang guard sila na napupusuan doon tapos pareho naman kayo ng position, at pumayag naman 'yung team, the trade will consummate. Matutuloy iyun."
The second trade is more business-related. These are the trades that revolve around the salary cap, or those that involve moving players between sister teams or subsidiaries. "Wala kang kaalam-alam, bigla kang na-te-trade. Bakit?" he rhetorically asks. "Kasi nag-usap na 'yung management eh. Maganda naman nilalaro mo, wala namang problema sa team pero all of a sudden, you get traded. Business trade 'yun. Wala ka nang magagawa doon."
Esplana's words subtly give off a feeling of helplessness or a lack of control, at least from a player's perspective. If they bring value to a team, they can stay, but there's also that lingering feeling that they can be jettisoned at any moment's notice, much like what Ababou earlier described.
Esplana though feels fortunate that he got traded as a veteran. He feels that the management of Sta. Lucia at the time were probably no longer pleased with his performance as the lead guard. But on his end, he also felt that his team at the time may have already gotten as far as they could go. "Luckily, 'pag dating ko sa Shell, nag-champion kami. 'Yun ang mga twists of fate," he muses.
When he joined Shell following the trade, it was like being a rookie all over again because he had to adjust to a new set of teammates. Just like de Ocampo, however, Esplana did have some friends on his new squad when he first entered their practice facility like Benjie Paras, who he played with in high school for San Beda College. He also had a college teammate from his days at Far Eastern University in Vic Pablo.
Despite his status as a veteran, Esplana says that he still struggled with learning a new system and playing for a new coach. On top of that, he understood that he still had to contend for playing time against the other guards on his new teams' roster. He attributes that to internal competition within the team. But his nearly decade-long experience allowed him to adjust more easily.
"Kapag nalipat ka sa ibang team, it's a new ballgame: bagong pakikisama, bagong kakilala. Hindi na ikaw 'yung star doon," he reflects. "Paano ka mag-squeeze in sa kanila, na makukuha mo 'yung confidence at 'yung tiwala, so para kang bumalik sa pagiging rookie.
Ultimately, he looks at trades as just being part of the job. Esplana never blamed anyone for being traded. "Kailangan mo rin namang tingnan 'yung sarili mo," he advises. He echoes Ababou's sentiments about trades happening for a reason. "Hindi ako sanay na mag-sour graping. Mag-focus na lang tayo. 'Pag nabigyan tayo ng pagkakataon, let's prove our worth."
A better blueprint
Part of the job.
It's as if signing a contract to play basketball professionally includes a clause that dictates that you fork over a piece of your humanity along with it. You're no longer, "Juan Dela Cruz, the basketball player." You're an asset. Or a liability. It depends on how you're playing and how the team ultimately values you.
The funny thing is that sports are about as human you can get in terms of interests and professions. You run through a gamut of emotions in a single game alone, let alone an entire career arc or narrative. We crave insightful pieces that profile our favorite athletes, which show how relatable they are as human beings. And yet, when a player cries foul over being traded, there are those of us who would call him out for being a big baby.
It's admittedly a one-percenter problem. Most of us will never experience in our lifetime how it is to be paid handsomely to play a sport professionally. But the feeling of no longer being wanted is universal. We've all gone through it—from friendships, to being bullied, to our breakups, or to even being let go at our jobs. If we're allowed to stew (for a while) over the end of these relationships, then it's reasonable for players to feel the way they feel over being traded.
Yes, there is no loyalty in sports. We've perfectly established that. But there is a lot of humanity in it, too. It's so easy to get all caught up in numbers and stats, in wins and losses, in playoff seeds and salary cap calculations. However, in every man who dares to put on a jersey and play their heart out in front of the whole world to see, there's a voice at the back of their head that's constantly nagging at them. What if I get traded tomorrow?
They'll shut the noise out and play. After all, it's part of the job.
Subscribe to our newsletter to receive the latest sports news and active lifestyle and fitness features you need