With hardcore training in Portugal, national triathlete Kim Mangrobang is laying the groundwork to her ultimate goal: international triathlon supremacy
Photos by Pat Mateo | Makeup by Lester Querijero
"So, do you see yourself as a top Filipino triathlete?" I ask nonchalantly.
It's a question that still makes the most seasoned triathletes blush. But not Kim Mangrobang. In fact, she didn't even hesitate one bit. "Yes," said the pocket-sized wunderkind, who holds a juggernaut of superhuman stamina and special skill somewhere in her tiny, taut frame.
That fearlessness has made Mangrobang a force to be reckoned with in the triathlon community. The bold and upfront attitude is an oddity among most triathletes. Still, she's not always intimidating. Up close, she's tougher than you might think.
Prior to photographing the ascending layout at our first location, a notoriously arduous uphill climb in the cycling stomping grounds of Timberland Heights in San Mateo, Rizal, our creative director asked if I could play music.
"Yes," I answered. "What do you want?"
"Do you have Taylor Swift?" Mangrobang chimes in, a wide grin forming across her small face. She belongs in a perfect white teeth convention. Of course I have Taylor Swift.
Suddenly, Swift, arguably the most powerful figure in pop right now after her fifth record "1989" became the best-selling album in the US last year, meant something to Mangrobang. And it's a tempting analogy that must be made. Both launched their careers at almost the exact same time: Mangrobang at 13 joined the ranks of the national team, while Swift moved to Nashville at 14 to pursue a career in country music. At 23, Swift made the leap from country pop ingénue to a bonafide pop star when she dropped the emotionally charged "Red." Mangrobang, all 23 years of experience and hardship, is taking the biggest risk of her triathlon life when she practically bases herself in Rio Maior, Portugal—the springboard to her extraordinary and relentless expedition to scale the summit of triathlon.
It's a quest that began when she was still a swimmer under coach Abet Alon-Alon, back when age-eligibility rules didn't exist. "Swimmer ako since nine years old then siyempre cross-training namin is running. Sabi ng coach ko, 'You're a fast runner. Why don't you try out for the Philippine triathlon team?' So I did. Sobrang swerte lang nakapasok ako. Doon na nag-start lahat."
Escaping the age-eligibility protocol is one thing, but it wasn't until she saw the fuel driving one of her friends and fiercest rivals that she decided to get serious. "When you're in the swim team, iniisip mo parang play time lang kasi madami kayong kids eh," admits Mangrobang, who gave up school to pursue a full-time triathlon career. "Since naging teammate ko sina Monica [Torres], nakita ko na sobrang serious sila about triathlon. Kilala nila 'yung mga stars and akala ko kami-kami lang [are into triathlon]," she says. That realization was all it took for Mangrobang to reassess her true objectives in the sport.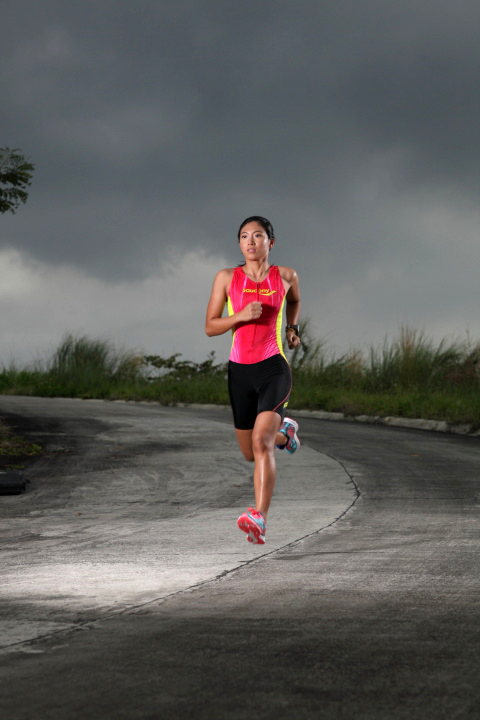 It was a smart move, especially now that local female triathletes are on the rise. "Before lalaban lang usually two or three [triathletes]. Ngayon sobrang laki na ng improvement ng female triathletes. Maybe because nakikita ng mga girls na madami na ring sumasali like Monica [Torres] na nagbibigay ng recognition sa Philippines internationally." Today, Mangrobang is past the stage of ambivalence and in a period of lingering in local events with one foot precariously in the realm of overseas competition. Now, her decision to spend more time in Rio Maior sends the message that she isn't letting anything, such as separation anxieties and slight pressure from the Triathlon Association of the Philippines (TRAP), stop her from becoming the foremost figure in women's triathlon.
Why the confidence in Mangrobang? Well, she's certainly built for the job: her lithe, imposing body is designed to conquer laborious hills, twisted roads, and powerful, unpredictable waters. Clearly, her pixie face and calm personality belie the intense, feisty Filipina who has taken to pushing her physical limitations.
But the most alluring thing about Mangrobang is her blistering bluntness.
The first time she trained in Rio Maior was in September 2014 to prepare for the Asian Games. This time, Mangrobang and three other compatriots, including (award-winning swimmer) Claire Adorna, are gearing up for the upcoming SEA Games. If all this makes it seem that international training was incidental to Mangrobang, it wasn't. "Ngayon pinu-push ng National Triathlon Team 'yung girls kasi mas konti 'yung field. Unlike sa guys, mas mataas ang chances for women to excel internationally," she says.
"Para siyang isang sports center," she says of her initial experience training abroad. "'Pag gising mo nandun na 'yung swimming pool, track oval. So hindi mo na kailangan mag–travel papunta. Unike in the Philippines, kung gusto mong mag-swimming, mag-da-drive ka pa, kung gusto mong mag-bike ng walang pollution, mag-da-drive ka pa. Dun, paggising mo, training ka agad. And isa lang kinakainan namin, isa lang din 'yung nagluluto so binabantayan æyung diet namin."
As an athlete, Mangrobang has never been one to take things for granted and she cherishes the opportunity to measure up against bigger, faster girls. At Rio Maior, a remote province in Portugal, she fills much of her time with a training program designed by TRAP's favored coach, Sergio Santos. Imagine 60K rides and track workouts in the morning, 5K afternoon swims, two-hour training sessions, long bikes and runs—all alongside the amazons from Brazil, Korea, and all over Europe.
"Anyone can come in and train under him pero ayaw niya yata ng mabagal," says Mangrobang, clarifying that she's never been called slow before bursting into fits of laughter. Comparing Santos to local coaches, Mangrobang explains, "Mostly 'yung rest nabibigyan ng time, as in rest day talaga. Unlike here na dun ginagawa ang errands, meetings, photo shoots [laughs]. Iba æyung idea ng rest dun, as in walang gagawin."
She also points out a major difference between local and international training. "Nakikita niya, for example, 'You look tired today' so iibahin niya 'yung content ng workout. Advantage 'yung pag alam ng coach 'yung ginagawa mo." In short, a program is tailor-made for what an athlete's body feels that day, which isn't usually the case in the Philippines, where plans are rigidly tracked.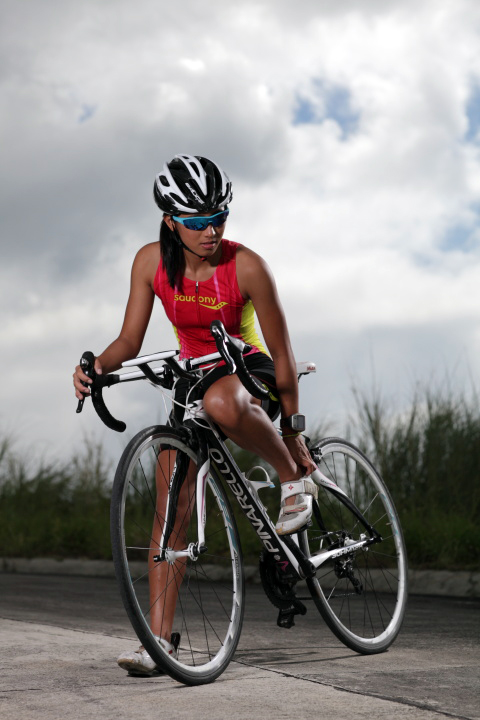 As well-positioned as Mangrobang is to survive the competition, and while Philippine women's triathlon seems able enough to produce a champion, one thing has made itself very apparent: International training is crucial. Mangrobang agrees unequivocally.
"We're at a disadvantage na agad. Kasi una, mainit dito, you can't train until noon unlike abroad, kahit anong oras ka mag-start. Dun sa Portugal, start kami 9 a.m., dito kailangan 6 a.m. para hindi mapagod ng sobra. Plus, mas exposed kami abroad. Mas madami kaming nakikitang athletes, mas alam namin 'yung crowd na kakalabanin namin, unlike here, kami-kami lang æyung nagkikita."
It's something she shares with Torres, who in the June 2014 issue of Multisport, asserted that local triathletes need international training and exposure to gain a competitive edge. "Ngayon, madami nang naiimbento pmethods and techniques] para maka move forward 'yung mga athletes. So kailangan ng mga coaches dito, learning din para ma-improve 'yung mga athletes more."
That, however, comes with a hefty price: around half a million pesos for every triathlete participating in an international training camp. Mangrobang has an idea of why TRAP is investing so much in triathlon. "When we compete, laging may nag-me-medal. In Thailand 2008, I think lahat may medal 'yung triathlon. Ngayon nagbibigay ang Philippine Sports Commission ng budget sa TRAP kasi nakikita nila may potential sa sport."
With or without a budget, Mangrobang and fellow elite triathletes are not about to rest on their laurels. A woman with true grit, she will bear down and take out opponents whether a sports commission is behind her or not. What you won't see her do, however, is thrash talk competitors and coaches in the same sassy yet vicious manner that Swift writes off her exes in kiss-offs like "I Knew You Were Trouble" and "We Are Never Getting Back Together."
With her Rio Maior training tapping into her potential for international triathlon glory, Mangrobang is exactly where she should be at this point in her life. And she knows it—whether she's staring at the open sea, a strong field of competitors, or the blank space of the long road to the finish line.