Coaching his friends helped Paolo Leaño open the doors and turn his passion for triathlon into a relatively lucrative career
Photos by Artu Nepomuceno | Assisted by Ignacio Gador | Grooming by Hannah Patriarca
At around past six on a Thursday morning, I was already rambling around Vermosa Sports Hub while observing the athletes who've already started their day running, jumping off fences, and pulling off 50-meter laps.
Unlike those spirited athletes, it took me a little while before I got my act together, just in time when my editor Eric Nicole Salta and triathlete and coach Paolo Leaño arrived way before the rest of the team.
"I've been reading stuff about you all night long, and I can say that I was like you in your 20s—smokes a lot, sleeps late, just totally unfit," I dove in. He didn't come as a shell, he opened up candidly while we walked around the shoot location as we waited for the whole team to arrive.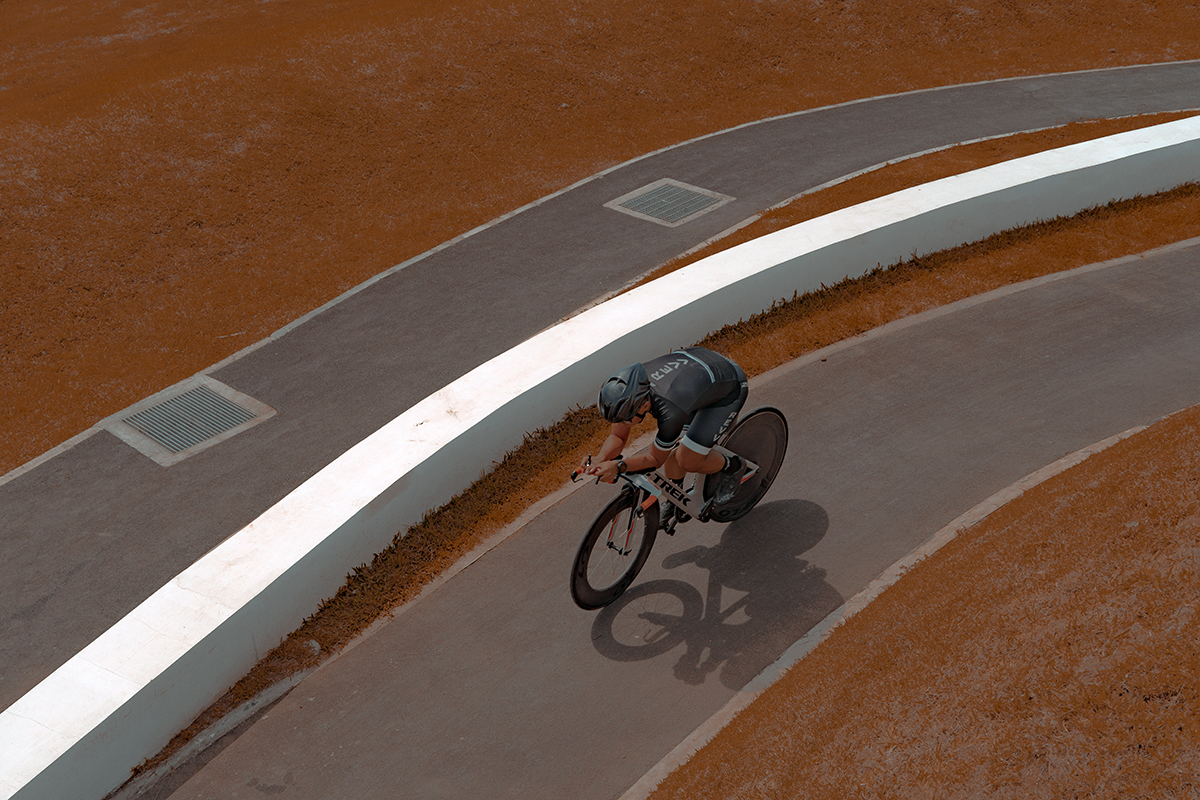 "Yeah, totally unfit. When I was in college I gained around 30 kilos. I was super fat. Then I had to stay super late at night for my work because I used to be a graphic designer. I smoke a lot, too. I'm sure you know what it's like. During those times I weighed about 220 pounds," Leaño says.
"I wish I could work out, but I'm too busy at work to get buff and healthy," I tell him.
My response was a fastball pitch right down the middle that he could've hit out of the park with a quick one-liner, but instead, Leaño refuted and bared a part of his character as a coach.
"You know what, the common misconception with working out is that it's going to eat up half of your day. It's not. An hour or a solid 30-minute workout will do, believe me."
"What I tell my students is that triathlon is a jealous mistress," he laughs. "You can't be doing triathlon and many other hobbies. So you really have to focus, same as with working out," he adds.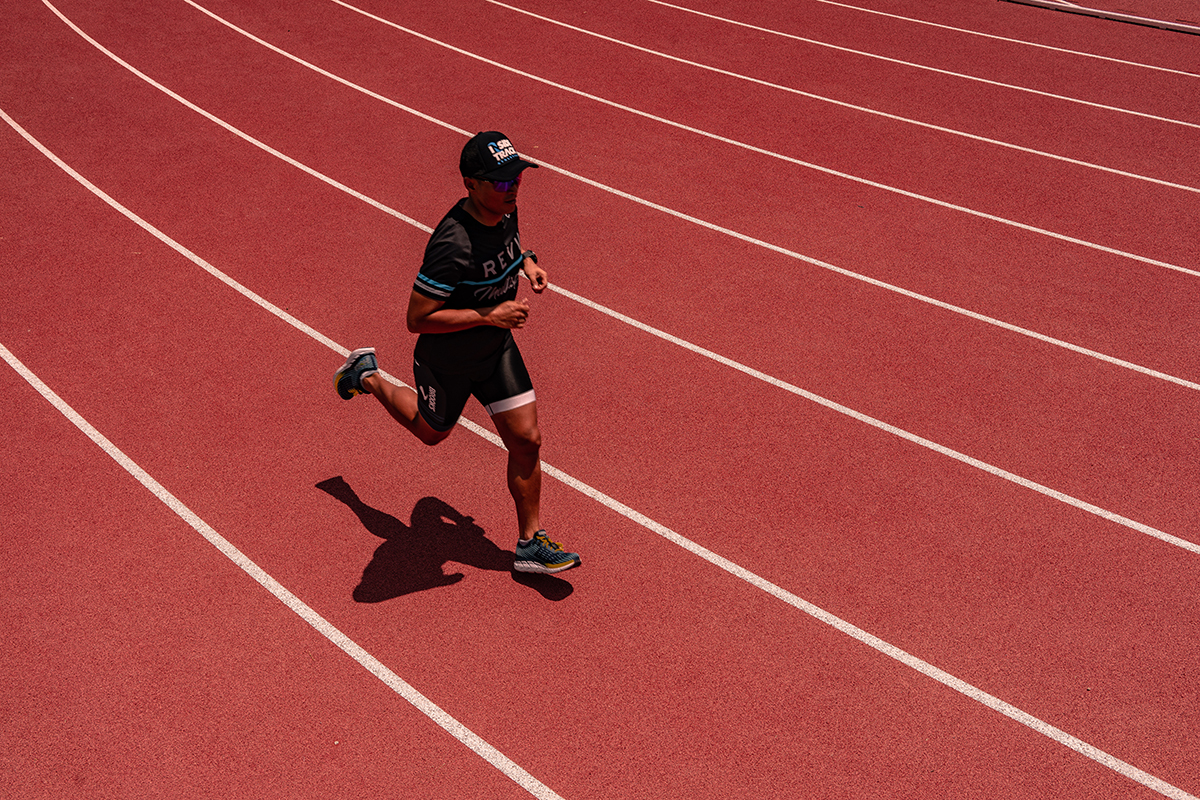 Because of his openness, it didn't feel like we've only met half an hour ago and it helped both of us retrace the roots of his accomplished career with such ease.
The 41-year-old trainer didn't grow up dreaming of becoming a coach or a triathlete. For most of his teenage years, Leaño just wanted to lose weight after being diagnosed pre-diabetic in his 20s. He started running around their village in an attempt to play tennis—his first sport—with enough athleticism.
"The first time I ran, I only made it to the gate of the village," he recalls. "Not many of us actually signed up for triathlon in order to compete, most of us entered the sport to do something with our lives, maybe just to have a healthier habit."
Leaño didn't dive instantly into triathlon during his formative years. He wasn't like any other triathlete who had it all figured out so early. At 36 in 2013, Leaño was just starting to shift his attention into multisport while also handling their family business. He was a marathoner and a duathlete with three years' experience under his belt. By that time, he had already shed about 60 pounds and finished a couple of races since 2010, including winning the first ever duathlon he joined in 2012.
"If I could go back, I would have trained so hard. I would have started triathlon early. That would have been the smartest thing to do," he says. "But as long as I can still compete, I'll compete."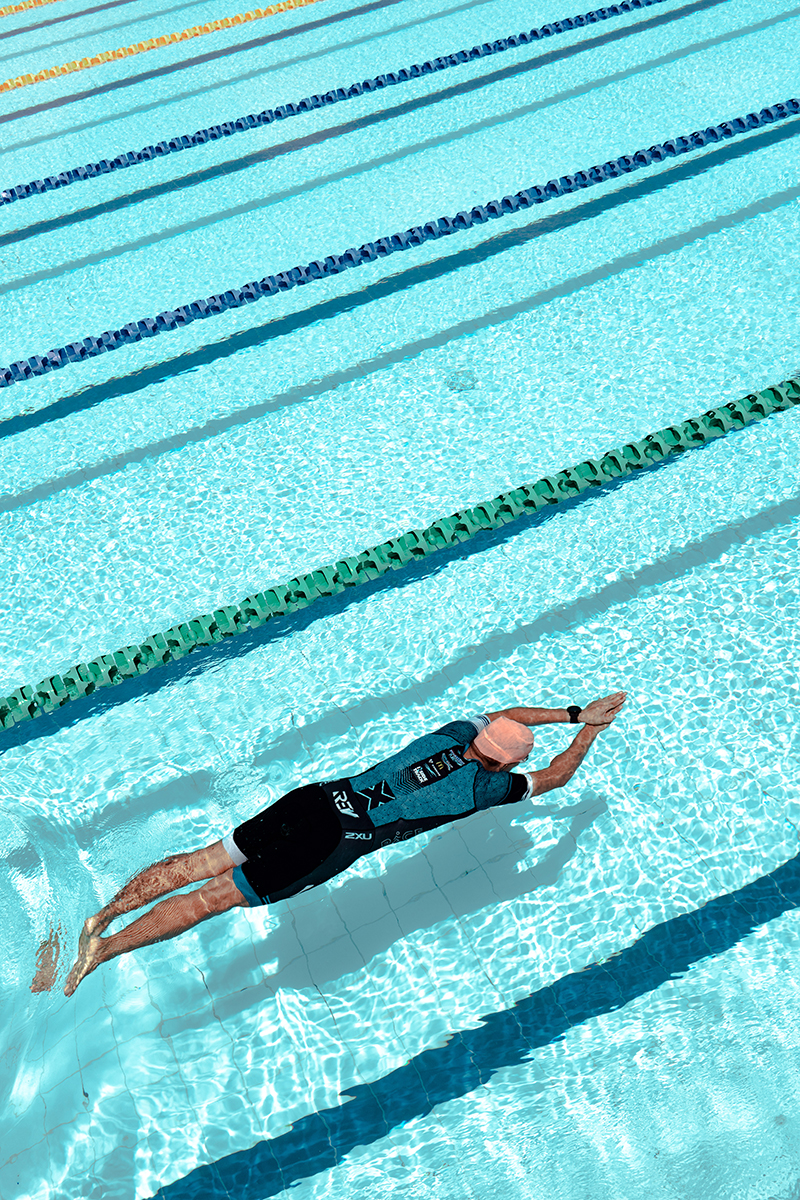 Since venturing into triathlon five years ago, Leaño has already taken his game to a new frontier—he is now a coach locked in on winning his age group while representing REVV Multisport. Throughout the years, triathlon has become Leaño's companion.
"There's room for everyone in triathlon. Contrary to what people think, it's something anyone can do, I've seen it happen all the time with people who don't know how to swim and don't even know how to pedal. Then they surprise themselves that they're actually pretty good. That's the secret to triathlon, just stick to it and do consistent training, but don't burn yourself out."
Just last year, Leaño became the third fastest Filipino to finish Challenge Roth in Germany. He then emerged as the 11th fastest Filipino to finish Ironman in Subic Bay in June to earn a spot at the world championships in Kona.
"I think everyone has an innate desire to achieve something. And I think sometimes they're not just given the opportunity to do it. Some people, right off the bat, they're super fast already—and I'm not one of those. But as long as you have a good work ethic, you can actually achieve quite a bit," he said.
These perpetual moments of glory weren't achieved in a snap. After many years of working the puzzle, Leaño has finally made a huge career leap. His rapid ascent brought out the best in him, just in time for what he calls "the biggest race of his entire life." Leaño is already suiting up for the Ironman World Championships in Kona, Hawaii in which seven other Filipinos are also competing on Oct. 13.
"Man, I shouted (when I crossed the finish line in Subic). On the back of the medal, it says 'Anything is possible.' It's true. I was at the right place at the right time. I'm not going to pretend that it's anywhere near other races. That's the race that every other triathlete wants to get to. You're going to be there with the best of the best. It's going to be wild," he says.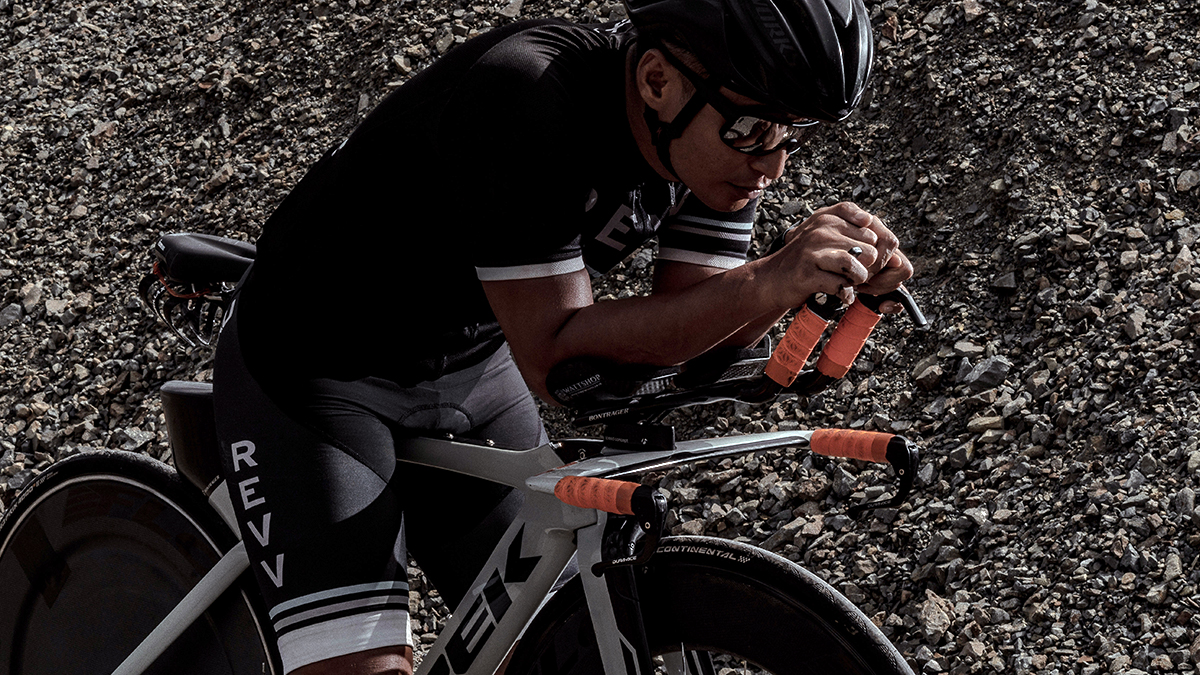 Apart from his personal endeavors, coaching and competing both became a channel of purpose and a vessel of living a healthy life. His passion for triathlon helped him uncover potential he never knew he had—just like training someone (including Bubbles Paraiso no less), whom he describes as an "accidental" job.
"A few of my friends needed help with training for their first triathlon and so I helped them out. I wasn't sure yet at that time," he says.
Leaño and two of his closest friends Noy Basa and Al Gonzales eventually went on to start Inside Track Athletics, a coaching group that trains about 27 aspiring triathletes per month.
"It's so much fun to see progress. I mean, seeing people getting better, improving, it kind of gives me a sense of purpose. Sometimes, my athletes are more talented than me," he jokes.
At some point of his life, Leaño also found himself behind the curve, but he highlighted that dismaying races doesn't matter in the grand scheme of things. Despite his late transition into the sport, he managed to alleviate any kind of pressure which he encountered along the journey.
"I always tell people to look at the infinite game. That concept is don't think of a race as the only race you'll ever join. It's just one part of the entire story of your racing career. Sometimes the hero gets knocked down. You don't want to quit when you get knocked down. You want to wait until the happy ending takes place. You have to get up and you have to keep on training."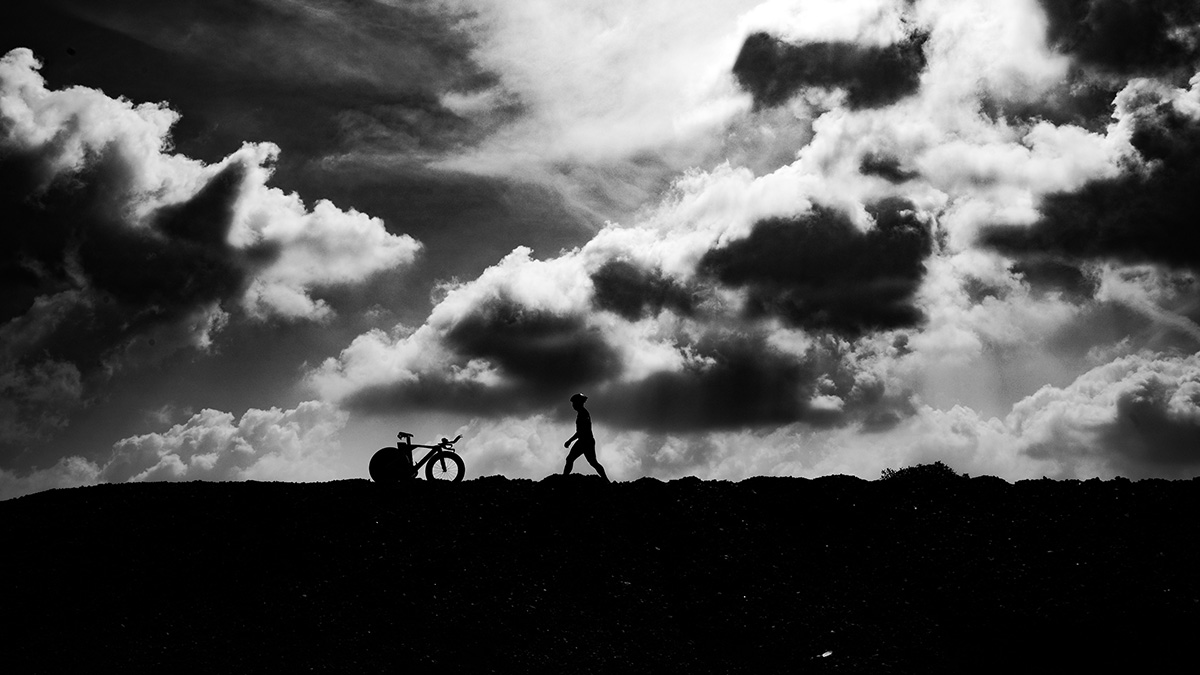 The sun was already up high and the lighting was already perfect for Leaño's photo and video shoot. But before we ended our lesson-filled conversation, Leaño answers my last question in an impassioned way:
"If there's anything that triathlon teaches you, it's really patience. It's really a slow burn. You can't quit. You have to keep on going, you don't have to be awesome every day. You just got to keep going."