UAAP courtside reporters have been considered eye candy for the longest time—that needs to change
Photos by Jake Danielle Demafelix of The Adamson Chronicle (Cor Catibayan) and courtesy of the subjects
We're about a month into another UAAP season with majority of fans focusing on men's basketball because, let's face it, we will always be a basketball-obsessed country—genetics be damned. As it is with every season, fans are once again familiarizing themselves with each team's rosters. After all, the turnaround of players in college basketball is annual so it gets tricky to stay on top of who's still got their UAAP eligibility—however long or short that may be.
As avid viewers of basketball coverage know, the task becomes a bit easier, thanks to the UAAP courtside reporters comprised of eight college students representing a member school with the enviable job of reporting about the game while peppering in human interest stories that give the players a more relatable layer to them.
Inasmuch as it is an endeavor to get to know the players on each school's roster, fans have also taken it upon themselves to get to know each season's courtside reporters. It's no surprise given that they themselves have stolen the show many times over the years, whether simply by their charm and beauty that emanates through the screen or by their passion for the game reflected in their reports.
The fanfare that comes with the job shouldn't shock anyone. After all, being a courtside reporter has become a viable springboard into a career in sportscasting or even mainstream media for that matter. Just ask the likes of Andi Manzano-Reyes, Gretchen Fullido, Gretchen Malalad, Pia Arcangel, Riki Flores, Lia Cruz, and Apple David—all of whom have gone on to similar degrees of success in radio, TV, journalism, and sportscasting.
Notice that all the names mentioned are female. It's not to say the role is strictly for females only. Far from it. In fact, two of this season's reporters are guys. And there have been males like Nikko Ramos and Aaron Atayde who have also preceded them and gone on to greater heights in media themselves.
But for the longest time, when you say "courtside reporter," the mental image that comes to mind is that of a pretty kolehiyala, smiling in front of the camera, microphone in hand, ready to report in the middle of the quarter. It's no secret why that's the case. The sport's primary target audience consists of males and having a beautiful girl in front of the camera breaks the monotony of all the testosterone on-screen.
"[Anyone] pretty, be they female or male, will attract viewers," explains UAAP media officer Tessa Jazmines who also served as the very first UAAP courtside reporter in 1991, when Silverstar Communications, Inc. first televised the men's basketball games. "I think that's one reason why you have courtside reporters. Kumabaga accent siya eh; it adds a lot of interest."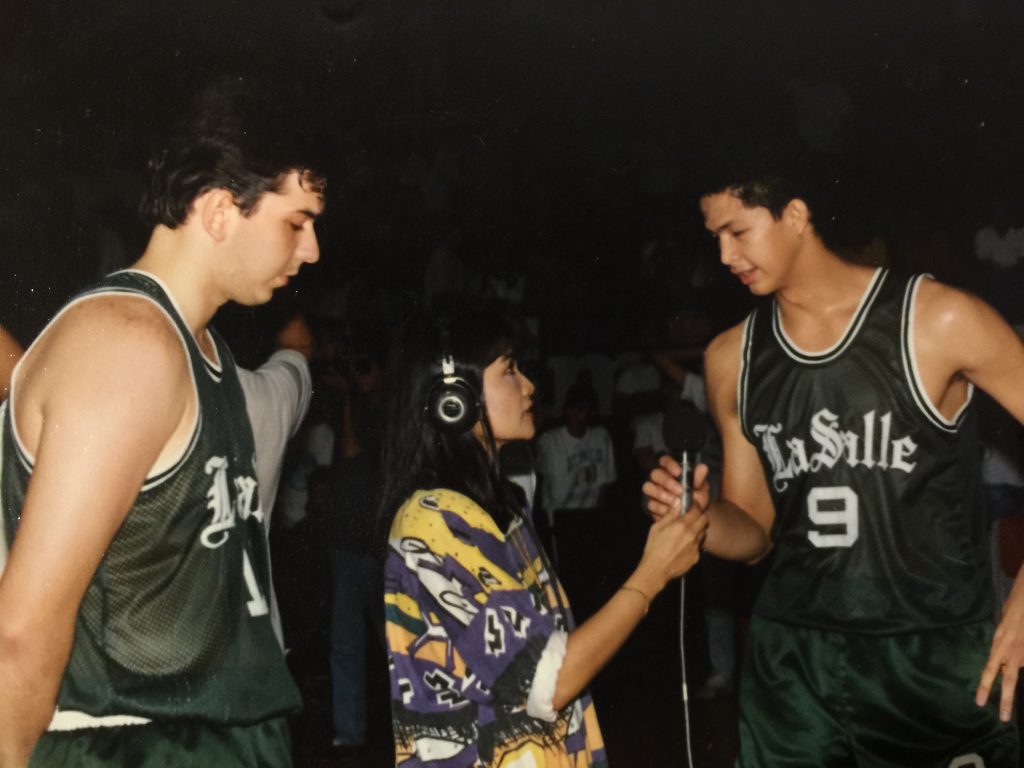 "I was once told they hire female courtside reporters first and foremost for looks," says Kristelle Batchelor, who reported for the UST Growling Tigers in Seasons 76 and 77. "Just like anything else that goes in the TV industry, it's how you capture the audience's attention."
Attention is one way of looking at the buzz that UAAP courtside reporters generate on their own. A quick Google search for "UAAP courtside reporters" will lead to articles that appear annually that talk about "new faces" or "fresh faces." Go down the rabbit hole a bit further and you'll find these yearly lists of the "Cutest Courtside Reporters."
Open that Pandora's box even more and you'll discover forums on sites like PinoyExchange—which still exists, by the way—where everything about the UAAP courtside reporters is dissected from the basic "how did they look during the game today" to what they said (and how they said it—for the nitpickers online) to people talking about how they know this or that courtside reporter to people speculating about their personal life.
Much like the reality that it's refreshing to have an attractive kolehiyala reporting about the UAAP men's basketball games on TV, there's that unnerving reminder that being on a platform like this also opens them up to being objectified. It's a conversation worth exploring even more in the #MeToo era, when the social consciousness has shifted towards a more proactive awareness about women in the workplace and the gender dynamics that go with it.
"There is, of course, the unspoken competition," recalls Batchelor, "in terms of who's the prettiest among all the UAAP courtside reporters, especially during the time of the all-female lineups. Back in my day, media outlets would literally come up with stories about who's the prettiest one among the UAAP courtside reporters of the season."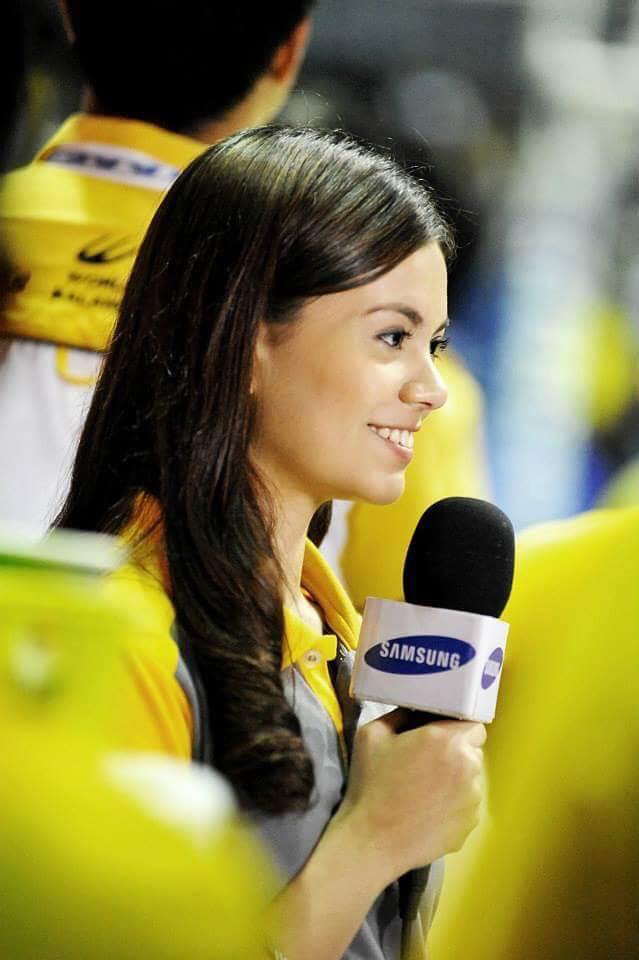 Batchelor, who has migrated to the US, became a UAAP courtside reporter as an 18-year-old. She recalls the obsession towards the face value required with a bit of resignation, as if there wasn't much she could do then. "I remember feeling upset whenever I heard or read objectifying comments," she says. "I wasn't used to the attention and much more, being told whether I was pretty enough or not. But it is what it is. It came with the job."
"Why should you be comparing to begin with?" asks Cor Catibayan, the Adamson Soaring Falcons' courtside reporter. "Why should you compare who's the cutest? Who's the prettiest? That's not the point," she argues. Despite being her first season on the job, she speaks with an assertiveness that isn't necessarily defiant but borders on simply being confident. "The point [of the job] is we're responsible for getting the audience to understand the ins and outs of what happens in the game, what happens in practice, and to bring out the human interest of the players, of the team, as well as the coaches."
Towards the end of my conversation with Catibayan, I asked for her year and major in UP Diliman. Without being prompted, she adds her age with a joking tone, as if she'd been so used to being asked her age over and over because of the nature of her job. That said, she understands the stigma that courtside reporters, particularly females, are hired to be pretty for the cameras first and to report about the game second.
"I've heard before that the reason why [courtside reporters] are females is that they're more attractive to look at," she says, "or they can garner a larger audience. I wouldn't really believe that it's necessarily a good thing or a bad thing. It's just the way it is."
Batchelor corroborates this by saying, "I remember being told by the bigwigs of a certain network that the last thing we need to worry about whenever we're in front of the camera is our looks. Because to begin with, they wouldn't have hired us if we didn't look good. So it's much better to focus on delivery and actual content instead of being conscious of how you look."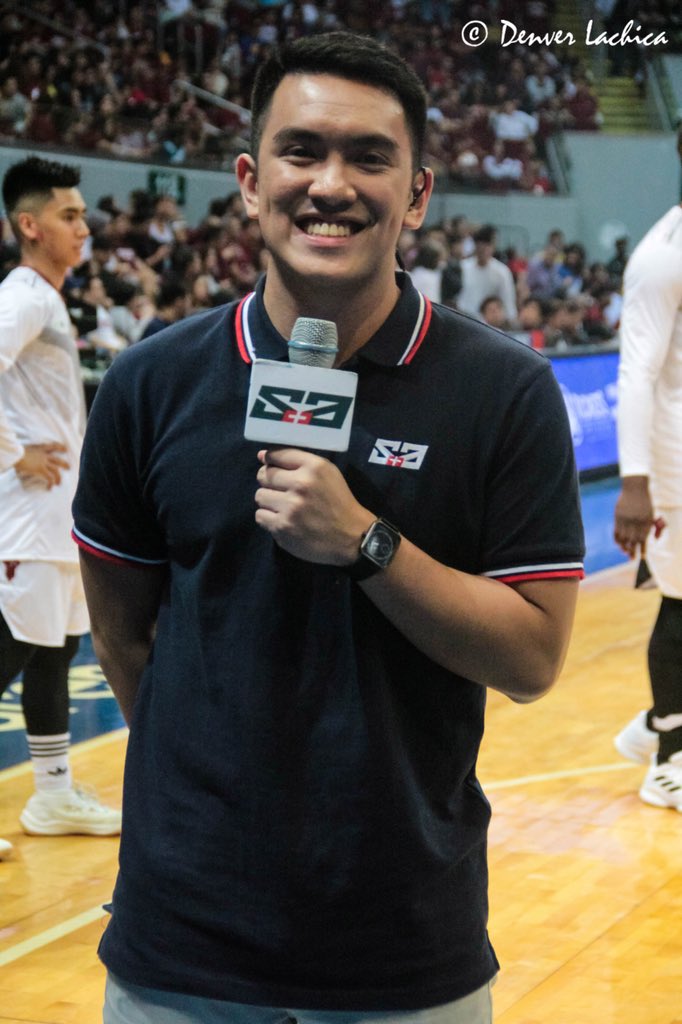 Migs Gomez, who is in his second season of being on the sideline for the University of the East Red Warriors, is one of two male courtside reporters this year, along with Dyp Dypiangco of National University, who also returned for another go-round in Season 81. Gomez, a fifth-year electrical engineering major at UP Diliman, admits that as a viewer, he, too, fell prey to the stigma that female courtside reporters are there as eye candy.
"Ganun din naman ako mag-isip [dati]," he confesses. "'Uy, ang ganda naman nitong courtside reporter na 'to. Ang masama pa nga doon, hindi mo siya papakinggan. Titingnan mo lang siya. Now, that's something we want to break."
"At the time, I didn't even have time to think about [being objectified]," laughs Jazmines. Back in Season 54, she was the only courtside reporter. Having no blueprint to follow, she took it upon herself to create one and focus on the task at hand above all else. "Hindi ko nga forte 'yung courtside reporting," she admits.
When Jazmines took the job of being the first ever UAAP courtside reporter, she was already managing her own PR company, Larc and Asset PR, a staple in basketball-related events in the country to this day. She was also balancing that with her gig as a sportswriter for Sports Weekly Magazine and The Philippine Star. "I was just doing it for good old UP kasi UP was the host," she says.
But she does remember the attitude towards women in sports journalism during those days and how it could not have been friendly, let alone respectful. Jazmines was among the first and only female sportswriters in the late '70s and early '90s, alongside the late Elizabeth Celis and the late Alice Lopez-Lim.
"When we walked down across the Rizal Memorial floor to go behind the press box, may mga wolf whistles din eh," she describes. "Pero 'di pa namin alam 'yung na-o-objectify at the time. Wala pa 'yung mga consciousness na ganun." Whether or not they were aware of the consciousness then, the reality was that the stigma was clear and present: Women weren't taken as seriously in this world, a boys-only playground, for all intents and purposes.
Knowing that stigma, Catibayan has a different perspective on how to handle the expectations as a female courtside reporter. "Coming from a female perspective, we just have that task in front of us that we have to really know the sport better in order for us to be able to relate with the audience and understand what's going on and what we're supposed to report on."
UP's courtside reporter Sam Corrales is also well aware of the notion that female courtside reporters serve as eye candy for the games. "I want to change that," she asserts, "and show that I can deliver substantial reports more than just any face you see on TV. This is going to be a learning experience for me and whenever I go out there, I just want to grow and do my best."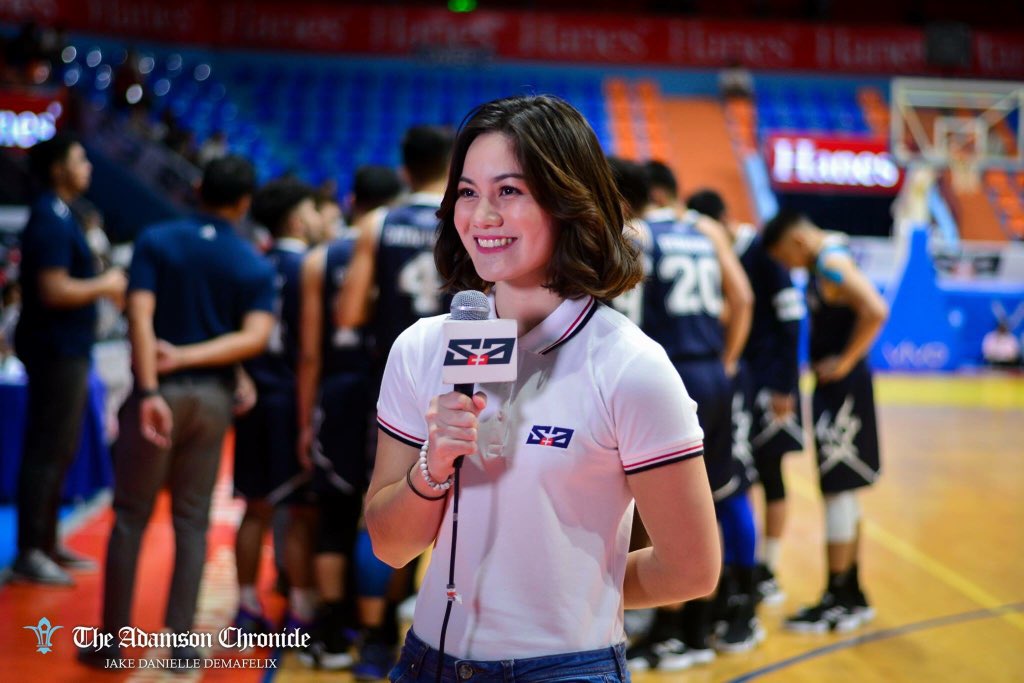 The media room today is much different than it was during Jazmines' time. For starters, there are more women writing and reporting about sports in general. And while courtside reporters are still generally female, Gomez and Dypiangco represent a sort of change on their own as the first male courtside reporters since Season 74 in 2011. But the biggest change in local sportscasting to date has been the addition of Bea Daez, the UAAP's first female basketball analyst, who joined the commentary booth last year for Season 80 and returned this season.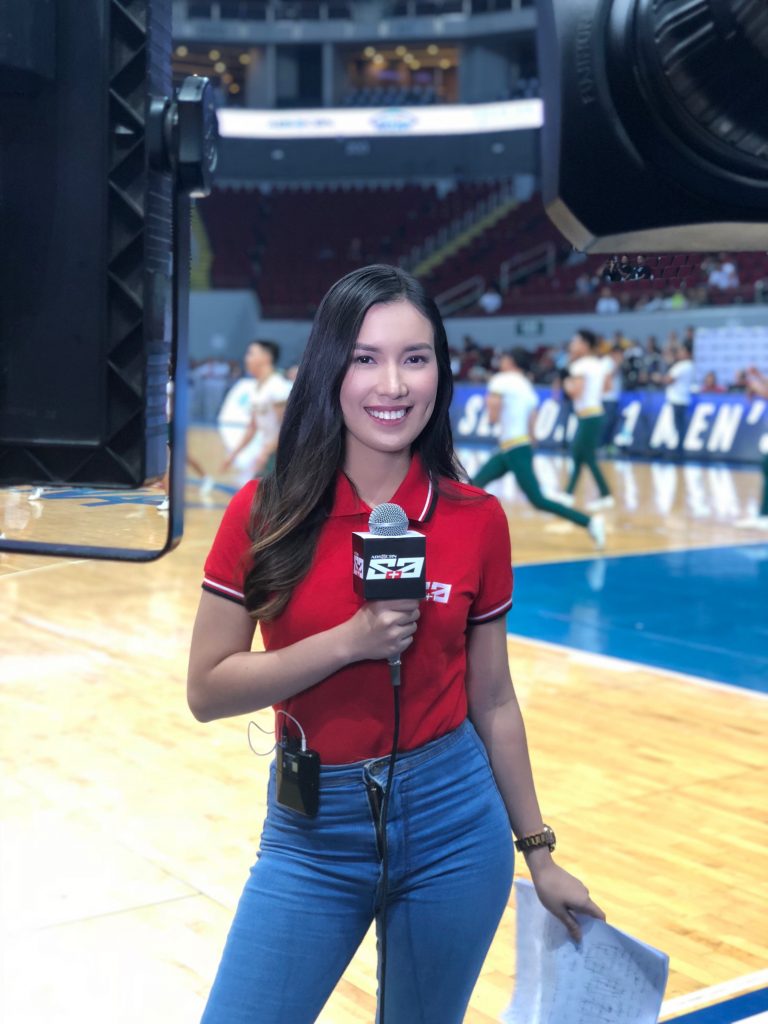 "Bea Daez is a really good first step," says Far Eastern University's Syd Crespo, who is also in her second year on the sidelines. But she also puts the onus on other courtside reporters, analysts, and sportscasters like herself, regardless of gender, instead focusing on having the right attitude and approach to the job.
"Tulad ng sinasabi ng mentors namin dito sa sports broadcasting, palagi kang may matututunan. Kahit sinong pinakamagaling na anchor diyan, hindi pa rin lahat alam niya. So if you really want to achieve [your goals]—tulad ko na maging anchor—just like every player, every day natututo ka. Dapat tumatanggap ka rin ng constructive criticism. Palagi kong ni-re-remind 'yung sarili ko na I have to listen to the right people."
But for the stigma and this perceived glass ceiling to truly be broken, maybe the change has to start with us viewers, at least, according to Batchelor. "It's really about the viewers having an open mind when it comes to these things," she says. "Over the years, there have been many female sportscasters, who aren't only pretty faces but are actually knowledgeable in the field. Having worked as one, I had a better understanding that you can only last for so long if you only bank on your appearance more than focusing on giving quality reports. If only more people can see it this way, female sportscasters would get the credit they deserve."
Maybe it starts with network executives finally being in touch with the current social consciousness and making a proactive effort to shatter the glass ceiling. Or maybe it starts with not just focusing on how this courtside reporter looks on TV today and actually listening to what they have to say now. Or it could be as simple as no longer giving a click to these articles comparing which courtside reporter is cuter than the others.
One thing's for certain: It's time to change the way we look at courtside reporters because if not now, when?
(with additional reports from Klyde Manansala)