Robert Bolick was once a benchwarmer—now he's off to the pro league with multiple titles and awards under his belt
Photos by Tristan Tamayo | Art by Marian Hukom
"Ang kulang ko na lang NBA championship. Kinukuha na ako ng Lakers, kakampi ko si LeBron."
This was Robert Bolick's comfort zone: Talking in front of the media while answering questions with his known post-game jests inside the press room.
The San Beda Red Lions just claimed their third straight title after dismantling the CJ Perez-led LPU Pirates, and as soon as the buzzer sounded, Bolick returned to his happy-go-lucky persona beyond the sidelines—the flip side of his fierce and resolute mentality on the hardcourt.
Not only did the buzzer signal San Beda's 11th league championship in the last 13 seasons, it also indicated the curtain call of Bolick's tenure in Mendiola.
It's been three years since Bolick cemented his place as a legitimate NCAA college basketball superstar. The 6'1 guard's road to glory was straight out of a blockbuster movie: Before he helped complete the sweet three-peat title, before all the MVP chants reverberated from the sea of red, before he earned the moniker "King Lion," and before he transformed into a true champion, Bolick was once a lost kid who spent most of his time warming the bench of the De La Salle Green Archers.
The Leyte native often found himself sitting at the far end of the bench while giving his teammates a tap on the head during timeouts. Earning minutes wasn't the only dilemma Bolick faced, he also struggled with fitting in with La Salle's rotation while he was still in his formative stages of adjusting to the never-ending lessons of the game, leading to his imminent decision to leave the Green Archers in 2015.
But one phone call early in the morning completely changed the trajectory of Bolick's basketball career.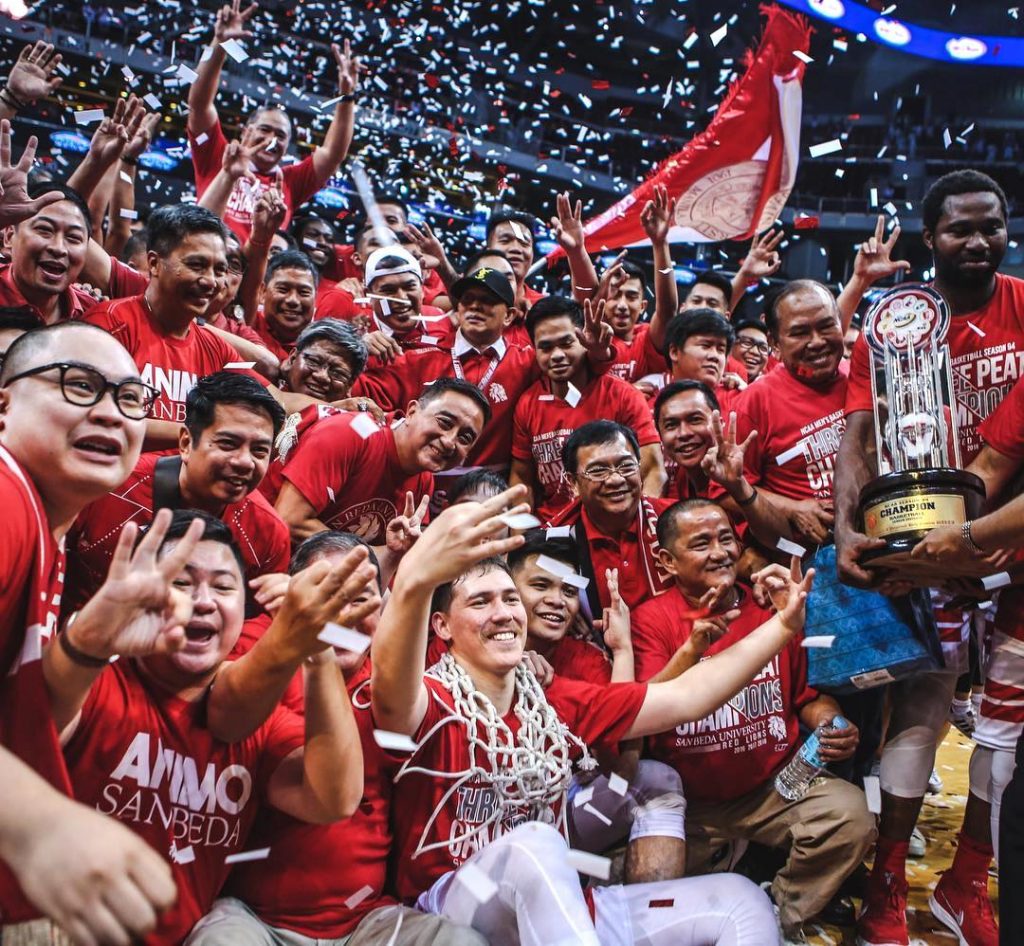 "Di ko makakalimutan 'nung pagpasok ko ng San Beda, sabi niya (points to Red Lions' team manager Jude Roque) 'Ba't niyo kinuha 'yan eh bangko naman 'yan,'" Bolick jokes as laughter quickly enveloped the press room.
Bolick was in need of a break. While he's certainly brimming with self-confidence, the guard needed someone who will allow him to blossom into the best version of himself. And former San Beda coach Jamike Jarin unlocked his potential.
"I really saw what he can do. He wasn't really much of a scorer, but I saw his fighting heart, the warrior in him. So I really wanted him," Jarin says of Bolick after San Beda regained the crown in NCAA Season 92 against the Arellano Chiefs.
San Beda has long been a home of champions. As Bolick endured the realization that he's not an asset to his former team, he quickly embraced the Red Lions' championship culture. Raging with fire inside him, Bolick aimed to rewrite his career path: Three-time NCAA champion, PBA Aspirants Cup champion and MVP, FilOil Flying V Cup champion, and numerous Mythical Five inclusions. And most significantly, a frontrunner at the upcoming PBA draft.
"I'm hoping that Columbian Dyip will change their mind because you got Bolick, you got Robert. He will be, I think, the best point guard coming into this draft and probably the future of PBA," says Red Lions' head coach Boyet Fernandez.
Fernandez mentored Bolick for the past two years. It's no surprise that he speaks of him with so much certainty. "He can play with a system, he can play without a system. 'Wag nila sabihing player ko, inaangat ko. I think he's one of the best players who can play one, two, and three. He can play defense, he can score. He can do everything," Fernandez says.
From a mere benchwarmer to becoming the team engine that makes everything run smoothly, Bolick remains as unassuming and down-to-earth as he always is. In an Instagram post, Bolick bid farewell to his alma mater as he gave thanks and credit to the whole Bedan community, coaches, teammates, and everyone who witnessed his rise.
"Thank you for giving me the opportunity to play the game that I love," Bolick said in his emotional message. "I was struggling, hurt, lost but you found me and gave me the chance to showcase what I can do!"
"I will forever be grateful for what you did to me, you gave a benchwarmer a chance, you stood by me through ups and downs and I'm so happy and proud to play for San Beda University, this will always be my home and comfort," he added.
Bolick will soon don a new uniform in a tougher league but without a doubt, he will continue to give everything he's learned, he has accomplished, he had gone through, and everything else so far on the line to open another chapter of his already remarkable career.