There's really no good excuse to take an essential gear like the helmet for granted
Photos courtesy of Oakley Philippines
The law in most cities around the world requires that all cyclists wear a helmet yet according to a survey by the Insurance Institute for Highway Safety, over 60 percent of deaths in bike crashes involved people who were not wearing one. The same survey also reports that wearing helmets can reduce the odds of suffering a head injury by 50 percent. There's really no good excuse to take such essential gear for granted, but in anticipation of arguments against helmet-wearing, we took it upon ourselves to make the task of choosing the right one easier. Here are four simple steps:
Find the right fit
There's an easy test you can follow in order to find the right fit: After placing a helmet on your head, adjust the crank on the back until the helmet is snug. Without fastening the straps together, slightly nod and shake your head. If the helmet moves around your head, then you'll need to look for a smaller one. Otherwise, it's the right fit.
The next step is to test for overall fit—that is, with the straps fastened. For this, cyclists follow what is called the 2V1 rule: Two fingers should be able to fit between your eyebrows and the bottom of the helmet, the straps should form an even V shape around your earlobes, and only one finger should be able to fit under the chinstrap. Finally, keep in mind that while snugness is key for testing the fit of a helmet, know that it's also a good idea to account and provide some allowance for cycling caps and other head gear you may need to wear as necessary.
Look for Multi-directional Impact Protection System (MIPS) technology
MIPS is a built-in plastic roll cage that, upon impact, allows the helmet to slightly rotate around your head, thus reducing the force your brain might be subjected to during bike crashes. It hasn't been a decade since it was introduced to the market, but it's hard to imagine helmets without this life-saving technology. A lot of helmets, including Oakley's ARO series, already come with this feature so it wouldn't really be much of an effort to look for a snug helmet that's also MIPS-equipped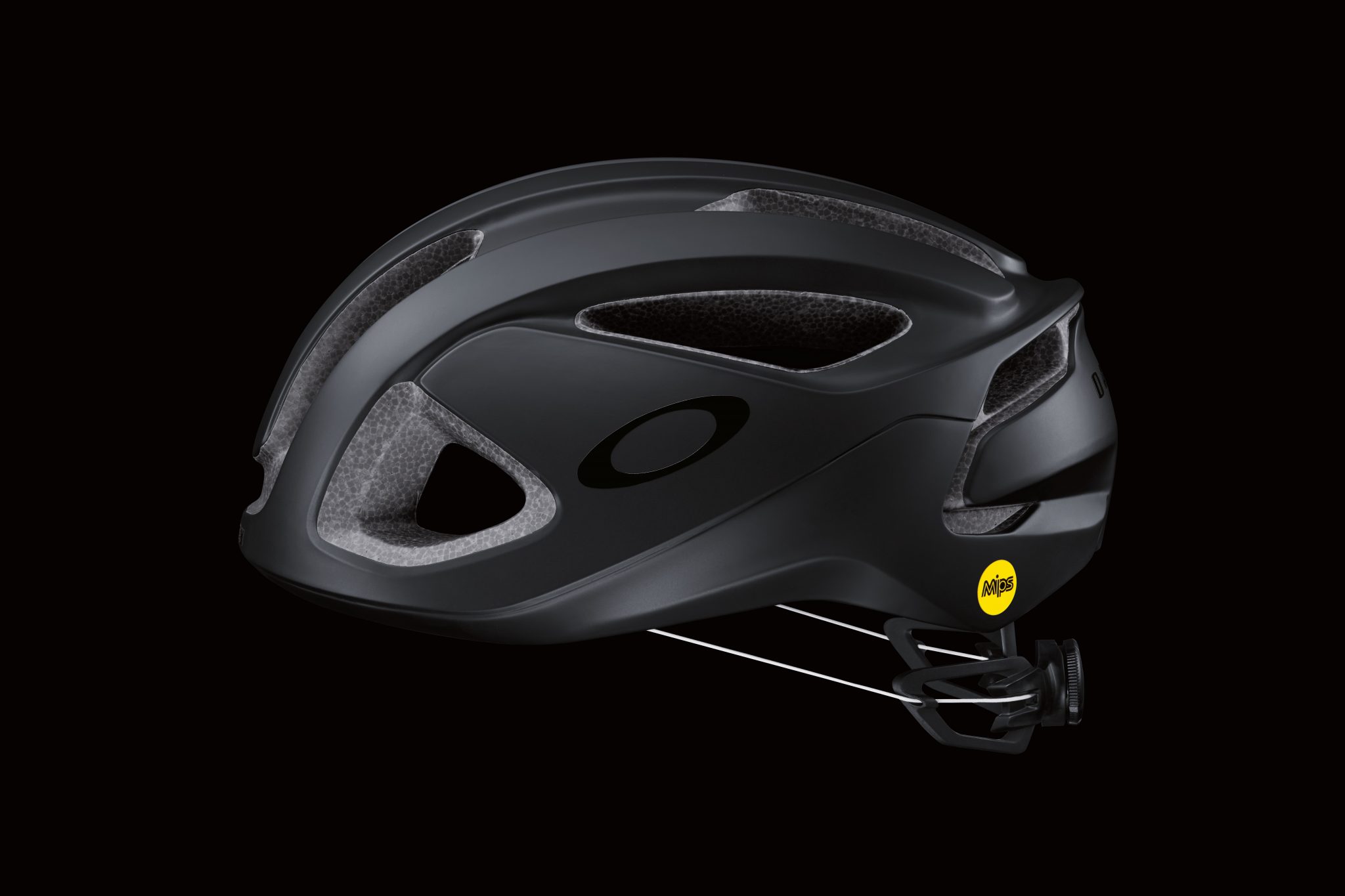 For the design, choose aero
Shape is a defining factor in every helmet's performance. Ridged helmets that come with rear peaks can catch and jerk the rider's head and neck in crashes, while smooth, rounded ones have proven to be safest in accidents as they can reduce the force of a crash's impact. The other thing to consider when it comes to design is ventilation. Regardless of whether or not the rider gets warm and sweats easily, a good helmet is one with enough aeration holes. Aerodynamic helmets are a kind of lightweight helmet that combines the two aforementioned ideals—they are generally smooth and rounded, and have enough aeration vents that can fight against overheating. 
Customize according to your needs
After ensuring that you've got all the fundamentals right (fit, level of protection, design, and ventilation), you can start worrying about the smaller details. Some of them are supplementary parts, but customizing an already competent helmet is never a bad idea, especially since certain rides call for it. These are things like visors, eyewear docks, hair ports, wraparound chin bars, and brow pads. Visor-equipped helmets come in handy when cycling in tropical countries. Eyewear docks are perfect for triathletes who sometimes find they need to stow their sunglasses during certain points in the bike leg. Hair ports accommodate ponytails, wraparound chin bars offer full-face protection, and brow pads prevent odor buildup and bacteria growth. 
Some of these features unfortunately add a bit of weight to the helmet, but it's really a matter of understanding the kind of cyclist you are and the rides that you usually take and then customizing your helmet from there.
If you're a beginner and you're still unsure about what works best for you, it's probably better to look for aerodynamic helmets since they meet both essential requirements (level of protection, ventilation, etc.) and relatively less important ones like odor buildup prevention—all without the added drag of customization.