"Pinggang Pinoy" is a food guide using a food plate model to show the recommended proportion by food groups in every meal, intended specifically for healthy Filipinos
Lead graphics by Tricia Guevara
On July 1, the National Nutrition Council held this year's 2019 Nutrition Month National Activation event in Sta. Rosa, Laguna to promote healthy eating and an active lifestyle with the theme "Kumain nang Wasto at Maging Aktibo… Push Natin To!" But, are we all aware of the Filipino diet? Is it really just about the diverse flavors, the umami, the meats, fats, and sugars?
According to US News Health's best diets overall ranking, the Asian diet came in at number 14 with a scorecard of 3.4 out of five. But remember, there is no single Asian diet.
If you go around Asia, you will see different patterns and approaches when it comes to nutrition and overall health. For example, Japan is quite simple with a focus on natural ingredients and true flavors of food (umami), which lead to a balanced diet. But definitely, Asian diets revolve around daily consumption of rice, noodles, bread, corn, root crops, seafood, poultry, red meat, fruits, vegetables, legumes, vegetable oil, and natural spices. Most Asian food pyramids also call for eight or more glasses of water and beverages.
Research suggests Asians who follow this dietary pattern weigh less than their Western counterparts. Experts are confident that if these dietary plans are properly followed, they could be nutritionally sound and effective. And one of these is the Filipino diet.
Our government's DOST-Food and Nutrition Research Institute (FNRI) in collaboration with the Department of Health and with the support of the World Health Organization has redesigned the recommended food plate and guidelines for more effective Filipino eating habits. Before, we are used to seeing the Filipino food pyramid and the Go, Glow, Grow chart. But now, we can identify clearly and visualize properly how a Filipino food plate should look like with the help of the "Pinggang Pinoy."
The development of the "Pinggang Pinoy" for specific population groups was spearheaded by FNRI in 2015 and was launched during the 61st NDAP convention in 2016.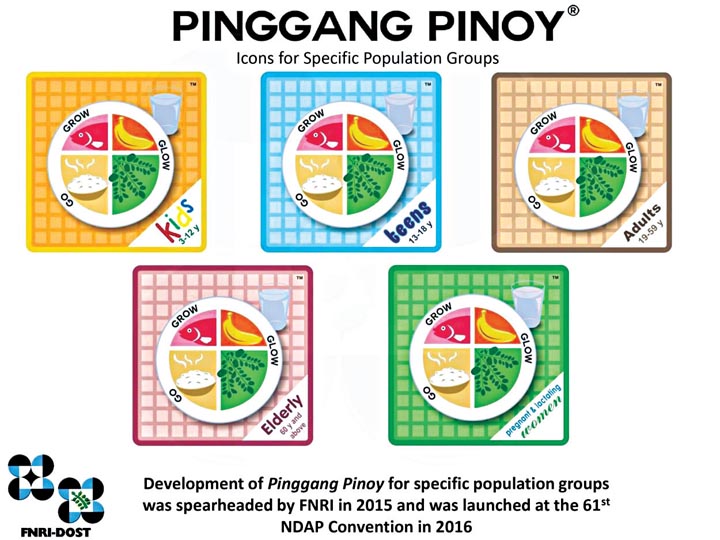 "Pinggang Pinoy" is a food guide using a food plate model to show the recommended proportion by food groups in every meal, intended specifically for healthy Filipinos. Individuals with specific health conditions should consult a registered nutritionist-dietitian or any healthcare provider regarding their energy and nutrient needs. This food guide also promotes a physically active lifestyle and encourages Filipinos to eat less salty, fried, fatty, and sugar-rich foods to prevent chronic diseases.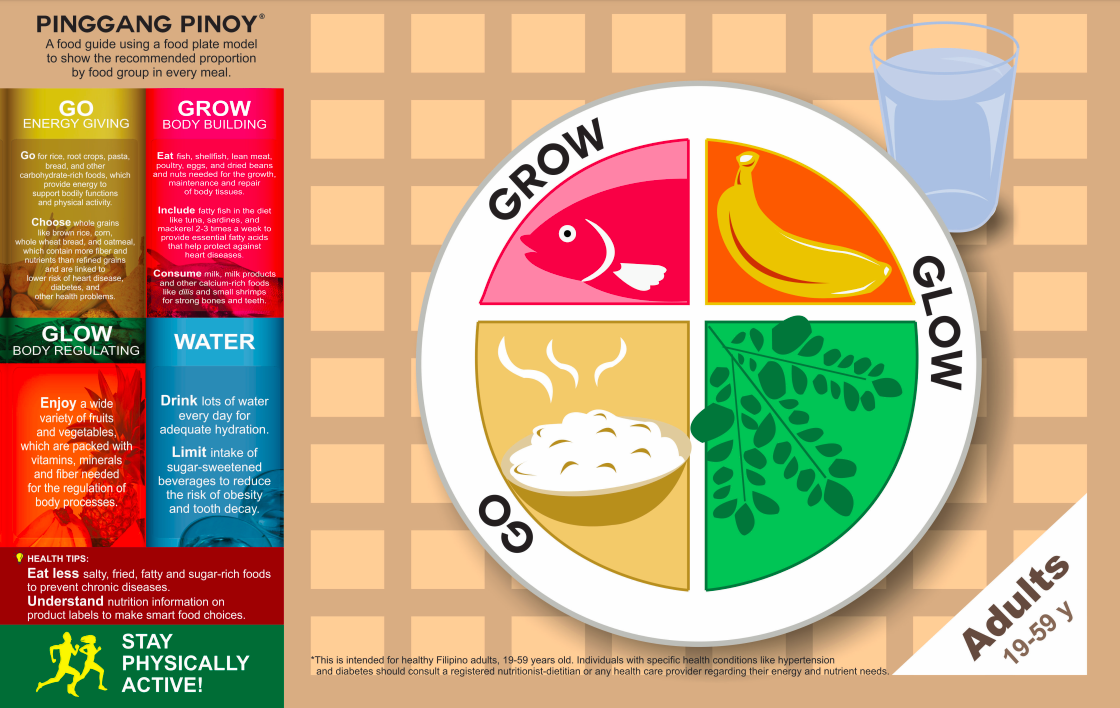 Here's a one-day sample meal plan based on a 1,890-calorie diet for both healthy males and females from 19 to 59 year olds: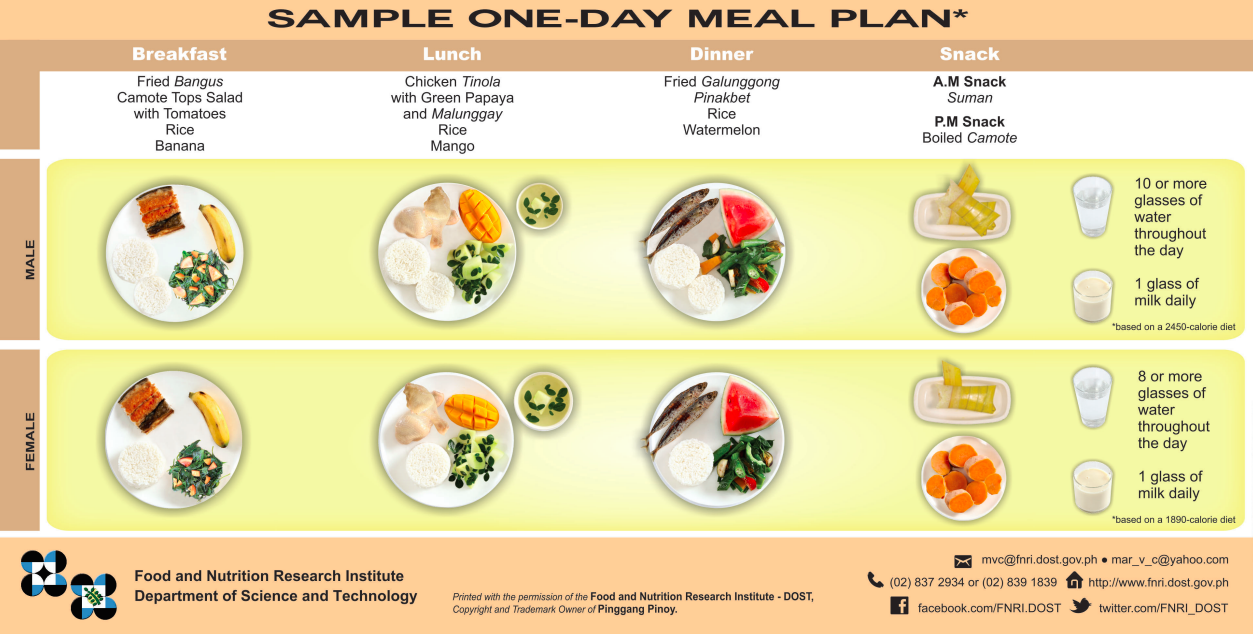 As a registered nutritionist-dietitian and a fitness coach, I find this Filipino food plate design so fascinating, easy to follow, complete and balanced. It's almost the same as the DASH diet. We just need to modify it a little bit.
Before you raise an eyebrow because you see rice on the plate, let me just clear this out: Rice, either white and brown, is not a bad carb. Like other healthy carbs, you can still enjoy rice from time to time. Not a fan of white rice? Go for whole grain rice like brown, red or mountain rice.
Again, you need carbs for a balanced diet but yes, they are often the source of excess calories. Just make sure you control your portion sizes. Enough with the unli-rice craze. That is the main reason why nutrition agencies are doing their best to inform everyone about proper proportioning and overall intake. Just be mindful. There's no point in cutting plenty of one source of food and replacing them with another. Trust me.
In summary, we don't need to look elsewhere for the best diets, we just need to be aware of our own nutrition guidelines. These were thoroughly researched and planned before being developed into what it is now. Remember, before fast food, Filipinos used to have lower stats of chronic diseases. We just need to go back and learn the basics: Eat to live, not live to eat.
For a complete guide of the Pinggang Pinoy, visit FNRI