Great cushioning, better energy return, and a dazzling traction reaction make the Under Armour HOVR Rise a solid choice for everyday training and workouts
Photos by Argyl Leones
I've reviewed my fair share of running shoes but this is the first time I'm trying out this stylish pair from Under Armour (a first for me too!) so I was excited to experience its signature cushioning technology HOVR foam with, according to its press release "overlapping films and a dual-external heel, which counter hugs wearers' feet for increased balance and enhanced durability."
Right then and there, it establishes the Under Armour HOVR Rise with pretty high standards that can withstand a variety of activities. For a runner like me, this forced me to broaden the scope of my activities—from running up and down the hills of Tagaytay to sweating it out in the fast-paced, machine-driven workouts of my local gym.
And the revelations are quite clear.
In the looks department, the Halo Gray colorway with a splattering of orange has the usual Under Armour visual flair: casual, understated, and sleek. If you're the type who doesn't want to attract attention in the gym, this is the shoe for you. It looks timeless and contemporary enough to take you from the gym to the streets and then back in one cycle.
The build is compact and light enough to ensure a comfortable fit that doesn't hamper movement across the gym floor. The upper is breathable, which is made of a lightweight mesh that wraps around the foot. Thanks to a 3D-print weave, you get decent ventilation as well as more wear-resistant protection that could withstand persistent training apocalypses.
Okay, that sounds like a stretch but you get the point.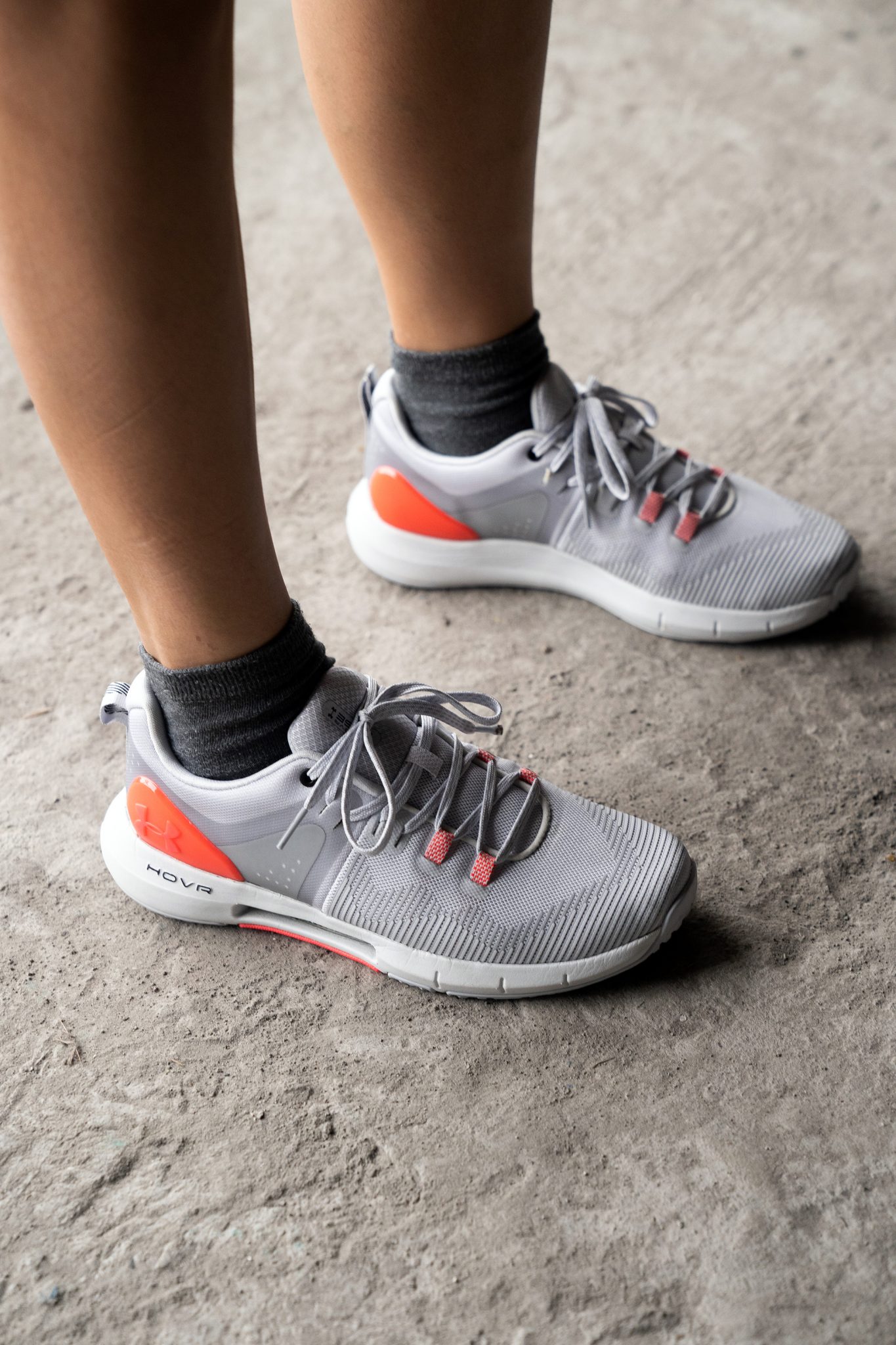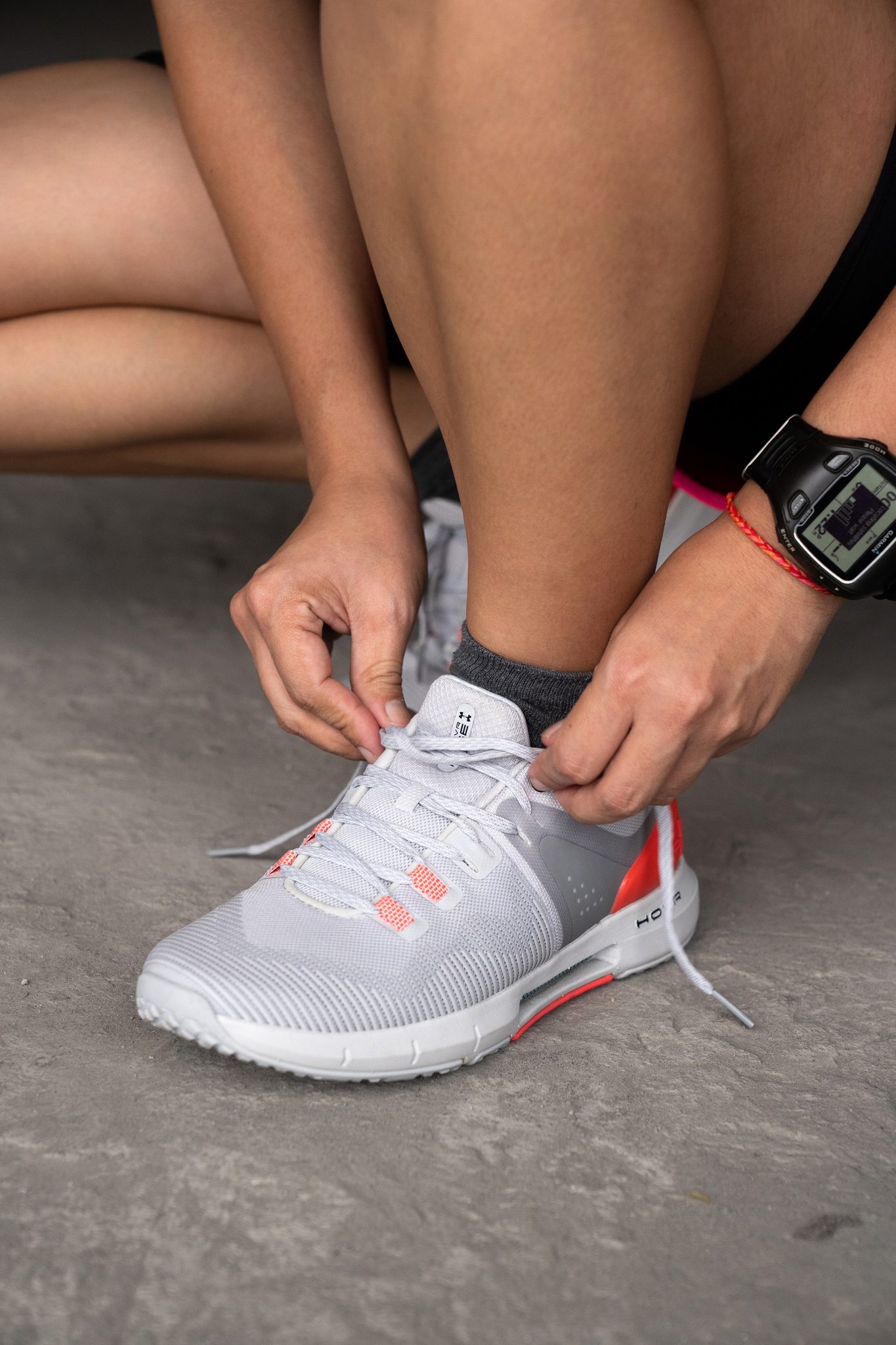 But for all of its downplayed elegance, the technology that comes with the HOVR Rise is never questionable. The outsole is absorbing in the sense that it's lined and made with durable components in various shapes and patterns that can wrestle with directional shifts and ensure traction while keeping the shoe flexible. The grip offers a car tire-like experience—rubbery and gritty, which provides the traction and support I needed when running downhill and pushing the box sled.
Moving on to the HOVR foam—which is similar to other shoe technologies like Nike's React, Adidas' Boost, and Saucony's Everun—and the compression mesh combo, the feel is bouncy yet stiff enough to reduce impact every time your foot hits the ground. This translates well to runs—whether outdoor or on treadmills—because it provides a consistent feel with each stride. But I'm not sure it will hold up or be stable enough for longer runs.
The HOVR Rise is great if you're looking for a durable option for the gym, HIIT workouts, and short sprints, but it may not be ideal for running greater distances and marathons. That said, apart from long runs, it's versatile enough to sweep through your training activities with ease. The technology is there to support your fitness routine but the best way to reap the benefits of the Rise (it retails for P5,995) is by seamlessly incorporating it into your daily athletic routine.