Kobe Bryant fans mourned all over the world with these various murals
It's been weeks since the tragic death of Kobe Bryant and eight others who were killed in a helicopter crash. Since then, millions of Kobe fans from all over the world have made their own murals dedicated to their superhero and his daughter Gianna. The number of murals for Bryant around the world just goes to show how much of an impact the five-time NBA champion had to many basketball fans. From the streets of Los Angeles to the basketball courts in the Philippines, here are some of the best Kobe Bryant murals made in his honor:
Tenement Taguig and Tenement Sta Ana, Manila, Philippines
It's no surprise that the Philippines made two of, if not, the best basketball court murals for Kobe. After all, Manila loved Kobe like he was their own son. The Kobe mural in Tenement Taguig was completed in just 24 hours right after Bryant's death. Days after, another mural was completed at Tenement, Sta Ana. These murals show the world how the Philippines is dedicated to basketball and of course to its hero.
Los Angeles, Southern California
In Los Angeles, there are murals of Kobe and daughter Gianna in almost every corner. Kobe meant so much not just to the Lakers but also to the city he united and represented through his sheer love and dedication for the game.
Montedonzelli, Napoli, Italy
Bryant spent his childhood in Italy and popularized basketball in the country when he played in the NBA. This court in Montedonzelli was abandoned for three years before his death. It was refurbished and opened after the mural was completed in honor of Bryant.
Barclays Center, Atlantic Ave., Brooklyn, New York
In Brooklyn, specifically the Barclays Center, a mural for Kobe was made by a local artist Efren Andaluz.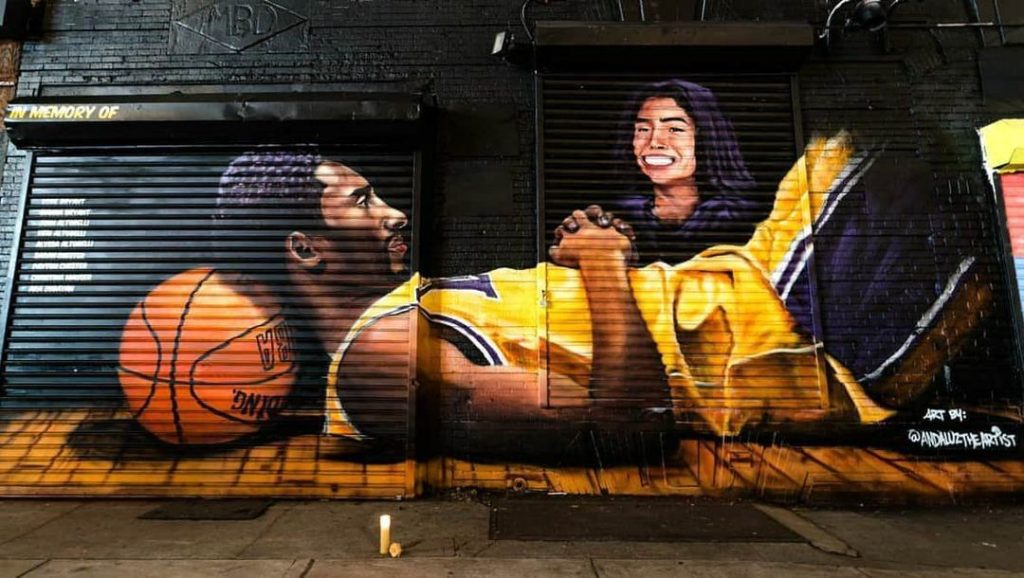 Miami Beach, Florida
A Kobe mural was made by local street artist Ryan "Arcy" Christenson using only spray paint in just 24 hours.
Kountry Kloudz Smoke Shop, Nashville, Tennessee
In Nashville, a mural of Kobe with a basketball hoop as a halo hovering above his and Gianna's heads was made, accompanied by one of the five-time NBA champion's most inspiring quotes. The masterpiece was created by Jose Vergas, a resident who spent four days painting this work of art.
Easey's Burgers, 3/48 Easey St, Collingwood, Australia
Kobe was also honored in Collingwood, Australia, with a mural by Twitter user @lushsux. Kobe visited Australia last March where he spent time with local athletes to talk about his stellar basketball career and retirement life.