Aside from being savory and nutritious, hummus is versatile enough to be paired with any food you can think of
Photos by Polina Tankilevitch/Pexels
Hummus is a versatile dip because it can be paired with any breakfast, lunch, dinner or snack you can think of. The chickpea-based spread is made with tahini, spices, and sometimes lemon and garlic depending on your preference. It also doesn't have unhealthy fats and excess carbohydrates and sugar. 
But one challenge in making hummus is that it takes a lot of time and effort to find the right mix. So we asked Pavan Ramchand and Pooja Murjani, owners of hummus business Ramur, on how to make the perfect dip.
"We'd like to vouch for the way we make the hummus. We do not add any artificial flavoring and let the recipe and spices work itself," says Ramchand and Murjani. "The snack is a healthy balance of carbs and protein good to keep you full and charged up for the day ahead."
Easy and practical tips
"There's a lot of recipes on the internet. From those recipes, we tweaked our own by not directly following the spices there because it really depends on one's preference. We recommend also having a food processor to be able to really blend the chickpeas," says the co-owners.
Ramchand and Murjani admit that using lemon in the recipe can overpower the hummus. Instead, they utilize spices such as black pepper, cumin, salt or even za'atar (a Middle Eastern spice) for their recipe.
"We first peel the chickpeas before anything else. We don't like the skin still showing when we make it and it really creates a rough texture. Then we add the spices and olive oil and blend until we have the right consistency."
According to the pair, customers have affirmed that this mix is thick and creamy, making it a lot more filling. The spices stand out as well and add more flavor to the hummus.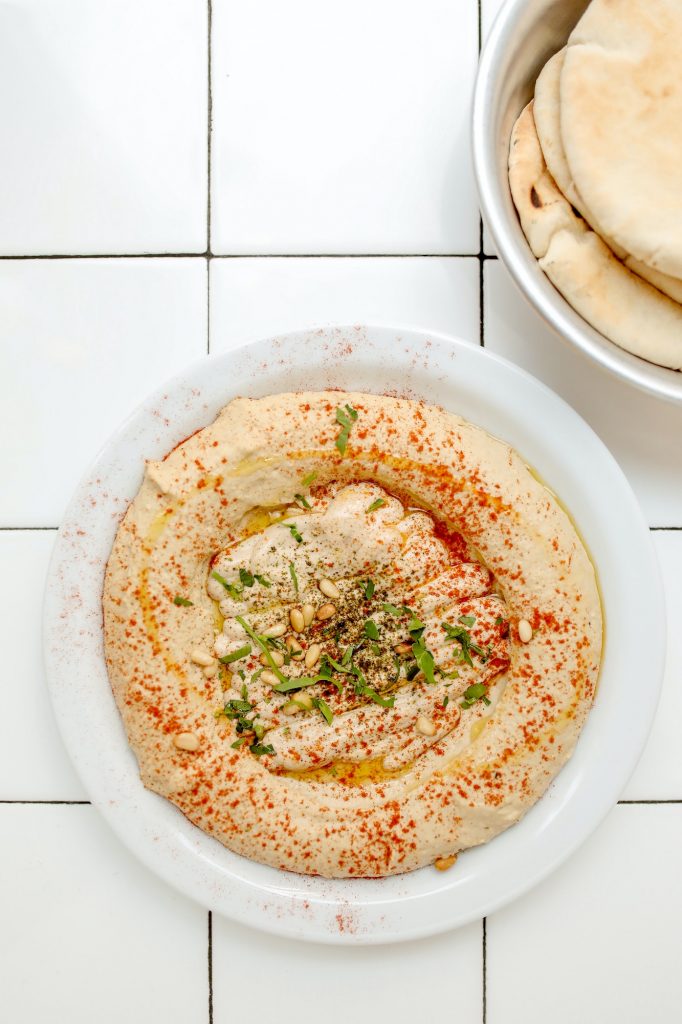 Best foods to mix with hummus
What makes hummus a versatile snack is that it can be paired with vegetables and fruits (like apple slices) or used as a sauce and even in daily meals. It can be mixed with salad as a dressing, spread on bread, and served as a dip for tortilla chips. Ramchand and Moorjani even recommend turning their hummus into "meatballs," saying that "this process requires some cornstarch as the binding agent. Bread crumbs to add to the crisp then deep fry." 
The benefits of eating hummus
Chickpeas are loaded with insoluble fiber—the kind that helps lessen cholesterol, improve digestive health, and feed good gut bacteria. Insoluble fiber also creates short-chain fatty acids, which provide energy and control blood sugar levels. Hummus is also a great source of plant-based protein and contains heart-healthy ingredients that reduce the risk of heart disease.