UP Maroons star Kobe Paras vows to use his voice for Filipinos who cannot be heard
Art by Tricia Guevara | Photo by Tristan Tamayo
"Shut up and dribble" gets thrown around a lot to many basketball players.
Even LeBron James, arguably the face of NBA today, isn't susceptible to this kind of aggression because apparently according to Fox News host Laura Ingraham, nobody cares about the basketball player's opinions on social injustice. But James refuses to back down and continues to use his platform to inspire people, particularly the Black community, to fight for their rights. 
James' determination to tackle social issues is an example to many athletes around the world, including UP Fighting Maroons forward Kobe Paras whose searing motivation to speak for those who cannot be heard was on full display this weekend. 
"I've been expected my whole life to be someone I'm not—to be a crowd pleaser, to make sure I have a chip on my shoulder wherever I go. I'm used to having a lot of expectations from a lot of people. Usually, I use it as fuel when I play basketball. But this isn't a game. We aren't playing basketball. This is real life! I want peace and love but there cannot be peace if there is no justice," wrote Paras on an Instagram Story published on June 7. 
Aside from protesting and taking action on the internet (which is just as important as on-ground action), the UP Diliman standout has since acted on the news about the arrest of seven UP Cebu students on June 5.
"We are all witnessing all these wrong things happening in the world on our phones. Most of us are blessed to stay at home and be privileged enough to have a bed to sleep in. It's hard to sleep at night knowing there are people who are getting hurt for standing up for what they believe in. That's why I did not hesitate to use my voice on social media," he said in the same Instagram story.
According to the College Editors Guild of the Philippines (CEGP-Cebu), police in "full gear" were seen arresting individuals who participated in the Anti-Terrorism Bill protest. After news surfaced, Paras set up a fund to bail the students sent to jail. 
Kobe Paras is more than just a basketball player
"I am heartbroken. I am hurt. I am lost just like any other human being," wrote Paras about the local and global issues happening today. Just like everyone, the Fighting Maroon admits he feels overwhelmed after reading and watching the protests happening in the Philippines and in the United States—two countries he has lived and played basketball in. 
But Paras is using all these to push himself harder, redefining what it means to lend a voice for a just cause. And it isn't a surprise. Throughout his life, Paras was taught to recognize his privilege, stand up against racism and fight for what is fair.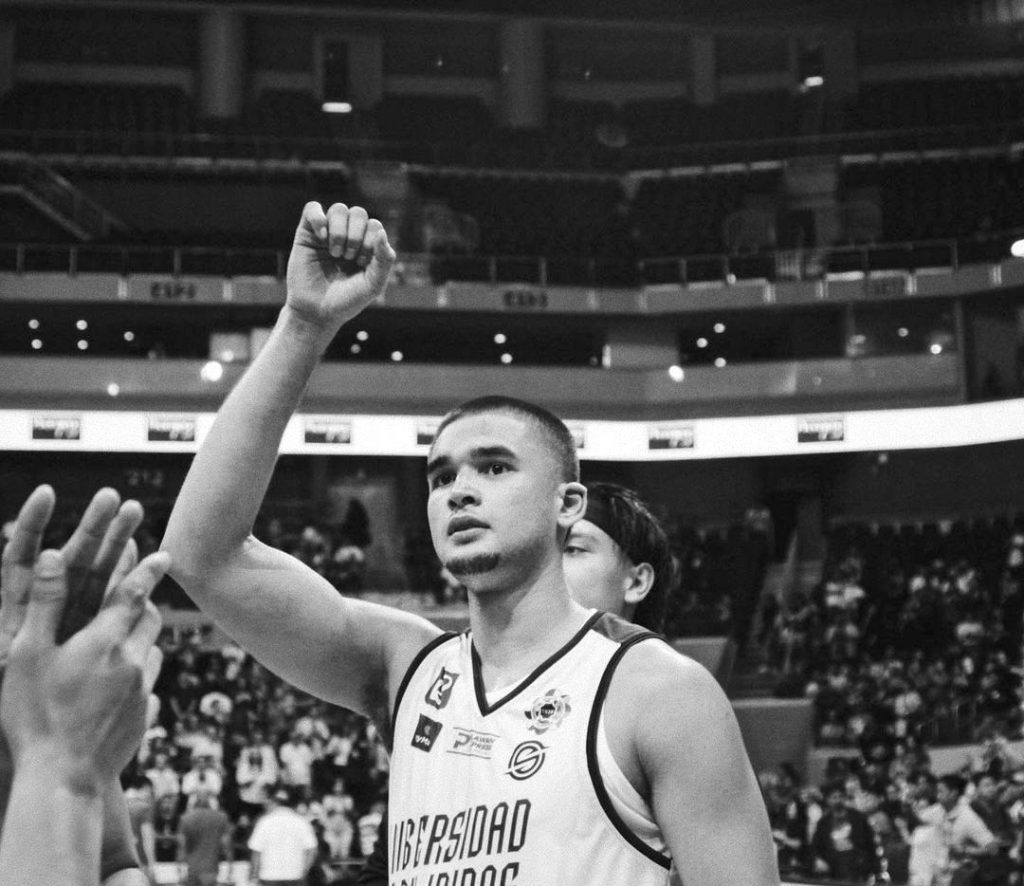 "When adversity strikes hard, I believe we have to stand our ground even harder. I am not a basketball player. I am not a college student. Take away 'student-athlete' in my vocabulary and all you have left is a privileged human being," stated Paras. I was born and raised in the Philippines and my skin color is white. I don't see color. I was never taught to judge by skin color ever! It really hurts me knowing that my skin color would be some 'advantage' in my life." 
Like Paras, when we recognize our privilege, we can understand what other people are going through. Privilege should never be used as an advantage or a reason why we turn a blind eye on reality but rather an opportunity to take responsibility to help end injustice and give something more.
One voice can make all the difference
If it weren't for James, the narrative may have been different for Paras. The 22-year-old found inspiration in what James does on a regular basis, which is to speak out for his community and personal beliefs. It also doesn't take much to be drawn to and inspired by how James preaches equality, especially for basketball fans who have followed him religiously. That's an example of how one voice can make a huge impact on a community.
"I will never just stick to basketball when it comes to times like these. Shoutout to my GOAT and my inspiration, LeBron Raymone James, for inspiring me to stand up to my fellow Filipinos. As the King said, 'I will not shut up and dribble,'" wrote Paras 
Paras is just one of the many Filipino youths using their voice to inspire and, more importantly, educate an audience. There's a reason why social media is flooded with articles, art cards, graphics, and content calling out the government and the oppression occurring in the world today. 
So yes, Paras won't just shut up and dribble.
"To my fellow athletes, stand up for the people who aren't as privileged as you. Be ready for what the world will hand to you. Always expect the unexpected. No matter what you do, you will always be watched and judged by someone regardless of what you do or say so always stand up for what is right. If we can get through this, we can get through anything."