Optimizing your sleep starts with tweaking the little things
Photos by Pixabay and Cottonbro/Pexels
Over the past year, sleep—or lack thereof—has been one of the biggest problems I've had to deal with. There were nights when I'd stay awake waiting in vain for dreams to come. On some nights, my sleep was short and interrupted, which made it even more frustrating. While it's obvious that stress and anxiety are common causes for insomnia, what can we do about it?
Better sleep comes when we're able to relax, calm down, and de-stress. But sadly, that's easier said than done. We all deal with problems and dilemmas we naturally immerse ourselves in. Moreover, the words "forget about it" is not a viable option for many. Instead, a different approach might be necessary.
Luckily for me, help came when I needed it most. I was able to talk to Eli Abela, a certified sounder sleep system teacher who uses biohacking and other self-regulation modalities to help upgrade the brain, mind, and body as well as optimize sleep. While the amount of information I amassed after consulting her and attending her sleep workshops was hard to summarize in a single article, here are a few tips I learned:
Sync your rhythm
Our body has a natural way of knowing when it's time to stay awake and when it's time to doze off. This is called the circadian rhythm. It is dictated by external factors and sunlight is arguably the most important one. Exposing yourself to the sun upon waking can send signals to your brain that it's time to wake up and start the day. By syncing our circadian rhythm to sunlight, we're giving our body the right stimulus to have a regular and healthy sleep-wake cycle.
Tip: In our previous article, we discussed the different sleep chronotypes. By understanding your unique chronotype, you can better understand the type of circadian rhythm synchronization you need.
Nap mindfully
A new yet familiar concept I learned was sleep pressure. Also referred to as the homeostatic sleep drive, sleep pressure simply is an unconscious biological drive to fall asleep. The longer we stay awake, the more sleep pressure is built up.
When we have good, high quality sleep at night, our sleep pressure gets reset to lower levels. However, for those of us who aren't so lucky, we wake up with elevated sleep pressure levels. This means we're sleepy even before the day has started. As an effect, there's an intense desire to sleep midday and this resets your sleep pressure. The result? It becomes even harder to sleep at night, making it a vicious and inescapable cycle.
Tip: Some studies have shown that napping for 10 to 20 minutes is the perfect duration for a mid-cycle break. This is enough to improve cognitive ability and refresh your mental and physical state. Conversely, napping too long can result in "sleep inertia" or that sluggish drowsy feeling. This is like a post-nap fog that can impair your ability to perform certain tasks.
Plan around sleep
While it may sound pretty obvious to some, planning around sleep is sometimes easier said than done. The problem these days is that this pandemic and the whole work-from-home situation has blurred the distinction between work and rest. This confuses our bodies as to when it's time to wind down or stay awake. To resolve this, managing time and compartmentalizing your life into more defined work and relaxation hours is necessary.
Making sure your environment follows suit is important too. For example, avoid working in your bedroom so your mind is able to associate it better with rest. You can also limit light, especially blue light inside your room. You can do this by turning off gadgets and using blackout curtains. In fact, you can try and limit exposure to blue light by using blue light blockers a few hours before bedtime.
Tip: You can also make it a point to plan for bedtime. A good starting point would be to count back 7.5 hours from when you're supposed to wake up. You can adjust this number depending on your individual preference.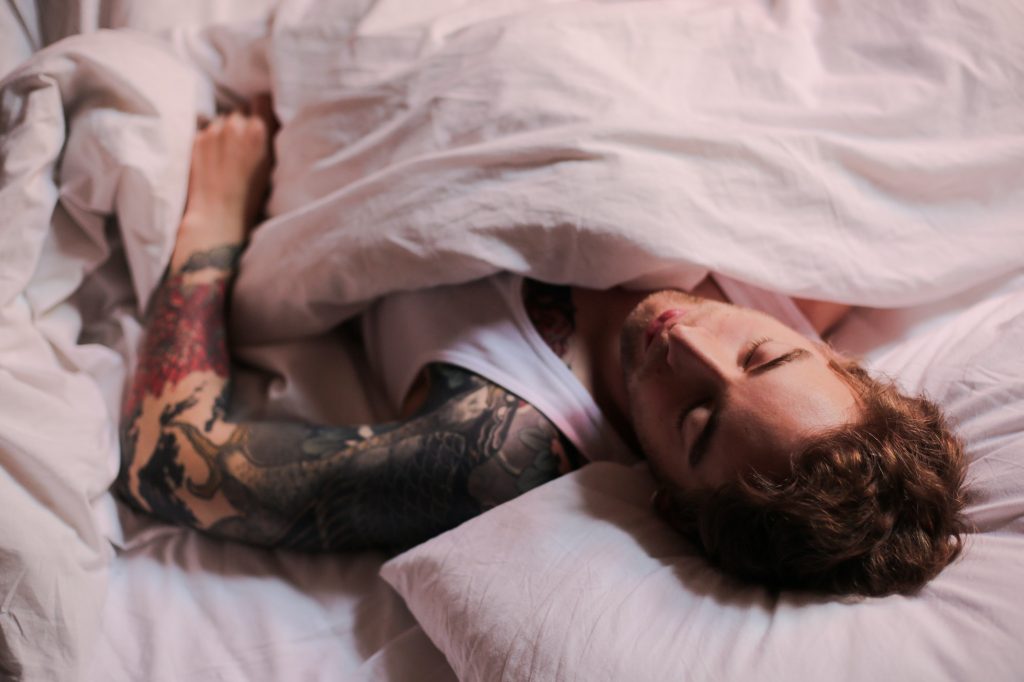 Eat mindfully
We all know that powerful feeling of sleepiness after a heavy meal; however, this type of sleepiness is not long-lasting and often results in shallow, low-quality sleep. Doing this at night can potentially make it easier to fall asleep but might not make rest as rejuvenating and refreshing as we would hope for. Whenever we sleep with too full of a belly, our body would spend a lot of energy digesting rather than performing nighttime "housekeeping" activities during sleep. This means our body might not be able to perform regenerative processes as efficiently as it would like.
Tip: Eat your last meal two to three hours before bedtime and save your heavier meals earlier in the day. This can ensure your body is well-prepared to handle sleep. 
Learn how to self-regulate
Our bodies, when exposed to stressful situations, trigger what's called the fight-or-flight response. This results in elevated cortisol levels and other stress hormones that have underlying effects on our bodies. When our body is in a high-stress state, it has trouble relaxing and calming down. For people dealing with chronic stress, they are unable to control and regulate this phenomenon and as an effect, sleep becomes elusive and fleeting. The goal is to teach our bodies to transition between stressful and calm situations. To do that, we need to practice self-regulation. Simple mindful practices such as meditation, deep breathing, and the emotional freedom technique are good options. 
Tip: If you're having a hard time regulating your emotions and stress levels, consider investing in a HeartMath device. This is a tiny gadget that helps the body reach cardiac coherence through heart rate variability feedback and proper breathing techniques. Cardiac coherence is the state in which heart rate becomes regular (sine-wave-like) and is associated with a calm and relaxed state.
We should take note that sleep characteristics, just like our own personalities, are unique and quirky. While these tips serve as a guide, nothing is set in stone. It's important to try what works for you. 
If you need professional help or want to learn more, you may reach out to Eli at Unltd.
Have some training questions, feedback or suggestions for future articles? Drop a note in the comments section below or on Facebook, Twitter or Instagram.  You can also get in touch with Don directly here.