Climbing up Tagaytay isn't difficult even if it looks like it
Photo by Jannel Ivory/Unsplash
Over 600 meters above sea level, Tagaytay is accessible through several routes, the original of which is through Aguinaldo Highway. While still regularly used, heavy vehicular traffic along Aguinaldo has led cyclists to favor the route climbing up Amadeo.
We'll go through that option here and begin our southern rides from Daang Hari. The Petron gas station is a popular starting point as there is ample parking, a convenience store, and places to eat nearby.
The ride to Tagaytay and back is around 95 kilometers, with slight variations depending on which roads you decide to pass. Coming from Petron, follow Daang Hari westward, crossing the Molino National Road and Aguinaldo Highway towards Open Canal Road. The route is generally flat although Daang Hari undulates a bit as you head out.
At the end of Open Canal Road, turn left until you reach Governor's Drive. Turn right until the first intersection before taking another left leading to Amadeo and Tagaytay (Governor's Drive goes to Trece Martires and Naic) . It's around 22 kilometers at this point, and some cyclists may want to regroup or refill their bottles before the climb.
The climb towards Amadeo and Tagaytay isn't particularly difficult. It starts from around 125 meters and rises slowly for around 25 kilometers to the Taal Ridge around 700 meters above sea level. That's around a 500-meter elevation gain but an average slope of only around 2.5 percent, making it very doable.
The added elevation guarantees that temperatures will be cooler as you reach the top, making the climb relatively pleasant. There's a large selection of places to reload. You can opt for a quick turnaround and head back down after loading up at a sari-sari store or the 7-Eleven by the rotunda, or take it easier at any of the many restaurants overlooking the lake.
The trip back down can be a quick one whether you take the same route or go down through Aguinaldo Highway. It's downhill all the way until you hit Governor's Drive again. My personal preference is through Aguinaldo Highway as the asphalt road makes for a smoother, faster ride. You can expect traffic on the way back as you reach Dasmariñas via Aguinaldo though, but you can avoid the worst of it by turning right on Governor's Drive and making a left on Paliparan back to Daang Hari.
Route: Daang Hari-Amadeo-Tagaytay-Daang Hari
Starting Point: Petron/Evia Daang Hari
Finishing Point: Petron/Evia Daang Hari
Distance: +/- 92 kilometers
Average Time: Four to five hours
Total Elevation Gain: +/- 782 m
Highest Point: +/- 675 m
Map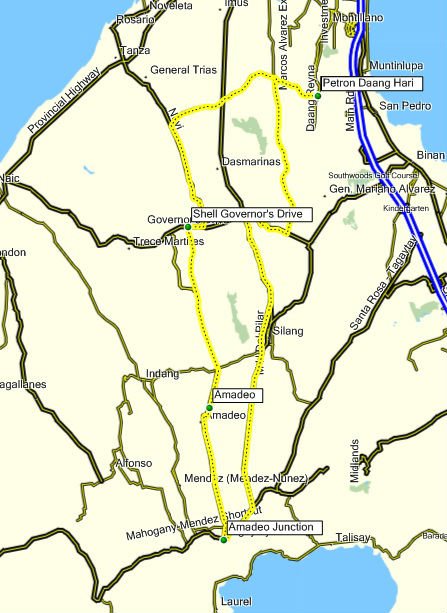 Elevation profile