The road to Kaybiang Tunnel in Nasugbu is a relatively new route, but one destined to become a classic
Going to the seaside town of Nasugbu, Batangas used to be a chore.
Coming from Manila, you would have to pass through Tagaytay or take smaller and often rougher roads cutting through Cavite. That changed in 2013 with the opening of the Nasugbu-Ternate Highway, which cut a path starting with the old road from Ternate to Caylabne Bay through the Mount Palay-Palay National Park and to Hamilo Coast.
We meant 'cutting through' in the literal sense as the road itself passes through Kaybiang Tunnel—a 300-meter passage that blasts through the rock. It's currently the longest tunnel in the Philippines and took four years to build. That's not a huge engineering feat in itself but gets the job done.
Starting from Naic, Kaybiang Tunnel is less than 24 kilometers one way. The first 11 kilometers from Naic to Maragondon and through to Ternate is mostly flat. The road turns up after Ternate 11 kilometers later, rising steadily along the ridge from sea level to around 150 meters to the gate of the old Puerto Azul resort.
The road rises further to 343 meters as you go deeper into the lush forests of Mount Palay-Palay National Park for a total elevation gain of over 400 meters in a little under eight kilometers, with an average slope of about 5.5 percent, maxing out at 14.4 percent.
The road tips down a bit for around 1.5 kilometers before taking a sharp turn to the left (straight leads to Caylabne). This rolls again mostly downwards with some steep switchbacks for another three kilometers until you reach the Kaybiang Tunnel where you can join the steady stream of day trippers and tourists taking selfies at the opening, before passing through to the Batangas side or heading back to Cavite.
Cycling back the other way however is not an easy return trip. The first kilometer back out has some portions maxing out at close to 20 percent. It's about 3.5 kilometers before there's some respite and a total of around 4.5 kilometers before the road points back down for good. While tough, it's easier if you come prepared with climbing gear ratios on your bike with a compact 50/34 crank, an 11-28 cassette, or both.
This road may get busier in the future as the route has opened up more development in the Nasugbu area. For now, it's one of the best routes available either from Naic itself or from Daang Hari, which knocks up the distance to around 80 kilometers one way. Others have used the access road to make a +/-200 kilometer loop from Daang Hari up to Amadeo and Tagaytay, down to Nasugbu, and back through the tunnel or vice versa.
In any case, the route has opened up new frontiers and is destined to be a new classic.
Route:  Naic-Kaybiang Tunnel-Naic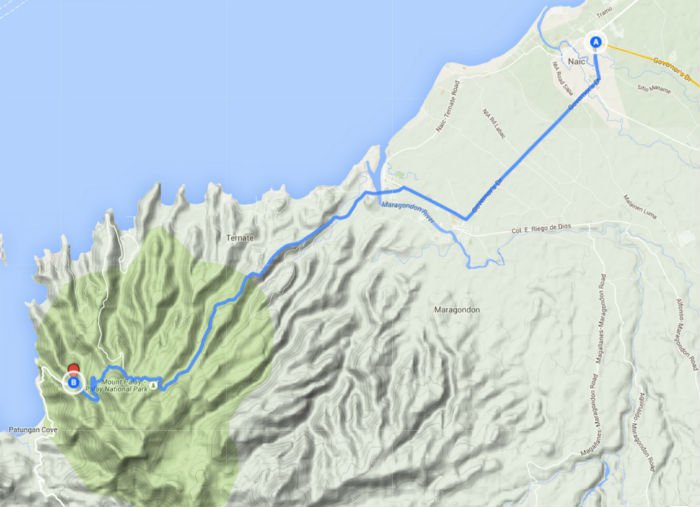 Starting Point: Naic
Finishing Point: Naic
Distance: +/- 47 kilometers
Average time: Three to four hours
Total Elevation Gain: +/- 1,103 m

Highest Point: +/- 347 m