This 24-year-old looks forward to racing her first major marathon—and then eating a slice of deep dish pizza
Photos courtesy of Skechers
At only 24, local prodigy Lauren Lim is already set to conquer the Chicago Marathon in October. And that's only two years after she first picked up running by chance.
Since that fateful first run, Lim has racked up achievement after another great achievement. She finished third in the 20-24 age group at Regent 5150 in June, second at the Tri United 2017 Exceed Long Distance, with her team Sante Barley, in July, and runner-up in her category at Cobra Ironman 70.3 in Cebu with a time of 6:05:23.
Being a woman in a male-dominated sport has taught her to be stronger and more independent. She's happy seeing other athletes excel and succeed, and wants to inspire more people to get into an active and healthy lifestyle. "I've found my passion. Winning is just a bonus." she says.
The first thing I'll be doing after is to grab a deep dish pizza and maybe celebrate with my family. After that, I'll be looking for my next major race
Clearly, neither gender nor physique are indicators of ability in this demanding sport. With the appearance of a regular girl-next-door, Lim would normally get mixed reactions whenever she competes. "'You're unconventional for a triathlete,' that's what they usually say to me, and I don't find it offensive because it's true that I don't represent the athletic status quo.
However, people always get surprised when they learn about my credentials and what I've accomplished in such a short span of time. I may not be what they expect me to be but I'm passionately driven by my courage to win and get better in every competition I join."
How did you start running? What made running interesting for you when you started?
I never really thought about running until a friend of mine invited me to join a fun run with her in January 2015. She told me that her mom wouldn't allow her to go if I didn't go with her, so I did. We ran a 5K and it took me over an hour to finish because I didn't really know how to run—and also because we played around in the colors.
Running became interesting the second time I ran when I finished in around 30 minutes, which was pretty good. I wasn't tired at all, so I kept wanting to see if I could go harder, and faster to improve my time.
How did you transition to triathlon?
Transitioning from running to triathlon was a challenge, specially since I only had the basics of swimming and did not have a biking background. I had to learn how to ride a bike four months before my first big race.
The biggest difference between triathlon and running is that you have to learn how to pace yourself and decide which leg you're giving it your all and which leg you're going to be holding back a bit. Running is a different story. You have one discipline to focus on and one goal: beat your PR.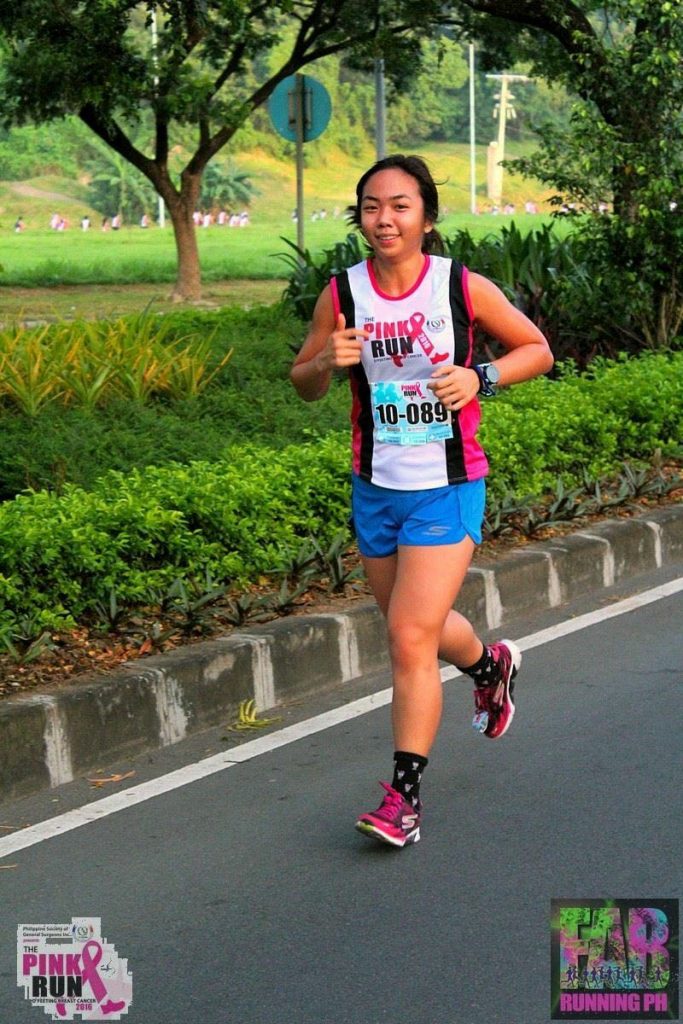 What made you decide to join the Chicago Marathon?
After running my first marathon, I promised myself that I would do one marathon a year. It just so happened that I was lucky enough to be drawn during the lottery for Chicago. It also seemed like the best choice among the world marathons because we have family who live in the area.
How are you preparing training for the Chicago Marathon?
I run thrice a week (one interval run, one tempo run, and one long run), swim twice a week, and bike twice a week just to maintain my triathlon fitness. I also lift weights and do high-intensity interval training.
What is the importance of a good pair of performance footwear in triathlon?
I've always been told that triathlon always boils down to the run, especially when dealing with long distances. A good pair running shoes is very important. Out of all the legs, running is the hardest on your feet. They can make or break you. If you're not comfortable and stable running in your shoes, it will make the last part of the race really hard. It's very easy to get injured while running in the wrong shoes, so having the right shoes lessens the impact on the feet and the knees.
What is the first thing you'll do after the Chicago Marathon?
The first thing I'll be doing after is to grab a deep dish pizza and maybe celebrate with my family. After that, I'll be looking for my next major race, whether it be a marathon, ultramarathon (which I've never done before) or another triathlon.