2017 SEA Games gold medalist Nikko Huelgas opens up about Miranda Priestly, racing with Rambo, and the thing he hates to hear the most
By Eric Nicole Salta | Photos by Pat Mateo | Shot at Nobu Hotel, City of Dreams Manila | Special thanks to Charisse Chuidian, Romina Gervacio, France Arias, and Amba Marcos
Nikko Huelgas loves The Devil Wears Prada.
Let that sink in.
"At the end of the movie, Miranda (Meryl Streep) explains something about the choices you make to Andrea (Anne Hathaway), about how she fought for her co-assistant Emily (Emily Blunt) to go to Paris even if she wasn't chosen to go. But Andrea still went," says Huelgas, sprawling on the couch as he displays a different side of his personality.
"The lesson there is that it's still a choice. You still went. It's not what you say or what you fought for, it's what you do," says Huelgas, the 2017 Southeast Asian Games gold medalist, sitting comfortably inside the Nobu Hotel room in City of Dreams Manila, overlooking the signature sun-kissed pool area.
Like the hot morning's golden glow or the Devil knowledge he has drawn from since it came out, Huelgas shares a similar blonde luminescence—only that this wide-eyed champion is more brutally honest about the intense pressure on his shoulders and thoughtfully calculating of the expectations that haven't left his side since, well, he decided he will become the first Filipino triathlete to compete in the Olympics.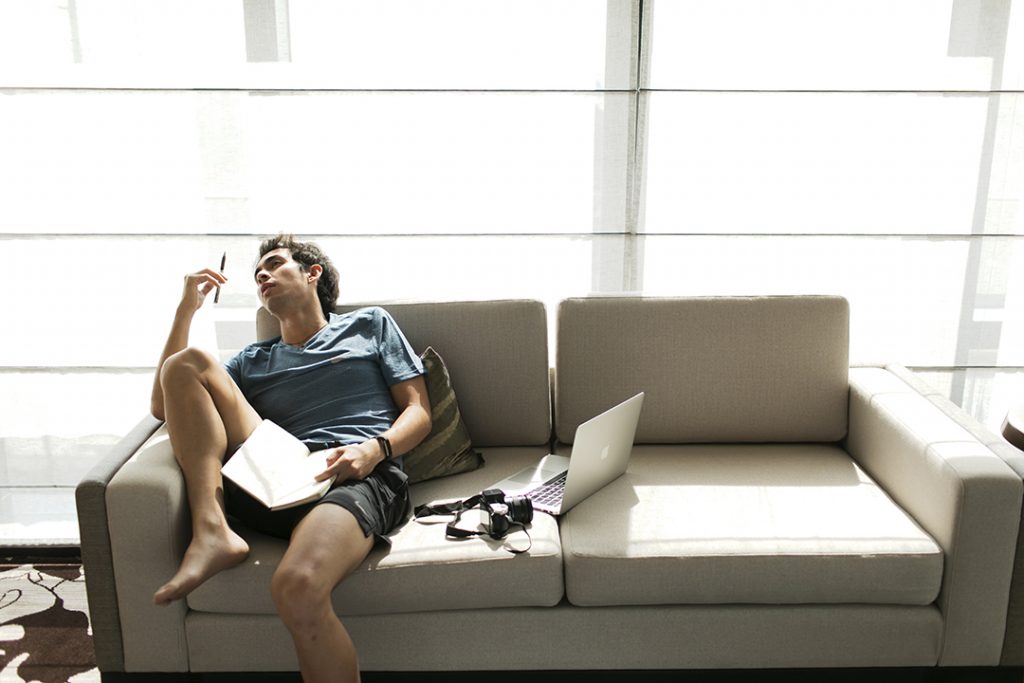 And like the endearingly determined Andrea, Huelgas' drive to succeed is fully locked in albeit without the self-indulgence.
Even non-triathlon fans can see Huelgas' magnetism. Up close, he's a quiet, almost reclusive character, hiding his deceptive ferocity behind a vibrant smile and an unexpected calmness, a neutrality that unsettles no matter how long you've known him. Yet Huelgas stands tall. You can feel it in his words. He proves that nice athletes are just as effective and entertaining without conceit.
Asked if he would have still been happy if John 'Rambo' Chicano had won gold instead, Huelgas, without a hint of hesitation, responds, "Definitely. The main goal was to win gold and silver for the country."
On race day when I woke up, I knew I was ready to win because I wanted it more than anyone in the field
It's a reply indicative of his cool nature. His understated post-triathlon self is an incongruity from his dramatic gold finishes at the last two SEA Games. But it doesn't mean Huelgas is unburdened by glory or internal strain whether as a result of a fixation to goals or just mere tension.
"There was a time when I got tired and fed up with all the pressure. I wasn't enjoying the sport anymore. It was in 2016 actually; I took a long break—around two weeks—which was unusual for a triathlete, and when I say two weeks off, I literally didn't train at all."
Huelgas has never sounded so uncertain until now while recounting that memory. But as he did so in the time between December and January last year, he wondered who he wants to be or what his purpose even was.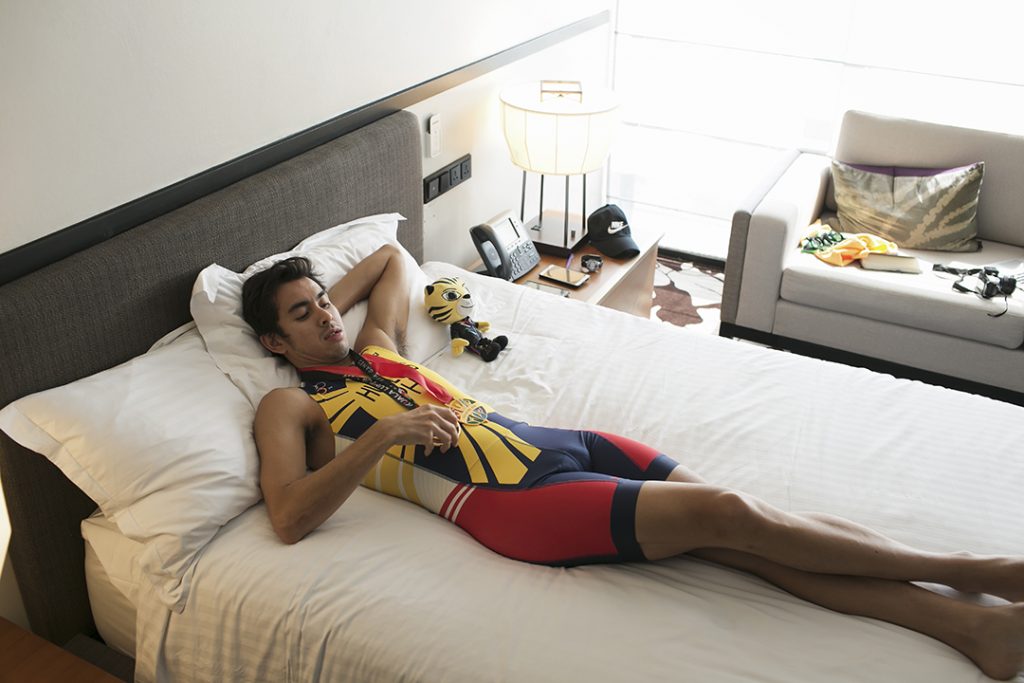 "I went to the beach. I traveled. I didn't talk about triathlon at all," he says of his stark observations. "Usually, you should miss it. The moment I was about to go back, I wasn't excited and that wasn't a good thing."
And while self-examination is another crucial trait he shares with Andrea, there's an abating aspect to the process Huelgas put himself through. That even if he lost himself in other things for a little while—falling in line in the MRT's long queues, trying to be a corporate employee, expanding his motivational speaking career, or taking his girlfriend to work—he still found a way to  rekindle his calling.
I actually have a feeling that I have a better future in 70.3. I did a 70.3 once in Phuket. It was pure suffering but now, I'm considering doing more 70.3 races
"At that time, it was suffering. It was suffering compared to doing the sport I loved. I needed to go back or else I'd be doing this in a way that I'll never enjoy."
And boy did he enjoy himself.
Alongside good friend and eventual silver medalist Chicano, Huelgas and his coach Melvin Fausto brought their symbiotic partnership to Malaysia a couple months before the games to familiarize themselves with the course and capture the peak form necessary to defend his title. His' second gold medal bore that loud and clear.
"There was a lot of pressure for all of us in the team. Even my coach couldn't sleep the night before," he says. They really wanted it as much as we did. But instead of feeling the pressure, I felt more excited because people really prepared for it. Everybody worked hard, so something good will surely happen on race day."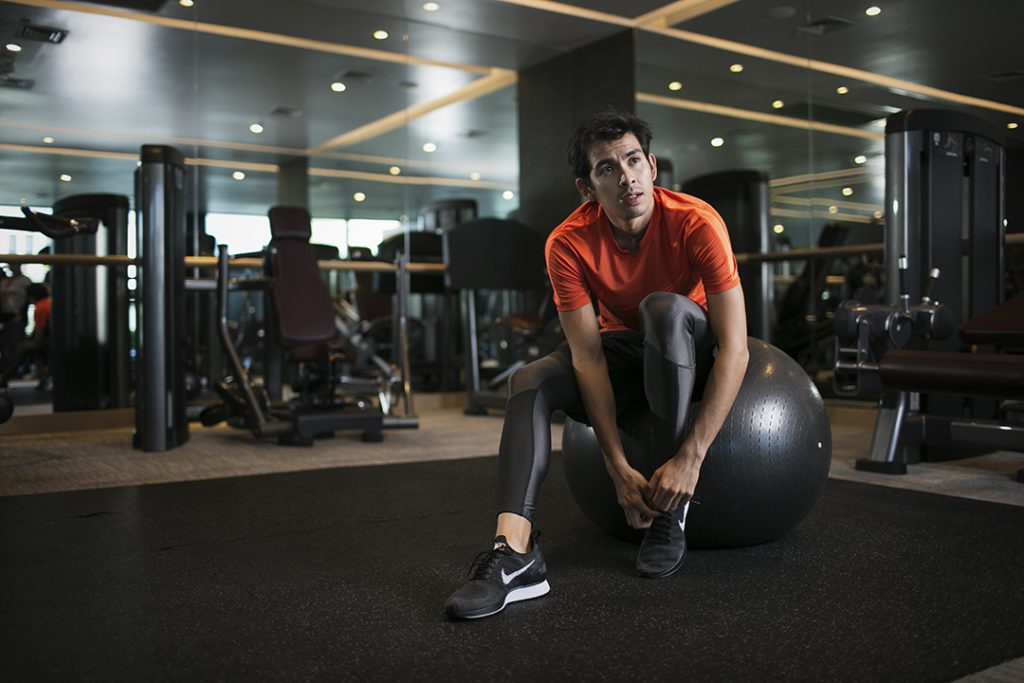 Something good however is an understatement. Huelgas finished the 1.5K swim, 40K bike, and 10K run in 1:59:30, two minutes ahead of Chicano, and keeping the Singaporean duo of Clement Chow and Willie Loo at bay to settle for third and fourth respectively. It's a win that reflects a shift in approach to training that started two years ago when he moved to the Trisutto camp headed by highly regarded Australian coach Brett Sutton.
"Coach Melvin and Brett have been good friends for a very long time and because of this, I've been under coach Melvin's program since January. I decided to train with Chicano in Clark and Pampanga, then sometimes in Subic. I enjoy training with Chicano. He's such a nice guy and, more importantly, so motivated. He trains more than me and I get pushed."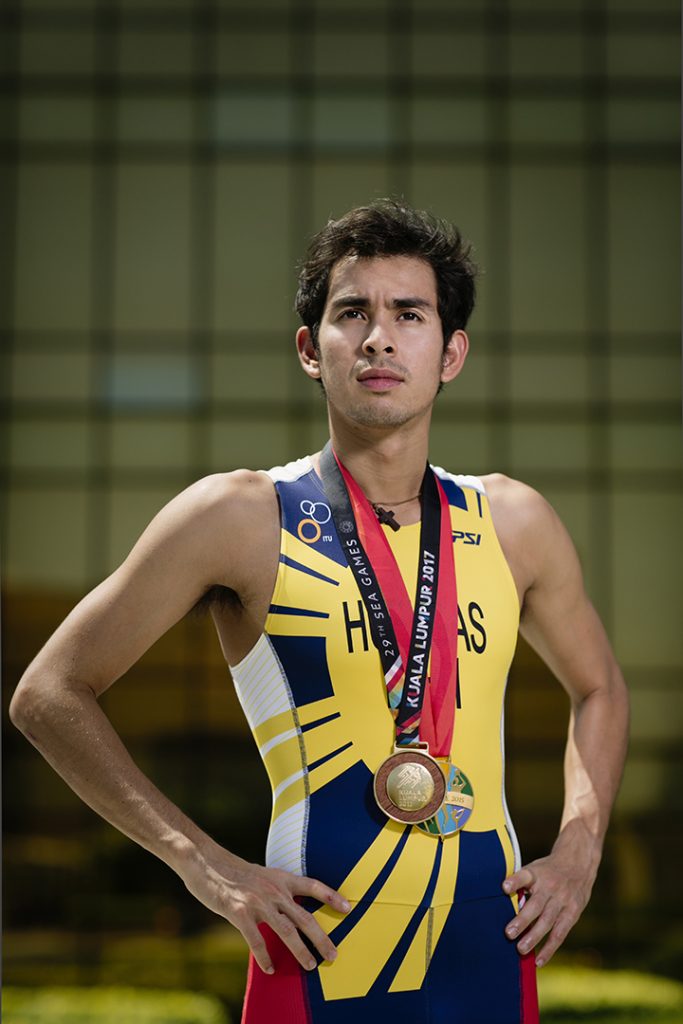 With the 2018 Asian Games slowly approaching— the goal is to finish inside the Top 10—and the 2020 Tokyo Olympics qualifiers starting in August next year, Huelgas is smart not to fall into the trap of complacency, relentlessly taking steps to move closer to his biggest objective.
"We need to compete and finish Top 30 in every race of the World Cup and the World Triathlon Series events. So you need to keep traveling to different continents [to rack up points], and you need funding. But more importantly, you need to maintain your body to be in tip-top shape."
There's a raw quality to his words that doesn't gild the blunt realities at play. Does he ever get scared of what lies ahead? "Oh definitely. I'm actually more scared if I'm not scared because it means I'm probably not mentally prepared for it." Even if it involves no sugarcoating or pure simple talks.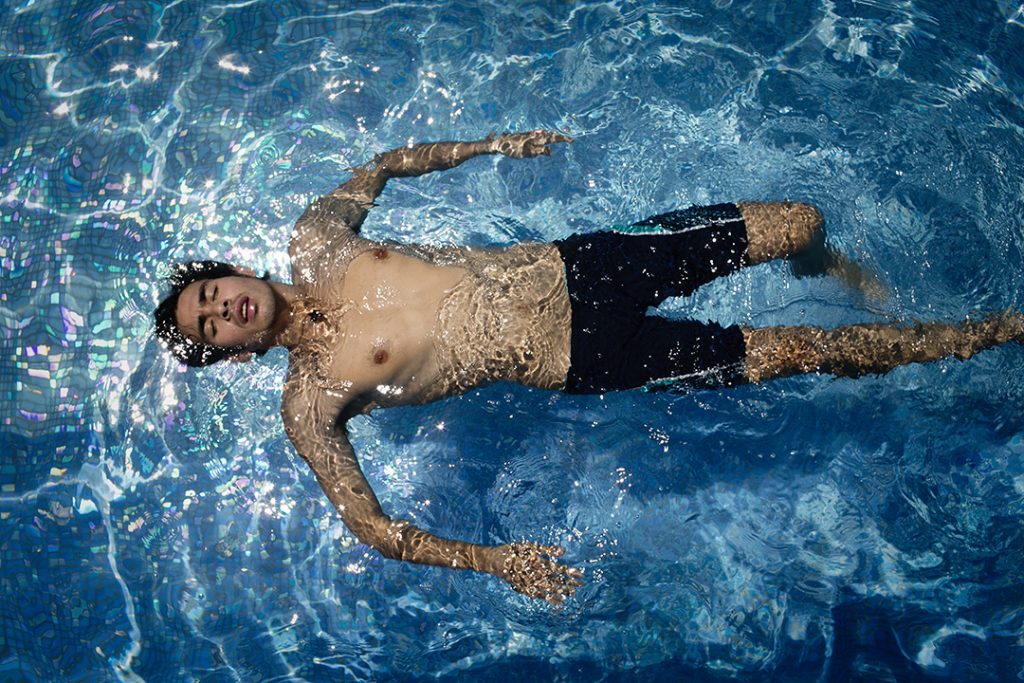 "I've learned how to embrace the people who tell me what I need to hear but really hate hearing so much, but most of the times the ones you really hate to hear are actually the best ones."
Like what exactly do you hate hearing?
"Like you can't eat pizza. That's the first one because I keep hearing that all the time," he says, wry smile strewn on his face. 
What makes Huelgas a cornerstone in Philippine sports is that many identify with a normal guy struggling and striving for something more colossal and substantial than who he is right now. Choosing the road towards an Olympic dream through a niche sport—at least compared with basketball and boxing—is gutsy.
Not that he is the type to demand devotion or validation, but his attachment to Philippine sports is a narrative that matters heavily to all Filipinos—triathletes and non-triathletes. He is the face of the future. And he is destined to be one of the greatest Filipino athletes of his generation. In his own The Devil Wears Nike kind of way.
Andy and Miranda will surely be proud. That's all.