Over 100 runners proved they were built for Balesin's wild terrain
By Eric Nicole Salta | Photos courtesy of Alphaland and RunRio
Balesin is bursting with adventure and just for the weekend, the beautiful private island resort opened its exclusive doors to the public when it played host to runners of all kind at the first Balesin Adventure Trail Run organized by Alphaland Corporation and RunRio Inc. on Nov. 25.
Over 100 runners braved the rain and the wild terrain of the buzzed-about island but also reveled in the creature comforts of the seven villages jutting out in various areas of the island.
Half-marathon winner Panfilo Dela Cruz, Jr., emerged in a class of his own as he zoomed past the tight 21K field in 02:15:14 despite suffering from muscle cramps. "'Di ko naramdaman 'yung muscle cramps, ngayon lang," he says after crossing the finish line. "Nag-break away ako so nag-muscle cramps ako."
"Medyo mahirap ngayon kasi may ulan, maputik, and may mga bato, so dito iiwasan mo yung mga bato so hindi ka makadiretso. Mas mahirap ang trail run kaysa sa road races."
The 46-year-old fire department personnel who regularly runs as much as 10 kilometers after work prepared a month before the race. And while he's never done a half-marathon before—the most was a 19K—he banked on his experience joining runs in Manila back when he was younger. "Sabi ko kaya ko naman siguro. Alalay lang ako."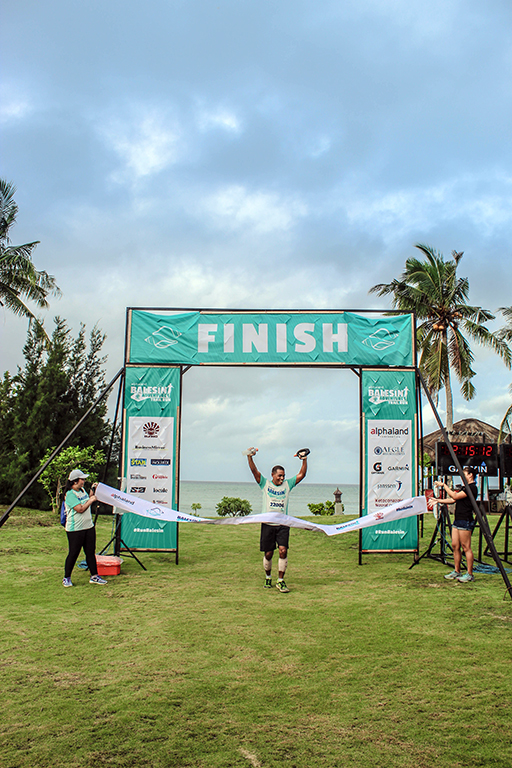 Half-marathon winner Panfilo Dela Cruz, Jr.
Remus Romero came in second with a 02:20:12 finish while Jeffrey Tangara rounded out the podium at 02:22:20.
Meanwhile, Run365's Stephen Apetrior came out on top in the 5K race as well as the 18-34 age group, finishing in just over 22 minutes. "This is my first trail run ever. I've been running for three years but I've been doing triathlon for a year now and then now I'm trying out trail running. It was fun," he says, clearly ecstatic about the result.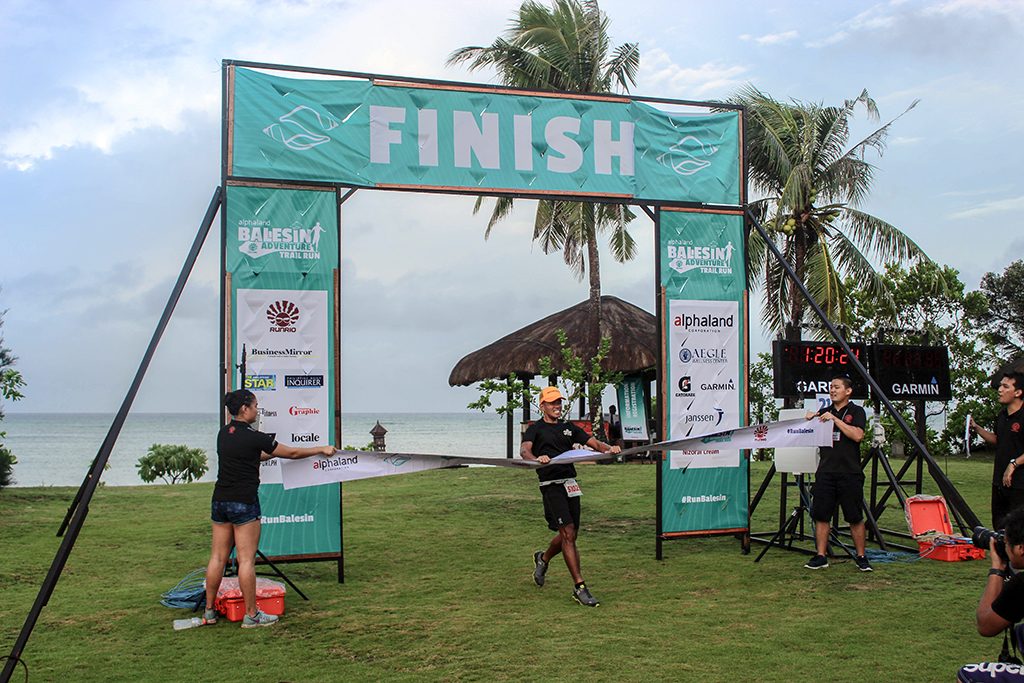 Stephen Apetrior dominated the 5K field, finishing in under 23 minutes
When asked why not the 21K? "I wanted to play it safe since it is my first trail race so I just really wanted to try the short distance first and I got a good result," the triathlete jests, adding that the Balesin Adventure Trail Run is part of his preparation for a longer trail run in February 2018. Joining Apterior on the podium were John Hoyt (00:23:30) and Esmael Camaring (00:24:55).
At the break of dawn, the participants gathered at Rico's Hideaway where the trail run began. The day started with a few words from the island's general manager, Clemente "Dado" Enrique and Aegle Wellness Center's medical director Dr. Ben Valdecanas.  Warm-up exercises were led by Under Armour hosts MMA Belator fighter AJ Matthews and UP Women's National Football athlete Kali Huff, who then cheered the runners along with family members, colleagues, and friends of the runners.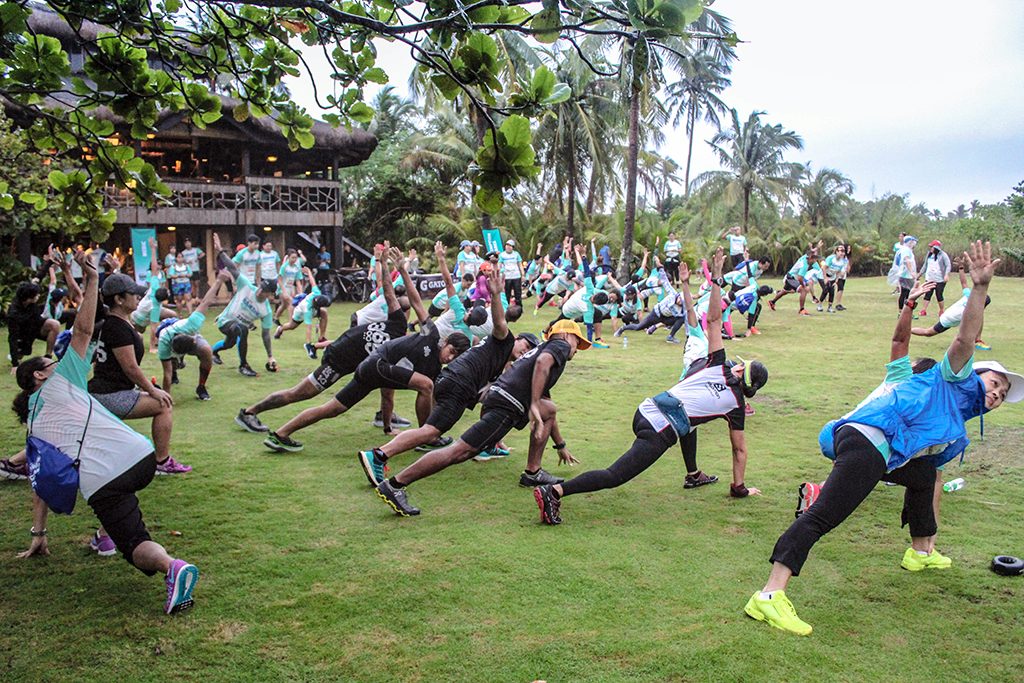 Warm-ups are necessary before any race
The Balesin Adventure Trail Run follows in the wake of destination races creating a fuller experience for athletes and recreational runners alike. With a simple 5K and 21K format, the run provided a new avenue for active lifestyle enthusiasts to engage with fellow runners in an environment that promotes time for oneself.
What adventure trail runs like this offer is the idea of integrating a complete race-cation experience that others cannot. While it's not the first or only run that's utilized this concept, Balesin is a place that piques curiosity and interest to many visitors.