Drew and Iya Arellano tackle their love for triathlon like a marriage—by supporting each other and understanding that yes, sometimes they really need their "me" time (to train)
By Romeo Moran | Photos by Pat Mateo | Makeup by Carmel Villongco | Hair by Angelu Dominguez
Drew Arellano and Iya Villania-Arellano are joking around and having fun during this shoot, admittedly one of the hardest shoots we've ever had to put together.
And we thought getting one celebrity to appear on the cover of a magazine was difficult enough. Sure, we knew that booking two celebrities would be tougher, but we assumed we'd have less challenge scheduling a married celebrity couple. (After all, they share a bed, and news of a cover shoot together would've come up in one of those clichéd couple-conversations-in-bed TV scenes.)
But boy, were we so wrong. To sum up a long story, when everything finally came together, when we finally got Drew and Iya—it felt like all the stars and planets aligned. Yes, we'll go with that.
Iya's story
As silly as that might sound, we really are glad to have Mr. and Mrs. Arellano on Multisport, even if they're the first to admit that they're neither champions nor professional triathletes. Still, after watching them breeze through the shoot with such levity, then seeing through an interview how their collective gears turn, how they view the sport with equal parts seriousness and fun, we're convinced that Drew and Iya are the benchmark of a triathlete couple. From the time Iya was behind Drew in his triathlon career to the time Drew helped facilitate Iya's foray into the sport without imposing it upon her, the Arellanos are the #RelationshipGoal.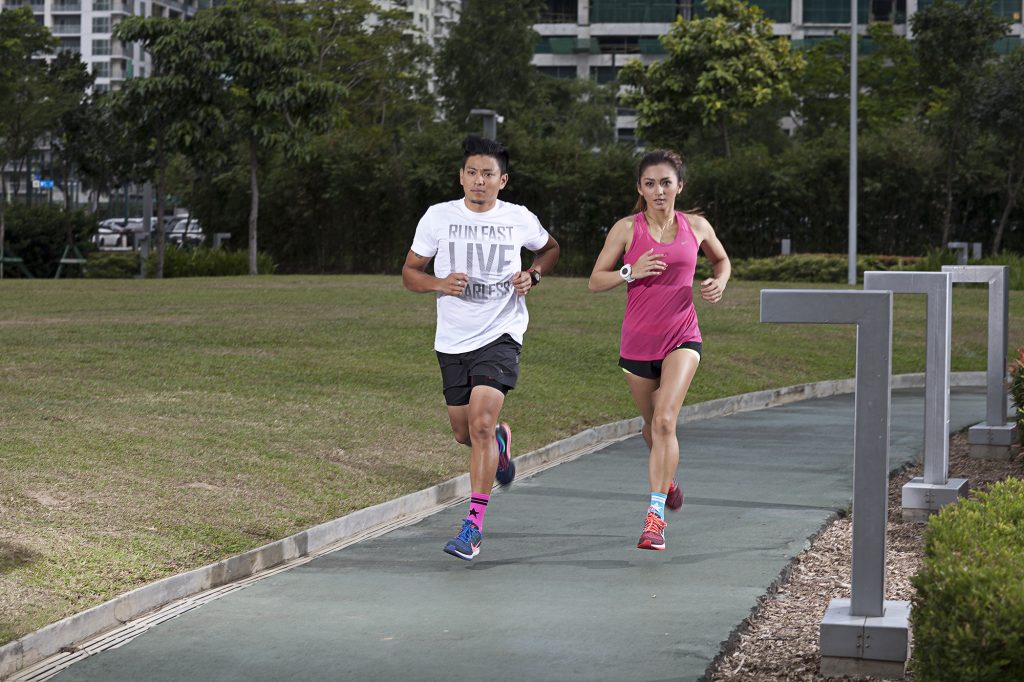 "I was paid. My husband said, 'I'll give you this much allowance every month if you do the sport.' So I figured, why not?" jokes Iya. "No, I'm just kidding. The funny thing is, Drew would always say, 'Honey, it's inevitable you're going to do it.' It's like he's just waiting for me to latch onto the sport and get bitten by the bug. Before I started trying to do all three, I was trying to embrace running more because I used to hate running. And the biking was something that I would join him in every now and then. 'Yun lang, nothing serious. It started with that."
And what sort of pressure—or should we say support—did Drew extend to you? "Just a knife to my throat," she quips.
Drew laughs at this quick little joke, one of an endless stream of wit we've been seeing all day. "I guess initially, I shared the knowledge, or the info about the sport," he explains. "But up to a certain extent lang. Umaabot sa punto na she didn't want to take all the information anymore from me. Kailangan from someone else pa. From coaches. And 'yun, I guess that support, well, I gave her the bike. And all the stuff. Actually all the stuff."
"He made it easy for me because everything was just given to me," Iya says. "Sponsored by the husband. But I think his support was also just living it. It's nothing that he imposed. Parang it's just the influence. It wasn't something that he was doing consciously."
Like you're being inspired? "Yeah, like, he inspired me," she says, in a playful, mocking, lovestruck, stars-in-her-eyes way.
But Drew is quick to downplay the credit. "No, at first naman you weren't inspired, eh," he says. "At first nga, when I first started doing the sport, I kept on inviting her. But it's not her, eh. But buti na lang nga, because the wives started doing it also, she started trying it na rin kasi meron siyang sariling group."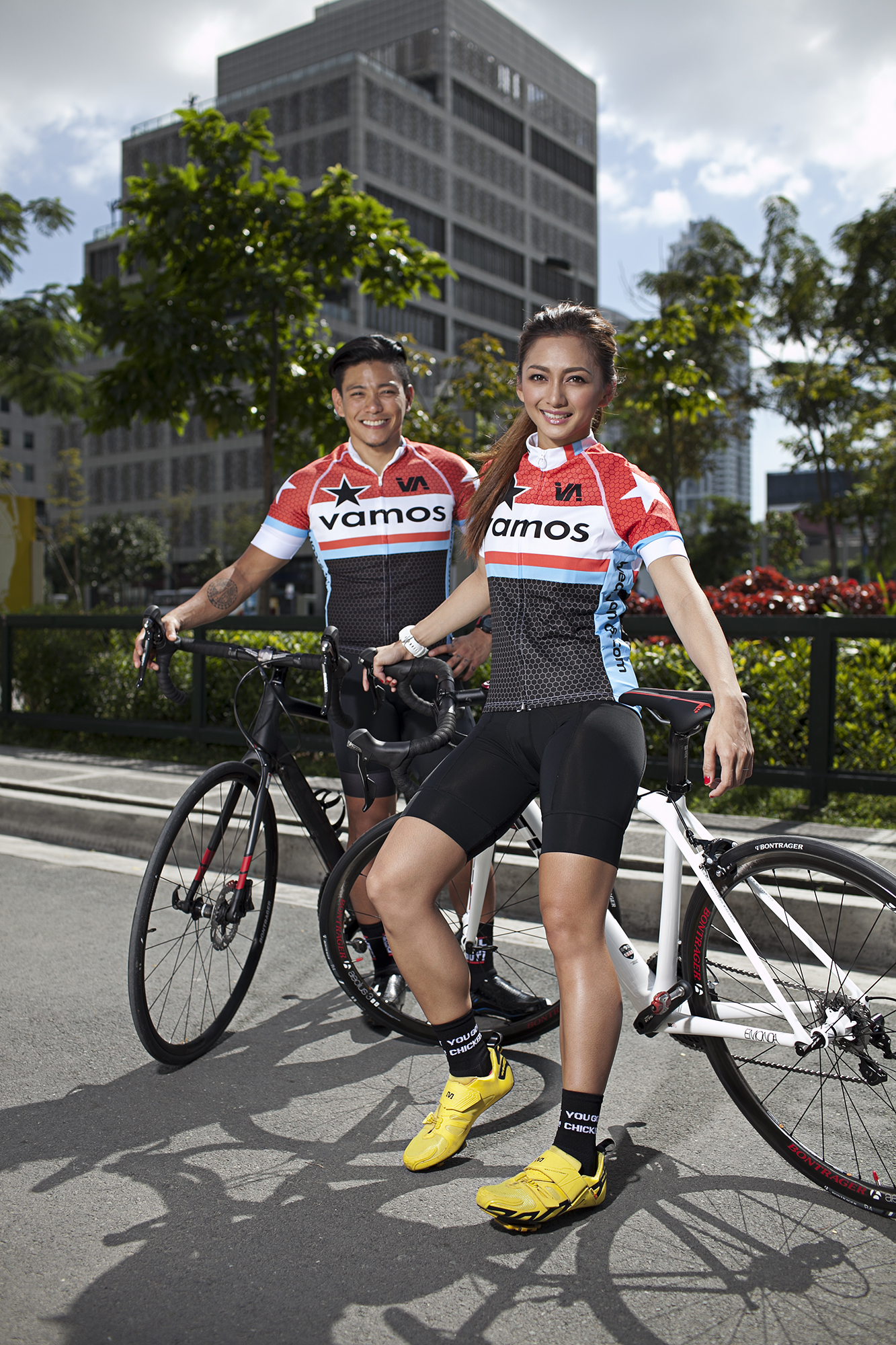 Tough love
That trust in each other, the confidence that the other will be just fine no matter what, is a recurring feeling in this relationship, and it's what has allowed them to flourish regardless of the disparity in their skill levels. This is underscored further now that Iya is also officially a triathlete. Before, the support just went one way, from Iya to Drew. Now, both of them actively have each other's backs in the sport.
What makes the Arellanos' dynamic when it comes to support even more interesting is—and this might sound familiar to other couples in triathlon—not only do they think the other will be just fine, but sometimes, they feel they don't always need each other. Yes, the presence of the other always helps (especially during crucial moments, as they would tell you) but they're now smart enough to understand that training together, despite all good intentions, isn't always the right way to train.
"We don't make it a point that we need to train together. We both know we don't need each other's help to wake up because if we already know our main goal, and we want to achieve something, that's going to be our alarm clock na eh," says Drew. "Kanya-kanya rin 'yan. At a certain point kasi, dumating 'yung point na she doesn't want to take anything from me."
"Not naman take anything, but it's just—" pipes in Iya.
"Hindi, ganyan eh. Naglabasan na. Ilabas na natin!" Drew jokes.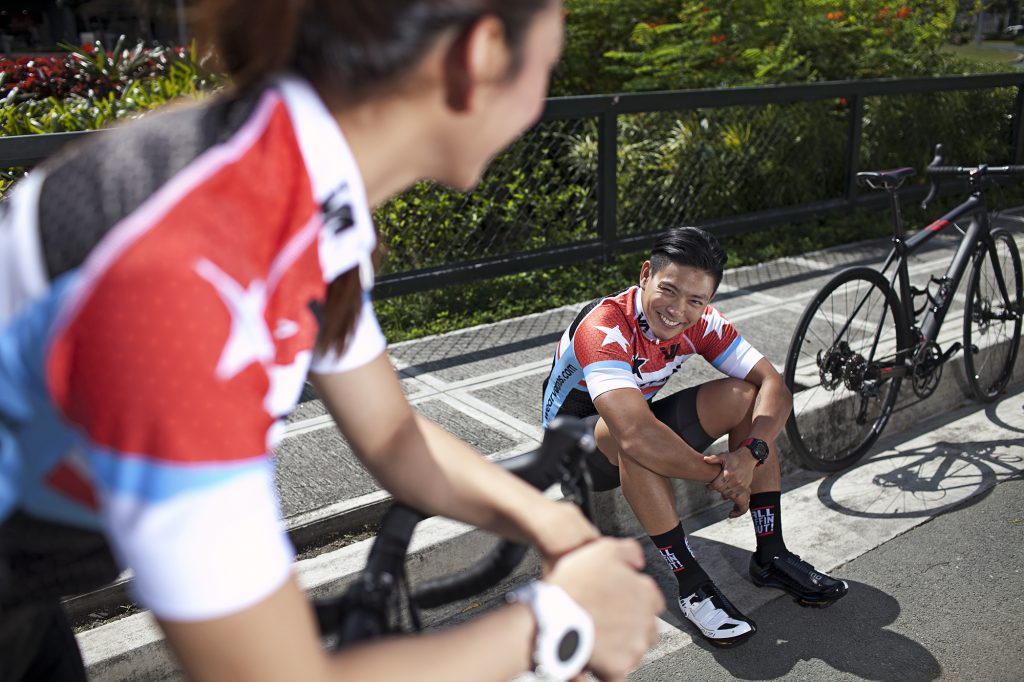 "Che! It's like kunwari, like when I'm running a 10K, and I'm already trying to keep up with him, and then you hear him say something like, 'Pick up your feet!' or 'Breathe through your nose!' When you hear things like this, and you're already having a hard time, it's like, 'DO YOU THINK IT'S EASY FOR ME?!' Siyempre, kasi the stress level is kind of high na. And then when you're hearing something like this, you always just kind of want to tell them to, like, 'SHUT UP!' You know, 'yun lang! But at the end of it, it's like, okay, I'm okay na again.
"But yeah, I think we're both very considerate of each other's training programs. Because you know, if I require him to join me all the time, that would be a waste of a training day for him, because he needs to slow down and go my pace. Or I try to keep up with him, but instead of doing an aerobic run, I end up doing a tempo run because I'm trying to keep up with his pace. 'Yun lang, we respect that if it's not in your program, then fine."
With tempers that could flare during training, it's easy for an outsider to think that there might be a sense of competition between them.
"Actually, never for me," Drew answers. "Siguro for her."
"Not for me!" Iya retorts. "There's no sense of competition; it's just that he makes me feel so slow. He would always tell me, 'Honey, it's not a competition!' I know it's not a competition, but I still feel slow. So there's no competition."
Not even when you feel slow? "No. Yeah, I just feel slow, but it doesn't necessarily mean I'm trying to compete with him."
"We both know naman na different fitness levels," agrees Drew. "Triathlon's about competing with yourself.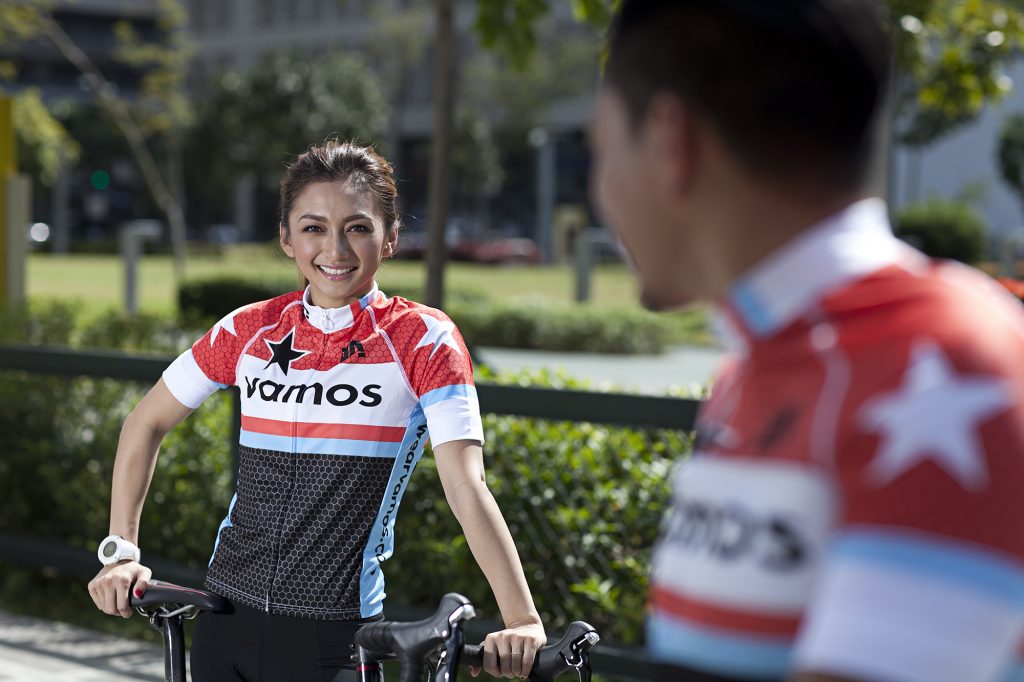 Unstoppable together
For now, the recently married couple has no plans of stopping and all plans to stay in the game. Drew is in triathlon for the long haul—his own words—while Iya still has a lot to learn and do. As of this writing, Drew's next race (he does around two major races every year, and some minor "training" races in between) will be this year's Challenge Philippines while Iya will be doing Tri United 1. Both events are in Subic.
As they prepare for the challenges they'll be facing in 2015, what's the most important thing they've learned from each other about triathlon so far?
"I learned from him to also be smart about [training]," says Iya, "in terms of nutrition, in terms of giving importance to recovery. I'm the doer. Iba 'yung brain cells ko eh. I have this fear na, 'di ako pwedeng mabakante! Hindi! Kailangan mag-training ride! Hindi, kailangang mag-swim ako! Kailangan ko ring tumakbo! Ganun ako eh. Because if I'm not [smart about it], it's either I get burnt out and then I just want to give it up altogether or I won't get proper recovery, and I won't be able to maximize my workout the next day. So, just stuff like that. And when you can't maximize your workout, it's almost like you wasted the training day."
"For me, 'yun 'yun eh. It's about being masipag," says Drew. "I love training. I enjoy the sport so much. And it's not a chore for me to swim, bike, and run most of the time. For a time, she hated running, but she still does it. What I learned from her is the determination. It's key eh. I remember [NBA player] Kevin Durant kasi, he said you pick a less skillful, less talented guy who trains and works hard every single time over the talented guy who trains less. Hard work. 'Yun 'yung pinili niya. I guess 'yun 'yung nakuha ko sa kanya."
With Drew and Iya taking the best qualities about each other and applying them to their respective games, is there anyone or anything out there that could stop them? Only fate and the universe, we reckon, but it's going to be a tall order to beat the power of two.