Belinda Granger's experience at her first Ironman is a brilliant lesson in heat and race practicality
Lead photo from Instagram
Celebrated triathlete Belinda Granger has a career spanning multiple decades of sheer athletic excellence. Yet perhaps the thing that sets this 15-time Ironman champion apart from other luminaries was her decision to race mostly in the sweltering heat of Southeast Asia.
"For some sick reason, I race really well in hot conditions, which is why I've based a large part of my career in Southeast Asia. I think I've raced Ironman Asia four times; I've raced in the Philippines many, many times."
And that's not to suggest that she particularly liked to race in the heat—her body just happened to be able to respond really well to these conditions. Perhaps best known for racing the Asian circuit, Granger has evidently made an impressive career out of tempering physical agony amid severe temperatures.
But her first Ironman race is something out of a nightmare—a first time Ironman participant's nightmare. In 1999, she got a flat tire. Initially, Granger went into the race with what she admits to be "excessive" confidence; she had very specific goals: targeting a spot at one of the podiums and setting the triathlon world "on fire." But she failed to prepare for something very practical. "I never taught myself how to change a flat tire, so I couldn't get the tire off."
And so at the 95-kilometer mark, Granger stood at the side of the road for a good 15 minutes, the sun glaring down at her as she cried and watched her race partner run past her. Looking back at that moment, however, she admits it to be one of the best things that could have ever happened to her: "I went to my next race with a lot more respect for the sport."
Two days into Ironman Philippines, the Subic heat is shaping up to be starkly oppressive, and, as we count the hours leading up to tomorrow's race event, we thought it best to speak to Granger and ask for race tips about proper nutrition, hydration, and, of course, braving the heat.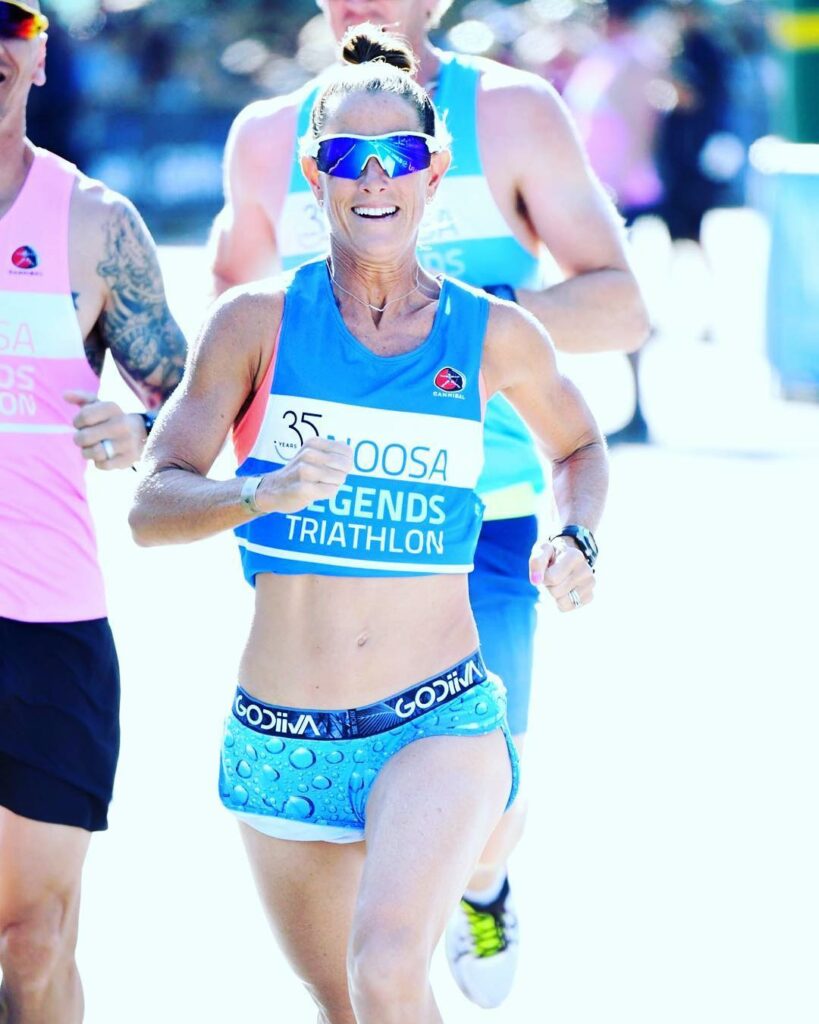 The best way to deal with the heat? Hydration
"You should all be hydrating sufficiently now. A lot of people leave it to the day before race day, but you have to remember that the conditions in this competition are so severe, so you really should be thinking about hydration now. It can be simple things like cutting down on caffeine, maybe only having coffee in the morning. Start hydrating now and not just with water but also with electrolytes. Make sure that on Sunday you're on your best possible shape."
Patience has great payoffs
"The biggest difference between racing in Asia as opposed to racing in Europe is the need for patience. In the weather here, you just have to be a little more patient. You need to be more aware of yourself and less about what everyone else is doing. I would never tell someone to just go into that race and race only yourself because obviously you're there to race everyone, but I think if you start looking around others and what they're doing and try to match their pace and change your strategy—that's something you need to avoid, especially in conditions like this. Otherwise, you'll end up walking the last 20K of the run. So really concentrate on yourself and be in control of what you can do."
Prepare strategies now
"Mentally, you need to start preparing as well because every single one of you out there is going to go through some slow stages, and the heat and humidity will surely make those slow stages longer. At this point, know and accept that [slow stages are] going to happen, and think of strategies now that you can put into race day. The people who have strategies in place now, when they hit those lows of lows, they will be able to successfully get through those lows."
Strategically time hydration and nutrition intake
"Don't eat too much on race day. I mean, I probably wouldn't eat if I were doing the Ironman on Sunday. Sometimes I see people eating stacks of bacon and eggs on race day, and that's just mind-boggling to me. You have to realize that your body needs to metabolize all that, so if you eat all that, your body is already working so incredibly hard even before you've started racing.
And for the best times to eat and drink during the race, try to do it after you've come out of the swim. But just eat or hydrate in very small amounts. You don't need to drink a whole bottle or eat a whole banana because the next part of the race will be uphill. Also, try to avoid eating during a descent. You need to be really focused when you're racing downhill, and you can't do that if you're drinking from a bottle."