Some studies show performance improvements in athletes that have undergone heat training, but perhaps in a tropical country, we can just focus on staying safe under the sun
Art by Nimu Muallam | Photos by RG Medestomas (lead) and Miguel Aldeguer
In the searing Manila summers of my college days, there was a sound you'd hear beating around the streets of the campus. You'd hear it at around noon–a gentle tap tap tap. And to the astonishment of many friends and some amused onlookers, the sound was made by a very red-faced me, running around the campus at midday. In my defense, it was my only free time.
Looking back, now with a stronger performance base, I often wonder whether it was these scorched running sessions that built just a bit more resilience into my running capacity. In a writing world that explores the gray area between false dichotomies, did my running in the heat help me out or was I just a bit of a stubborn fool?
Would there be any reason to run in the heat anyway?
In 2016, one author writes, "Researchers have been looking at the effects of heat on athletic performance for decades." So I'm not the first person to posit the question, but I'm beginning to look a lot less foolish.
After all, there is some sense to thinking: If I can perform well with the added stimulus of the warm sun, under cooler conditions I will perform even better.
In an article published by The Korey Stringer Institute at the University of Connecticut, heat acclimation is loosely defined as "a complex series of changes or adaptations that occur in response to heat stress in a controlled environment over the course of 7 to 14 days." Similarly, they define heat acclimatization as the same process but in a natural environment, e.g. outside during lunchtime on an on-campus run.
These processes have benefits for athletes, including reductions in heart rate and rating of perceived exertion. Meanwhile, increases were observed in sweat rate, blood flow, and exercise performance in the heat and cooler conditions.
And another study found that training for five hours a week for five weeks in 37.78°C (100°F) heat boosted the hemoglobin levels in male elite cyclists by four to five percent, resulting in larger oxygen delivery capacity.
But, perhaps I was still foolish
"Keep in mind, though, that this study was done in elite athletes; for recreational athletes, it's not likely that the limiting factor in your performance is your max cardiac output and oxygen delivery systems, so the hemoglobin benefit isn't likely to be dramatic," writes Health.com about the above-cited study. 
So perhaps the idea of utilizing the recent blistering conditions for an athletic boost isn't of any real merit. Further, given the mean annual temperature in the country, save for Baguio's 26.0°C, we are generally acclimatized to warmer conditions.
Nonetheless, always be sun safe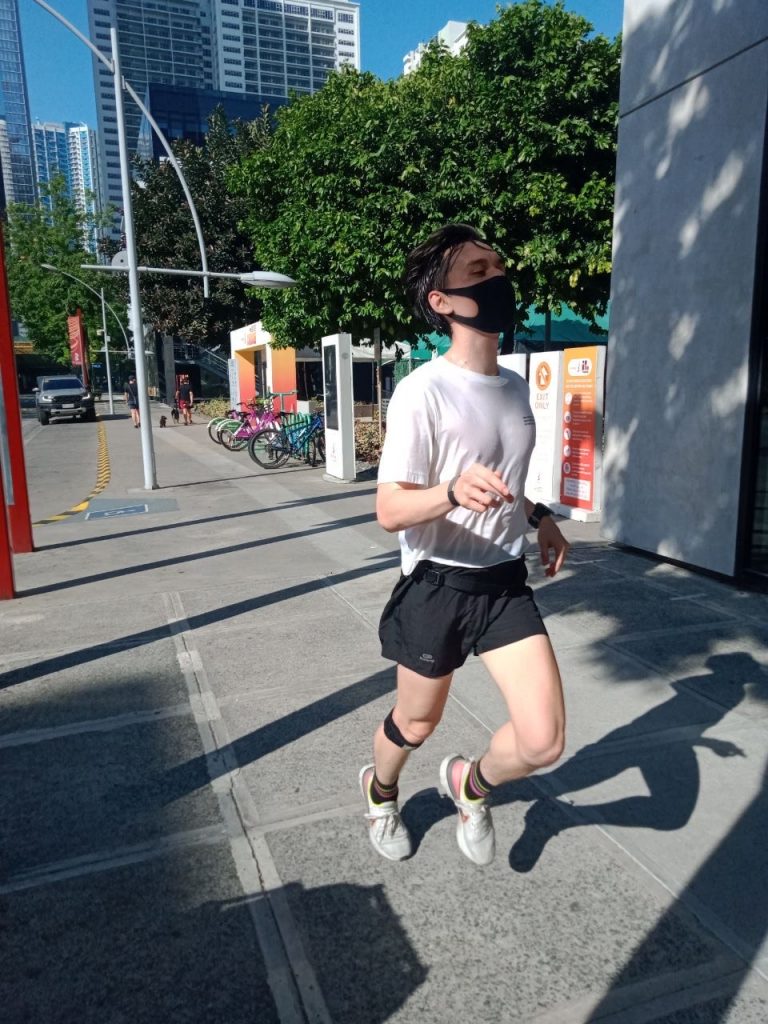 Inevitably, there will be days when you can't get out of bed early enough to avoid the sun peaking above the horizon. The question arises then of how you can exercise outdoors safely. Here are some tips to keep yourself safe while exercising under the heat of the sun:
1. Avoid outdoor exercise from 10 a.m. to 2 p.m.
Dr. Adam Friedman, professor and interim chair of dermatology at The George Washington University School of Medicine and Health Sciences, told one reporter that it takes "less than 10 minutes of direct exposure" within these hours to cause DNA damage, which could then possibly result in skin cancer.
2. Wear sunscreen and pick the right one
The American Academy of Dermatology recommends using a broad spectrum sunscreen that protects you from both ultraviolet A and ultraviolet B rays. Furthermore, choose a sunscreen with at least SPF 30 and re-apply every two hours.
3. If you absolutely must train in the heat, take it easy
Training in hot conditions three times a week for 20 to 90 minutes can produce a number of athletic benefits like a lower heart rate and core temperature. A reminder though: Training in sweltering conditions isn't the time and place to increase pace or effort, so take it easy. 
4. Hydrate well before and after
There are sweat rate calculators out there to help you figure out exactly how much water you should be taking in. But I'm going to keep it simple here: It's hot outside, so drink more than you usually would, and…
5. Be absolutely sure to look out for the following
Muscle cramps, nausea or vomiting, weakness, fatigue, headache, dizziness, lightheadedness, confusion or visual problems. Exposed to heat, your body's cooling systems may fail, especially if you lack water or sweat heavily. So listen to your body extra carefully in the heat.
In short: Be safe, not foolish
While there is medical literature to suggest that heat training has some benefits for very strong athletes, we face both a pandemic and a severely strained global medical care system. There is a strong reason behind focusing on staying healthy and making simple tweaks to improve our fitness.
Now isn't the time to bust out the experimental stuff.
So in these days that have grown exceedingly warm, keep hydrated, avoid the sun's peak hours, and slap on the sunscreen. Let's leave our foolish running back in college.