Expect a new sighting strategy, challenging climbs, and a scorching run at the 2022 Ironman Philippines races
Photos by Javier Lobregat and courtesy of Ironman
After a very long wait, the latest edition of Ironman Philippines is finally upon us.
As they say, "Finished or not, pass your papers!" This colloquial phrase probably resounds a lot with a huge number of athletes taking part in this event since COVID-19 and the restrictions associated with it dealt a huge blow to training and preparation.
Luckily, we're here to make things a little bit easier for you with a breakdown of the race course!
Swim
There's a relatively new swim venue for this race as it takes place in the Boardwalk area near Gerry's Grill and the Grande Island Ferry Terminal. Generally, there isn't anything quite difficult with the waters in this course. There isn't any strong current, which makes it a great docking spot for ships and a great area for watersports in general. 
However, take note that waters tend to get deep rather quickly once you swim away from the beachfront.
The swim is counterclockwise, making it great for left side breathers but challenging for right side ones. I assume a majority of swimmers prefer to breathe on their right side so my advice is to sight every four to six strokes to make sure you don't veer off course. 
Luckily, I see no problems with getting blinded from the rising sun because of the swim orientation. Just remember that the 140.6 distance will do two loops while 70.3 participants only need to do one.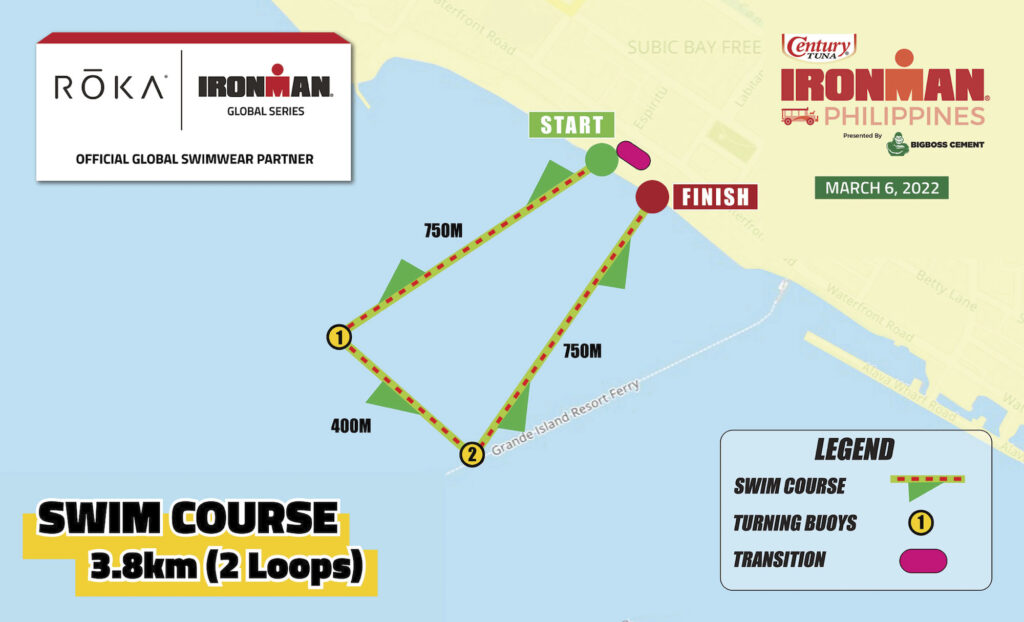 Bike
This is where the bulk of the race takes place and I can honestly say that it is a rather challenging course all things considered. For one, the undulating terrain makes it challenging in terms of pacing and strategy.
Out of the water, you're already faced with a long challenging climb a couple of kilometers into the race. Once you pass the Tipo tollbooth (or where it should've been since it was removed a few years ago), a long sweeping descent presents itself. Make sure you stay out of your aerobars and just "aero tuck" as you go down. You'll share the road with cars and buses so take extra precautions during this particular segment.
Once you enter the SCTEX course, things will be a lot safer as organizers are able to give you a car-free area where you can stay aero and hammer away. Aero is something you would want to prioritize as there tends to be a lot of wind in this area. 
Depending on the direction of winds on race day, expect crosswinds or headwinds as you ride the course. Unfortunately, the winds tend to be rather strong on some days since there isn't anything to shield SCTEX from gusts as it is flanked by plains on both sides. My advice is to go steady and pace yourself conservatively (especially when doing the 140.6) since there's a very long day ahead of you.
The easiest part actually is the first part of the course (from Tipo to Floridablanca and back) since the terrain is rather flat and the heat isn't in full effect—yet. Once you make your way back to Tipo, then it starts to get rather challenging.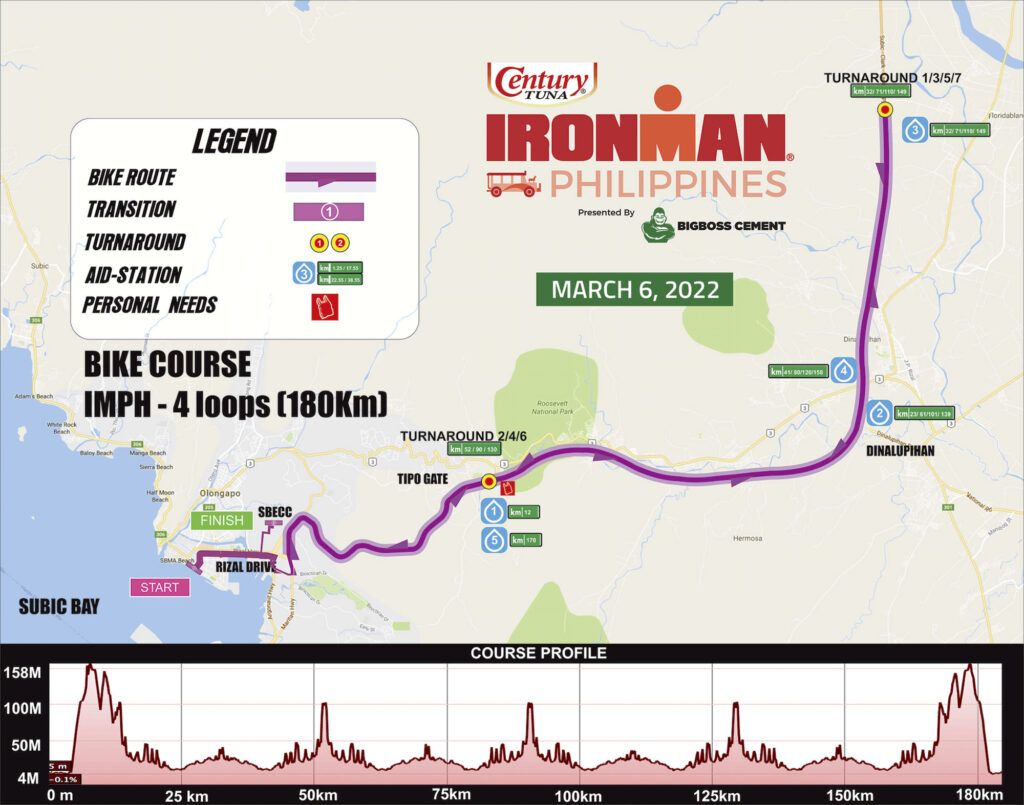 Not only do you have to climb up Tipo again, the sun will scorch you rather brutally in this segment of the bike course. This is the thing I remember the most from the bike course and definitely the most challenging. Once you make your way to the second turnaround point (Tipo), psych yourself up as you'll have to do it again, and again, and again.
Participants of the 140.6 race will do four loops while 70.3 racers need to accomplish two. Just remember that each loop gets exponentially more challenging as the race progresses so make sure you pace yourself accordingly.
After the final loop, you'll have another long sweeping descent where you can rest your legs before you make your way into T2. Again, make sure you take extra caution in this segment as you'll share the course with other vehicles.
Run
The venue for T2 this time around is the Subic Bay Exhibition and Convention Center (SBECC). The first part of the run is pancake flat but expect the concrete to radiate heat as you start the run. The new adjustment to the run course is a challenging one.
You'll have to make your way to the El Kabayo Stables and climb up the adjacent road. This is the same road you'll take to reach Forest Hills so expect a rolling climb with some segments peaking to around 10 percent grade. It's definitely a challenging course that will test your fitness levels during this pandemic, so watch out.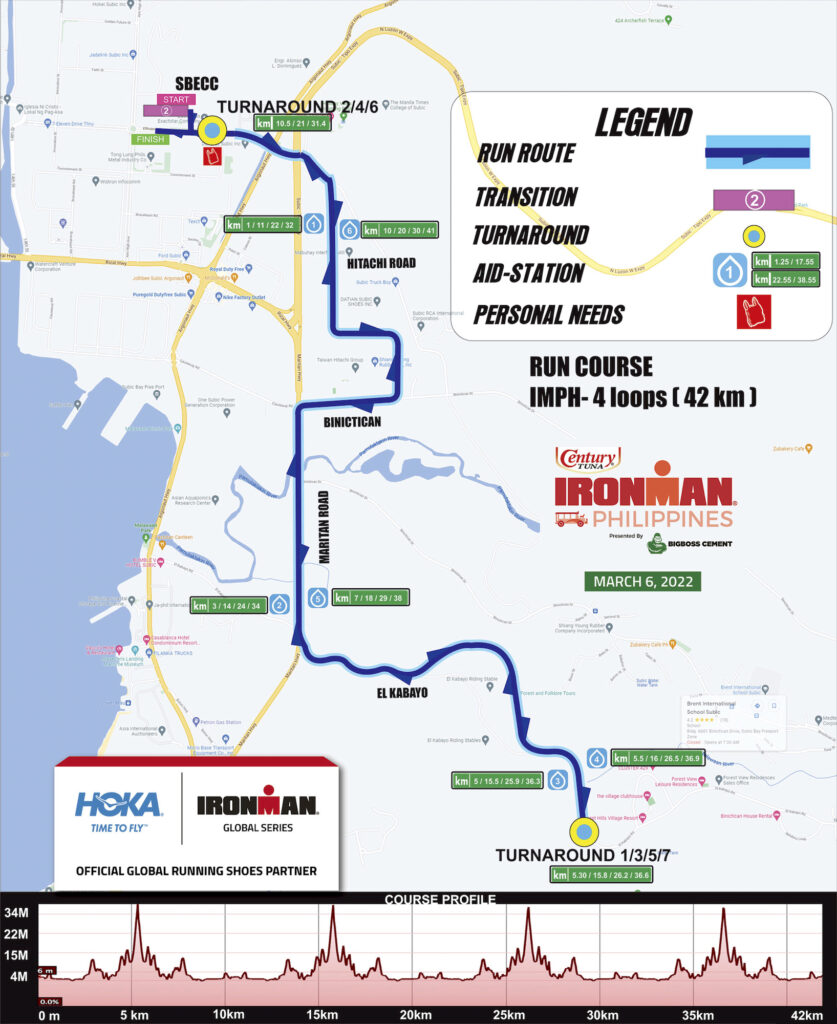 I recommend walking some steeper hills, especially if you're doing the full distance. Make sure you don't overexert yourself during the climbs. Cramping will definitely be commonplace and make sure you hydrate or take in an anti-cramp supplement like pickle juice.
Like the bike course, the run course requires four loops for 140.6 and two loops for 70.3. My advice is to run as steady as possible despite the undulating terrain and focus on proper nutrition and hydration.
Once you complete all your required loops, make your way back to SBECC for your mandatory finish line photo op! Raise your arms in victory and stop your GPS watch. Visualize this:
You made it! Well deserved!
Have some training questions, feedback or suggestions for future articles? Drop a note in the comments section below or on Facebook, Twitter or Instagram.  You can also get in touch with Don directly here.