Because sporting events offer a greater opportunity to cut on waste and increase sustainability awareness
Photos by Louis Tricot/Unsplash and courtesy of Kara Santos
Sporting events like fun runs, races, and marathons are responsible for generating huge amounts of waste. Any event that gathers people often leaves behind a trail of plastic bottles and packaging, not just from competitors but also from the spectators involved. Here are some ways organizers and participants can reduce waste.
1. Stop using disposable cups and bottles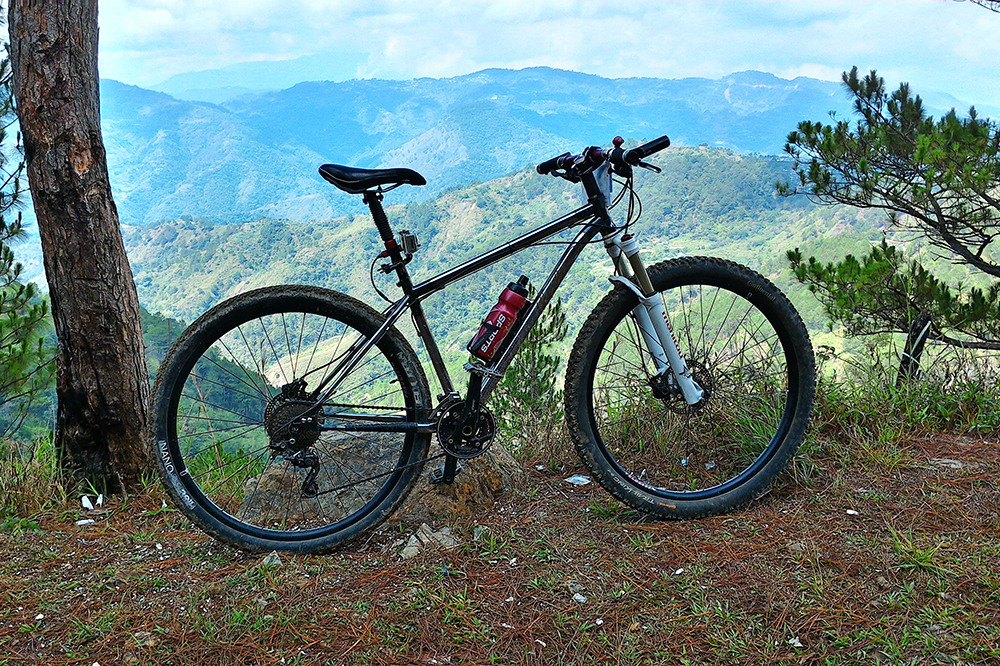 We're all aware of the irony of going on a run or ride for the environment just to cast away single-use cups on the ground.
Sports events can easily reduce plastic waste by requiring participants to bring their own refillable water bottles or hydration packs. Instead of handing out plastic, styrofoam or paper cups, set up water stations where people refill their own containers.
After facing criticism on social media in previous years, the National Geographic Earth Day Run actually included a reusable water bottle in their race kit this year.
If organizers have to use cups to give out drinks (whether at an aid station, at a concession stand or behind the scenes for the volunteers), substitute disposables for reusables. There are many cups available made of recyclable plastic, bamboo, steel or glass. Eco-Heroes sells collapsible travel cups that can easily fit in your pocket.
Event sponsors usually sell sports drinks and juice that come in plastic bottles. Encourage recycling by rewarding those who return bottles or dispose of them properly by having visible segregated trash bins.
2. Penalize people who litter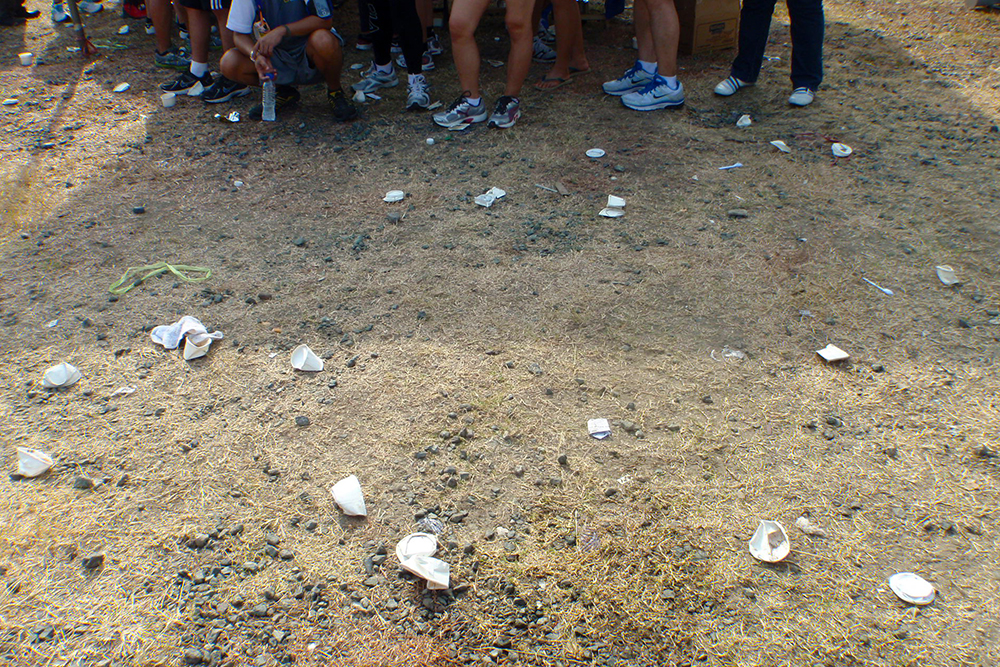 Road races often have trash bins available, but that's not the case for nature trail runs and rides. It's sad to be bike or run through a beautiful forest trail only to find discarded bottles of sports drinks and mineral water, and energy bar wrappers.
Trying to beat your personal record should not be an excuse to throw your waste anywhere you want.
It should be mandatory for participants who litter to be penalized or disqualified. It's a sign of poor sportsmanship like trash-talking, physically shoving another participant or cheating by taking a shortcut through the established route.
Some events like the Cordillera Challenge organized by Cordillera Conservation Trust specify "No littering anywhere along the course" in their rules and immediately disqualify teams who are caught littering. Smoking shouldn't be allowed either because smokers often just discard their cigarette butts anywhere.
3. Reduce plastic packaging in food and snacks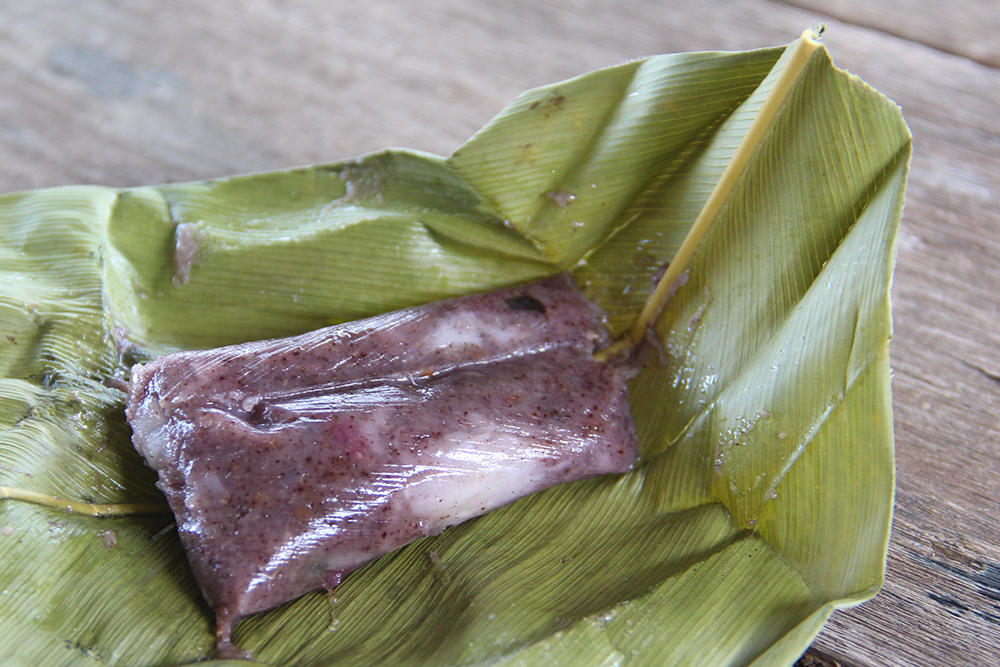 Snacks and food are important for participants to regain energy during and after a race.
But instead of energy boosters, candy bars, and gel sachets that come in individually wrapped plastic, how about options like bananas, hard-boiled eggs or bread instead? Sandwiches can be wrapped in paper bags or tissue instead of plastic.
In some biking events I've attended, they serve local kakanin like suman and puto you can dunk in peanut butter at rest stops. Sports events can encourage vendors to sell local food products along the race route or after the race.
4. Go green for utensils or ditch them altogether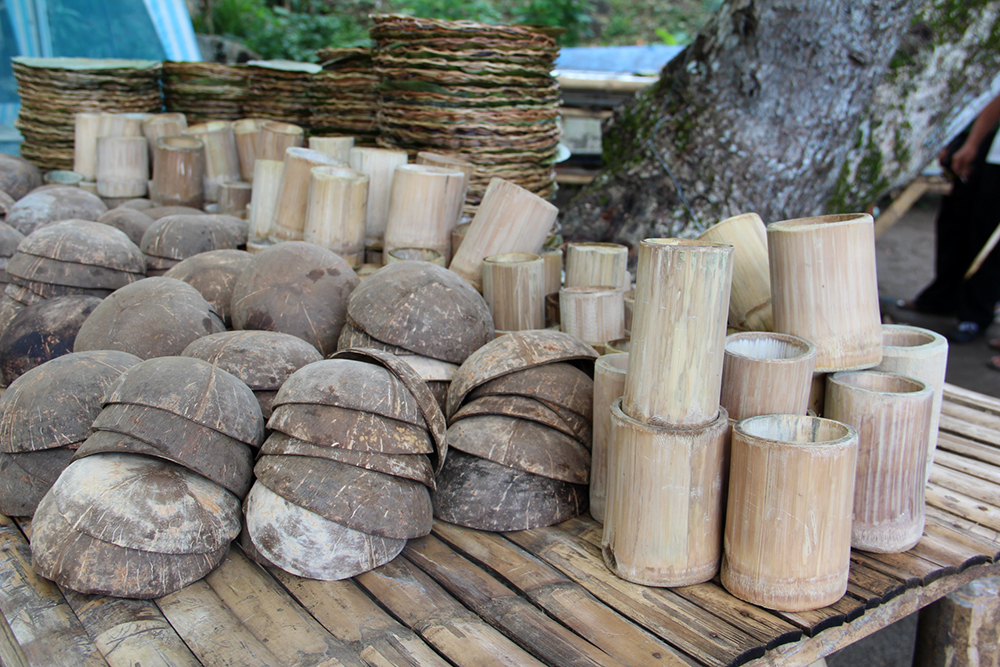 Encourage event partners and food concessionaires to avoid single-use plastic or go green and ditch single-use plastic straws.
I attended a kayaking event once where the catering service for the post-race lunch used bamboo utensils instead of plastic spoons and forks and wooden plates lined with leaves instead of paper or plastic plates.
For longer sports events that require full meals, organizers can encourage participants to bring their own mess kit or reusable food containers. Rice meals can be served binalot-style in leaves instead of non-biodegradable styrofoam packs. For smaller sports events, boodle fights are a way to do away with utensils altogether.
5. Think of environmentally-friendly alternatives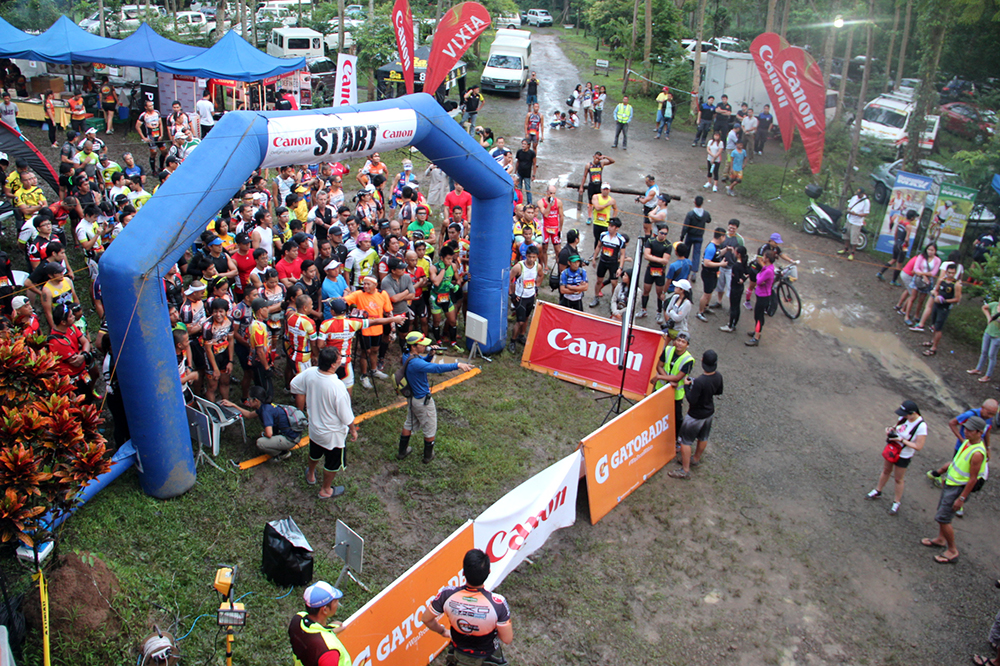 There are various ways event organizers can make environmentally-friendly choices—from the lootbag/race kit and its contents to decor and event merchandise. Most events now use eco bags and canvas drawstring bags for race kits and goodie bags.
If you have to give out media kits, just go paperless with USBs (or email the press releases to the media) instead of spending on customized folders, brochures, and pens to reduce waste. Believe me, we have way too many folders and pens at home.
Balloons may look festive, but they pose a risk to wildlife and the environment. Instead of balloon arches, sports events can use inflatable arches for their start/finish lines. Standees, reusable tarps, and tube men—those inflatable dancing human-shaped balloons attached to and powered by electric fans—usually add to the joyful vibe.
6. Aim for quality and design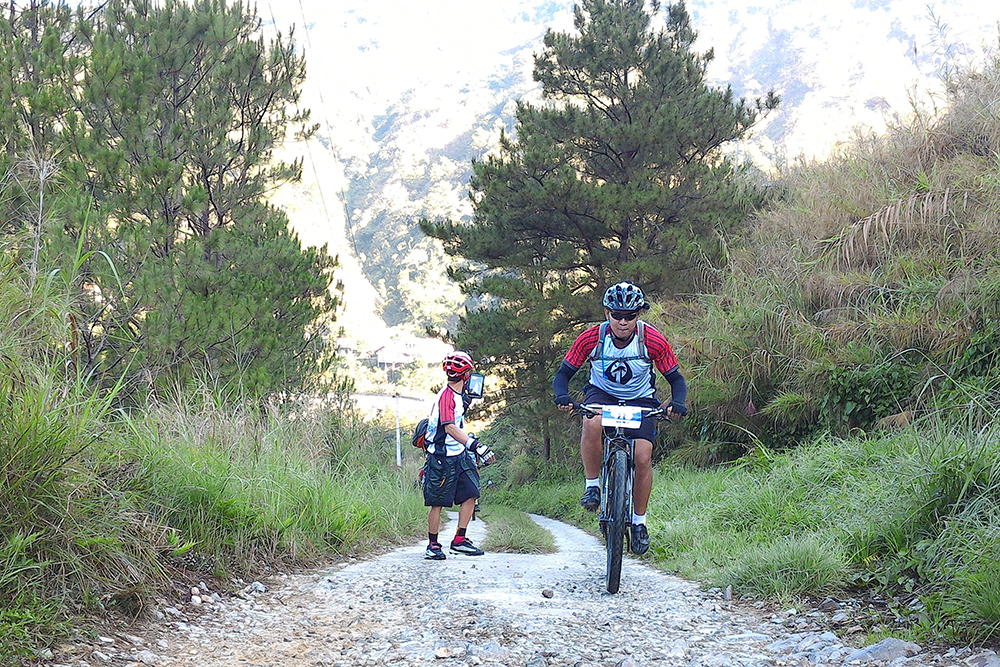 There are lots of people who join runs and sports events just because of how well-designed the shirt is and how much they can wear it beyond the event day.
Have you ever joined an event only to end up with low-quality singlets or jerseys or cheap cotton shirts with horrible designs, wrong sizes, and poor fabric that disintegrates after a few washes? We shell out a lot on registration fees, the least organizers can do is invest in quality breathable material or fabric for the shirts in the right size. 
I love the design of the cycling jerseys from the Cordillera Conservation Trust. There are ways to incorporate the name of an event and date on a shirt without it being the main feature (like on the back, sleeves or in really small text somewhere). Minimalist designs like those of the NatGeo Earth Day shirts or those featuring cool logos are more useful in the long run.
7. Give practical event souvenirs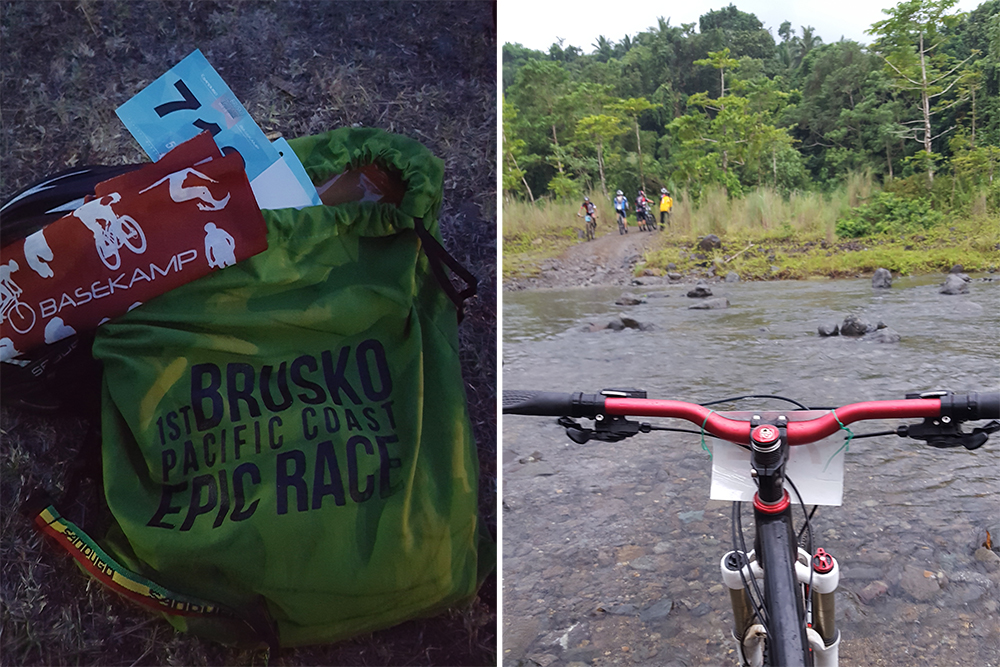 Speaking of useful souvenirs, how many sports events have you attended only to end up not using the contents of the loot bag you got?
If organizers are going to give out a goodie bag, why not fill it with useful items that won't end up as waste in the landfill? Does anyone actually like receiving printed calendars, baller ID bracelets or foldable fans emblazoned with the event name and date?
Some of the more useful giveaways I've gotten were from the 1st Sandugo Brusko Pacific Coast Epic Race in General Nakar, which included Sandugo and BaseKamp products like neck wallets and multi-purpose headwear. I'd like to see more useful outdoor gear like eyewear, compression socks, and arm sleeves as giveaways. Consumable items and gift certificates or vouchers for food and products are also welcome.
8. Make medals more useful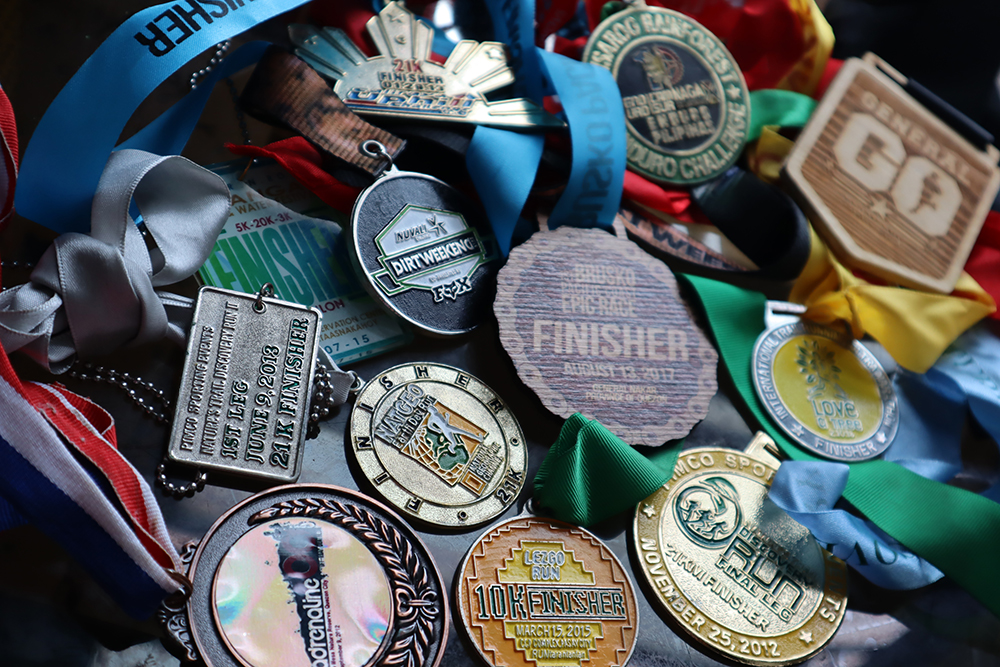 Traditionally, finisher's medals are popular race-day perks and highly collectible, but how useful are they? I know a lot of our medals are just stashed away in a drawer or a shoebox under the bed.
Other countries have started reinventing race medals so people actually use them. Some of the more creatively designed medals incorporate built-in bottle openers or are magnetized so you can display them on your ref. Ragnar Trail Running Medals double as multi-tools, which includes a bottle opener, saw, knife, a flex wrench, and a nut and bolt wrench.
Others medals are convertible to keychains and attached with lanyards instead of ribbons, which you can both reuse. The Nike Women's Half Marathon in Washington forgoes traditional medals and passes out Tiffany necklaces to finishers instead. How about a finisher's watch instead of a medal, anyone?
In the Philippines, I've come across medals with woodcarvings, which put a local spin on things. One of the rewards for finishers of Ironman Philippines 2018 are specially handcrafted medals with ribbons woven by weavers from Marawi. This way, medals become really special and worthy of displaying and not just another dust-gatherer.