Race providers are establishing all sorts of protocols to bring back the in-person racing experience, but the virtual running scene is growing too
Photos by Samantha Ong
Running, at times, is a Sisyphean task—difficult and often lacking a form of culmination. I'd be lying if I said I felt like running for running's sake each and every time I got my two sneaker-housed feet out the door.
This frustration is alleviated by setting goals, whether beating certain times or crushing personal bests. While this pandemic has allowed us the freedom to run, it has been devoid of the visceral rush that comes with competition. It has lacked the slapping high-fives that distinguish finish lines from starting lines, the spectators, the crowds, and the instant comradeship that comes with competition. 
But before we dismiss running as a channel for human connection, we must underscore that humans are innovators; someone, somewhere would surely find a way to bring back races. Now as unparalleled innovations—from mRNA vaccines to normalized social distancing practices—have allowed the slow, highly-regulated return of races, we see race providers building small fires around which runners can once again congregate physically and virtually.
Physical events: Distancing, tighter rules, and dogs
Readers may quickly ask, "But are there any running events actually happening at the moment?" To which I reply, "Yes, indeed there are."
"Races have opened in other countries. Big branded events like Ironman, Spartan, and UTMB are happening. Restrictions would vary per country and vaccinations may be required, [but they are happening]," says Christine "Tin" Ferrera, founder and CEO of RaceYaya, a portal for live and virtual events for the endurance sports community.
And what innovations allow these races to occur? Let me start by saying that some innovations are social in nature. We needn't look further than simply around us when we're out of our homes to notice that people are wearing masks.
Bert Blocken, a professor of civil engineering at Eindhoven University of Technology in the Netherlands and KU Leuven in Belgium, has been studying airflow, including during cycling and running events. He spoke to The New York Times about how racing and running practices will change based on his findings. As expected, masks are a necessity, but additionally, it was advised that runners should swing at least six feet wide of other runners and avoid drafting behind them.
Also speaking with The New York Times, Todd Henderlong, the owner of ​​a race series in Indiana, USA, suggests that in-person races will likely begin with "some version of a time-trial start" whereby each racer receives their own start time and races chiefly on their own. Aside from that, Henderlong suggests that races—even longer ones—may move to being BYOW ("bring your own water"). To complete what is beginning to sound like a bit of a bleak, solitary picture, spectators will not likely be allowed either.
This year, the Atlanta Journal-Constitution Peachtree Road Race served as host of the USATF 10 km championship race. Talking with a local reporter, race director Rich Kenah said, "We really are the first large endurance running event on the calendar, so events around the world are looking to Atlanta to see how we do, what we do." And to that end, sniffer dogs were utilized in the screening process: the dog would sit, sniff a runner's hand, and potentially flag them as being infected with COVID-19. One study published in ​​BMC Infectious Diseases this year concluded that dogs are in fact capable of being trained to detect COVID-19 and that they may be used as a reliable tool for limited screening.
So in the immediate future, races for us runners of the recreational sort may leave us on our own to some degree. But, at least we'll be surrounded by dogs.
Virtual events: Lighting the running fires online
For some, even with all the above protocols in place, the idea of running side by side with anyone may be too daunting to fathom. And that's completely understandable. Virtual events however demand far less (if any) exposure to other people.
Typically, these events require that entrants have some sort of GPS software, and that they complete a certain distance over a certain amount of time.
Ferrera, who has ​​​​served over 300 events and 30,000 athletes across the Philippines, Malaysia, Thailand, Indonesia, and Nepal, began trying to light some athletic fires as the pandemic forced everyone into lockdown. "Initially, we provided live workouts and content, including that for the Department of Health's campaign," she says.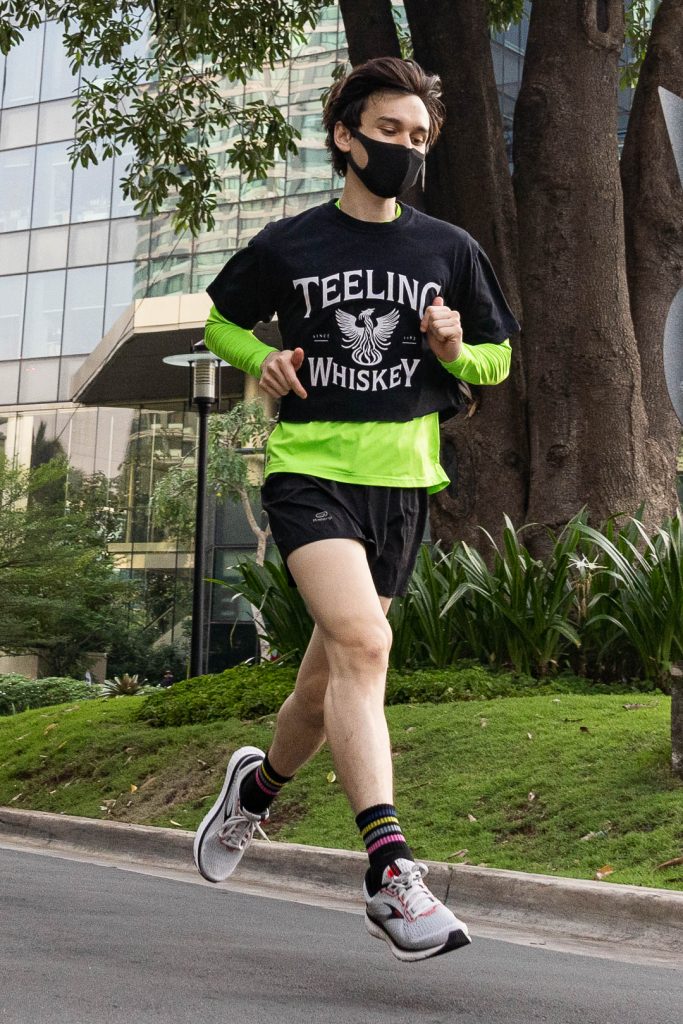 Since then, RaceYaya has hosted 25 virtual events during the pandemic, covering distance running events, ultramarathons, run distance and elevation challenges, duathlons, and obstacle course workouts. The online portal hosts registration links for individuals on their own fitness journeys—from step challenges to distance challenges.
As the calm glow of social media consumes more and more of our accessible reality, these virtual events and the race results retrieved revive the shared purpose and kinship that in-person races have developed. Here too comes a tip: Treat virtual races as real races. Prepare as you would, mentally and physically. So long as the running community gathers (even virtually) with intent, it can grow.
And it can give back too.
These virtual events are often hosted with a partner or purpose. "Most events were held for a cause or a beneficiary. From providing food packs/aid, PPEs, establishing quarantine facilities, and rebuilding a bridge," says Ferrera of their recently held Run-Bike-Burpees for Wawa challenge.
What's next for the local racing scene?
A lot actually.
The NTT AST Subic Bay International Triathlon (SuBIT) 2021 is scheduled on Sept. 19—"The ​​first live race in the country with IATF approval," says Ferrera—with participation limited to 300 athletes. (Editor's note: The race has since been postponed)
On the triathlon front, the always anticipated Ironman 70.3 Subic Bay and Century Tuna Ironman Philippines will be mounting their comeback on Oct. 17 after a couple of pandemic-driven postponements.
"Our team will continue to develop and refine operational plans with local authorities and agencies in a manner that is consistent with local community objectives and follows guidelines and recommendations set by public health entities as it relates to COVID-19," reads a statement on Century Tuna Ironman's social media channels. "We thank our athletes for their patience as we work towards welcoming them back in the second half of 2021 with an exceptional race experience."
While not everyone will be gearing up to race in any of these events, there will be those trying to improve their fitness, compete, and find more meaning in their daily running.
The pandemic has affected each of us in an individualized way and so for each of us, priorities will differ and so too will our fitness goals. These events, both in-person and virtual, are tools for self-improvement which must be wielded with a spirit ​​of safety first. They provide a peppering of extra excitement that makes it easier to agree with Albert Camus when he writes, "One must imagine Sisyphus happy."