Does the ban on foreign student-athletes solve the right problems? Is it even the right solution to begin with?
Illustrations by Marian Hukom
The National Collegiate Athletic Association (NCAA) is the oldest athletic association in the Philippines. Heading into its 94th season, the NCAA is still considered one of the premier college leagues in the country—particularly when it comes to basketball, from which it gets the most attention. We are a basketball country, after all, so it only makes sense that a good chunk of the NCAA's stars make the leap to the pros every year after having played for their respective schools.
But last week, the NCAA took a step backwards when they announced that they will be implementing a rule prohibiting foreign players from participating in any sport by Season 96, which takes place in 2020.
Despite having been openly talked about since 2014, the decision still baffles and angers many, from players and coaches to managers and fans alike. In a world where barriers are shrinking because of sports, it's strange to impose a rule that could easily come across as xenophobic or even racist.
We Filipinos are notorious for beating our chests and bellowing out, "Pinoy Pride!" when any fellow Pinoy—even if their Pinoy ancestry is so miniscule—succeeds in any field. When Manny Pacquiao was arguably the biggest name in boxing, we moved heaven and earth to watch his fights on Sunday mornings. When Jordan Clarkson got drafted 46th overall by the Washington Wizards in 2014, hoops fans all over the country dubbed him "The Filipino Jordan." When Nicole Scherzinger broke out alongside The Pussycat Dolls, everyone was quick to point out that she was—you guessed it—part-Pinoy, even when she never really talked about her heritage all that much.
And yet, there's something odd about a league in our country that doesn't allow foreigners to participate simply because they aren't Filipino. If we're so gung-ho about having Filipinos succeed on the global stage, then why is it okay for an institution like the NCAA to deprive foreign student-athletes of this same opportunity?
The NCAA in the US—which is unrelated and not connected to our NCAA—doesn't have such a rule, not even one that caps the number on international players on a college's roster. If Japeth Aguilar could play at Western Kentucky University and Kobe Paras could ball at Creighton University, then why aren't these same options available anymore for foreign students who want to play for an academic scholarship in the Philippines?
On one hand, you could argue that there are only 10 academic institutions under the NCAA, so if a foreign student wanted to play for a school, then they could go play for one in the UAAP in Metro Manila or in CESAFI in Cebu, for example. On the other hand, you could say that the NCAA still has its own prestige as a league, therefore increasing the chances for these student-athletes to be exposed to a higher level of competition before they go pro, if that opportunity presents itself.
So what message does it send about the oldest athletic association in our country when they threw the hammer down and decided to bar foreign student-athletes across the board by 2020?
For the Letran Knights, it's not really a big deal since Colegio de San Juan de Letran has historically bucked the trend by not having any foreign student-athletes on their roster. Head coach Jeff Napa explains that the school has always believed in giving local big men the opportunity to represent the school over foreign student-athletes.
And yet, despite fielding an all-Filipino lineup through the years, Letran has achieved success in the NCAA, having 17 basketball championships in the seniors division, with the most recent, having come in Season 91 (2015-16). Napa attributes this to teaching the players how to run the team's system. "It takes time to develop 'yung mga bigs," he explains. "Kailangan may pasensya ka talaga para magturo at makakuha ka ng enough na local players para mag-step up dahil nga wala kaming mga foreign students."
There's a case to be made that this rule is a response to San Beda College's dominant run in basketball dating back to Season 82 (2006-07), where the Red Lions have won 10 of the last 12 NCAA titles. Prior to this successful stretch, San Beda hadn't won a championship in 28 years. It's most likely no coincidence as well that this run has been sustained by a parade of foreign student-athletes who've led the Red Lions throughout these years from Sam Ekwe and Sudan Daniel to Ola Adeogun and now Donald Tankoua and Arnaud Noah.
Jude Roque, the Red Lions' team manager, sheds some light on the recent history of foreign student-athletes in the NCAA. "For a long time, the NCAA allowed foreign student-athletes to play, even up to 40 percent of the roster," he says. "It's just that nobody noticed until Sam Ekwe came along [in 2006]. Since then, the [NCAA] changed the rules a few times, like limiting [the number of foreign players] to just two per team, until it decided in 2013 to disallow the recruitment of foreign athletes."
So is the issue, then, competitive balance? After all, when schools who enlist foreign student-athletes like San Beda or Lyceum of the Philippines University go up against schools who don't have any like Letran or San Sebastian College-Recoletos, that issue could be a talking point. But as is the case with Letran, it's the school's choice not to have any foreign students on their roster, so why penalize the schools that do—when the option to do so is available to everyone in the first place?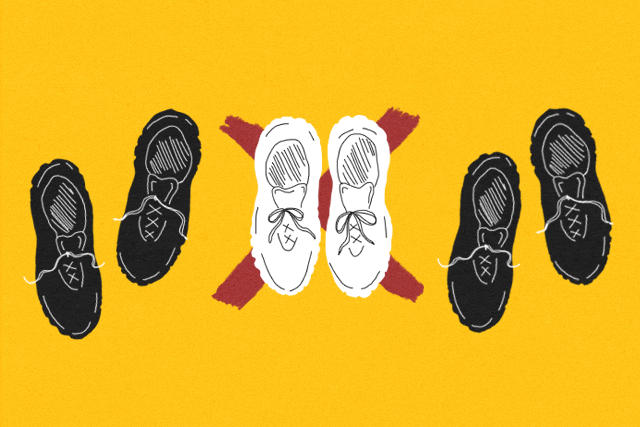 Boybits Victoria, who starred for the Red Lions in the early '90s, thinks that the rule is unfair towards these student-athletes. "Unfair for them kasi nakasanayan na," he laments. "Minsan, 'yung mga foreigner pa nga 'yung pumupunta rito para mag-aral. Unfair na tatanggalan mo sila ng right to play and to represent 'yung school nila." While Victoria never got to play against foreign student-athletes during his days at San Beda, he experienced playing against Fil-Ams and imports as a guard in the PBA. "Mas challenging para sa akin na makipag-compete sa talent nila at sa pagiging mas maliit ko sa kanila," he recalls.
It's undoubtedly the same challenge that homegrown student-athletes have faced in the NCAA over the years. Think back to Calvin Abueva leading San Sebastian to the Season 85 championship, besting San Beda, who had both Adeogun and Daniel powering the Red Lions. More recently, Raymond Almazan led an all-Filipino Letran lineup under former coach Aldin Ayo to the Season 91 title. On the way, he had to go through Mapua's Alwell Oraeme (who won both Rookie of the Year and MVP honors that season) in the Final Four, and then San Beda's Adeogun/Tankoua tandem in the finals. Both Abueva and Almazan have gone on to play in the PBA and even wore our country's colors as part of Gilas Pilipinas. Their experiences playing against foreign student-athletes in the NCAA proved to be invaluable.
We've established that all-Filipino teams can defeat and have defeated teams with foreign student-athletes. So does this rule solve the issue of competitive balance (or a perceived lack thereof)? Roque doesn't think so. "Foreign athletes can balance the playing field," he says, "Especially when you have schools that can't recruit blue-chip local players. Without foreign athletes, the bigger and more well-funded programs will always dominate the smaller programs. How can there be balance of power then?"
Even Napa says that he and Letran never saw the complete ban on foreign student-athletes as the solution. "Sa amin kasi, it's more on how to teach [the players]," he relates, "kung paano mo tuturuan 'yung players to compete sa mga foreign student-athletes."
So does it become an issue of territory? Why should we let foreign athletes come in and take spots meant for our local, homegrown players? But to ask that question is to have a myopic view towards sports and competition as a whole. Isn't the point of participating in sports is to compete at the highest level and play against the best? If an athlete earns a spot, it shouldn't matter where they're from—especially in an institution like the NCAA, where the only qualifier should be whether or not they're students of that member school.
"Having non-Filipino student-athletes within the team never took away that chance," argues Diego de la Paz, a former sports journalist who competed in athletics in the NCAA juniors division and in the UAAP seniors division. "It increased the challenge of fighting for your place to earn the spot within the team. As for team sports, it will also depend on the need of the team's system, should it require the skillset of the athlete, who just happens to be not a Filipino."
De la Paz recalls having a tougher time preparing for competitions against athletes from other countries because of how different their methods and levels of training were. "At the collegiate level, the experience will rub off [on you]," he says, "With foreign players in the mix in regular competitions, athletes from different schools and universities are forced to adjust to cope with the increased level of play."
Ultimately, with the lack of foreign student-athletes in the NCAA, everyone ultimately loses. Foreign students in participating colleges and universities miss out on an opportunity to represent their school, fans won't be exposed to as much international talent as they have been in the past, and local players themselves won't have that experience of seeing how they'd fare against raw talent from abroad—something that they'll eventually have to be prepared for if they compete at an even higher level after college.
De la Paz likens it to being not that different from an "inter-barangay league," where skills are stunted due to the lack of diversity. One step forward, two steps back.