For any cyclist who think they can get through rides without eating, hills, core strengthening, and finding the best bike position
Photos by Ting Tse Wang and Chris Kendall/Unsplash
Different they may be in the details, the goals of every cyclist essentially point to two things: stamina and speed. Everybody wants to ride faster and last longer on the road. Strength is a clear prerequisite, and so to help you become a stronger cyclist, we've come up with a set of resolutions that target strength development. They're a mix of specific exercises and corrective measures that could hopefully help you surpass previous records as well as refine foundations. 
Eat during rides
First up is a rethinking of the concept of on-road eating. A bad habit a lot of cyclists have is thinking they can get through a long ride without eating and then proceeding to binge on whatever food they want once they get home. The negative impacts of this habit arise both during and after a ride—hunger impedes optimum performance and subsequent binging cancels out the gains of a productive ride. Break this habit by replacing it with a good hydration and refueling plan. Here are a few pointers to get you started according to sports and exercise nutritionist James Collins. 
1. To stay energized and maintain intensity, prioritize keeping carbohydrate levels high. For every hour on the track, try to consume between 30 to 60 grams of carbohydrates. Thirty grams of carbohydrates can be found in the following: 500ml bottle of isotonic sports drink, one and a half carbohydrate energy gels, a small handful of jellied sweets, one large banana, one large cereal bar or carbohydrate-based energy bar
2. To avoid discomfort and nausea, stick to high glycemic index carbohydrate options such as white bread. 
3. Aside from the abovementioned options, you can also turn to caffeine for an energy boost.
4. Don't depend on hunger as a cue to refuel during a ride. When it comes to ensuring you have a constant energy supply, don't wait for the pang of thirst or hunger to push you to take at least a sip of energy drink. The key is to consume carbohydrates little and often.
Ride more hills
Regularly riding hills is one of the best ways to build leg strength and, by extension, improve speed. This is because unlike roads, hills allow for some variation in pace and intensity. Making your way through a combination of rocky and steep surfaces is a great exercise in strength development and environment adaptation. It's also a chance to build cardiovascular fitness. If you're not already used to biking on hills, take note that it might take you a while to understand its advantages. Your first few rides will likely comprise of extreme leg pain and feeling that your lungs are burning—the challenge is to develop and follow a consistent schedule riding hills.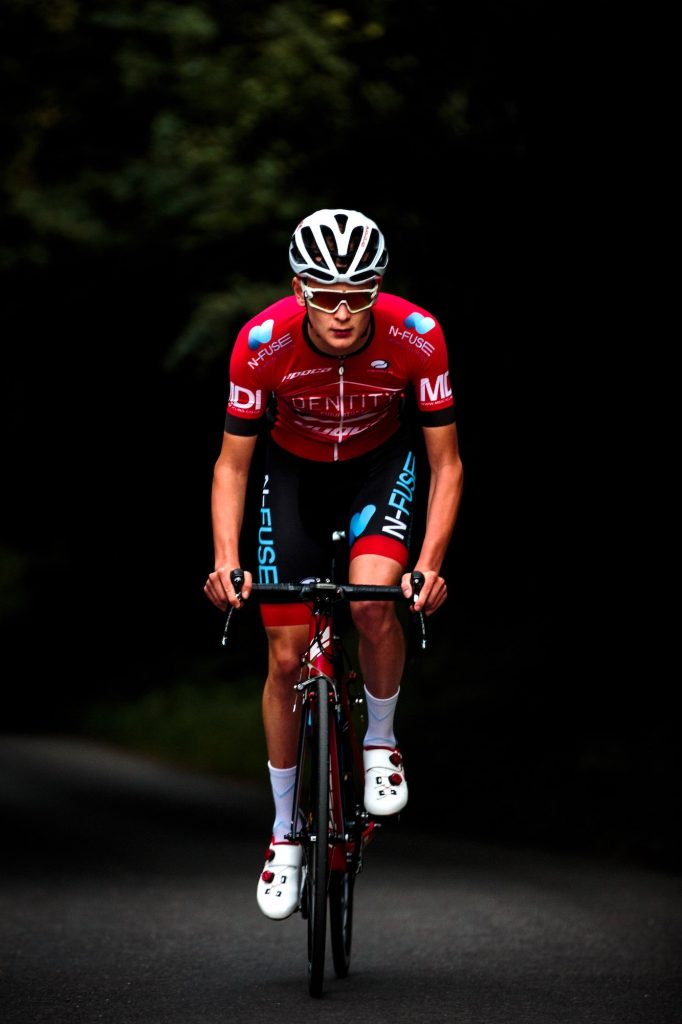 Strengthen your core
While it may seem that leg strength is at the heart of becoming a stronger cyclist, there's something to be said about the benefits of a strong core. Most of the force that allows you to keep pedaling comes from this part of the body. The stronger your core is, the more force you can produce and execute through your legs. Core strengthening is also especially helpful in going up and down hills. Some exercises you can try out include squats, planks, hollow holds, and even kettlebell circuit workouts
Correct your bike position
That it's never too late to correct your bike position is a testament to just how crucial it is that you get this aspect of the sport right. A wrong bike position can result in subpar rides cut short because of discomfort—and it doesn't matter how strong you are. With that, take note of the key elements of proper bike positioning. First, you should be able to reach the tops of your handlebars without over-stretching, with your back at around 45 degrees; your arms should not be completely straight. As for seat height, turn to your knees for reference—like your arms, they should have a slight bend in them when they're at the bottom of the pedal stroke. 
Ride 100 miles
If you haven't already done this, make it a point to complete a century ride before the year ends. Being able to achieve this not only marks a milestone or completing a kind of cycling rite of passage, but it's also a guaranteed way of significantly improving stamina. But approach this goal with a clear strategy—map out your route, plan a hydration scheme, and schedule regular stops.