Because there's more to sunscreens and these liquid formulas than just protecting your own skin
Photo by Anna Tarazevich/Pexels
As much as you need to protect your skin from intense water-based workouts (assuming you incorporate open-water sessions into your trainings), it's also important to preserve nature and keep the sea free of harmful substances.
Why use eco-friendly sunscreens?
Last year, Hawaii passed a bill that bans the distribution of sunscreens containing chemicals that contribute to coral bleaching when washed off in the ocean. Generic sunscreen brands contain ingredients that can seriously damage the ecosystem. Recent studies found that the chemicals oxybenzone and octinoxate are harmful to coral reefs as these substances decrease their defenses against bleaching, damaging their DNA, hurting their development, and disrupting the natural marine ecosystem. So, what are your options? Some of these eco-friendly sunscreens perhaps.
Magwai's goal is clear: Protect the coral reef. Zinc oxide and titanium dioxide are two of the ingredients Magwai uses that are safe for marine life. It provides SPF 50+ and broad spectrum protection against UVA and UVB rays. Magwai Reef-Safe Sunscreen can deflect sun rays unlike chemical ingredients, which cause skin to absorb UV rays and convert them to heat.
Human Nature's 100 percent natural ingredients ensures their product is safe for the coral reef. Its SPF 30 deflects 97 percent of UVB rays with natural physical particles while also having the highest PA+++ or the amount of protection the sunscreen offers from UVA rays. PA+++ can help protect your skin from high-intensity UVA rays.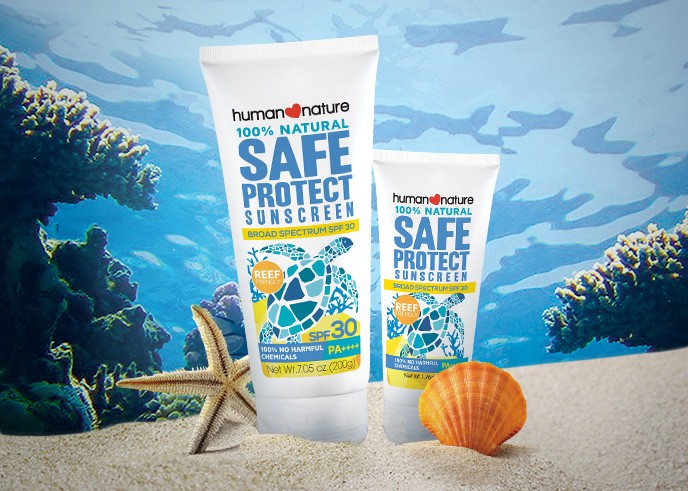 All of Sun Bum's products are recommended by the Skin Cancer Foundation, the leading skin cancer prevention and information organization in the world. This moisturizing lotion enriches skin with vitamin E to help decrease the chances of premature skin aging. Sun Bum is also made with reef-friendly, vegan ingredients designed to protect the skin against UVA rays. To avoid allergies, Sun Bum has also excluded ingredients such as oxbenzone, octinoxate, paraben, para-aminobenzoic acid, and oil.